The homeowners of this Williamsburg home were experiencing several "pinch-points" in their kitchen where space and flow were disrupted. They desired a new space with an open and roomy design that would eliminate these restrictions and make better use of the available space. Creating a home with ease of use and natural flow was a priority.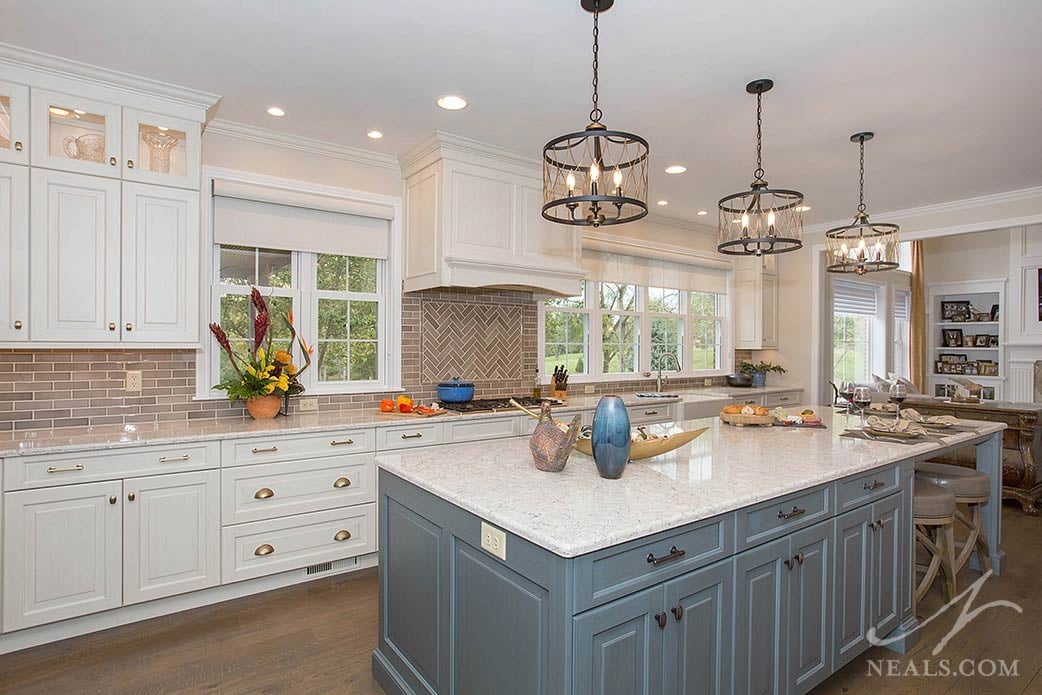 Removing several of the walls around the kitchen and re-organizing the space were key to achieving a more open kitchen with ample space. This included removing a butler's pantry and relocating the powder room to be able to make the kitchen wider overall. There are now no obstacles to the natural flow from the back door to the living areas.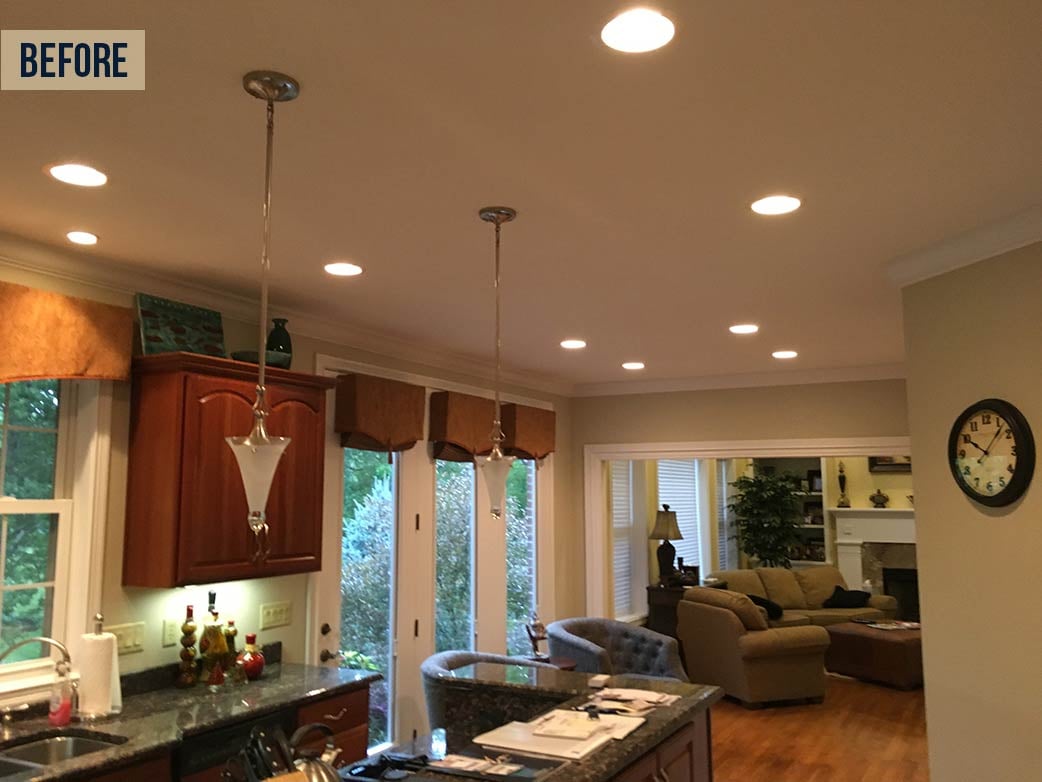 Removing the door on the backside of the house and taking over the unused space between the kitchen and living room made it possible to expand the kitchen to increase counter space. Seating included with the island creates an eat-in space as well as increases the working area for larger family gatherings.
The underlying change in the kitchen remodel was to create more open pathways in the interior, and increase the views through the home. To achieve that, the main traffic flow from the garage and laundry room entries were left open and clear, directly into the kitchen where it continues as a straight path into the living areas.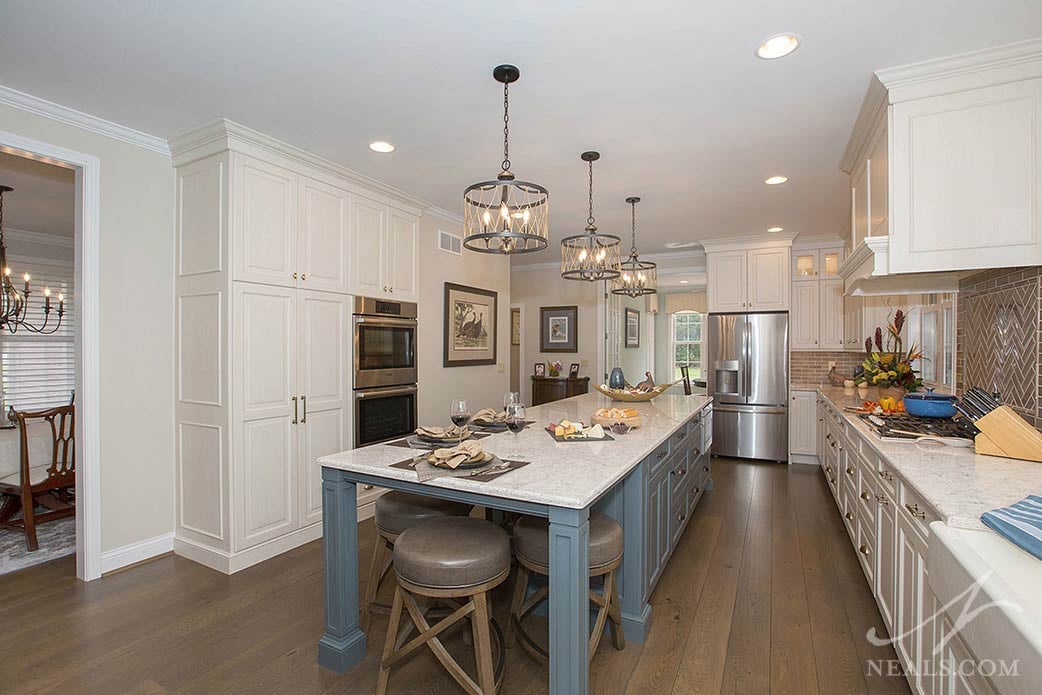 The primary working triangle of the kitchen is placed away from this traffic path, with the island functioning as the visual barrier. Doorways into the kitchen, from the living room, dining room and breakfast room were widened and/or heightened to add to the openness of the first floor, and help marry the two-story living room with the adjacent kitchen space.

The over-arching style of the renovation was to inject the home with a light and airy appearance. Soft grays and low-contrast blues added character and interest a bit different from the typical grays that the homeowners' felt were becoming too cliché in home design. In the kitchen, a simple backsplash design and a casual color mix create a scheme where nothing is jarring and the design of the space feels more timeless than trendy.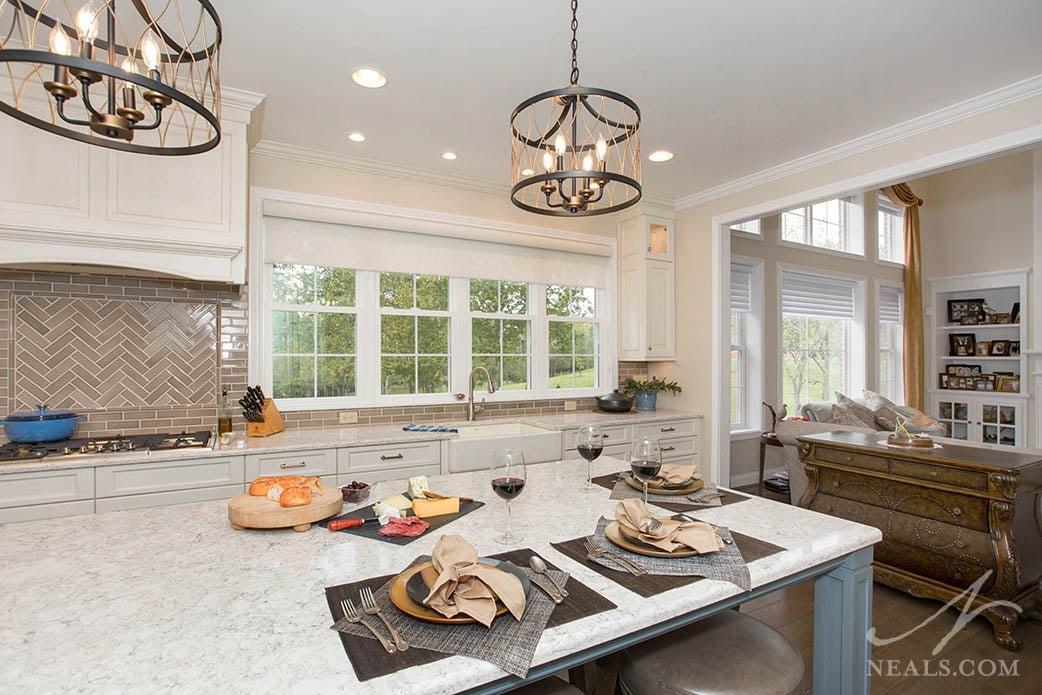 In the kitchen, the lighting scheme starts with recessed lighting placed along the traffic paths and primary task zones. In-cabinet lighting is used in the upper glass-fronted cabinets for display. The long island provided space to include three medium-sized decorative pendant lights that bring a traditional, masculine style note to the space.