Kitchens come in all sizes. Though we may feel that large kitchens are better, larger footprints come with their own design challenges. If you have a large kitchen to remodel or are considering expanding your kitchen to make it bigger, know that more space isn't always a guarantee of a better-performing kitchen. We asked Neal's Designer Laura Webster about the principles of designing large kitchens to help shed light on what makes a big kitchen function well.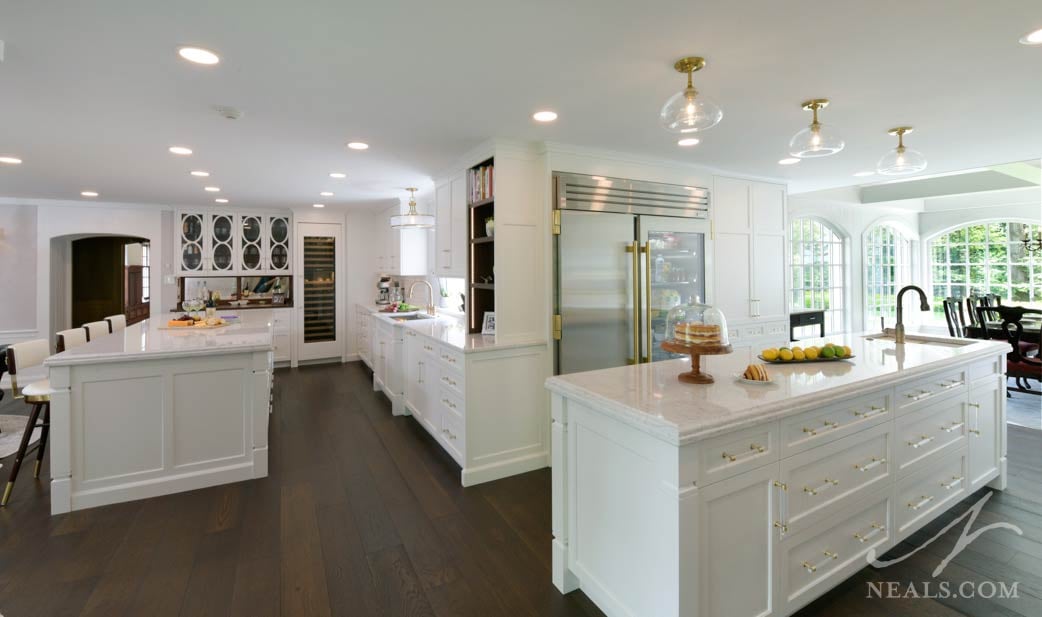 Kitchen Remodel in Indian Hill | Design by Cyndi Kohler
"Planning a large kitchen can often be more difficult than planning a small kitchen," Webster states. The reality is that functional kitchens only need three basic things– a sink, a cooking area, and food storage (fridge and pantry). If the three points of this working triangle are placed too far apart, the kitchen becomes less efficient and harder to use. Webster goes on, "Choosing a layout for your large kitchen tends to be the most important part of the design." To make the most of a large space, the floor plan needs to be strategic.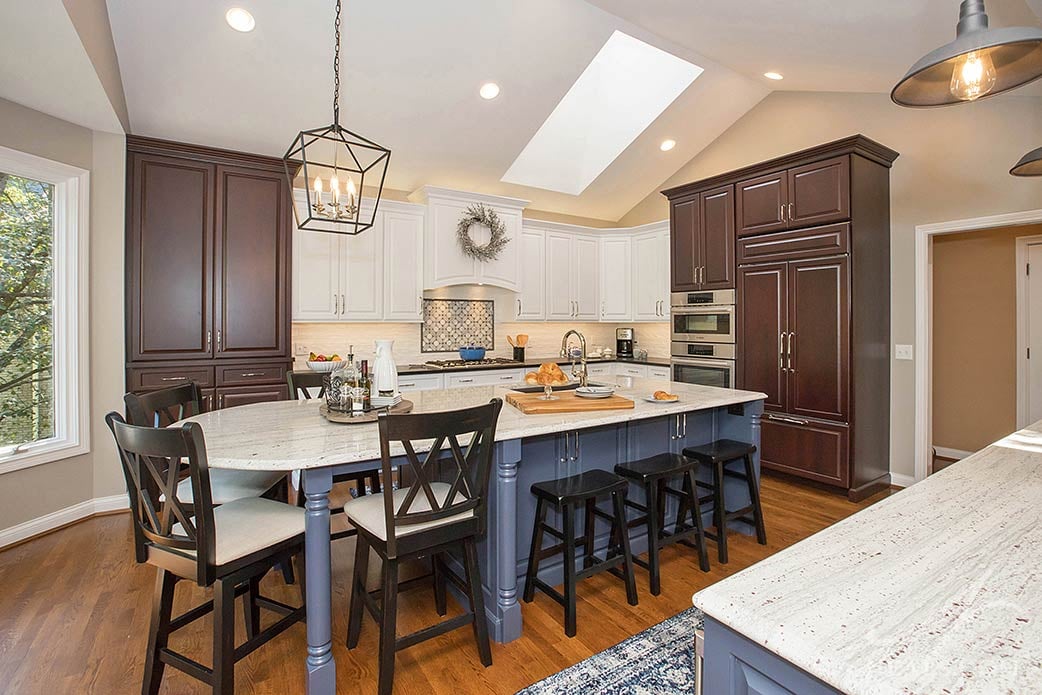 Kitchen Remodel in Madeira | Design by Amanda Morehart
Laura suggests starting the process by considering how you want to use your large kitchen
. "If you host large gatherings,
perhaps
you want lots of space for guests to sit," she states as an example. If you like to bake or cook a lot, you may need multiples of certain appliances. Or
perhaps
you have an active family that likes to gather in the kitchen for daily tasks. Having a basic idea in mind of the purpose of your large kitchen can help to determine what needs to fill it.
After that consideration, the next step in the design process is to plan out the space around the room. "Creating zones within the kitchen is important," Laura stresses. Zones are sections of cabinetry, counterspace, or appliances designed around a specific function.
Some examples are beverage or bar areas, places for cooking prep, or storage for seasonal and occasional items
. This is where the purpose you have in mind for your kitchen begins to dictate some choices.
If you need a certain type of zone, the space for it can
be established
in these early planning stages, even if you still don't know what it will
ultimately
look like
.

Kitchen Remodel in Indian Hill | Design by Cyndi Kohler
Islands will almost always play a role in large kitchen design. "Without them, the space tends to look like a large dance floor," Laura points out. Though the shape of the kitchen will be a factor, the larger the space available, the larger the island. In some large kitchens, two islands might be a better use of the space than one large island.
Scale is important for other aspects of a large kitchen's design as well. If the kitchen has a taller ceiling, then Laura says taller cabinets should
be used
.
Larger sinks, wider ranges and fridges, and bigger light fixtures all help to
proportionally
fill in the large room
. Laura offers a word of warning, though. "You don't want the kitchen to be a huge sea of cabinets," she says.
Her suggestion is to break up the cabinetry by creating a few focal points spread around the kitchen to give the eye different and interesting things to see
.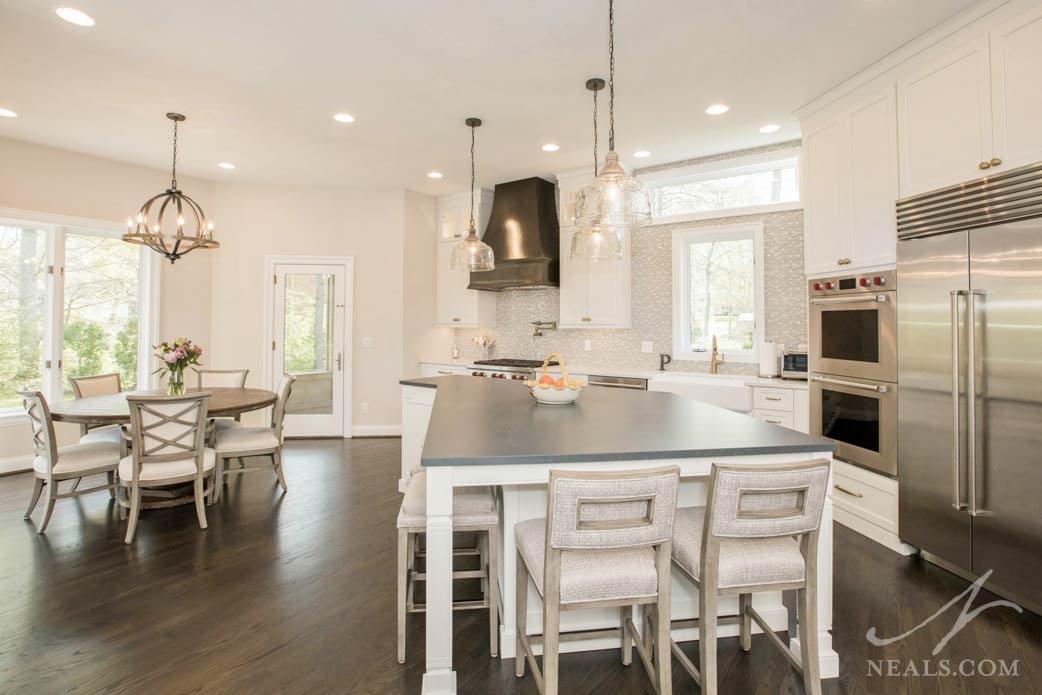 Kitchen Remodel in Indian Hill | Design by Laura Webster
Laura also recommends including seating in and near the kitchen. "No matter how big or small it is, guests tend to always end up in your kitchen," she explains.
Larger kitchens or those that are open to adjacent rooms can
typically
handle this with ease, whether it's with chairs at the island, a kitchen table on the side, or both
.
Be certain,
however
, that the placement of your seating doesn't get in the way of the practical function of the kitchen
.
As Laura puts it, "Not everyone has the luxury of a spacious kitchen, but if you do then you may as well take full advantage of it
."
With space planning that keeps function and purpose at the center, a large kitchen can
be designed
that wastes no space and feels cozy and
perfectly
sized
.
If you're ready to bring your large Cincinnati kitchen dreams to life, we'd love to speak with you about your project.