Kitchens offer a fair amount or storage opportunities. While it's important to have the majority of the available space allocated to your dinnerware, cooking items, and food, there are often times other practical storage needs that can take your kitchen to a new level of usefulness. When planning your kitchen remodel, consider these additional storage ideas.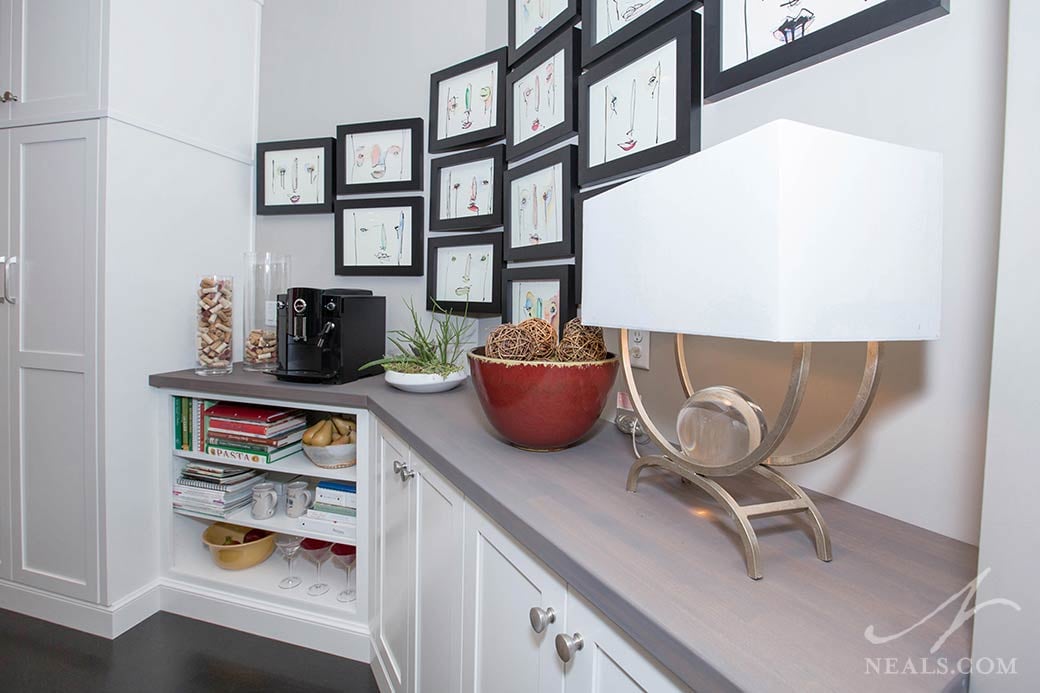 This Montgomery kitchen remodel includes buffet storage that connects seamlessly with the rest of the cabinets.
Practical Kitchen Storage Ideas
Built-In Side Board
If you have an eat-in kitchen, or if the kitchen and dining room are open to each other, take a look at your options for extending your cabinet and counter into the eating area. This extra cabinetry offers a dual purpose: a free counter that can be used for a wide variety of purposes, and an extra line of lower cabinets for added storage. This type of practical solution also brings with it some more chances to convey style or to handle some specific storage preferences. For example, in the kitchen above, closed cupboards are paired with a bank of open shelves that are perfect for cookbooks and some display items.
Cleaning Supply Cabinet
We've installed a number of these simple units over the years, and it's remarkable how simple and elegant it can be. Cabinetry manufacturers have given us plenty of ways to create new closets hidden in plain sight behind stylish cabinet doors, which spells the end for the traditional, unorganized broom closet. Cleaning supply cabinets can often be included in a line of tall cabinets, or on the end of a corner cabinetry solution, such as in the example below. These units often do not need to be a standard depth (just deep enough to hold your deepest cleaning appliance), which translates to an easier time finding just a little bit of space for them.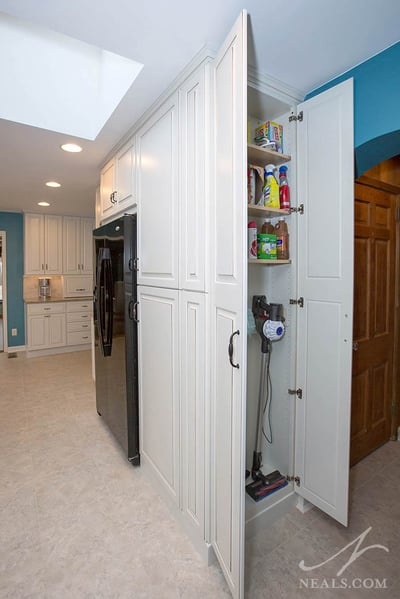 A cabinet on the end of the row in this Lakeside Park, KY, kitchen is ideal for cleaning supplies.
Coat Closet
If your kitchen is directly connected to your daily primary entry, if there isn't already a closet or mudroom available, consider including that in your kitchen design. A tall cabinet is perfect for creating a hidden spot for your jacket, purse, keys, and whatever else you like to have on hand near the door. When the door is closed, it looks just like the rest of your kitchen. This is a great solution for the visual clutter of everyday realities. When designing a coat or entry closet using kitchen cabinets, you have additional options with adjustable shelving and pull outs, so be sure to assess your needs to help your kitchen designer find an ideal combination.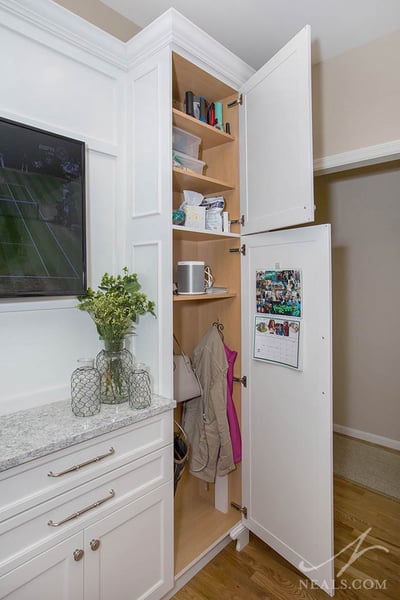 A cabinet in at the end of this Loveland kitchen is actually a coat closet in disguise.
A Household Zone
One practical storage idea that might be feasible for your home is using a small amount of space to create an area that can be used as a central zone for the entire family. This can come in a huge variety of formats, but the common traits are storage for items anyone in the house might need (the old "junk drawer"), a place for charging shared devices, a counter, and room for household paper storage (such as manuals for appliances or important documents that should be kept on hand.) In the example below, a small niche off the hallway by the kitchen was the perfect spot to create one of these zones behind stylish doors.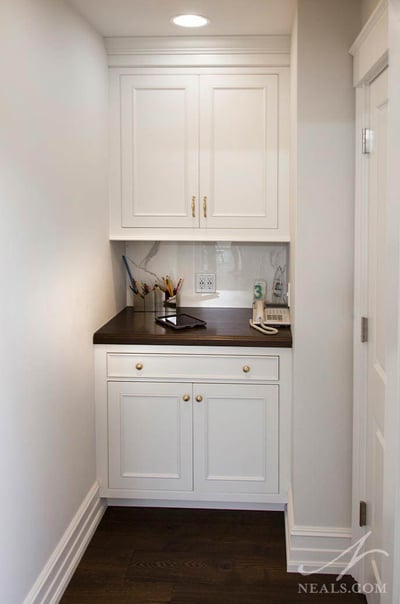 Using the same style as the nearby kitchen, this household zone in Indian hill is an elegant solution to a common need.
Unique Open Shelving
The great thing about open shelves that are installed separate from the kitchen's main cabinetry is that they offer a chance to add some style or unique character, which still being a practical addition. Open shelving can be included anywhere there's an open wall. When considering open shelving in the kitchen, it's best to think about what you are most likely to want to use it for, then work backwards on how large the shelves should be. It's also helpful to get an idea of any restrictions you may have in reaching higher shelves, and what those might hold if you can't get to them without a step stool.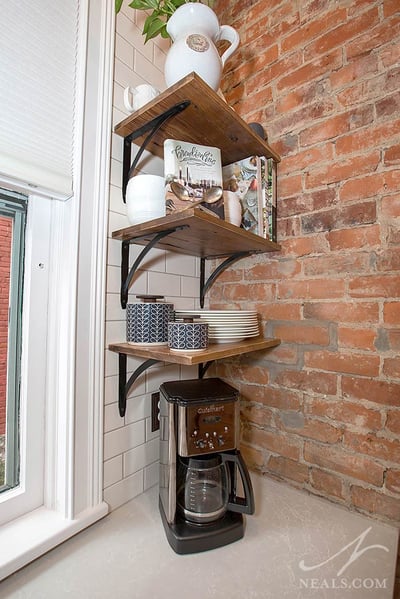 Rustic boards and interesting brackets create open shelving in this Newport kitchen that is both practical and beautiful.
Fully-Accessible Corner Cabinets
Creating a large cabinet in the corner seems like a practical use of the space, but many times in older homes, the interior fittings of the unit aren't designed to get the most out of the space. However, there are now many different solutions that can handle several types of items, and use as much of the space as possible. The key, it turns out, is corner cabinet designs that allow you to pull the contents outward or into view with ease. The mechanics of these new fittings are quite clever, such as the example below in which an entire arm of the fitting comes out so that all the contents are visible. If a corner cabinet is in your kitchen plan, take the time to evaluate all the options for the perfect fit.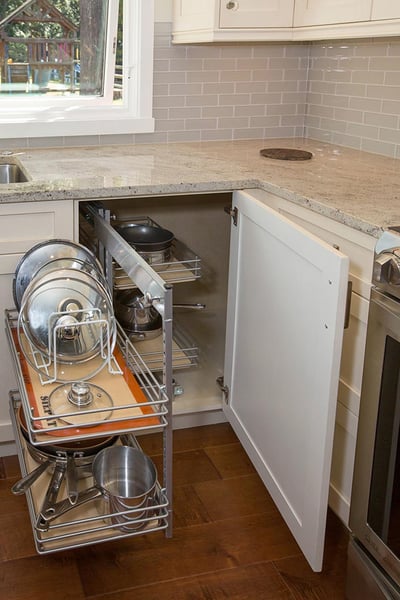 Pan and lid storage in this Blue Ash kitchen is handled with ease in the cleverly-designed corner cabinet pull-out.