Whether your family entrance is on the front, back, or side of your house, there are good reasons for keeping your entry orderly and efficient. For this all-important task, closets, cabinets, and cubbies can help keep your daily entry storage where you need it. While some solutions require larger amounts of space, others can be achieved with a small amount of cabinetry and still provide a functional addition to your entry, wherever that is in your house. Here are five ideas from our projects to help get you inspired.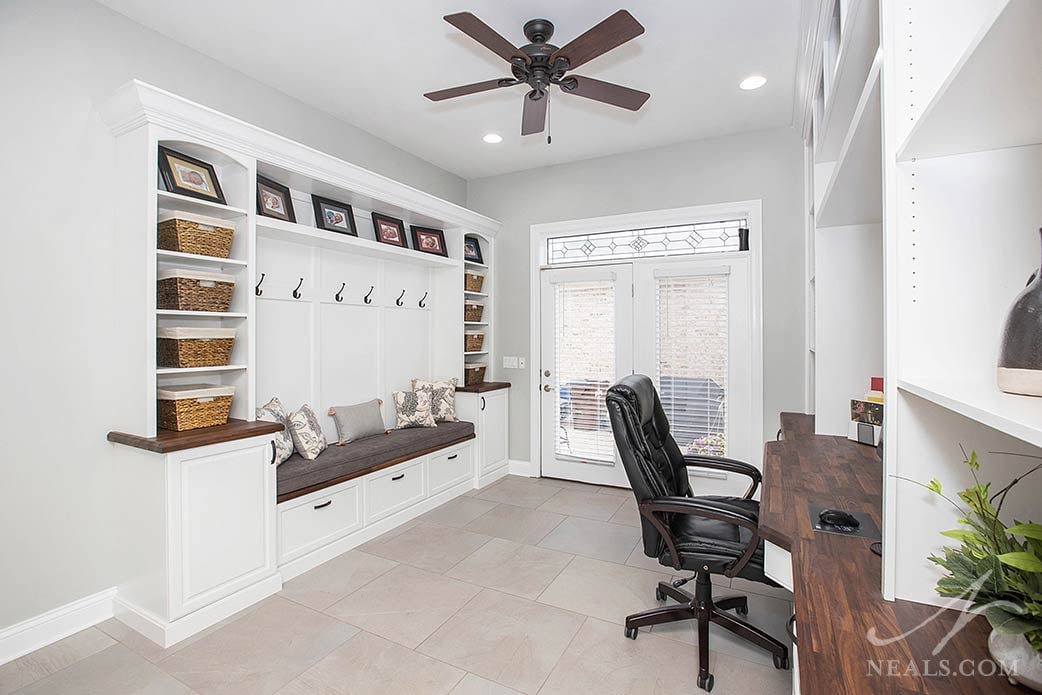 Mudroom and Office Project in Mason
A length of wall was given the promotion to mudroom storage status in this Mason remodel. To achieve this, storage cabinets and open shelving were arranged as a frame. Paneling and hooks were added to the center wall and the base cabinets were outfitted with a cushion to create a bench. The lower cabinets are spacious drawers that can be used for a variety of mudroom storage items. In this project, the added trim details of the cabinetry and the walnut accents help to make the built-in feel architectural and classic.
A smaller space requires a more compact mudroom. In this Montgomery home remodel, the front entry needed a storage option that would hold the kid's items for them to access easily each day, but that wouldn't create a cluttered look right at the home's entry. Locker-style cabinets behind two sets of doors, along with big drawers for shoes, allow for function as well as style. Open shelves on top give space for some decor, a bit of a bench seat is there for when it's needed, and a larger cabinet to the side functions as the front hall closet. All of this practicality comes with an understated traditional style.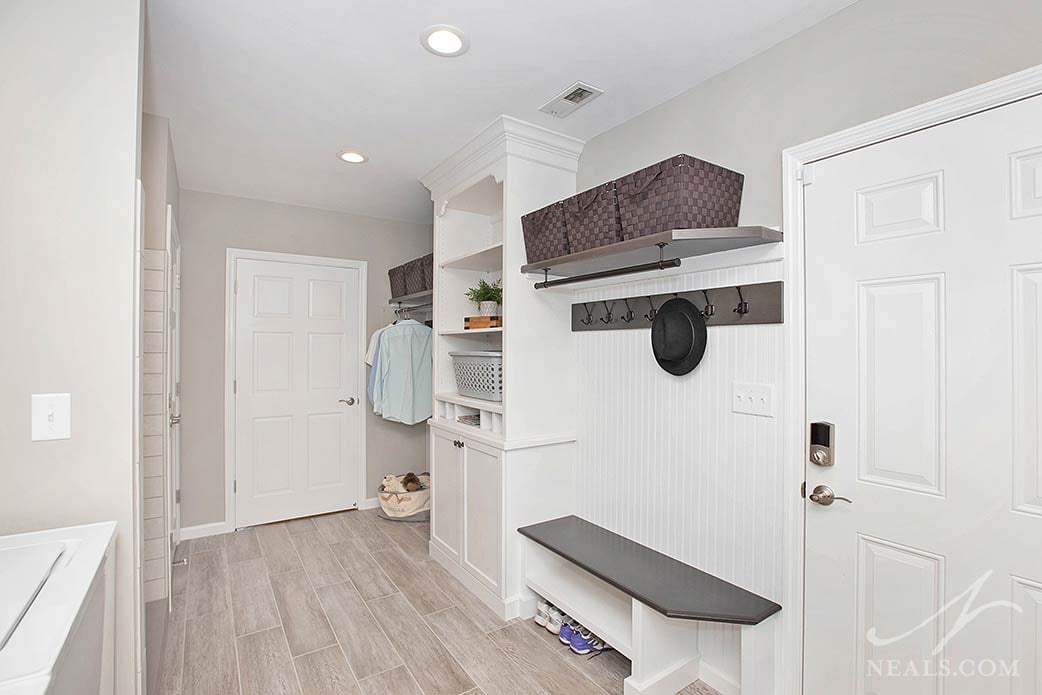 Laundry Room & Mudroom Remodel in Indian Hill
Occupying a section of the laundry room with a door to the garage, this back entry fits in a lot in a relatively short distance. Just by the door, a bench with shoe storage underneath, hooks, and a shelf provide a convenient spot to curb the entryway clutter. Next, a column of shelving combines several entry needs at once, including smaller cubbies for mail and sorting needs, and open shelving that can be used for whatever the homeowner is needing on any given day or season. At the end, a hanging rod offers a spot for coat storage. The real versatility of this mudroom is revealed, however, by the inclusion of rods and shelves that also work for laundry day, giving this entry some serious multitasking skills.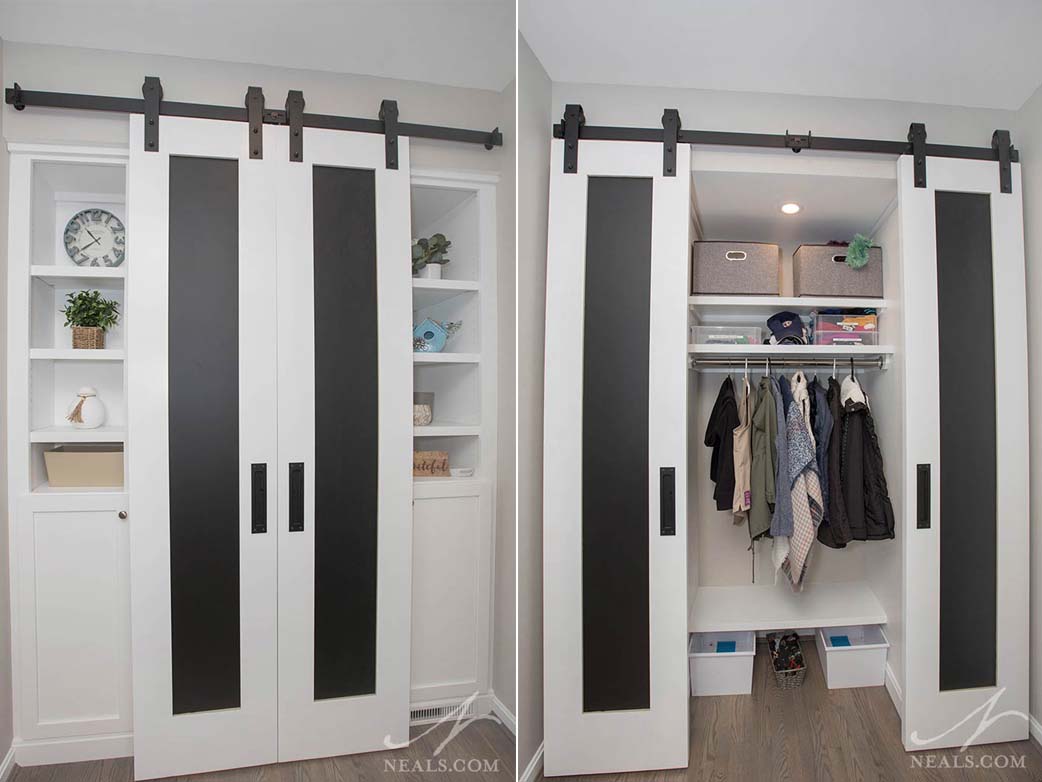 Kitchen Remodel in Monfort Heights
A smaller entry storage solution was needed in this Monfort Heights remodel. A hall-like space at the end of the kitchen was the best location for a garage entry closet. Since the wall is entirely visible to the kitchen, however, a cleverly hidden closet design maximizes the space and gives the homeowner's a dual-purpose built-in. When closed, the barn doors are flanked by shelving for decor and a few organizational items. When the doors slide open, they reveal the closet. Additional shelving in the closet and cabinets at the sides add even room for storage.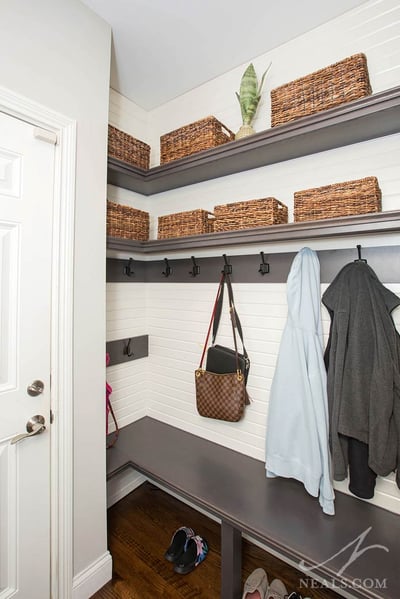 Kitchen Project in Symmes Township
There may be a case in your home that the space you have for a mudroom isn't large enough for cabinetry, and there's no square footage to be borrowed from nearby rooms. In these instances, it's time to think outside the box and focus on efficiency. Since the narrow wall next to the kitchen in this Symmes Township remodel wasn't large enough to allow any kind of cabinet built-ins without losing valuable storage real estate, the area was converted into an open closet-like space. Setting the stage for practical use, a bench and two shelves form bands that wrap into the corner. This small corner detail prevents that tiny space from being an awkward unusable spot. Next, mounted hooks provide the hangers for coats and bags. There's ample place for shoes underneath. There's even a secondary row of hooks, perfect for the dog's items.