Remodeling a lower level allows you to add extra or specialty spaces that can appeal to the whole family without needing to change what exists on other floors. For this reason, lower level renovations often focus on areas designed expressly for entertaining, playing, working out, or simply hanging out, making these common basement prerequisites for today's households. We got the lowdown on how to get the most out of lower lever remodel from Neal's Designer Christina Temple. Read on to hear how she approaches the design of these all-purpose spaces.
"Careful planning is crucial for the challenge of converting a basement into a space you'll actually use and provide a new way of living in your home," Christina states. A careful look at how your family uses your home as it is and then considering how you'd prefer to use it will provide a clear picture of what may be needed in the lower level to enhance your lifestyle in the ways you need. Well before a plan for how the space will look comes together, this list of wants and needs is necessary.
What your lower level can accommodate will be a matter of the available space and how it's arranged. Most basements will have areas already claimed by utilities, and a basement without structural supports to work around will be a rare find. Even if the space is already finished and divided into rooms, these may not be the arrangement you need, so your remodel will need to take a broad view of the entire footprint of the lower level to determine what can be accomplished.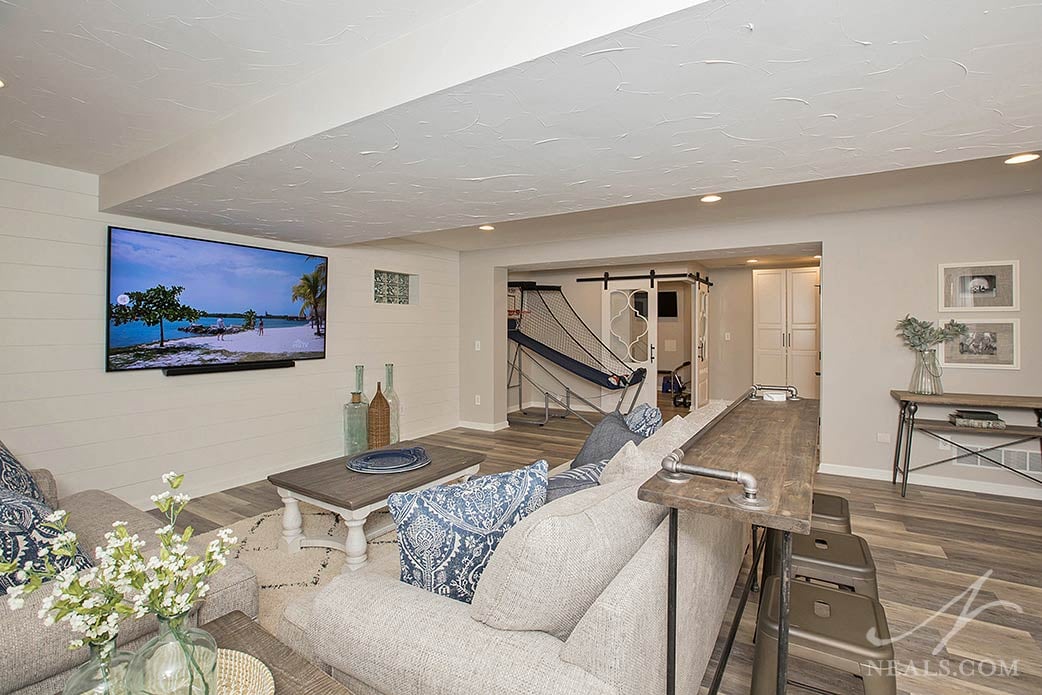 Lower Level in Delhi
One of the most coveted lower level solutions is a flexible family room and bar area. These spaces can cater to movie or game nights, entertaining and gathering, or simply function as a space to unwind. Ideally, these areas will be designed to work for all members of the family within reason so that everyone feels comfortable. A family room and home bar combo work well as an open-concept room together. "In this way, one space is not too far from the other, but far enough that you can still achieve a segmented floor plan with defined areas," Christina explains.
"A bathroom is a worthwhile convenience in most lower level projects," Christina highlights. Not all floor plans will accommodate a full bathroom, and not all families will need more than a water closet, but if there's room and budget, it's worth considering. These bathrooms can be simple and basic, but Christina suggests an alternative. "A lower level bathroom can have a big impact by utilizing the right styles, textures, and products,' she says, suggesting that a basement bath can play by different rules than what you may want in your other bathrooms.
Christina addresses the elephant in the room next. "Structural support in lower levels will present challenges for space planning and even limit some ideas at times." They can also present opportunities for creative solutions. They can direct unique placements for walls, offer chances to create built-ins or closets, and can even become important pieces of the style or design of the space when their position can't be integrated into a wall.
A wine room is another excellent addition to a lower level and increases the versatility of the space for adults. Small, discrete spaces like closets can accept formal wine storage. For more impact, homeowners who are collectors may decide to dedicate a larger area for true, temperature-controlled wine storage. Some type of seating and surface space near wine storage is often included as well. "As a designer, it is important to be aware of the needs of wine collecting, storage, and display that isn't just aesthetically pleasing but also keeping clear what is necessary to preserve bottles as they should be and address a client's drinking and entertaining style," says Christina.
With flexible work arrangements on the rise, home offices have become a highly popular addition to recent renovations. Most homeowners will find that building dedicated rooms rather than sectioning off small areas will better suit needs and create privacy, which makes the lower level a good candidate for their location. "With thoughtful planning and the right type of storage, these spaces do not require much square footage," Christina points out. A basement home office is great for working from home, studying, or managing the household without having to sacrifice space on the main floors.
To extend the versatility of a lower level even more, a home gym, gaming room, or any other specialty space that suits your lifestyle should also be considered for the remodel. "Many homeowners find great convenience in accommodating their family's specific needs within their own home," Christina says. A great rule of thumb for any remodel is that rooms dedicated to what you enjoy doing will always be relevant to your needs at home.