There are several rooms in the home where countertops play a key role. Kitchens and bathrooms, laundry rooms, home offices, and bars (just to name a few) all utilize this design feature to accomplish their functions. If you're remodeling your home and will be adding or changing your counter surfaces, then you'll likely be faced with an important question: what material will your new countertop be? There are several types of counter products on the market, but if you're unsure about the most common options, read on.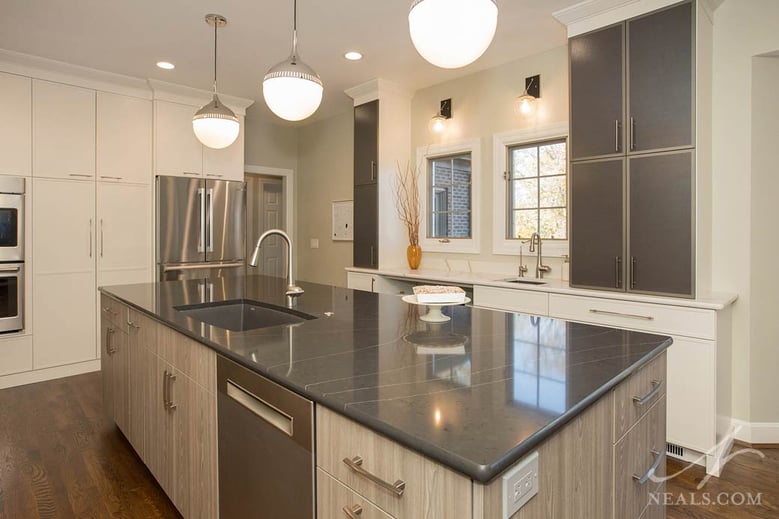 Quartz Counter | source
Quartz
In recent years, quartz has become the most popular choice for most countertops. In the past, quartz was seen as an alternative to granite, but as manufacturing has improved, there are now quartz options that mimic a huge variety of natural stone surfaces. Quartz is made by mixing natural materials with resins to create a strong, non-porous material that requires less maintenance than natural stone. Quartz can also be made in many colors and with more variety than natural stone, so there's likely to be a quartz option out there that's perfect for your project. Be aware, however, that quartz isn't necessarily less expensive than granite or marble.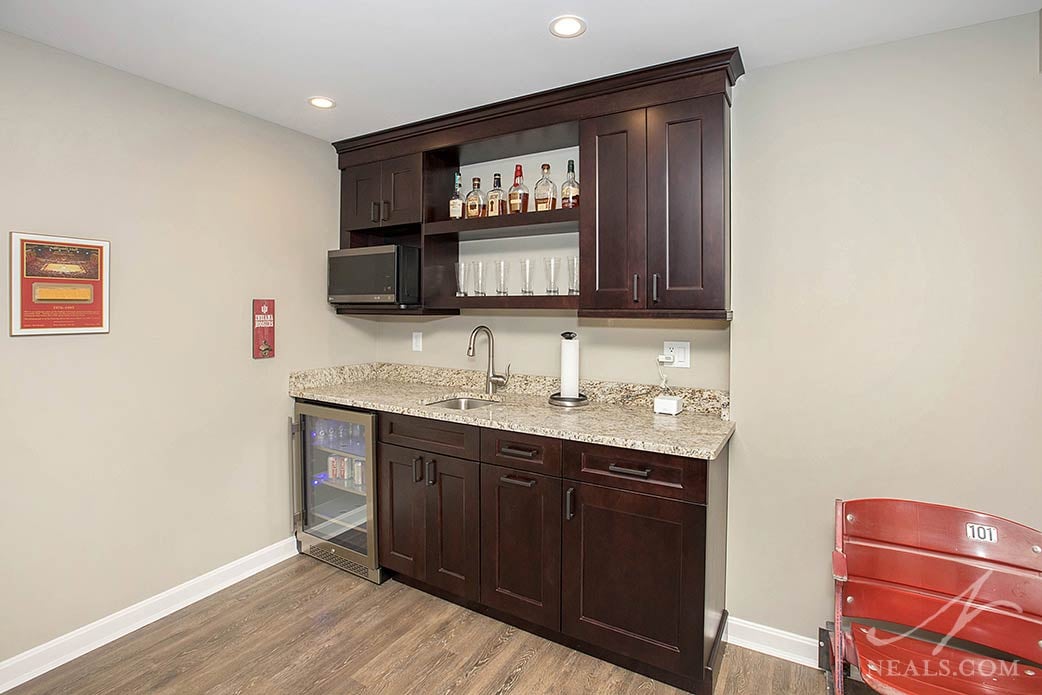 Granite Counter | source
Granite
As far as natural stone countertops go, granite is a popular choice for its mottled color in a wide variety of shades. It is durable and if properly sealed, resists stains and moisture. Granite maintains its color, is colored through the entire interior of the slab, and every piece of granite is unique. Though it's been overtaken in popularity by quartz in the past several years, for homeowners who prefer the "real deal", granite is a tried-and-true option.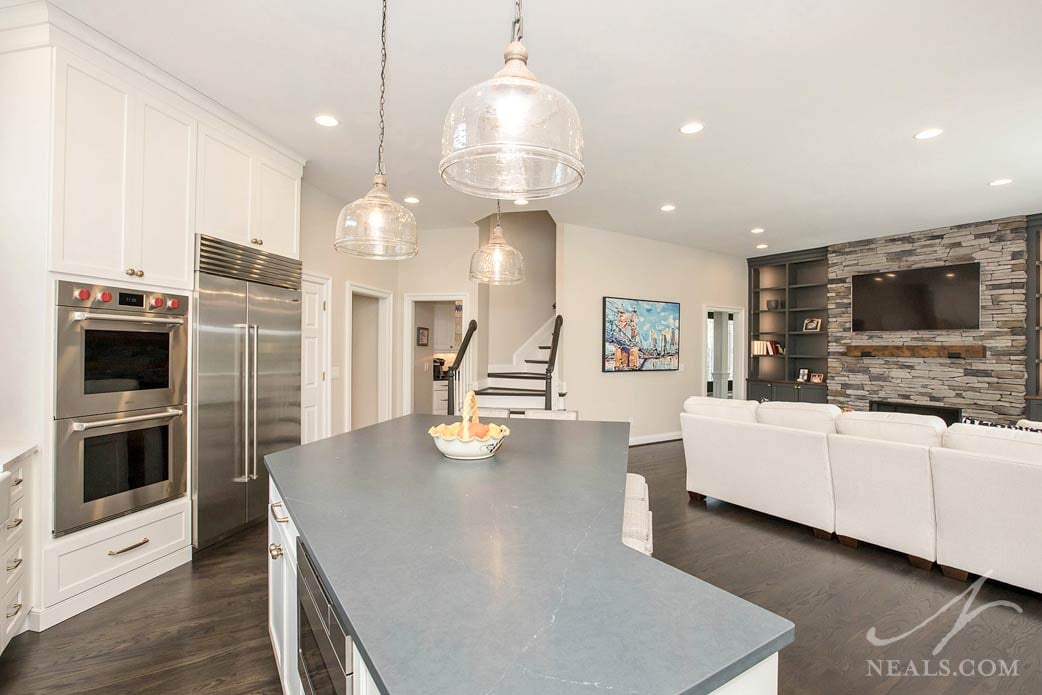 Solid Surface (Silestone) Counter | source
Solid Surface
Solid Surface counters are manufactured materials available in a variety of colors and usually lack the more natural depth and movement of quartz. Just like quartz, however, recent manufacturing improvements have made solid surface options more durable, though these counters can still be prone to damage from heat or stains. Solid surface counters can be produced in a very wide range of colors and patterns, including varieties that are not even remotely available with the other options in this list. Solid surface counters are quite often selected as a budget-friendly element to a design, such as on the perimeter of a kitchen with a quartz island counter, or as the vanity counter of a guest bathroom.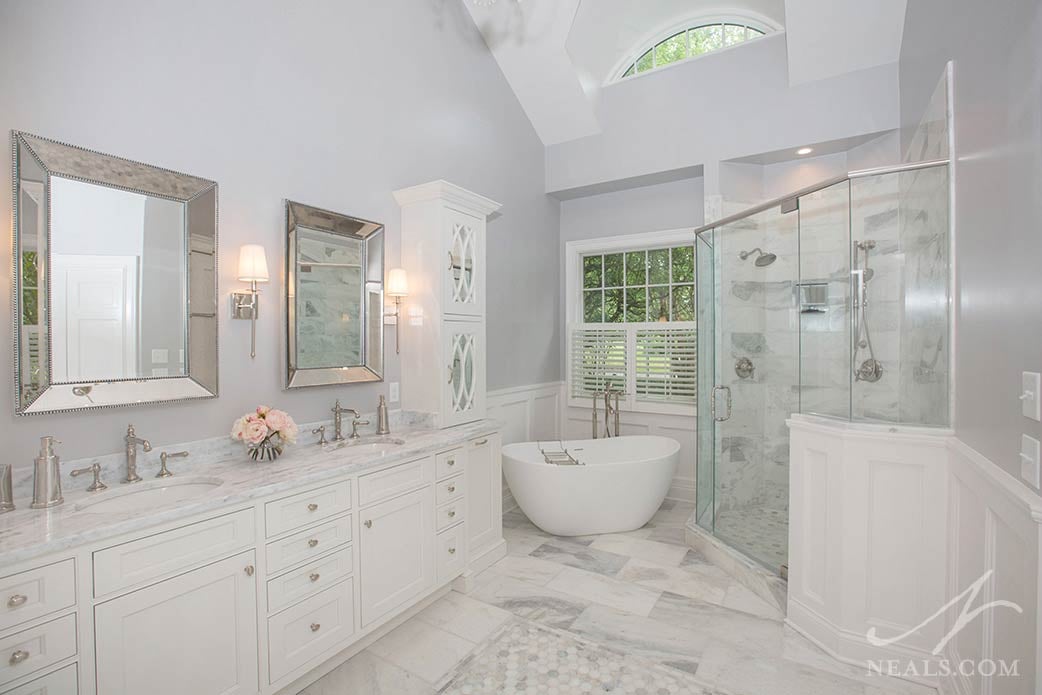 Marble Counter | source
Marble
Marble is a delicate natural stone that typically comes in white, cream, gray, and brown shades. While most people think of the classic white with gray veins when they think of marble, many other variations are available that may surprise you are marble. Marble is not as durable as quartz and granite, so more care must be taken to seal and maintain it. Marble can also come at a higher price point than other options, depending on the type and where it was originally sourced. Marble is well suited to a bathroom installation, more than in the kitchen, due to its relative fragility.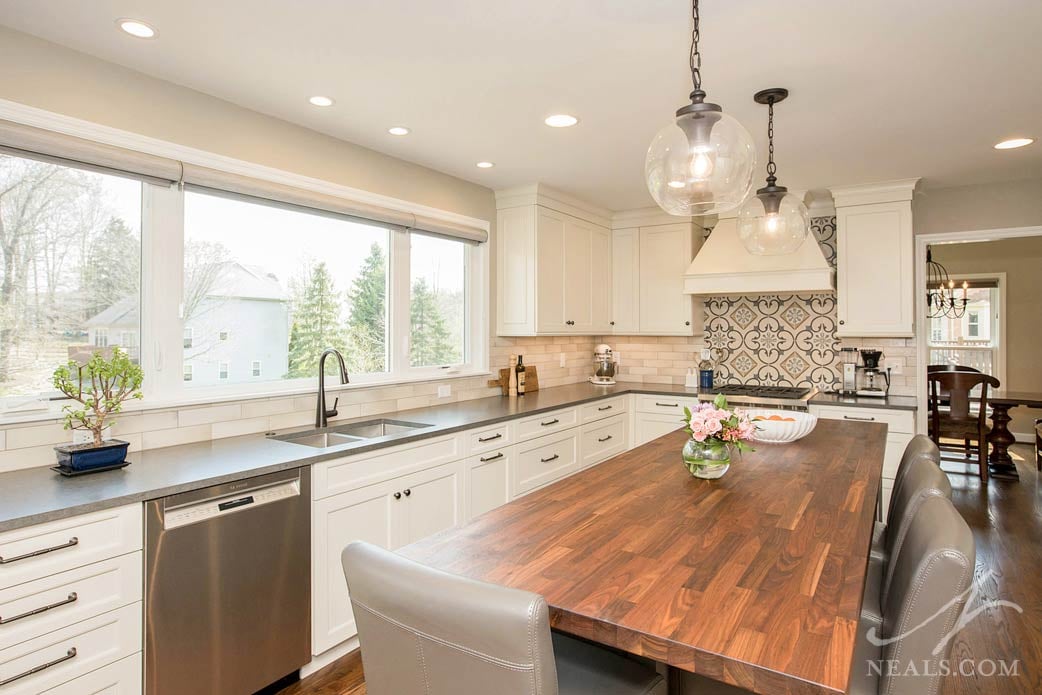 Wood Counter | source
Wood
Wood counters can be created as either single planks, or more typically several pieces glued together. Wood requires regular maintenance and it is prone to staining and cuts. It is not well suited to wet environments like the bathroom, as the moisture and heat will warp and crack the wood over time. Wood is often used in kitchens in the form of a butcher block counter, but doesn't have to be installed only for the purposes of a cutting board. Recycled or reclaimed wood is a great option for Eco-conscious kitchens. Choosing a wood countertop comes with choosing a maintenance regimen to keep it looking its best as it is used and ages in your home.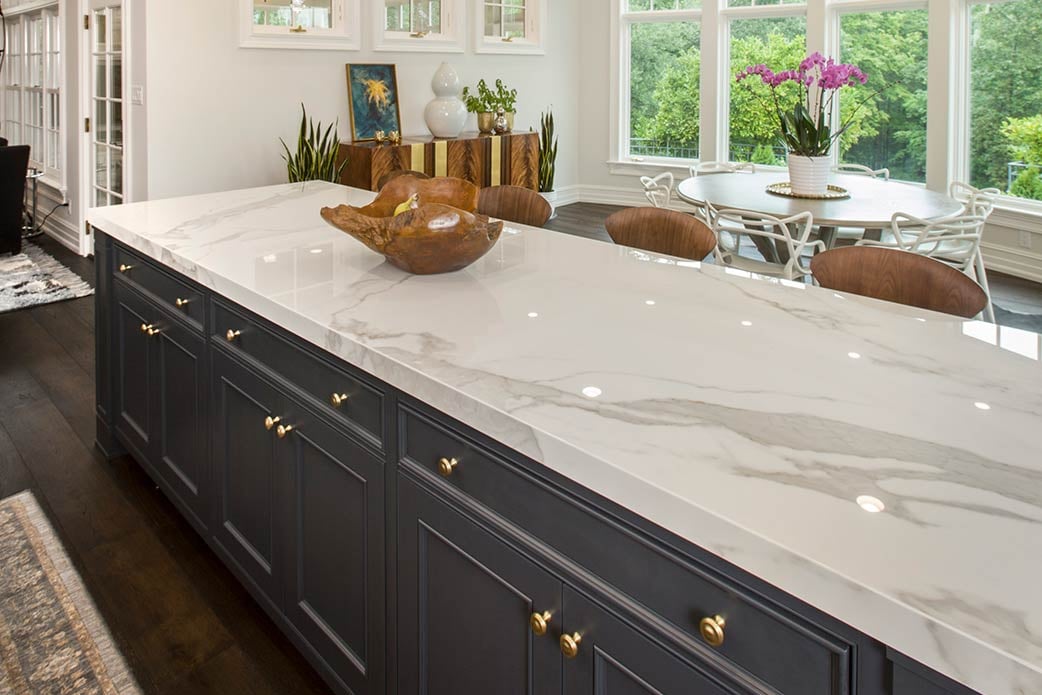 Neolith Counter | source
Sintered Stone
A newer product on the market, sintered stone is a mixture of natural stone materials that are mixed and super-heated to form a new material. This new material is something like a combination of quartz and porcelain and is generally used as a more durable alternative to marble that will last longer and is stain-resistant. Sintered stone is usually better known under a brand name, such as Neolith.
How to Choose a Countertop Material
The decision to go with one material over any other tends to come down to relative cost and long-term maintenance commitment. Here are some key questions you should ask to narrow down which materials might be right for your project.
Does this material have options within my budget range?
Can I get the color and/or pattern I want in this material?
Is this material appropriate for my home's value and market?
Will the labor costs for installation be inside my budget?
Can I commit to the proper regular up-keep of this material?
Does this material work for the style I'm trying to achieve?