A kitchen without the ability to cook isn't much of a kitchen. Having the ability to prepare hot dishes is a fundamental quality of a functional kitchen, so it makes sense that the appliances used to cook and bake should be major considerations when you are deciding to remodel. In many ways, cooking and baking appliances have changed very little, but new technologies and increased efficiency have entered the market in the most recent decades. In the end, however, there are still just four primary types of appliances: cooktops, ovens, ranges that combine the two, and microwaves.
Ovens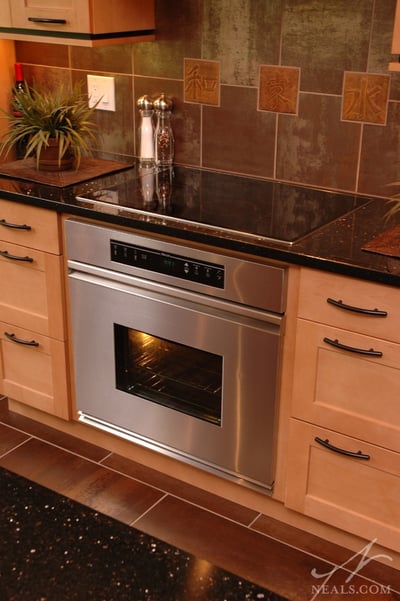 Under-Counter Oven | More photos from this project
Ovens are used for any dish that requires baking, roasting, or broiling. There are two main oven technologies. Conventional ovens radiate heat from a single source, usually the bottom, and can be gas or electric. There are several disadvantages to this technique, including uneven temperatures inside the oven chamber, and the tendency to over-heat the bottom of a dish even when the top remains under cooked. Conventional ovens, however, are reasonably priced, easy to maintain, and come with lower repair costs.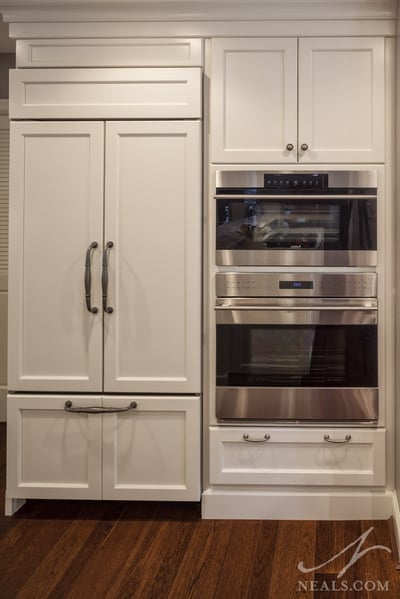 Wall-Mounted Double Oven | More photos from this project

Convection ovens are newer to the scene, but have been around long enough to have made great improvements in residential appliance applications. These ovens use a fan to distribute the heat evenly through the chamber, eliminating the heat pockets seen in conventional ovens. They can also be gas or electric. While this is a major advantage, there are still some downsides. Convection ovens can be louder (due to the fan motor), and can be more costly to repair. They also generally come with a high price tag.

In terms of installations, stand-alone ovens can be installed as under-cabinet units or wall units. The most typical application of a wall oven is to install a stacked pair of ovens (referred to as a "double oven"). This allows you to bake more dishes at once at different temperatures and times, decreasing your overall cook time to prepare meals. Double ovens are often sold inpre-combined pairs that offer slightly different features in each oven, increasing your cooking capabilities.
Cooktops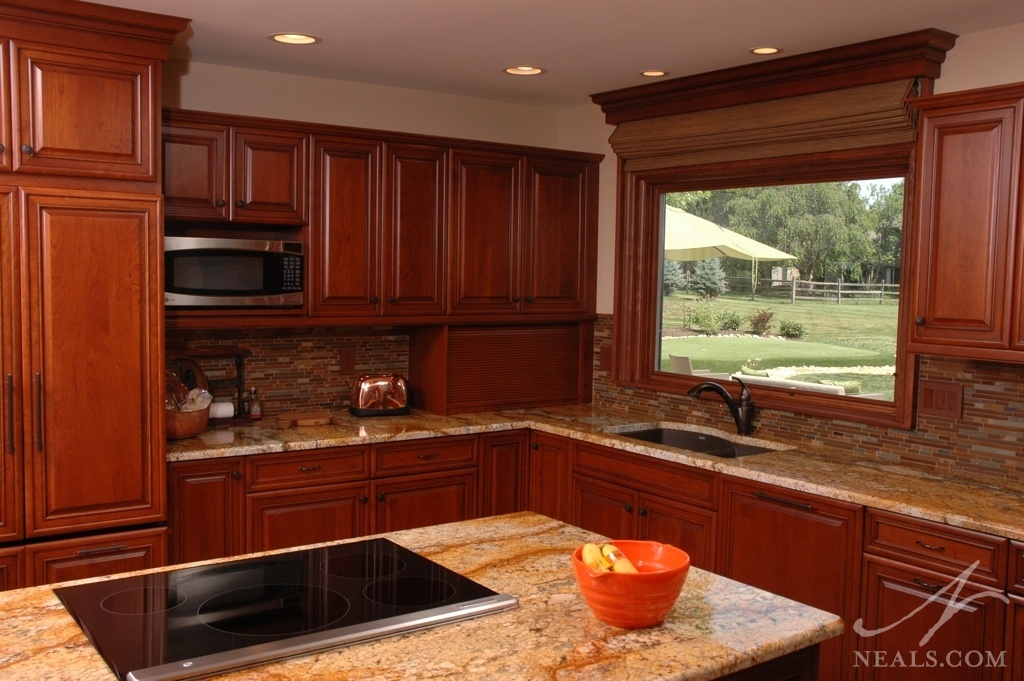 Smooth Surface Cooktop | More photos from this project
Surface cooktops are used for sautéing, frying, braising, browning and more. A cooktop appliance can be gas, electric, induction, or a combination or modular model that brings different technologies together. Traditionally, gas has been hailed as the best method, giving greater control over heat than electric coils that leave out temperature control. An induction cooktop, the new kid on the block, uses magnetism to heat the cooking vessel, rather than a unit on the cooktop surface, which means that the surface never gets hot. While electric seems to have the short end of the stick here, an electric cooktop is affordable and generally considered safer than the open flame of a gas stove.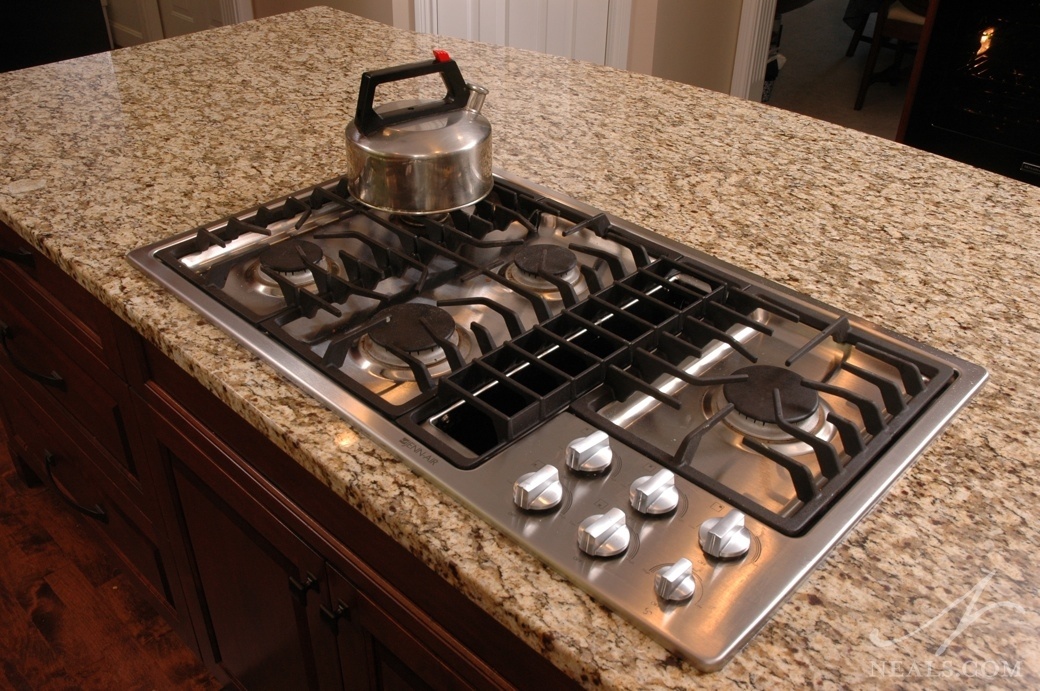 Gas Cooktop with Side Controls | More photos from this project
Cooktops also come in a few types beyond their cooking method. Smooth surface cooktops are easy to keep clean (but may require special cleaning products to avoid damaging the surface). Some cooktop units drop into the counter, like a sink, with the burner controls on the side. Others slide into the counter, with the controls positioned in the front. Consider the needs of your family and your safety concerns when evaluating these options
Ranges
Residential-Grade Range | More photos from this project
When the oven and cooktop are combined into a single unit, that is known as a range. Ranges come with all the options and heating methods listed above. On top of that, you can look for ranges in either residential or professional grades. Designed for moderate, regular use by the average home cook, residential grade ranges typically offer fewer cooking features, but are designed to be user-friendly and intuitive.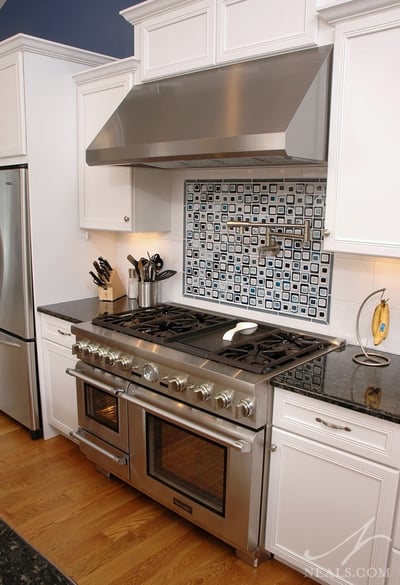 Professional-Grade Range | More photos from this project
Professional grade ranges come with more specialized options, as well as a higher price tag. Originally designed for commercial kitchens, professional-grade appliances are made available to the residential consumer due to an increased interest in more advanced cooking in the home. Keep in mind that "professional-grade" doesn't necessarily equate "better". It simply means that the abilities and capacities are geared toward increased and specialized usage.
Microwaves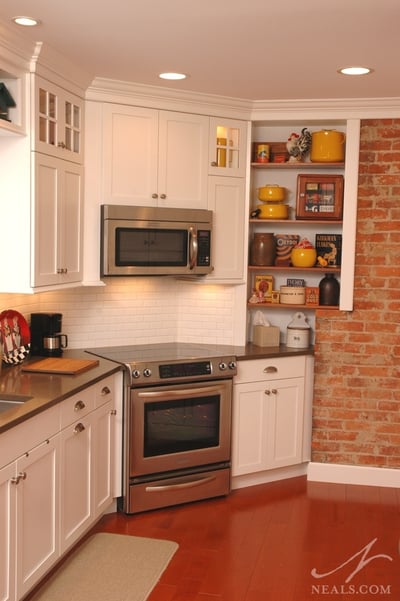 Microwave Over the Range | More about this kitchen remodel
A discussion of the appliances used for cooking wouldn't be complete without a nod to the workhorse of the modern kitchen- the humble microwave. The cooking abilities of microwaves has improved since they were first introduced in the 40's. Now, microwaves come with built-in programs for common tasks (like thawing or popping popcorn), and the ability to adjust the power settings. The hallmark of a good microwave is one that is easy to program and doesn't require additional nukes to complete its task. Microwave options mostly center around the location in which it will be placed in the kitchen. The main locations are countertop, built-in, and over the range. Microwave drawers are a newer addition to the kitchen appliance world. Microwaves can also be convection models, using the same principles as the convection oven.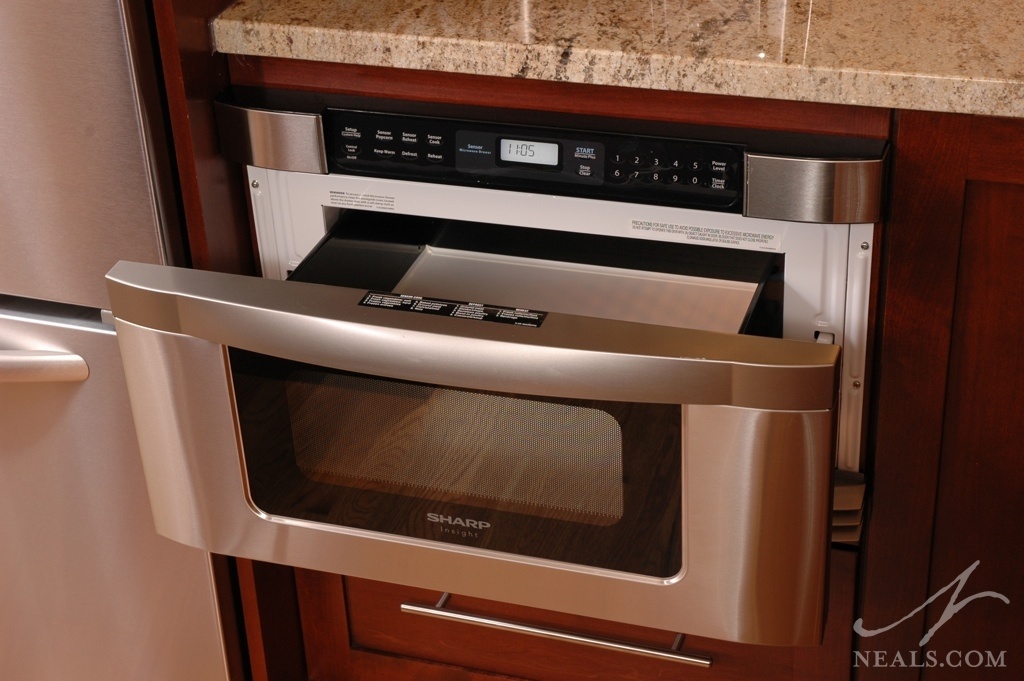 Microwave Drawer | More photos from this project