As the year draws to a close, you may be pondering new ways to refresh your home in the new year. While a remodeling project is certainly worth considering, sometimes even just a fresh color palette can do the trick. Luckily, color experts have done a lot of the legwork for you and have offered up a selection of "Color of the Year" choices to inspire your home decorating in 2020.
Pantone, the world's leading color expert, has selected "Classic Blue" as the 2020 Color of the Year. A straight-forward shade, this color pick can be used in a variety of ways, either as decor or a bold paint choice. This year, Pantone's selection is one of several blue picks. PPG selected a muted blue, "Chinese Porcelain", and Sherwin Williams has chimed in with "Naval", a traditional navy blue.
| | |
| --- | --- |
| | "Instilling calm, confidence, and connection, this enduring blue hue highlights our desire for a dependable and stable foundation on which to build as we cross the threshold into a new era." |
Blue is a common choice in home design, and these color choices seem to indicate that blue's popularity will only continue into 2020. We have seen blue in use primarily in accent cabinetry, especially kitchen islands, where the punch of color adds trendy character without overpowering the space.
| | |
| --- | --- |
| | "Naval is an empowering presence that evokes a sense of confidence. A serene shade with a hint of opulence, it works well with polished marble, gleaming metals, soft leather and sophisticated patterns." |
| | "A blend of cobalt and moody, ink blue that imparts calmness and restful sleep while also offering the spirit of hopefulness – a rare commodity in a restless world." |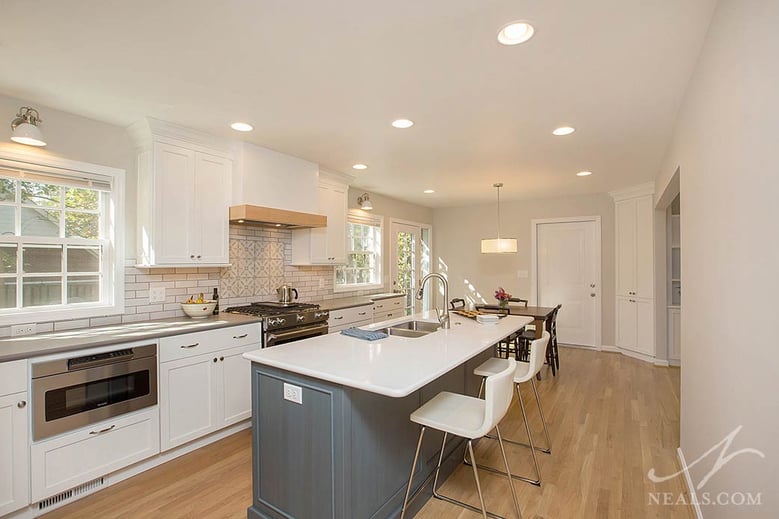 The island in this Wyoming area kitchen is painted in a muted blue shade with a vintage finish to add chic charm.
If blue isn't a color you are interested in, despite its clear popularity, paint brands Behr and Benjamin Moore understand. Rather than looking toward saturated and eye-catching colors, Benjamin Moore selected "First Light" as its color of the year pick. This mature pink straddles the line between a true neutral and a distinctive color, which is great for a bathroom or living room.
| | |
| --- | --- |
| | "A fresh palette. A revitalized spirit. A soft, rosy hue blooming with potential. Benjamin Moore's Color of the Year 2020 is the backdrop for a bright new decade." |
Behr has selected a pale yellow-green shade, "Back to Nature", as its 2020 color of the year. This outdoors inspired color can be difficult to use, but when paired with white and wood, in keeping with its natural setting, this color can be a subtle statement. We like this one as a casual color choice for an accent cabinet in the kitchen.
| | |
| --- | --- |
| | "As nature's favorite color, Back to Nature is a restorative and revitalizing green hue that engages the senses and pairs well with other colors both inside and outside your home." |