A trend captivating homeowners this year is integrated interior cabinet lighting. While in-cabinet lighting isn't new, it used to take special electrical work (with the added cost) to install, and therefore hasn't been on the radar of most homeowners until recent years. Now, cabinet makers are designing with interior lighting in mind from the start. With this advancement, the benefits of integrated lighting make it something worth considering for the modern remodel.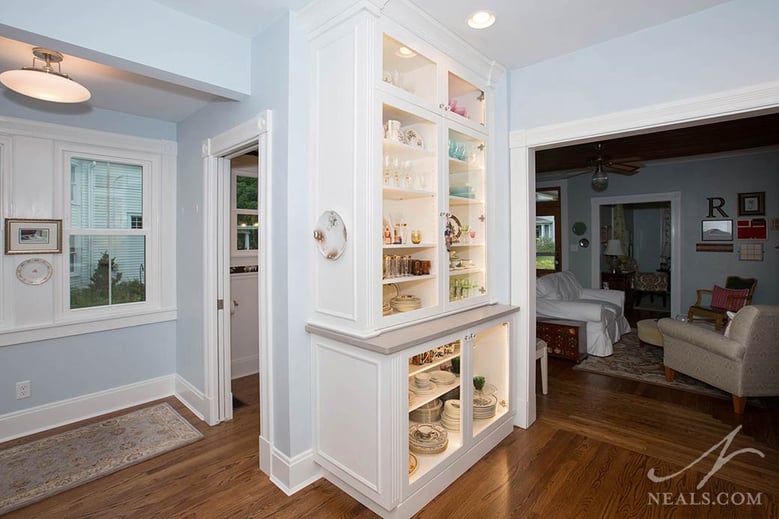 This example of integrated lighting in a Milford remodel shows how it can be used in display to easily highlight your collections.
One of the primary uses of in-cabinet lighting has been in glass-front or open shelf cabinets designed to showcase what's inside. After all, why hide your beautiful dishes or collectibles in dark cabinets? While this is a great use of integrated lighting, and one we still recommend, it's no longer the only option.
With integrated interior lighting, any cabinet can become more accessible, practical and functional. Take for example under the sink, or in deep or corner cabinets. Think about the drawers and cabinets in you home that you are only able to see inside due to nearby room lighting, and imagine the possibilities.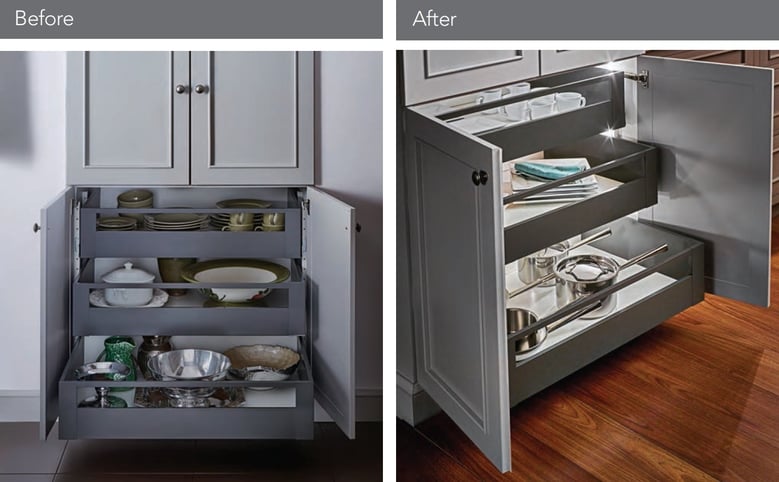 This comparison by Wood-Mode Fine Cabinetry shows how interior cabinet lighting can dramatically improve storage functionality.
Integrated lighting combines design, craftsmanship and technology to brighten your cabinet's darkest corners. LED lighting is available in many flexible configurations, that all provide high efficient, low heat lighting.
Under Cabinet – Lighting can be integrated across long lengths of cabinets to brighten you entire counter space. Individual puck lights can also be added to provide concentrated light in more specific regions.
Interior Cabinets
Drawers
Down lighting – great for bringing attention to forgotten spaces, like kitchen islands that are open under the counter.
New integrated lighting is different from lighting installed afterward in a few key ways. First, the lighting becomes a core component of the design for your space, rather than an afterthought. This means that the wiring is already figured out, and the cabinetry is designed to maximize the light's usefulness. The lights are also LEDs, which are energy efficient and long lasting - up to 25 years or 50,000 hours- dramatically reducing maintenance and replacement costs.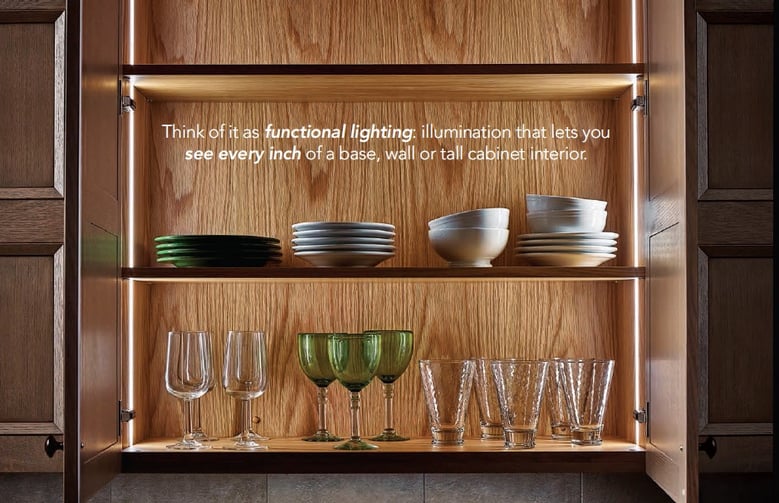 Integrated cabinet lighting offers many configurations that suit many different applications. The LED lighting can also be geared to many varieties of styles and moods. To get the most out of the technology, it's important to discuss cabinet lighting early in your design discussions so that your needs for integrated lighting can be determined when considering the cabinetry that's right for your project.