If you're planning to remodel a bathroom, don't overlook the important role lighting plays in bathroom function and safety. Lighting can be used to create dynamic effects for various tasks, and a layered approach to light fixtures will yield the best results. Illumination can be achieved through several light sources, and each will have many options to chose from. Here are our suggestions for the four primary lighting types to include in your new bath.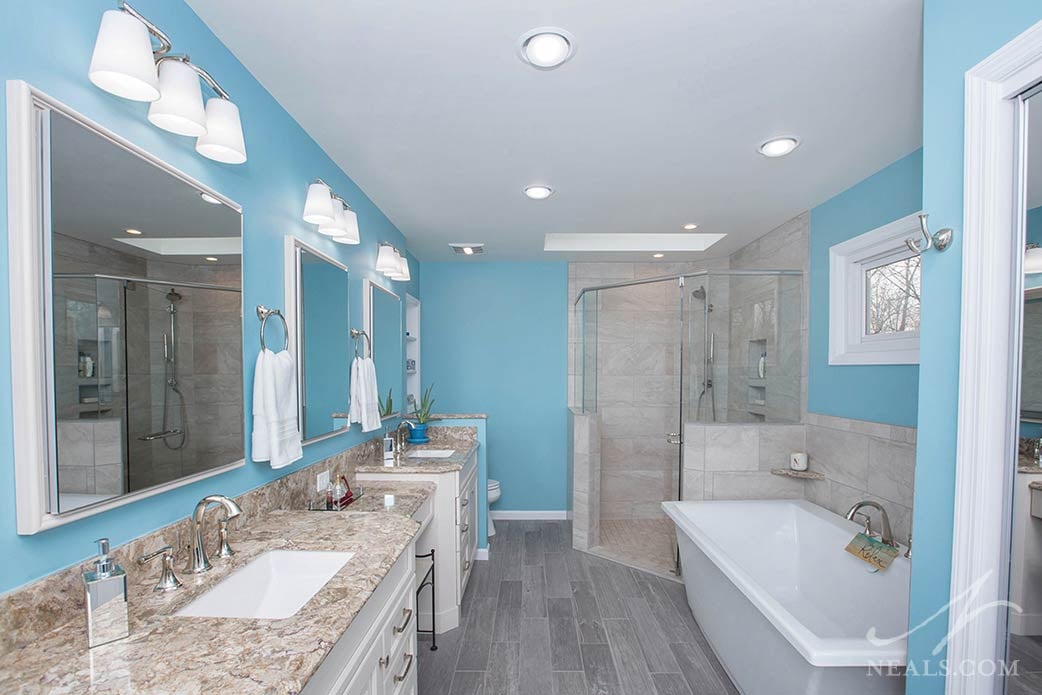 This master bathroom in Indian Hill is an example of a layered lighting scheme.
Natural Light
We don't typically notice the way that natural light can be used in a bathroom, but many full-size bathrooms have at least one exterior window or the potential for one. How the window is treated will depend greatly on your concerns for privacy, but even a window with a covering or other privacy screening can allow natural light into the space. Skylights can be another option for bringing natural light into the room without compromising privacy.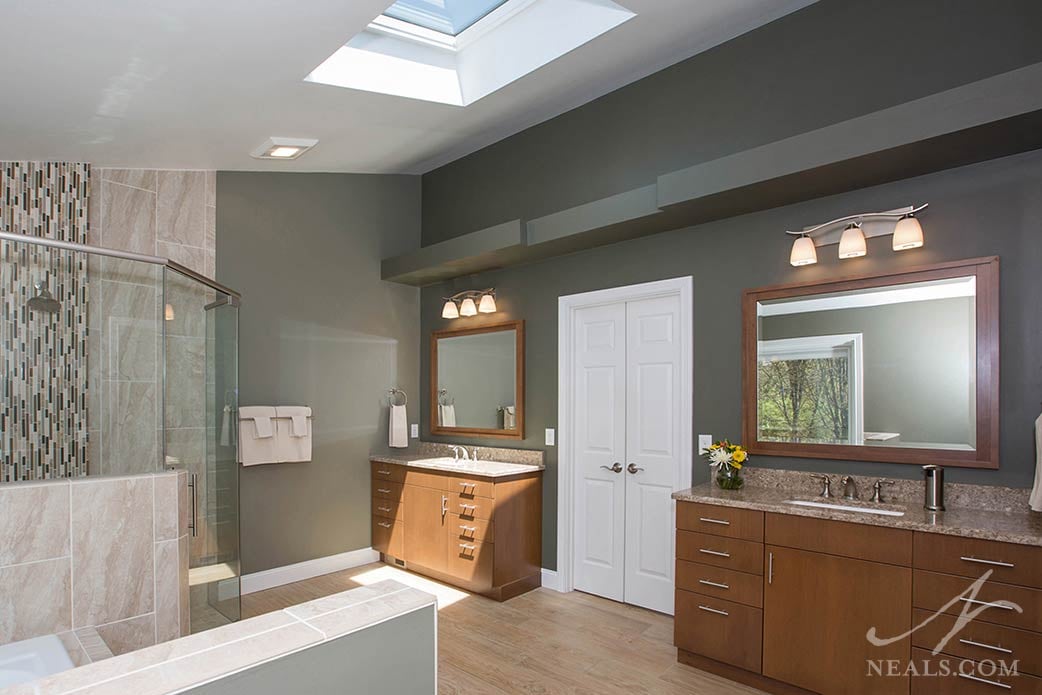 A skylight in this Liberty Township bathroom adds more opportunity for natural light.
Natural light, when it's possible to include, is a useful form of illumination in a bathroom because it can allow the bathroom to be used without other lighting in the daytime, and it adds a pleasant ambiance to the room in a more general sense. If you have a situation when a window does not need to be screened and your view is worth it, including that feature as an element of your bathroom is a great way to add drama to your new bathroom design.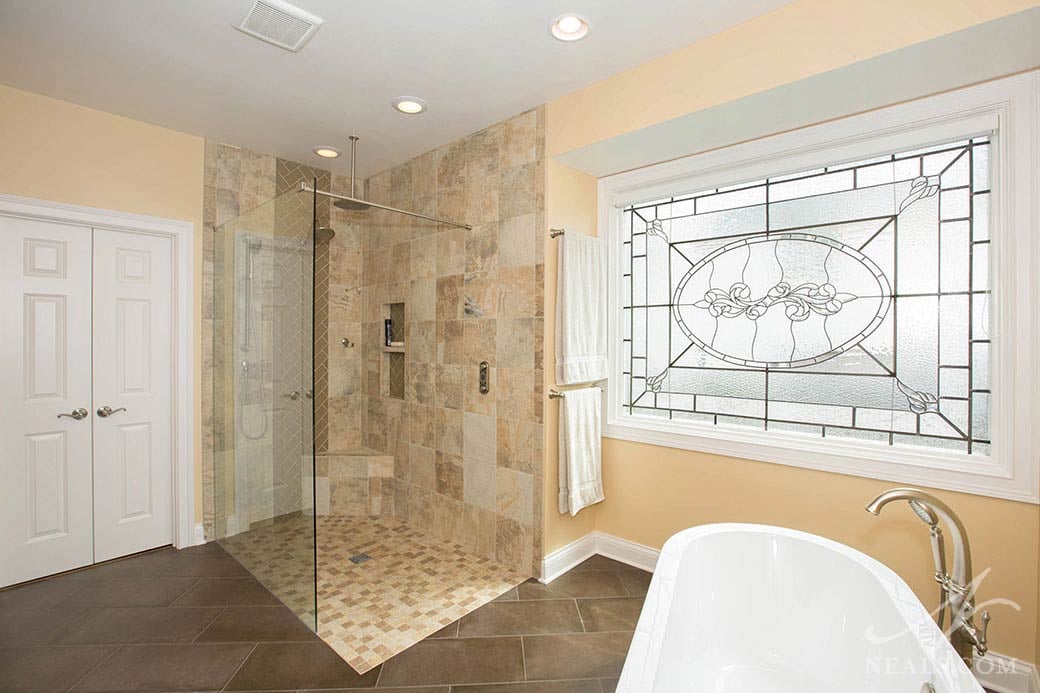 A frosted leaded glass window in this Sycamore Township bath adds natural light without compromising privacy.
Task Lighting
Task lighting is a form of light that is directed toward a specific area to give that space the best light to work in. In a bathroom, this type of light is necessary in the two areas you shouldn't compromise on being able to see what you're doing- the vanity and the shower.
Vanity task lighting should not be overpowering, produce too much heat, or cast the wrong color of light onto your face. This is especially important for vanities where make-up will be applied, since a hot, overly-colored light can dramatically affect your process. The ideal lighting will be a natural or warm light that is placed either close to face-level, or above it. There are thousands of vanity lights in these two formats to chose from, so there's a fixture out there that meets your style tastes. Which placement you opt for will also depend on the shape and size of your vanity mirror.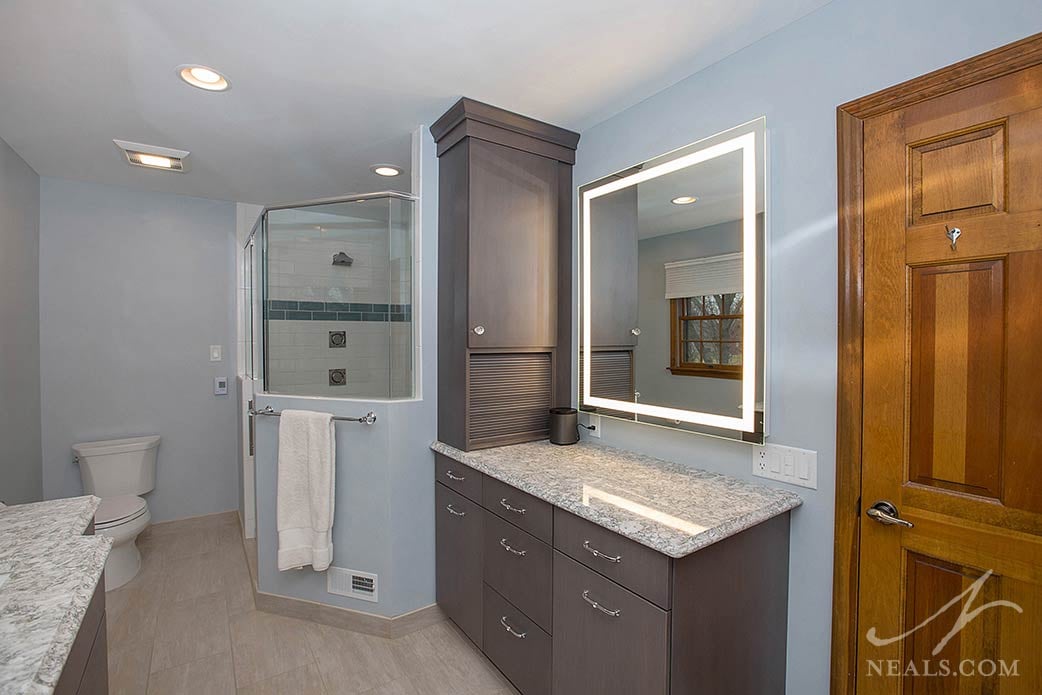 This bathroom in Fairfield uses a mirror with integrated lighting at the secondary vanity.
A second type of vanity task lighting that we've seen much more of in the past few years is integrated mirror lighting. Mirror lighting is placed inside the mirror surface, typically in lines or as a frame, and provides ample task lighting exactly where it's needed. In addition to these specially-made mirrors, it's also possible to install a fixture into a mirror. This is an option for bathrooms where the mirror is so large that lights placed outside of it are too far away.
Shower task lighting, for the most part, will be installed in the ceiling above. Recessed lighting works well for this and can be installed with consideration to the moisture and humidity in the space. The placement and number of recessed lights will depend in the size of your shower. It's also an option to place the lighting just outside of the shower, but this is best reserved for small bathrooms and glass-fronted showers, so that the light illuminates the shower sufficiently. Shower lighting can also be combined with ventilation fans.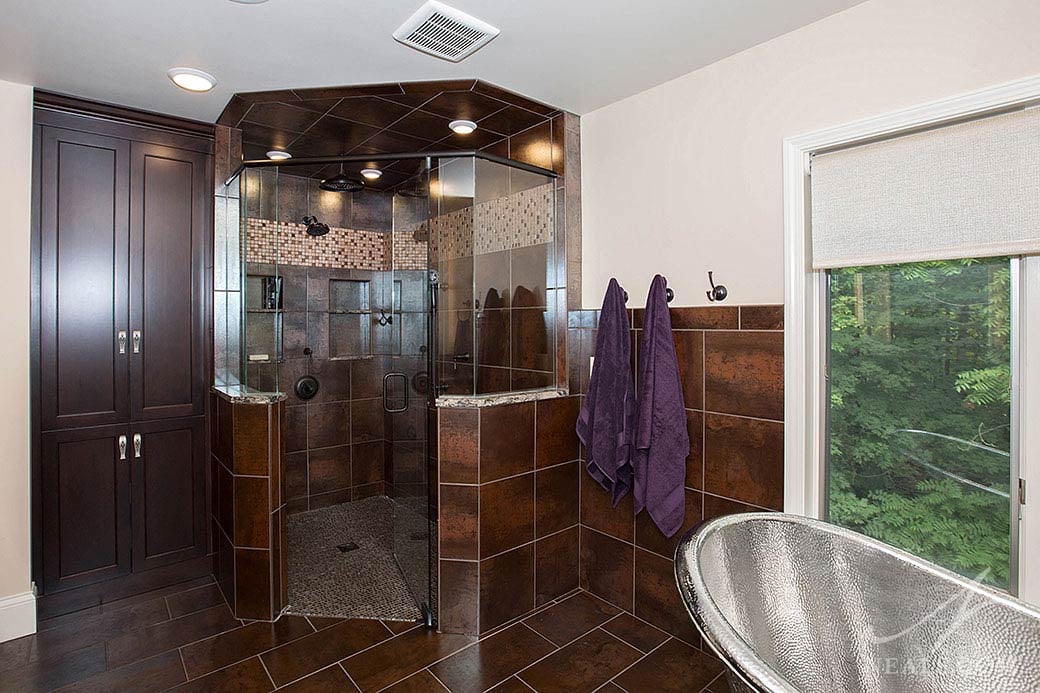 Three recessed lights in the shower of this Indian Hill bathroom provide ample task lighting.
General Lighting
General lighting refers to the background lighting within a room. This can be created with recessed lights placed in central areas of the space. For a more stylish option, however, a centrally-placed fixture, such as a pendant or chandelier can be used as a general light source. One tricky element of this is that it can be difficult to get the scale correct. Speaking with a designer before you go looking for fixtures will help you narrow down the appropriate size range that will work in your bathroom without being too large or too small, and provide the correct level of general light.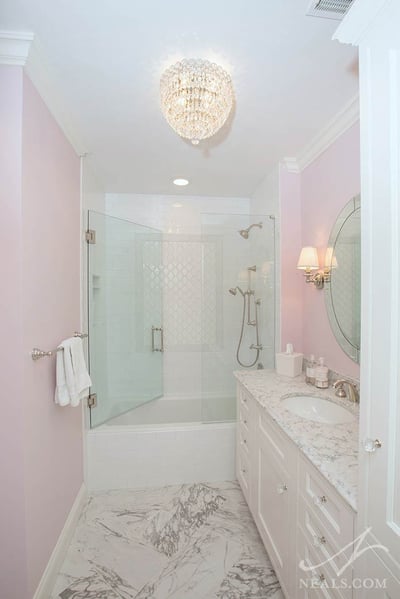 A crystal chandelier in this Indian Hill girl's bathroom adds style and general lighting.
Accent Lighting
Accent lights can be used in a bathroom to highlight niches, shelving and cabinets. Accent lights are usually small, recessed puck lights or rope lights, or smaller sconces or pendants, depending on where they are being placed. Accent up-lighting can also be added to ceilings if there is a recessed soffit present. This layer of light is useful for adding pockets of light in non-task-oriented areas, and can even be used as low-level lighting in the evenings for when a brighter light isn't desired.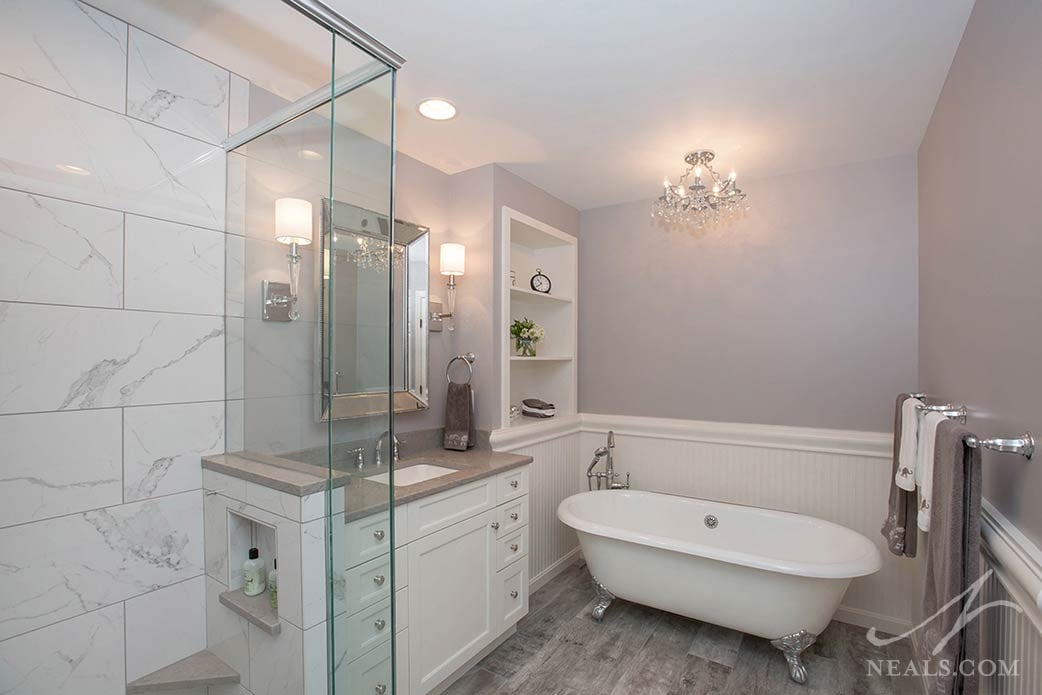 A small light fixture over the tub in this Indian Hill bathroom adds accent lighting.
Modern accent lighting can be smart lighting, connected to a device that can change the color, dim it, or add other fun effects.
Note: This blog post has been entirely rewritten for relevance and clarity, and the images have been replaced. Original post: 12/31/13. Last Updated: 7/9/19