For some couples, remodeling a home together can be exciting as well as stressful. One of the sources of stress can come from trying to blend their individual, unique goals, styles, and tastes into one cohesive design that works for everyone who shares the space. Some of the more common challenges that couples face while agreeing on a design can include how a space functions, how styles are mixed, and how much to spend. Neal's Designer Lauren Donges shares how she helps couples navigate these choices to create a new space they both love.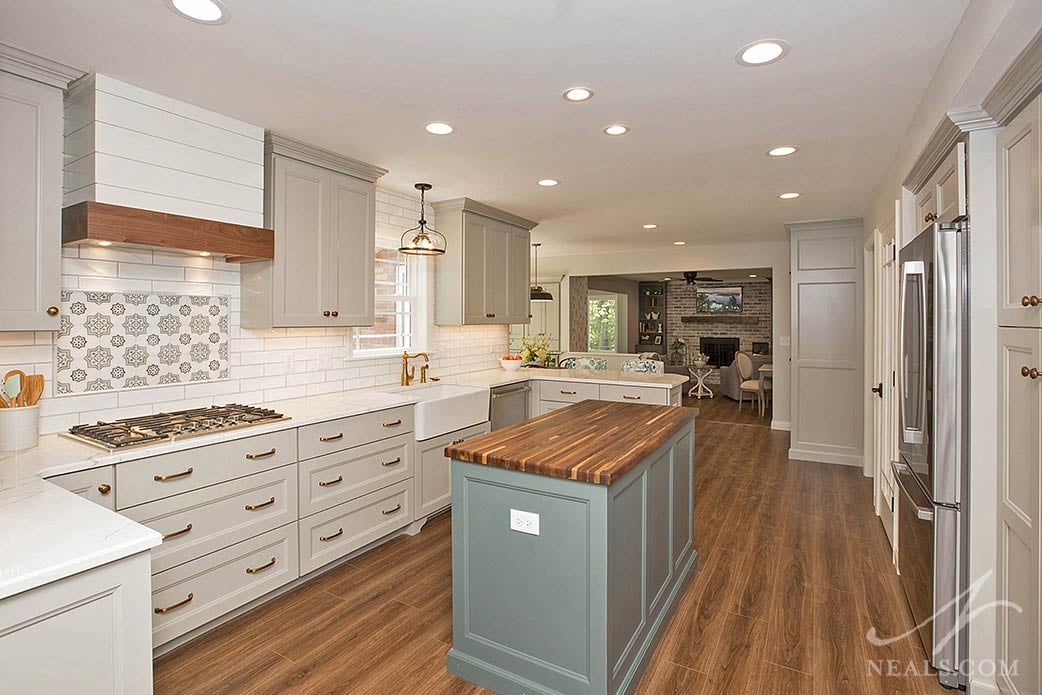 Kitchen Remodel in Montgomery
"One way to help couples design a space together is by considering the overall feel and design of their home," Lauren begins. Each home is unique in style, layout, and functionality, and the couple will have already established what they like and don't like in what already exists. "To figure out what primary design style to go with, I like to have couples consider the pre-existing conditions of their house," Lauren continues. Using the style of the home is one way to get both clients to the same playing field since it's easier to agree on the starting point than on an unknown end result.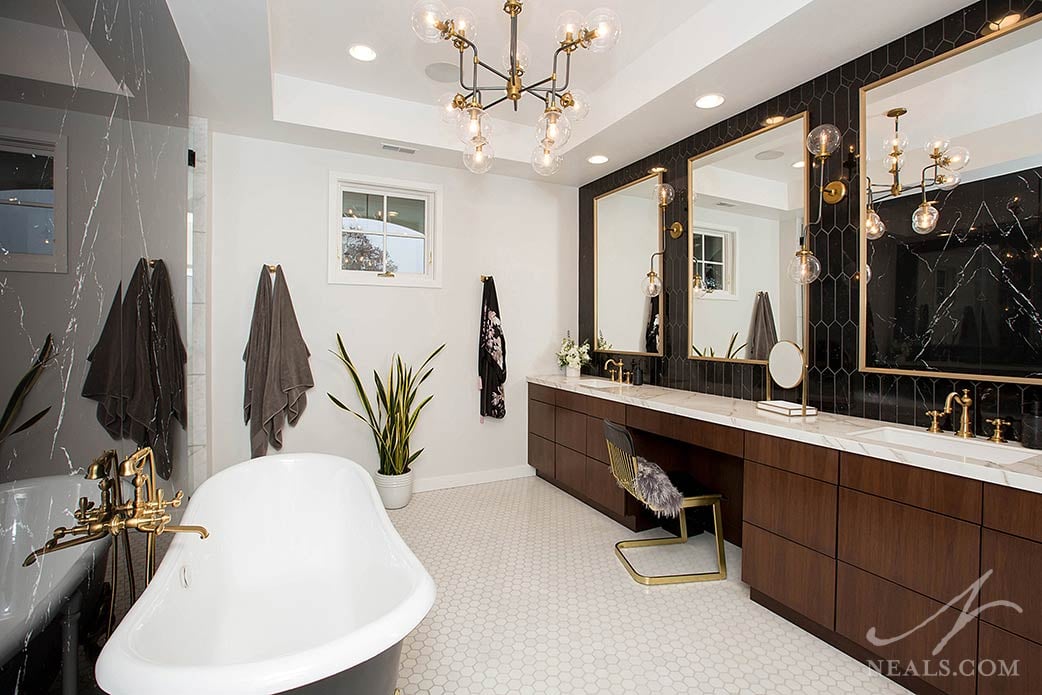 Bathroom Remodel in Indian Hill
"Figuring out what each person's non-negotiables are can also be useful to help drive the design in the right direction," Lauren explains. Many times, listing out what one considers a non-negotiable and what can be given up can help couples understand each other's needs and points of view. For example, one person's non-negotiable could be having a large tv in the living room for entertaining, while the other person does not want to have a tv in that space. Knowing these points of difference as well as where a couple's needs are aligned starts to create a roadmap of the solutions needed in the final design.
Lauren suggests that mixing styles and elements is often easier than it might appear at first. "As a designer, it's all about finding ways to allow each person to have their needs met while making it a cohesive design," she says. This often means looking at how to offer two things in one design solution, such as how to incorporate two cabinetry colors or two types of wall tile, or taking a look at the options from just a practical or functional standpoint. Every step of the way, the design is reviewed and considered whether it's working as a whole, and not simply a mashup of two people's individual choices.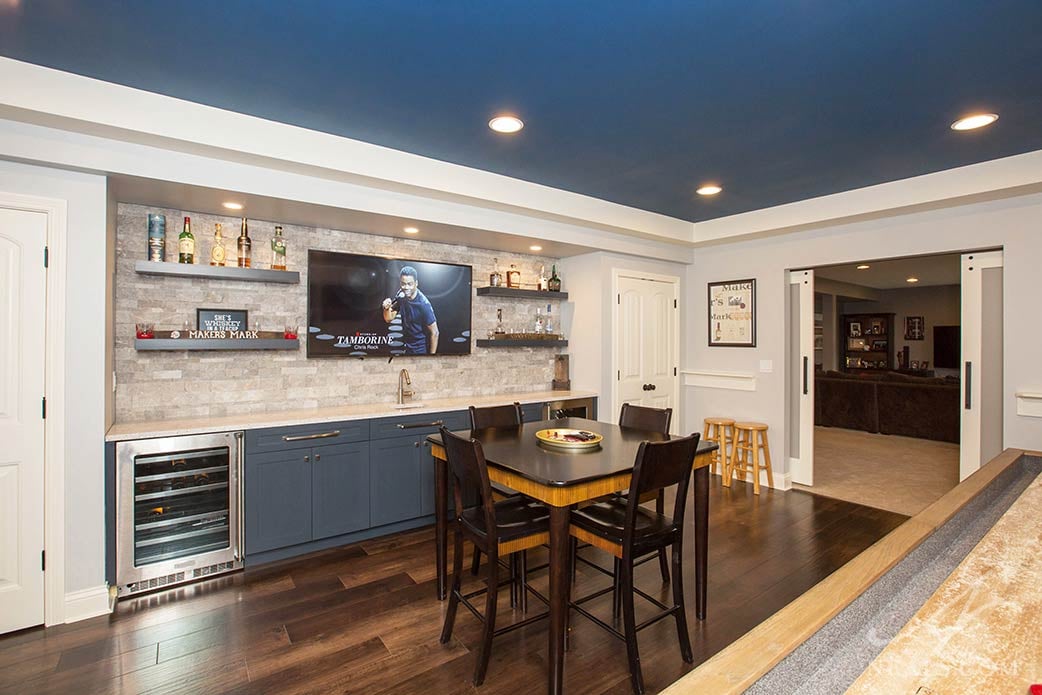 Lower Level Remodel in Union, KY
Of course, when more than one person is making decisions, compromise is always going to be necessary to make it successful. "For a design to be considered a success, it should reflect both individuals' styles, which means some give and take is necessary," Lauren states. Though designers aren't counselors, sometimes mediation is a key component of the remodeling process, and listening to each person's perspective is crucial. To make this as smooth as possible, Lauren always tries to ground the conversation in what they are trying to achieve in the space to help them understand the impact one option has over another.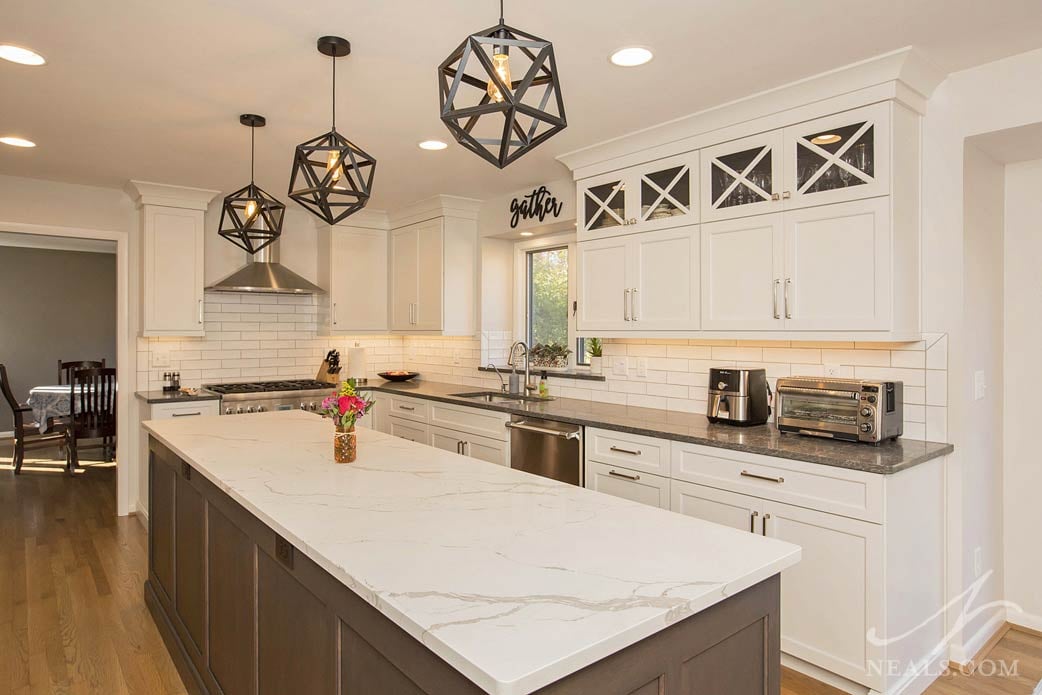 Kitchen Remodel in Symmes Township
If a couple is having a difficult time compromising, it can sometimes help to take a step back and remember that this process can and should be a fun experience for them both. "At the end of the day, what makes a house truly a home is not the physical materials and things inside, but the people who occupy the space," Lauren points out. Finding ways to make sure both individuals are happy can be challenging, but she admits that as a designer, it's those challenges that often create the best spaces as it pushes her and the couple beyond obvious or simple choices into new ideas unique to them that they came up with together.
If you and your partner are ready to make changes to your home, we'd love to speak with you about your Cincinnati area project.
Projects shown are real Cincinnati remodels designed by various members of the Neal's Design team.