As December draws to a close, you may be pondering new ways to refresh your home in the new year. While a remodeling project is certainly worth considering, sometimes even just a fresh color palette can do the trick. Luckily, color experts have done a lot of the legwork for you and have offered up a selection of "Color of the Year" choices to inspire your home decorating in 2019.
Pantone, the world's leading color expert, has selected bold and soft "Living Coral" as the 2019 Color of the Year. While this beautiful color would wow in certain rooms, it may be best when used as accents in smaller doses, such as the example above. It may also be stunning and unexpected on the walls in a closet, bath, or kid's playroom.
| | |
| --- | --- |
| | "Sociable and spirited, the engaging nature of PANTONE 16-1546 Living Coral welcomes and encourages lighthearted activity. Symbolizing our innate need for optimism and joyful pursuits, PANTONE 16-1546 Living Coral embodies our desire for playful expression." |
If the boldness of coral goes a bit too far, but you like the idea of a warm, strong color, Sherwin Williams and Valspar have you covered with their ruddy orange picks. Orange isn't for everyone, but it can make amazing statements in areas of the home where they can easily be paired with complementary tones, such as dark woods or pale creams.
Cavern Clay (Sherwin Williams)

"A warm terracotta color with ancient, elemental roots... Cavern Clay is a nod to midcentury modern style, but with the soul of the American Southwest, which together creates a desert modern aesthetic."

"Adventurous orange maintains an artificial intensity that invites an experimental mindset."
These types of brown-toned oranges in your home's color scheme can also be achieved with leather or wood, just as easily as the straight paint color, such as in a the warm pale tones of a bathroom vanity, or the wooden walls of the sunroom below.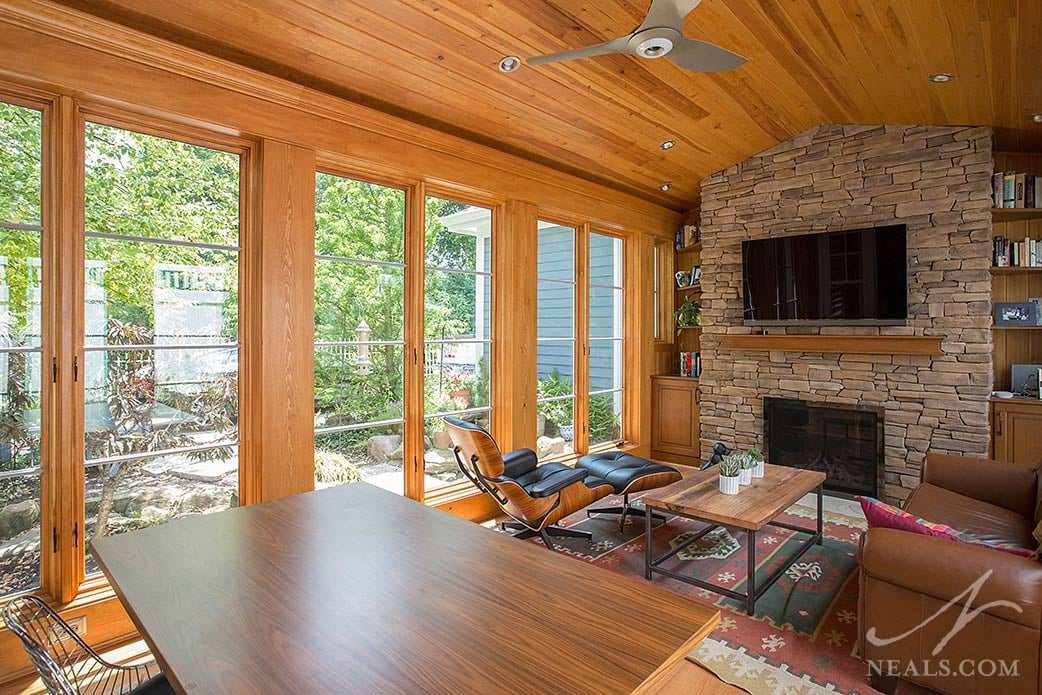 Instead of a bold paint, the wood-clad walls of this sunroom in Madeira capture the warmth of 2019's trending oranges.
The bright colors of coral and orange aren't the only statement makers for 2019. Shades of blue and green also appear in the color of the year selections. While it seems that blue tends to always make the list year after year, the colors selected by PPG, Behr, and HGTV Home represent a range of shades that can be used in a vast number of places relatively easily, in large or small amounts.
| | |
| --- | --- |
| | "Our newest beauty is born out of community, luxury and nature. In an ever-disruptive world, we want to escape to a quieter place – one that's protective and beautiful." |
| | "Warmer than denim and softer than navy, Blueprint signifies optimism, authenticity and confidence. It is poised to be a classic for years to come." |
| | " Found in the Sophisticated Whimsy Color Collection, it is a versatile color that is fun and elegant." |
In recent years, we've seen shades of blue trending in kitchen design, and it's a trend with some staying power. Blues compliment both light and dark neutrals, and there's a blue, teal, or green shade out there for everyone. If Night Watch catches your fancy, consider than such a deep shade of green is practically a neutral and could make for
an amazing kitchen
.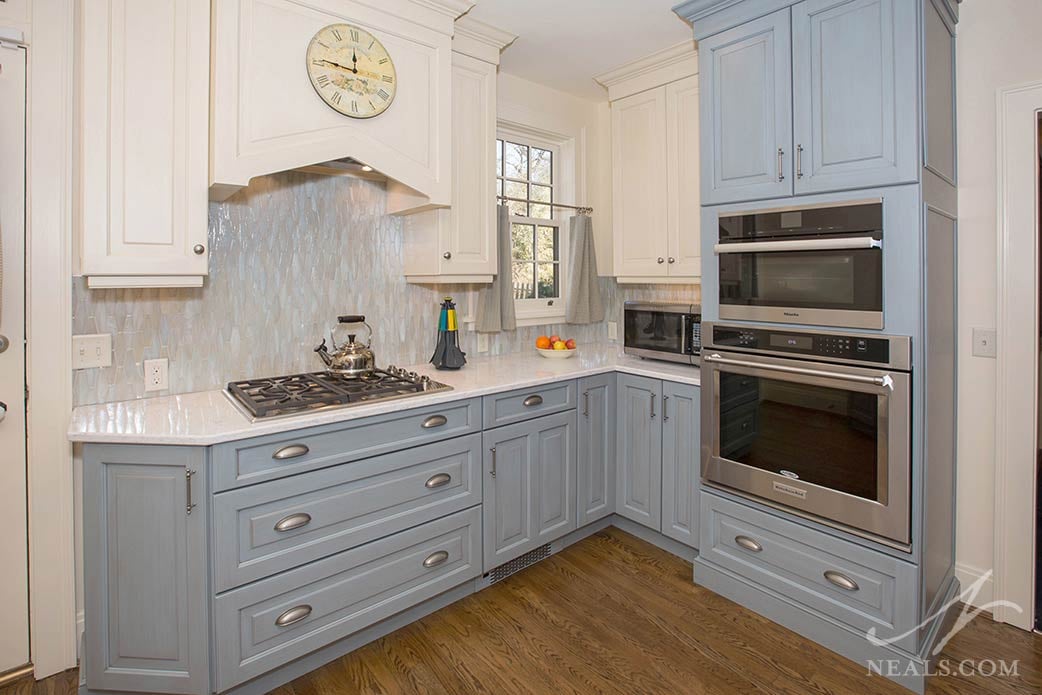 This blue and white kitchen in Clifton was recently named a 2019 Contractor of the Year Local Kitchen winner.
It seems we can't get through these yearly color round-ups without a pale neutral shade coming up somewhere. This year's pick by Benjamin Moore is a pale gray that would work in any area of the home. This type of color has been making an impact on modern home design for a while now (a casual Pinterest home design search easily reveals its popularity), and it's easy to see why- a color like this doesn't overpower the character of your furnishings and decor.
| | |
| --- | --- |
| | "A stylish gray with cool undertones, metropolitan reflects the modern sophistication of 21st-century design." |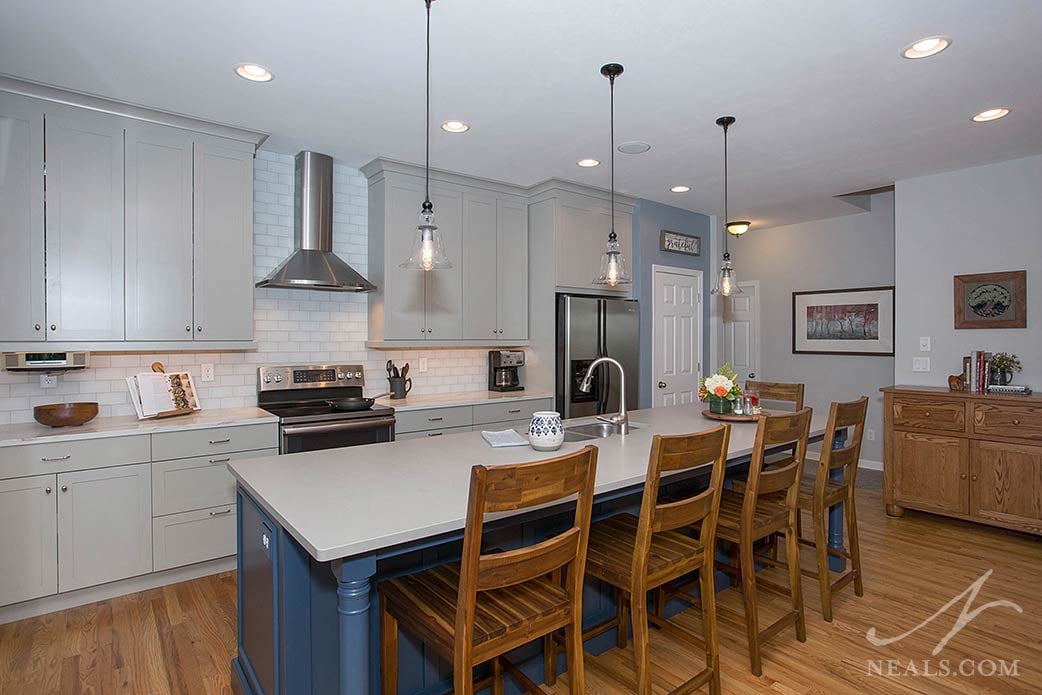 The gray cabinets in this Mason kitchen don't compete with the homeowner's taste for warm woods and cool blues.