Every year, we get the excitement of discovering various "color of the year" choices from just about every corner of the color world. Pantone, the world's leading color expert, has selected the rich and vibrant Ultra Violet as the color for 2018. While there's a lot that goes into the color choice, by looking at current trends and making statements about the state of things possibly to come, Color of the Year choices are meant primarily to inspire and inform choices in decor, fashion, advertising, and the visual world around us. This doesn't always translate to the best color choice for your home, however. That's where the paint companies come in.
While Ultra Violet makes a very strong color statement, paint manufacturers like Sherwin Williams, Glidden, and Behr suggest that the spirit of a bold color choice is on-trend, but it doesn't have to be a wild color. In fact, three of the large paint companies have selected a shade of black as their color of the year. Black as an interior color choice has come and gone in trends over the past decade, but there's something about it that feels dramatic and timeless that keeps it coming back. In reality, most "blacks" are actually shades of dark gray, often mixed with undertones of other colors, which makes them appear softer and more interesting than a flat black without character.
| | |
| --- | --- |
| | "A classic, deep rich black which works equally well as a main color or as an accent for your project. It pairs well with any color and substrate." |
| | "A blend of black and navy, making it incredibly versatile – use it on a statement wall, with a matte finish on a ceiling, with high gloss on a naturally-lit staircase, on cabinets, interior and exterior doors, and in many more places." |
| | "The color's substantial nature brings an airy and soft space down to Earth, and it highlights a perfect mix of masculine and feminine." |
In home remodeling, thinking in terms of material choices for kitchens or baths, we find the current popularity of black as inspiration for creating unique points of interest in the spaces we create. A black island in a room of brown, or the green-black tones of a soapstone counter in a creamy white kitchen are great ways to capture the feeling of the strong black statement without painting the walls.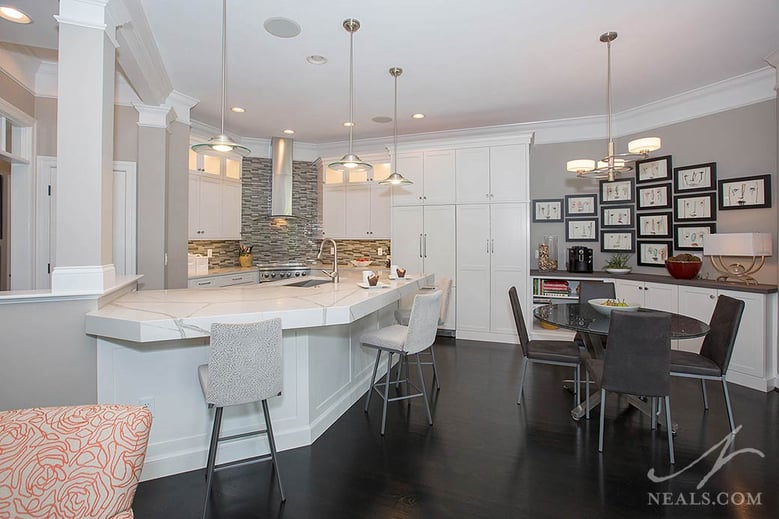 This Montgomery kitchen gives the boldness of black its moment. The deeply stained flooring adds rich contrast against the crisp white cabinetry.
If you're looking for color, other companies have some options for you. Perenial favorites, shades of blue and red, aren't left out this year, and the choices continue the theme of incorporating strong colors into your home. These color picks remind us that strong doesn't have to be bright or daring. Instead, a strong color can be a statement of confidence with a color that can't be ignored.
| | |
| --- | --- |
| | "A vibrant, charismatic shade of red, caliente is strong, radiant and full of energy." |
| | "A complex, deep color that offers a sense of the familiar with a hint of the unknown, Oceanside bridges together a harmonious balance of blues and greens that can be found in what's old and new." |
| | "Versatile and perfect to use for both interior and exterior projects. It also crosses multiple design styles, ideal for working with traditional, modern, coastal and global décor." |
While a color like In the Moment is a great shade for many spaces, since it's close enough to gray to read as a bold neutral, it can be hard to incorporate strong colors like red and teal into a remodel without locking yourself into a style that you may want to change down the road. In these cases, lighting fixtures, tile, and decor are your best course. A
glass pendant light in salsa-like shades
, or pairing an
impactful color with lots of neutrals in a smaller space
can add the on-trend color without much regret down the road.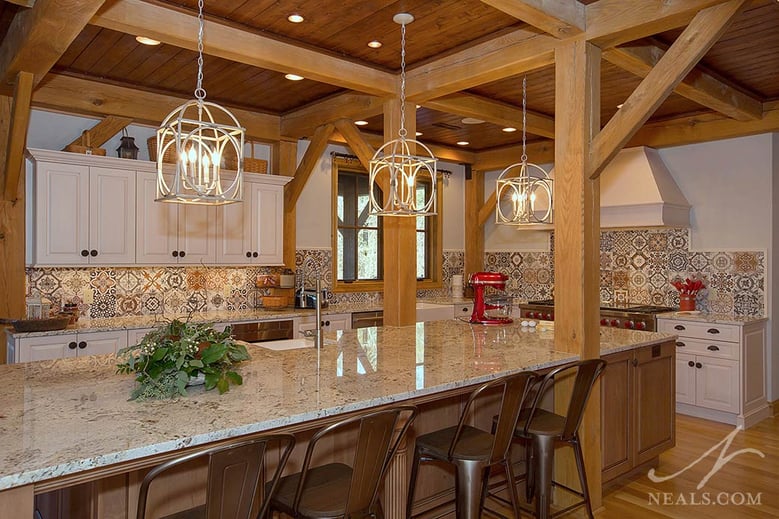 Colorful blues and reds make an impact in this farmhouse style kitchen in Middletown through the mixed designs of the backsplash tile.
Not to be forgotten, beige is still a home interior color to be reckoned with. Holding its own since the early 90's, the gray-cream-tan family of colors isn't a bold statement maker. Instead, it allows you to make bold statements in other ways- with all the things you add to your space. Some years, beige takes all the glory in color of the year trends, but this year, there's just one that simply wants us to remember that our homes should be spaces we're comfortable, regardless of any trends.
| | |
| --- | --- |
| | "A color perfectly balanced between warm & cool, this lightened hue is anything but ordinary. Embracing the future, with a nod to the past, Sandstone Tint is the perfect neutral that can effortlessly be incorporated throughout the home." |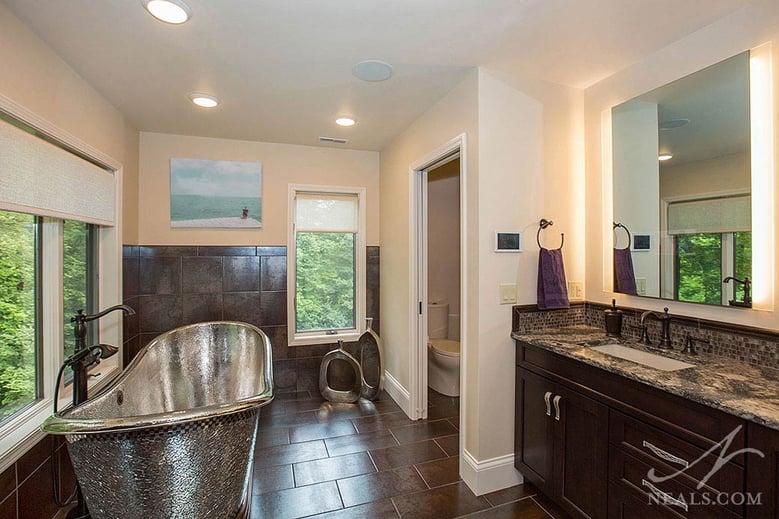 Beige on the walls in this Indian Hill bathroom allows the bold tile, counter and fixture choices stand out and not overwhelm the space.