Spring is an exciting time of the year when the weather begins to warm up and we look forward to more sunshine. Now is the perfect time to do some quick and easy home maintenance to prevent larger, more expensive problems from occurring. Our list below is designed to give you a few ideas of things you can do to get your home ready for the summer months. No need to tackle them all at once, just pick a few to accomplish each weekend, and you will be done before you know it.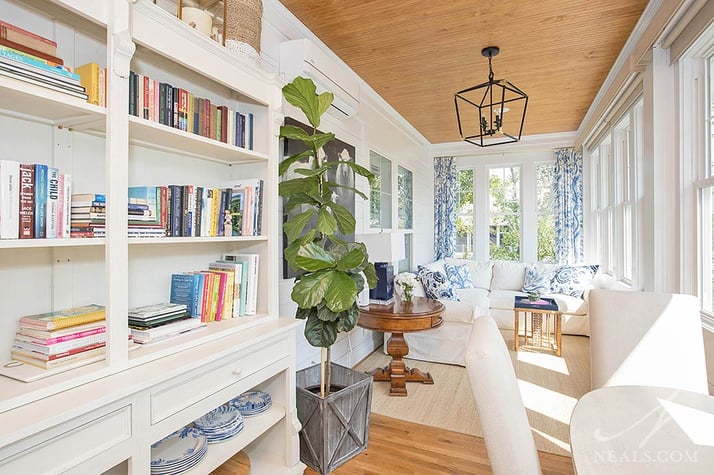 Sunroom Remodel in Blue Ash
Exterior
Service AC Unit
Call and schedule to have a professional inspect and service your air conditioning unit. You will want to do this early in the season to avoid delays due to long wait lists. It is better to make sure everything is in prime working condition before the heat waves stress your AC unit.
Roof
Your roof can get quite a beating during the long winter months of snow and ice. Examine the condition of your roof. Be on the lookout for loose shingles, mold, mildew, or any signs of animal nesting in the eaves and soffits.
Gutters & Downspouts
Clean gutters are essential for the rainy spring months, so get out the ladder and make sure to remove any leaves and debris that may have been left behind. You'll want to make sure the gutters and downspouts are securely attached to the side of your home, and that water flows effortlessly down and is directed away from your foundation. If this is a difficult task for you, consider having gutter covers installed. There are several options on the market.
Windows & Doors
Let all the beautiful warm spring sunlight in by giving your windows, storm doors, and screens a good scrub. Be sure to replace any damaged screens.
Wipe down your doors and their trim as well. While wiping down the trim, keep an eye out for any exposed wood trim that may show signs of rotting or peeling paint. You'll want to address those right away to prevent water damage inside your home. Check to make sure any caulking or weather-stripping around your doors and windows is still in good shape and replace/patch any trouble areas.
Garage
Now is a great time to clean out your garage and exchange winter gear for summer gear. Sweep and hose down the floor, organize the shelves and create piles of things to throw away or donate.
Lawn
Fertilize and patch grass seed, check for proper drainage, trim overgrowth away from your house and power lines, mulch your garden beds, remove any dead trees or tree limbs, and inspect for any rodent or insect activity. Make sure you have sufficient fuel and motor oil for your lawn equipment. Sharpen your lawnmower blades, and clean off any residual dust and dirt from last season.
Driveway & Walkways
Snow and ice are enemies of concrete and pavement so be sure to inspect your exterior slabs for cracks or movement. Small cracks can be patched with concrete crack filler or silicone caulk. Then give everything a good scrub down with a power-washer, followed by a protective sealant.
Decks & Patios
The same goes for your decks or patios. A good power-washing can do wonders to eliminate staining from mold or mildew and to prep the surface for a new coat of stain/paint and sealant if needed. Be sure to check for any warped, cracked, splintered boards that might need to be replaced before painting, staining or sealing.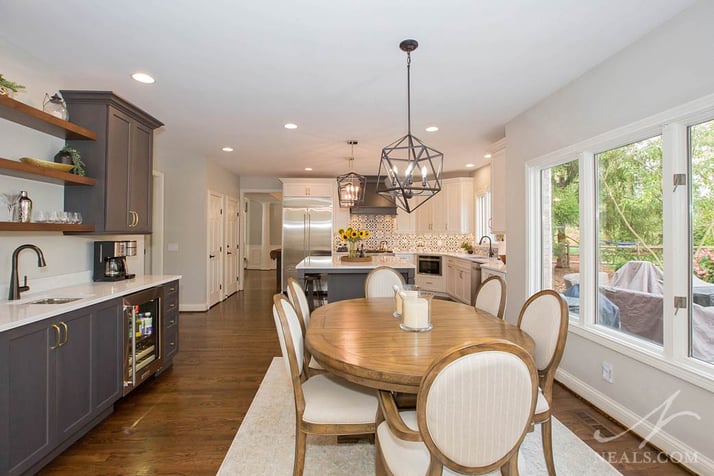 Kitchen Remodel in Symmes Township
Interior
Appliances
Refrigerator: Clean the glass shelves inside of your refrigerator, then pull the entire appliance away from the wall to vacuum and wipe down the coil.
Washer/Dryer: Deep clean the inside of your washer and dryer, paying special attention to the rubber gasket around the door of front-loading washers. If your machine has a filter in the back where the pump assembly is, be sure to clean that out as well. Clean the inside of your dryer vent, as well as the outer tube.
Water Heater: You might not think of hot water during a typical spring cleaning check, but routine maintenance can prevent unexpected emergencies. Be sure to check your hot water heater for leaks and rust, then entirely drain and refill it to remove any hidden sediment collected inside at the bottom. Test the pressure valve according to the manufacturer's instructions.
Safety Features
Test your fire detectors by blowing out a candle directly below them. Then be sure to change out the batteries for both your smoke detectors and carbon monoxide detectors
Making sure your fire extinguishers are ready to go in case of emergency is also important to do twice a year. Make sure each of them is full and properly pressurized and that you understand how to use them correctly.
Vents
If you have central air, do a quick check of your vents to make sure they are clean and unobstructed. Window AC units can be cleaned with a vacuum with a brush attachment before turning them on.
Last Update: 3/30/2021