The features and design ideas that have been trending in our Cincinnati area remodels include a wide range of elements that can be adapted for many types of home projects, budgets, and styles. While trends can turn some homeowners off as too risky, certain trends occur as a progression of our collective concept of what makes a good design in the kitchen, bathroom, or other rooms of the home. Trends with lasting power, those we see over the course of years, ultimately are the design styles that will be remembered the most, will be those expected by home buyers, and will have more of a chance of becoming a classic design element that lasts for decades. Here are seven current trends we're keeping an eye on this year.
---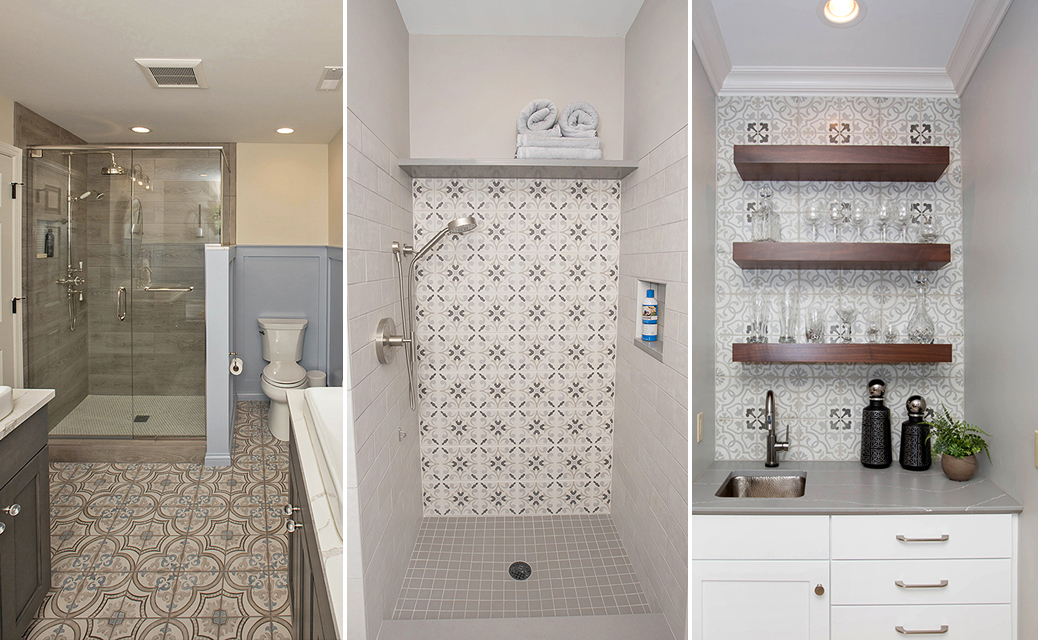 1. Master Bathroom | 2. Dog Shower | 3. Wet Bar
1. Patterned Tile
Tiles with detailed geometric designs that form a large-scale complex patterned surface have been cropping up in many forms in all areas of the home this year. These tiles are typically square, flat and are printed to achieve a consistent and detailed design, but they may also be hand-painted or stenciled. They are different from mosaic cut tiles that form designs using individual colored tile pieces, and are much easier to install. We're seeing neutral-colored patterned tiles in use the most, since neutrals function well to pull a design together without being overwhelming to look at. Patterned tiles work for flooring, shower walls and floors, or for accent wall treatments, but be sure to check any specific tile's recommended use to see if it will work for what you have in mind.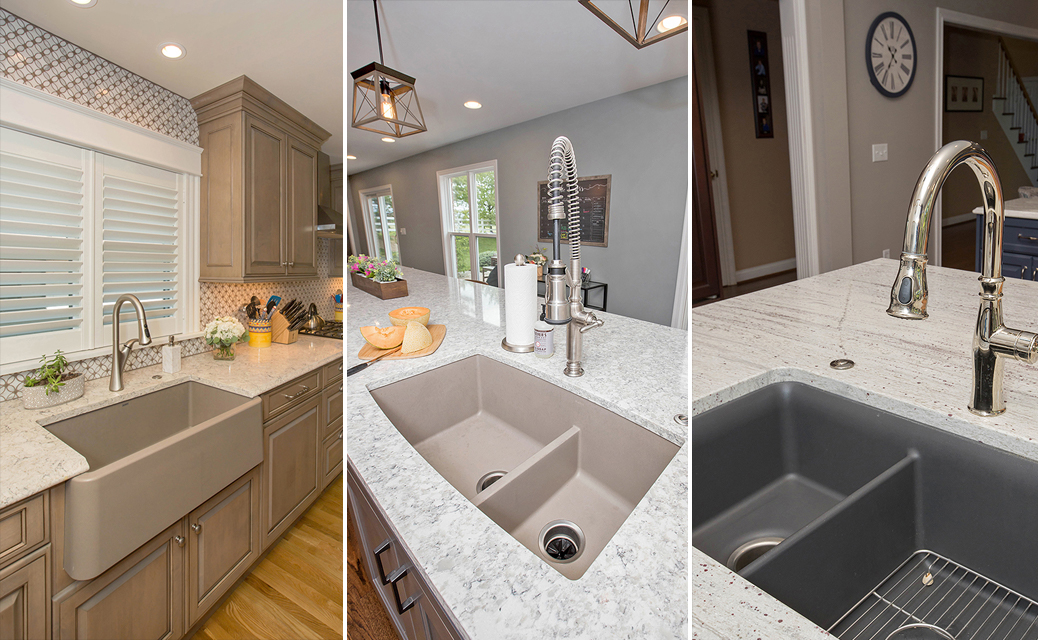 1. Enameled farmhouse sink | 2. Granite composite sink | 3. Neoroc sink
2. Colored Kitchen Sinks
With new sink manufacturing options available, we're beginning to see a shift from the tried and true stainless steel models to colored sinks that can be matched to the kitchen's design. While the initial thought when it comes to colored sinks might be vintage sinks in colors like green or pink, new colored sinks are far from old school. New sinks are available in stylish colors that can either blend in with the kitchen's design or stand out depending on your tastes. Colored sinks are available in a variety of materials including enameled cast iron, a hard-wearing ceramic known as fireclay, a stone and resin material which Kohler calls Neoroc, or granite or quartz composites. They are available in a variety of styles, bowl types and sizes.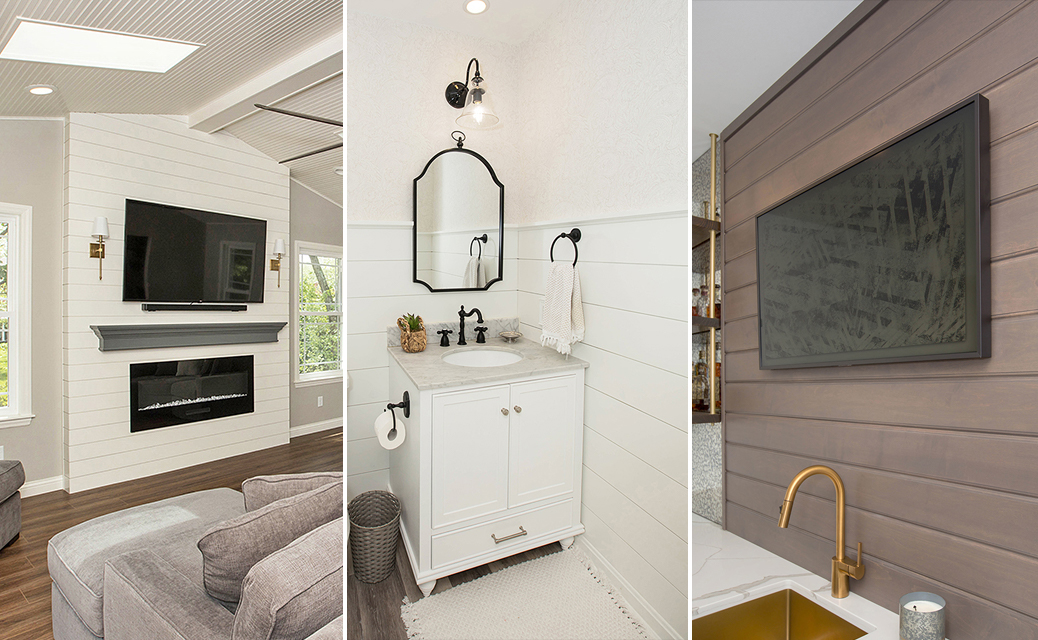 1. Family Room | 2. Powder Room | 3. Home Bar
3. Shiplap Walls
While not new to anyone who's been watching DIY Network or HGTV, it's taken some time for shiplap to make it as a genuine trend in home remodeling. Shiplap is a distinctive wall treatment in which boards of identical widths are installed horizontally with a minute gap in between so that each board can be seen. This type of wall treatment has a rustic, vintage quality to it, and is inspired by the interior look of a sailing ship's walls. Modern shiplap is a refined installation that can work well in traditional and modern spaces when a casual and "old" style note is desired. While shiplap is more commonly white (either in a rustic whitewash or pickled stain, or in a clean flat paint), the treatment can be done with any colored or stained wood.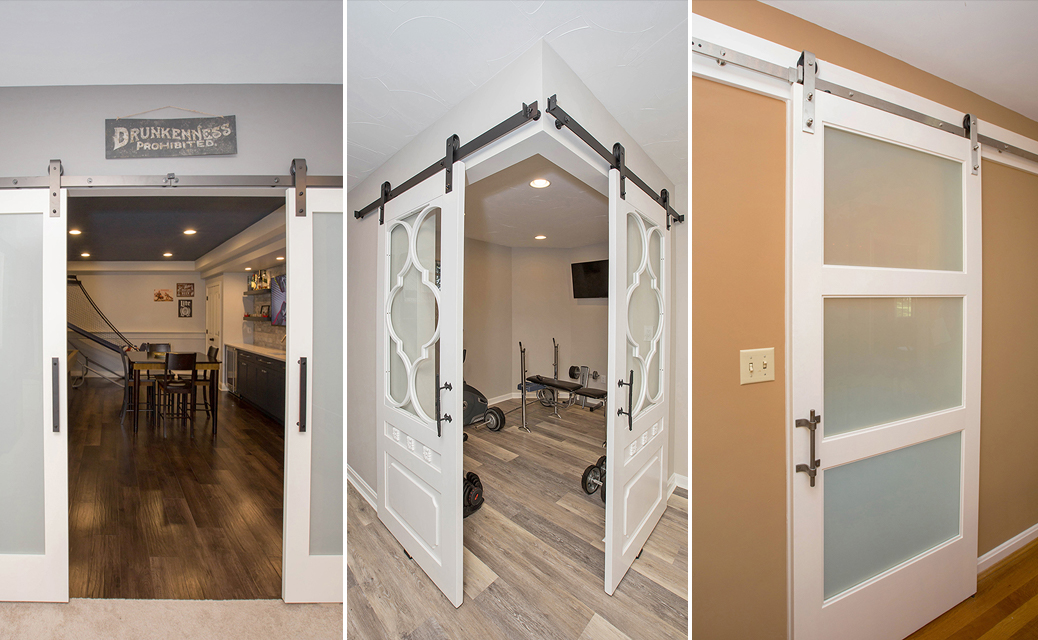 1. Game Room | 2. Home Gym | 3. Master Bathroom
4. Barn Doors
Another trend that's been building momentum for many years and has finally become a more mainstream feature is the use of barn door style hardware in interior applications. When the barn door style first came into use inside, it retained a lot of the rustic look, with wood door panels that looked like they were taken directly from an old country barn. Now the trend has shifted to focus on the use of the track hardware with a variety of door panels style options. Barn door tracks allow the door to roll away from the opening rather than swing out, and unlike with a pocket door, 3-dimensional door handles can still be used. Barn doors do require clearance along the wall, however, so be sure there's enough room and no obstructions in the way.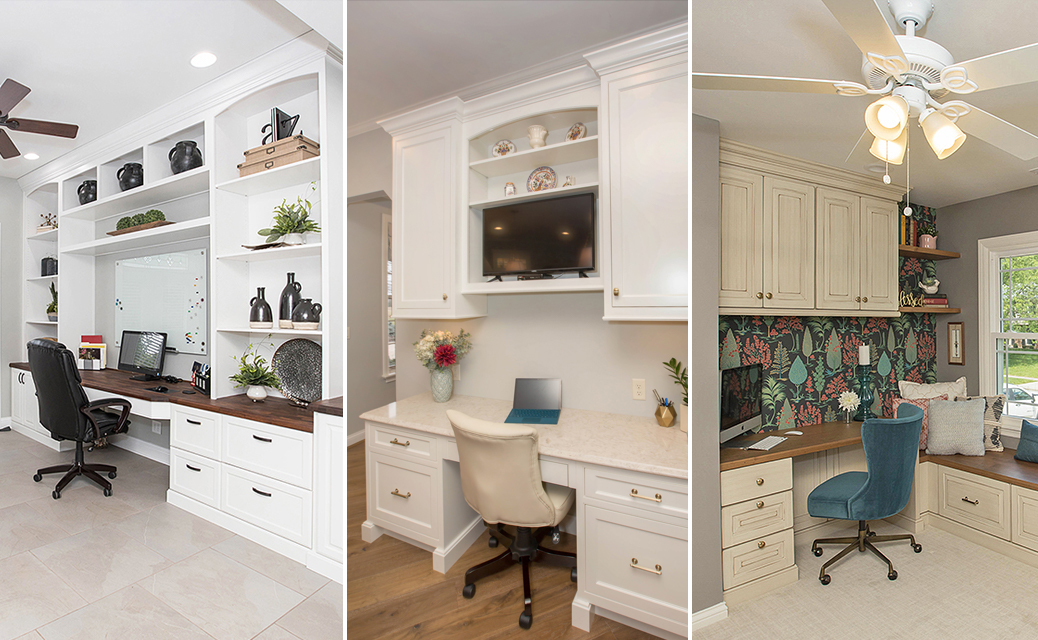 1. Office & Mudroom | 2. Office in Kitchen | 3. Office & Craft Room
5. Home Office Built-ins
Even before working from home became more common this year, we were noticing that many homeowners were upgrading simple desk and bookcase setups into dedicated and thoughtful home office built-ins. Cabinetry for the kitchen or bathroom is already designed around storage and organization, so it's no wonder that it makes the transition to the office easily. With specialty cabinets designed for folders, printers, and more, and the ability to customize the look, layout and style in semi- or fully-customizable cabinetry lines makes the home office built-in a investment with a lot of appeal. Home offices can be created in any number of places within the home, so when the space is outfitted with a built-in, it elevates that space and makes it feel more intentional and functional.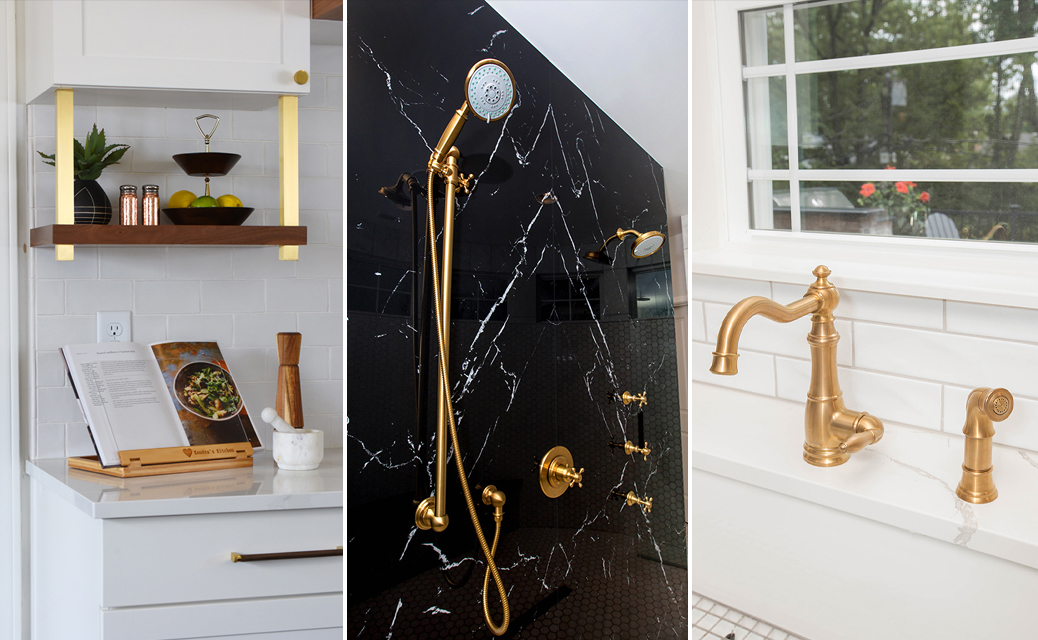 1. Accent in the Kitchen | 2. Fixtures in the Bathroom | 3. Faucet in the Kitchen
6. Gold Accents
Gold accents, when done well in the scheme of the overall design, can make a room feel instantly more glamorous and luxurious. Gold or gold-toned metallics carry a connotation of affluence and importance which makes it a very powerful addition to a design plan. The trick to getting this right, however, is to use it intentionally, opt for quality pieces that are well made, and be aware of the limits of how much can be used in a space before it becomes gaudy. Gold is a fabulous accent against nearly every neutral color, particularly black and navy blue, and depending on the form it takes, gold works equally well in modern or traditional spaces. Gold fixtures and hardware often come in a few finish styles, such as matte, polished or aged, to provide more possibilities for including gold in any space.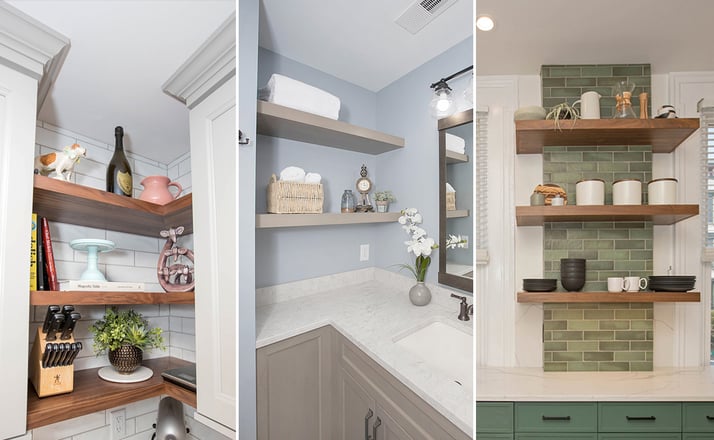 1. Kitchen | 2. Bathroom | 3. Kitchen
7. Floating Open Shelving
Floating shelves are achieved by mounting a bracket on the wall that fits into a pocket on the back side of the shelf. This installation allows the shelf to look as though it's floating against the wall since it leaves no visible hardware or shelf brackets. While this seems like it would create a very modern or minimalist look, it's all about materials and context, and we're seeing more and more of this feature showing up in area remodels. In particular, we are taking note that this trend is being used as a focal point and supplement to cabinetry, rather than strictly for display purposes. Open shelving is a versatile element that provides visual interest as well as function, and is great for homeowners who want to show off unique pieces and keep useful items in easy reach.
Follow us on Instagram and Facebook to see more trends and ideas daily from Neal's.