We've talked in the past about the elements that make for a functional home bar. Storage for beverages, a work surface, and storage for your barware. While these things can be the basis for either the most minimal of home bar solutions or the most decked out version, these items are really just the start. In order to make your home bar the perfect solution for you, also consider the style, the features, and the location. Keep reading to find out how our team of designers plan and design home bars.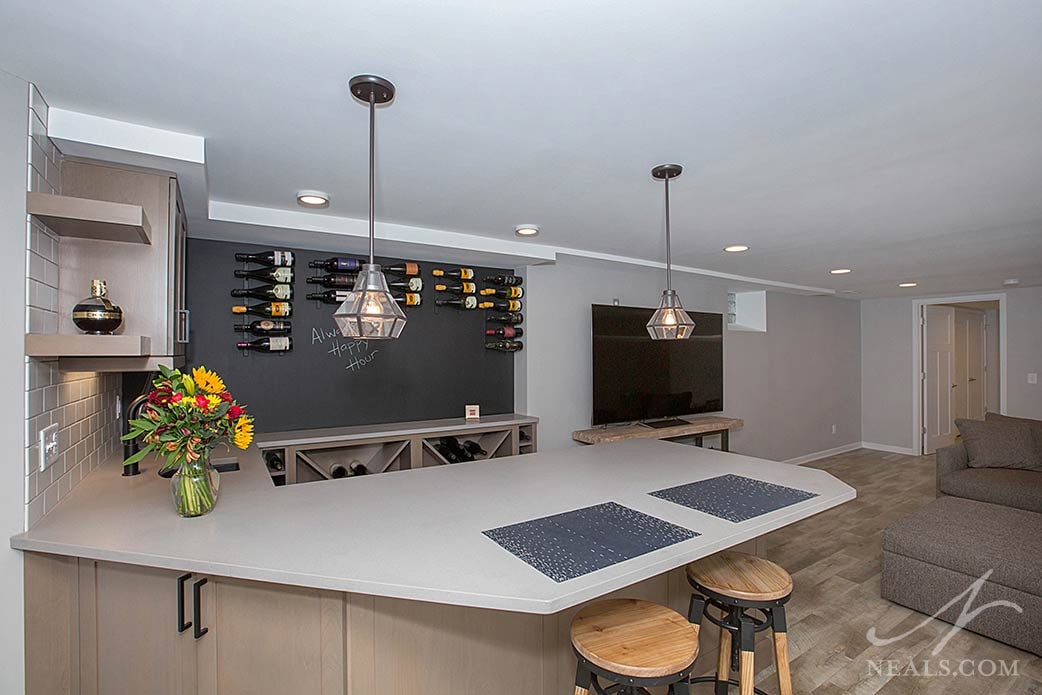 Lower Level Project in Kenwood
Start with the Functional Pieces
Neal's Designer Cyndi Kohler starts the process of designing a well-appointed home bar with the pieces that need to be there. "You need refrigeration, storage, and practical things like a trash can," she says right off the bat. After that, consider the more specific things you'd like to be able to utilize or have in the space. Kohler suggests thinking about the need for things such as a sink, a microwave, a kegorator, or a place for a TV.
Decide Early If You Want a Theme
Certified Kitchen Designer Connie Hampton has designed several dozen home bars throughout Greater Cincinnati. She asks clients about the theme or idea they have for their bar to get a jumping off point. "I had a recent client who wanted a western saloon," she recalls. In the past, Neal's has created home bars based off loose concepts, such as a comfortable sports bar, all the way to full-blown themes such as a multi-room English Pub with an authentic British bar as the centerpiece. Many home bars don't have these types of themes, but even some idea of the feeling or style you'd like will help narrow down your options.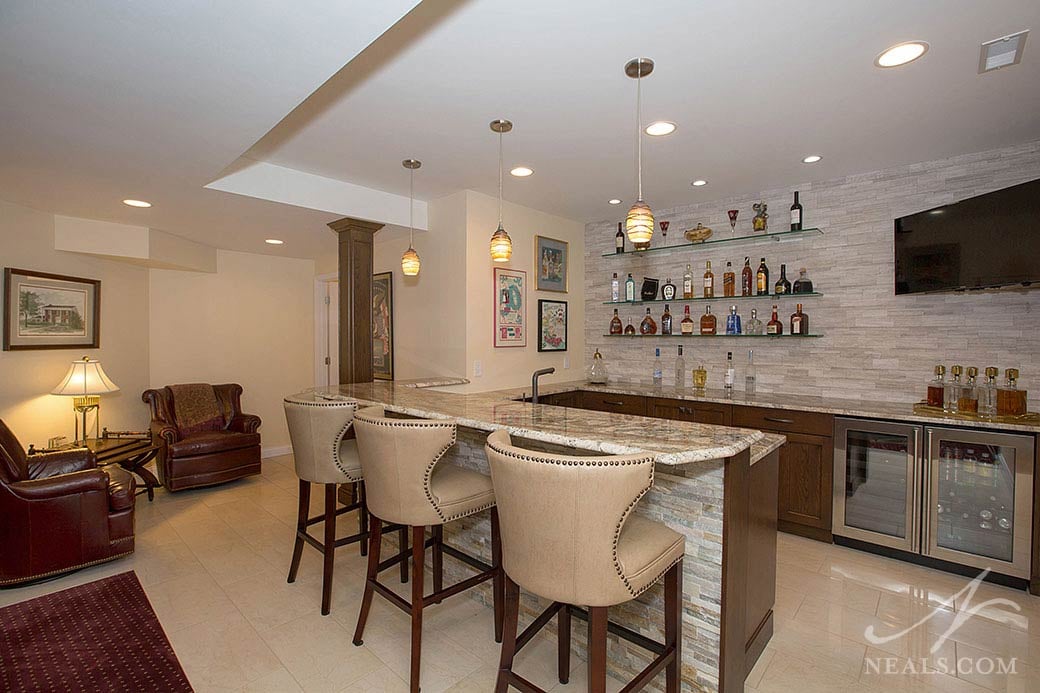 Lower Level Remodel in Western Hills
If There Will Be Seating, Make Sure It's Right
Bars can have seating at the bar-height counter, as well as seating elsewhere in the space. If you're uncomfortable sitting on a bar stool, then working a different seating solution into your home bar is important. If you'll be hosting friends over often, perhaps you need more than just a few stools at the bar. If you want the bar to be a part of where you go to watch movies or games, think about whether you can fit comfortable lounge chairs into the space for that.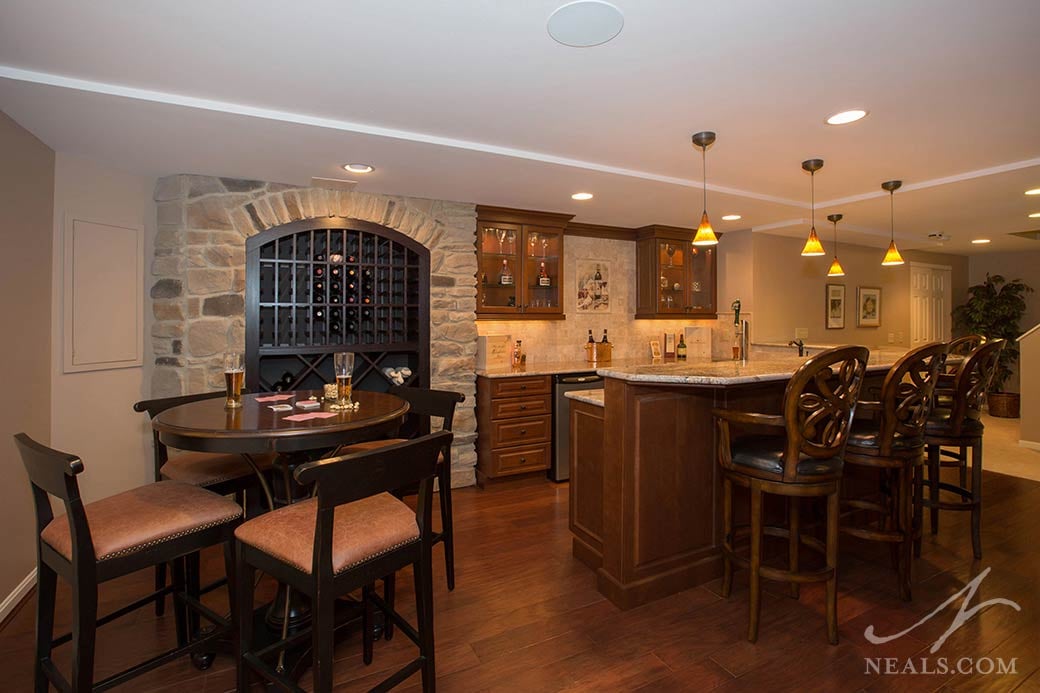 Lower Level Remodel in Montgomery
Make It Personal
Kohler states, "I think the bar should have something that is very personal to the homeowner." Some ideas include sports memorabilia, collections, artwork, or even pieces of furniture. "I designed a bar a few years ago that allowed the owners to put all their collected ticket stubs under glass on the raised bar countertop," Kohler says.
Make Sure Quality and Style Are Equal Partners
After describing a recent bar that featured an antique mirror, a copper sink, lit glass shelves, and a reclaimed wooden bar, Hampton says "I think the craftsmanship is so visible!" Make sure that you plan out how all of the pieces fit together and work with each other as well. A sleek and modern wine fridge in a heavily traditional bar could look out of place.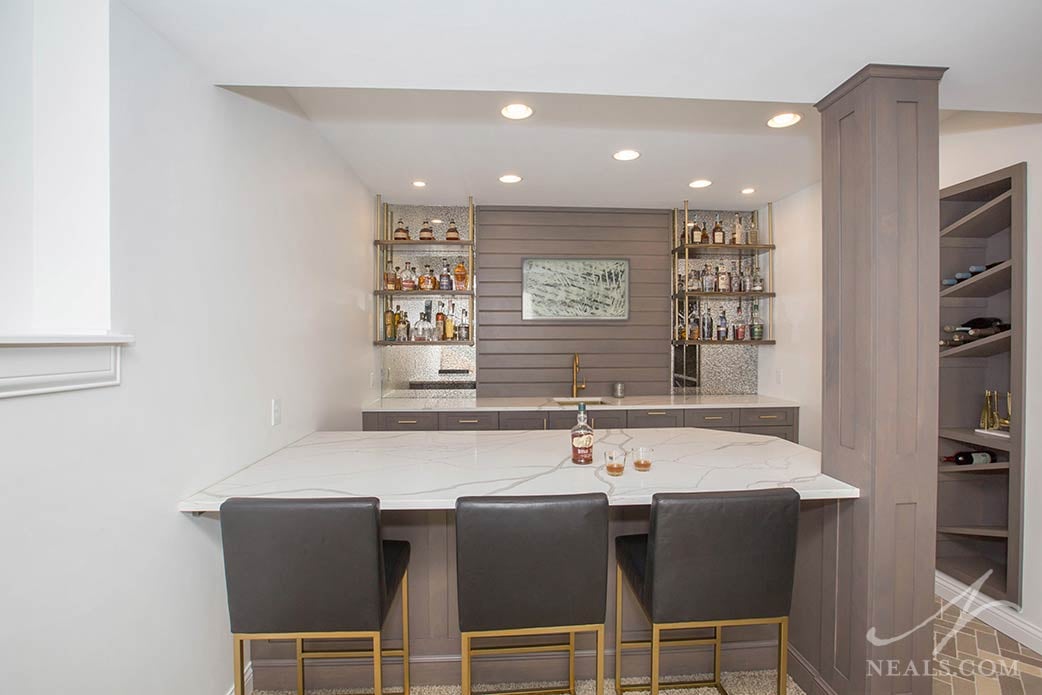 Lower Level Bar Remodel in Madeira
Note: This post was originally published on May 9, 2017. It was updated on September 10, 2019 with new photos and minor edits for clarity.