We all have our preferences for how we'd like our kitchen to look, feel, and function.
Designers are experts are taking those preferences and checking off as many boxes as your project and budget allow
. They will set aside their own preferences to match your needs. If you were to ask them what they would do if it was their kitchen, though, of course they would have an answer!
So we asked the Neal's Design team what they would pick as "must-haves" for their client's kitchens if there were no limitations
.
For Designer Lauren Donges, layered lighting takes the top spot as a kitchen must-have. "Whenever I am designing a kitchen, I always try to think about how light will impact the space," she stated. She prioritizes natural light, emphasizing the benefits it has on both the look and the mood of the kitchen. To accomplish this, Lauren prefers to enlarge or add windows, include skylights, or use glass doors. "I try to get as much natural light in the space." She doesn't discount artificial lighting, though. "Providing several types of lighting allows for different functions to occur in the space and will allow it to become usable at all times of the day."
Designer Alysia Lang highlighted the walk-in pantries, concealed from the kitchen to hide the "necessary evil" of the naturally cluttered space. One pantry idea, in particular, has her interest. "Hidden pantries are so cool," she said.
Alysia went on to explain that this feature was dependent on the space available but made note that a walk-in pantry, whether hidden or not, has a special kind of practicality
.
"You get loads of storage, and you can include small appliances like the microwave in the space," she explains
.
This frees up real estate in the kitchen proper, providing more counter space or storage for other things
.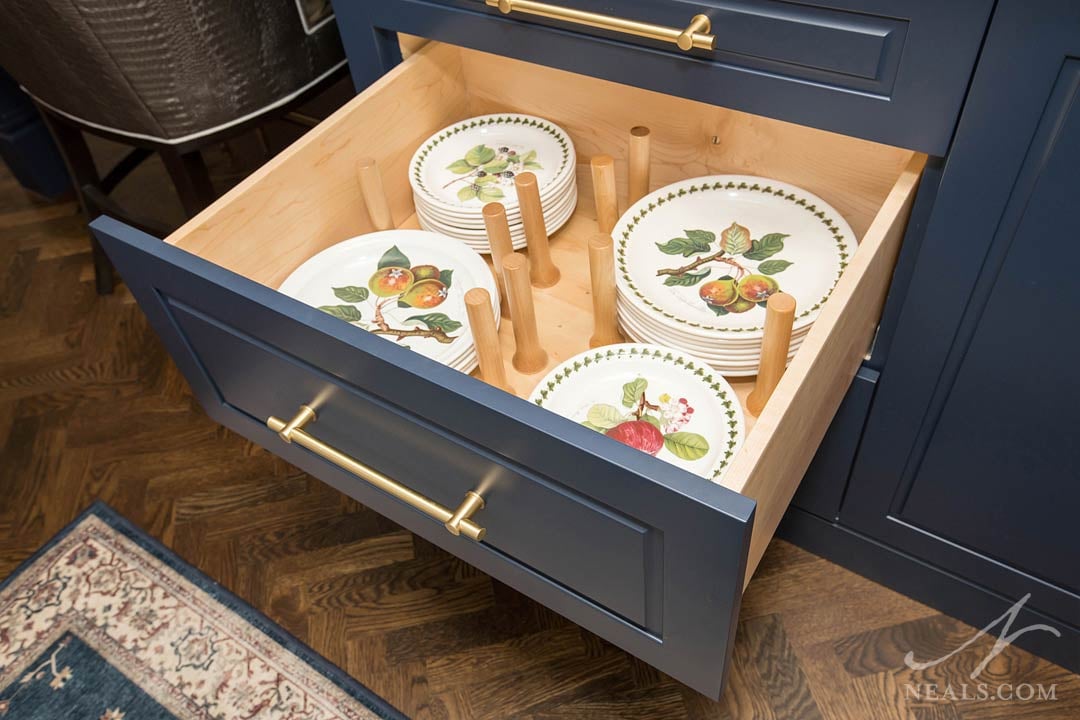 Designer Laura Webster focuses on specifics, pointing to interior drawer organization as a kitchen must-have
. "I like to put in peg dividers and spice racks," she said.
Peg dividers allow drawers to
be used
for stackable items so that they don't slide around when the drawer
is opened
. This is a great feature for
highly
accessible dish storage, and can
be tailored
to your needs.
Spice racks come in a wide variety, including a
specially
designed rack that sits in shallow drawers
. Laura has a favorite pick, though. "I like the pull-out spice legs."
These custom cabinets conceal pull-outs behind decorative legs on islands or in a line of cabinetry,
typically
near the range or cooktop
. These can
be used
for spices, oils, or other handy cooking items.
Designer Jodi Smith didn't have
just
one must-have. For her, a focus on the quality and customization of the cabinetry design was a theme.
One example she provides is the use of decorative cabinetry doors that aren't
just
clear glass
.
"Specially-shaped mullions, metal-framed doors, back-painted glass, or other inserts like mesh or porcelain," are ideas she listed
. These break up a space and add interest and something unique to the kitchen. She also suggests the use of top-hinge cabinetry as another must-have.
This feature works well for "appliance garages" to conceal things like toasters or coffee makers
. Another idea? Under-counter microwave. "It allows the wall cabinets to have a much better flow and is a much more efficient use of space," she explains.
If you have your own list of kitchen must-haves and are ready to start your Cincinnati area kitchen remodel, we'd love to speak with you. Click here to get started!