Looking at "before" images of kitchens, one thing often stands out as always needing a better solution in kitchens that need an update- the lighting scheme. How well a space is lit is often one of the more overlooked components of a design, so we spoke with Neal's Designer Lauren Donges about how professional designers address kitchen lighting. She highlights several key considerations for a nicely-illuminated kitchen.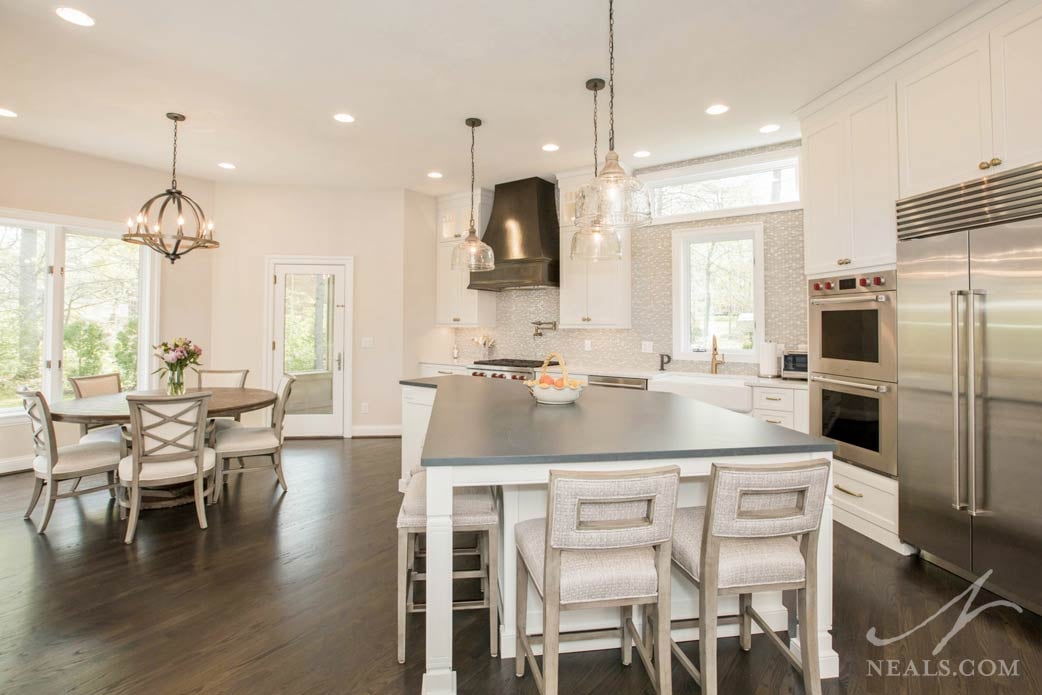 Kitchen Project in Indian Hill
Off the bat, Lauren notes that all lighting plans will rely heavily on the kitchen itself. "The types of lighting I typically propose for a kitchen are influenced by the final layout and space plan," she states. Each kitchen will be different, so while designers will use some reliable solutions, the specifics will always come down to the individual project and the goals of the homeowner. Lauren puts it this way: "There are so many styles and types of fixtures out there that I think can be mixed and matched depending on the general style of the kitchen, but ultimately it depends on each individual client's style and budget."

The first consideration of any kitchen lighting plan is which types of fixtures and light sources will be needed to create the full lighting scheme. Lauren considers the use of fixtures such as recessed can lights, pendants, and cabinet lighting. "Each of these lights has its own functionality, and while they can be used all together to light a space, I think it's important to think about using them in layers," Lauren explains. As she begins to layer each lighting option, she also thinks about each being controlled independently to allow the most flexibility. Lighting for cooking has a different character than lighting for entertaining, for example, so Lauren accounts for each light or light group having its own switch.
When it comes to creating these light layers, Lauren has a basic system she uses. Recessed can lighting (round lights mounted into the ceiling) can be used to either flood the overhead space with ambient light or to highlight a specific area. "Think over a floating shelf or inside at the top of a cabinet," she says. These come in a few size options to provide the correct lighting level, and they can be arranged in a grid-like format in the ceiling. The size of the room and the layout of the cabinets will influence the total amount of cans needed. These types of lights work well with dimmer switches. Dimmer switches allow for a customizable amount of light depending on what task is taking place. "Maybe you need more light when you're actively cooking, but choose to dim the lights when serving and eating meals," Lauren suggests.

Pendants and chandeliers work well to highlight a specific area of a kitchen, such as over an island or sink. They function both as a decorative element to the space and as a way to include more lighting over a specific area. When more than one will be used, Lauren will aim to keep them just enough apart that they look balanced and there are no dark spots in the area they illuminate. Lauren makes note of an important factor when planning the location of hanging fixtures¬- mounting height. "Some people don't want pendants hanging so low that they interfere with sight lights over the island," she states. Mounting height can sometimes be adjusted during installation with adjustable chains. This can be a very custom and personal solution that addresses the homeowner's standing height.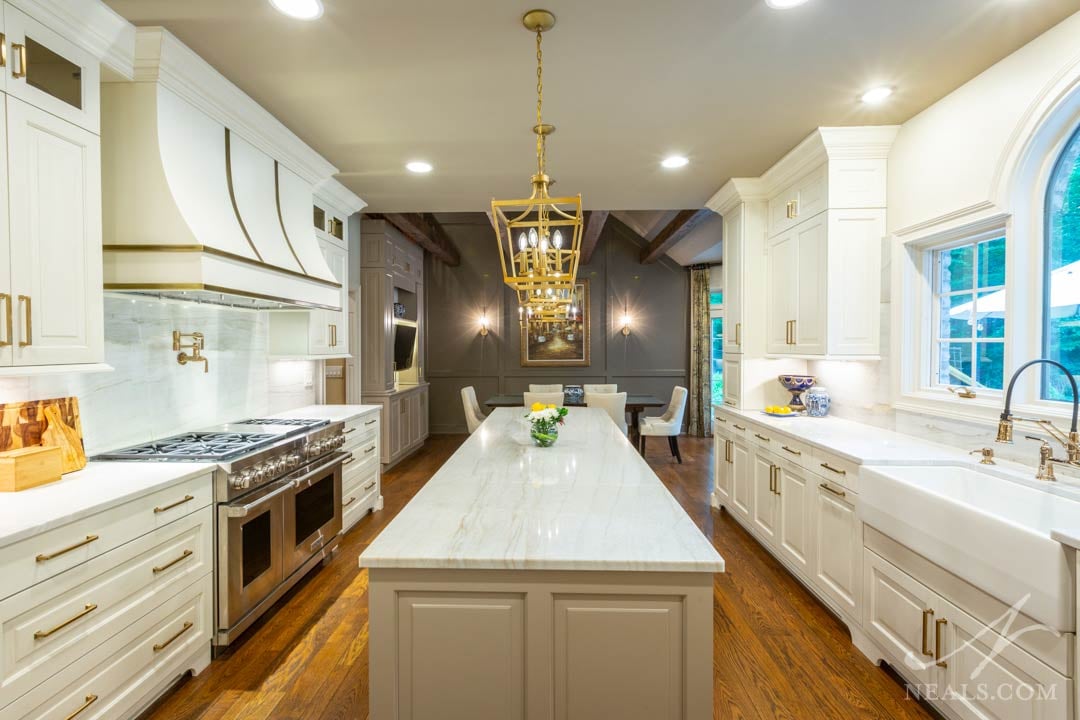 Kitchen Project in Indian Hill
The third light layer Lauren will look at including is LED tape lighting. This is used for lighting under cabinets and the interior of glass-fronted cabinets. It is an effective way to wash light into areas that might otherwise be dark. "Under cabinet lighting helps with illuminating both the backsplash and the countertop, as well as general task lighting," Lauren explains. Designers will almost always include tape lighting or integrated cabinet lighting inside glass-fronted cabinets to illuminate the items on display to get the most out of using the glass fronts.
Lauren also makes note of something most folks don't consider when looking at lighting in their home- the color of the light. Lighting color is known as "temperature" and can be considered on a scale of "cool" lighting which has a blue cast and "warm" lighting which will be a yellow color. These aren't temperatures as in hot or cold by feel, but rather our perception of color based on whether it looks colder or warmer. White lighting, which falls in the middle of the spectrum, is considered the closest to natural but is also the hardest to achieve with artificial lights. According to Lauren, "It's important to think about the color of light when determining how you want the space to feel." It's often the wrong temperature of light in a room that makes the lighting feel inadequate or incorrect.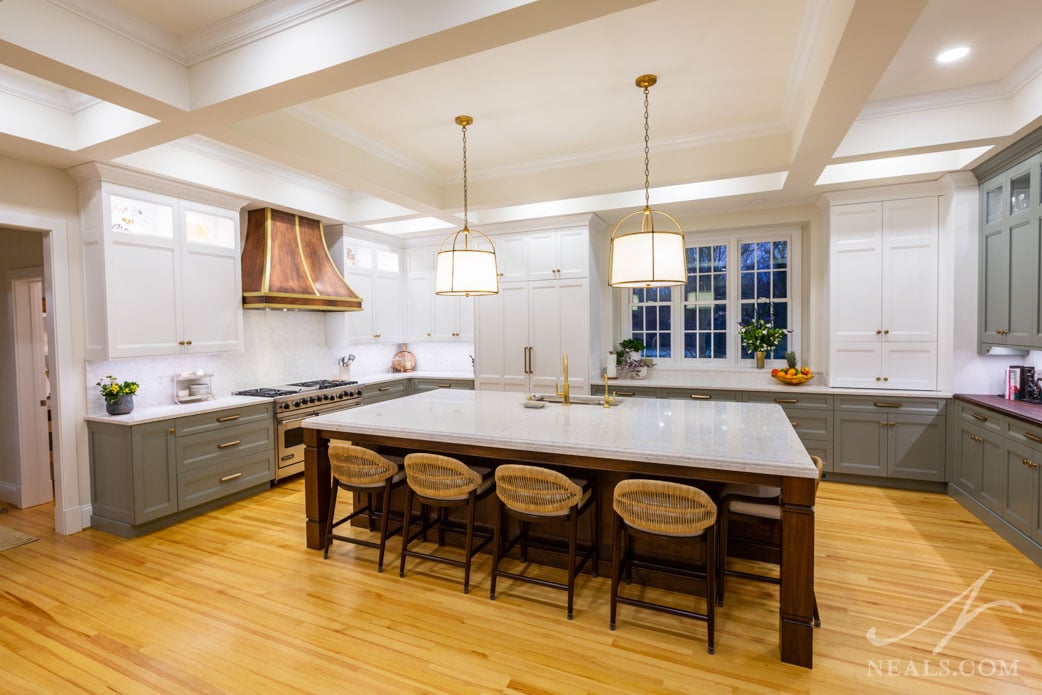 Kitchen Project in Indian Hill
Once Lauren has a handle on the lighting that's needed for a kitchen in the layers above, she'll address the materiality of the decorative fixtures. "Typically, I will have the lighting fixtures match the finish of the cabinetry hardware, but sometimes it adds visual interest to choose a different finish," she explains. Matte black hardware and brushed brass lighting are one of her favorite combinations. Lighting finishes can get away with being somewhat unique in the kitchen, but it all ties into the same design scheme. The most beautiful kitchens will have lighting, at each level, that feels intentionally selected and perfectly in balance with the size, style, and feeling of the space.