A walk-in shower is one of the most popular choices for bathroom remodels. Walk-in showers are attractive, easy to clean and can be customized for safety, comfort and use. They can be designed to fit almost any bathroom space, and can be designed to complement a separate soaking tub. When it comes to walk-in shower design, there are four fundamental design options to consider. We'll take a look at each.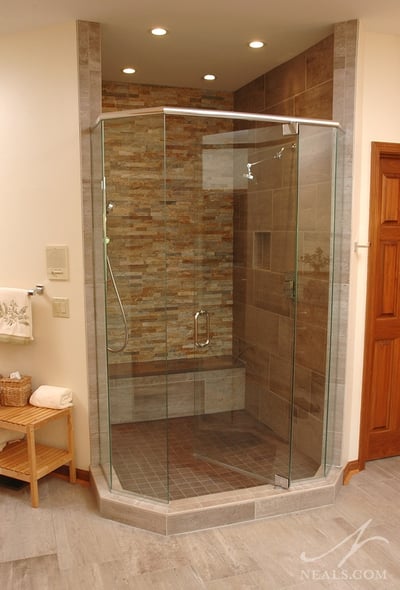 1. Walk-In Showers with Doors
Clear glass shower doors and enclosures can create an illusion of depth in a bathroom, especially if the room is small, since they reduce visual barriers. If the idea of clear glass enclosure sounds too open to you, frosted or textured glass can provide privacy without closing the shower interior off from the room's light.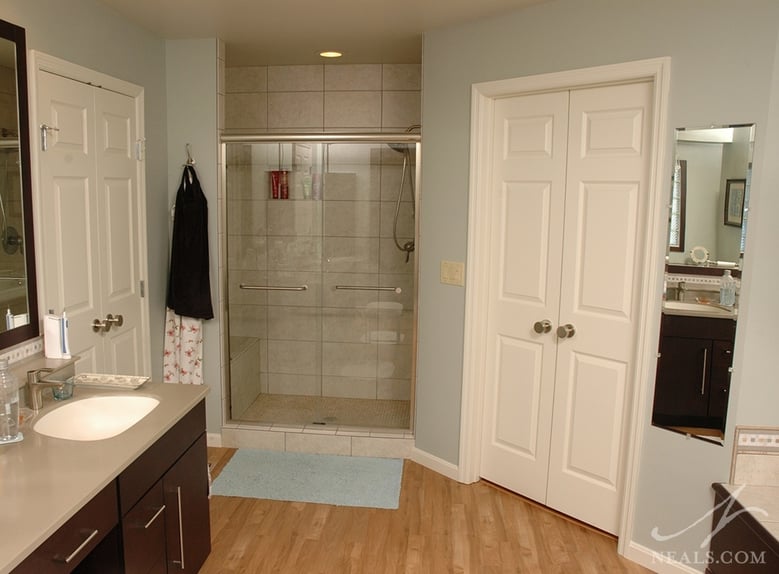 Most doors for walk-in showers are either hinged doors, but sliding doors on a track are also available. Hinged doors can be installed with a glass or tile surround. Each option has pros and cons. The advantage of a hinged door is that it is easier to clean. However, a hinged shower door also needs space to open which can present a problem in a small, tight space. Sliding shower doors may be a better option if the door swing into the space would be too inconvenient or if there just isn't room for it. Sliding doors require more width to install because they need to slide completely out of the way for you to be able to get into the shower. Sliding doors tend to be more difficult to clean than hinged doors because they overlap and have a narrow track where debris can build up.
2. Walk-In Showers Without Doors
More homeowners are opting for a walk-in shower without doors because of the ease of maintenance and access. The design of a walk-in shower without doors should consider containment of water, drainage, the placement of showerheads and handheld showers, lighting and ventilation.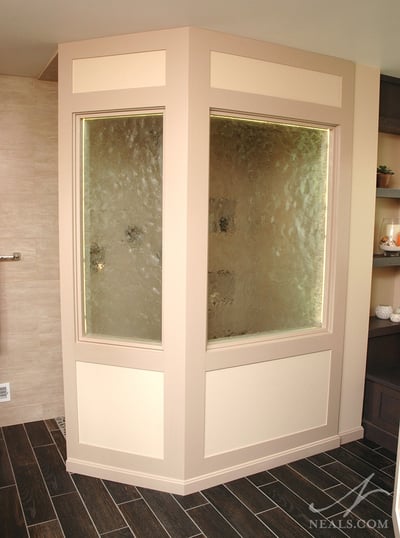 A walk-in shower without doors can be designed with a short, raised threshold that prevents water from escaping the shower area, or with a level threshold, also known as "curbless", that relies more heavily on a sloping floor to lead water to the drain.
3. Walk-In Showers with Privacy Walls
Privacy is always an important consideration in bath design, especially if the bathroom is a shared space. Privacy walls can be built for walk-in showers with or without doors, and can add an aesthetic architectural element to the bathroom. Privacy walls can take the form of full walls, walls with windows, or half walls (sometimes called a "knee wall".) In some cases, this wall can be utilized to house shower components that remain hidden from outside the shower, freeing the aesthetic design of the shower from functional clutter.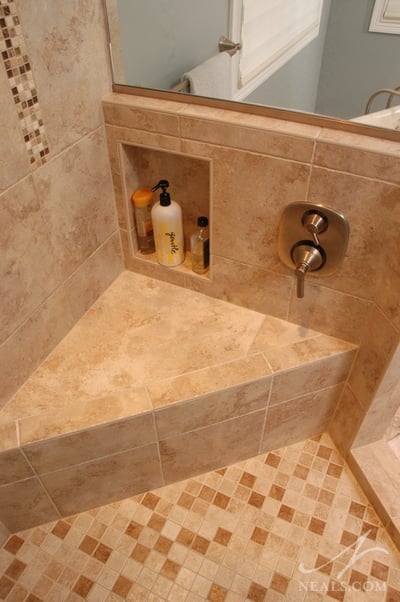 A privacy wall can also be created with a
decorative, textured glass panel
, combining style and function without considerably closing the shower in.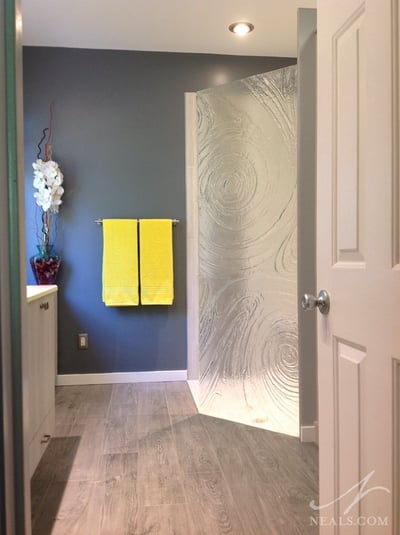 4. Walk-In Showers with Universal Design Features
Universal design elements can be used in walk-in showers for safety and accessibility. These include a wide, curbless entryway, slip-resistant flooring, grab bars, a shower bench, a handheld showerhead, low shelves or niches, accessible controls and ample lighting. These universal design features can be added in attractive ways that are accommodating to users of any age.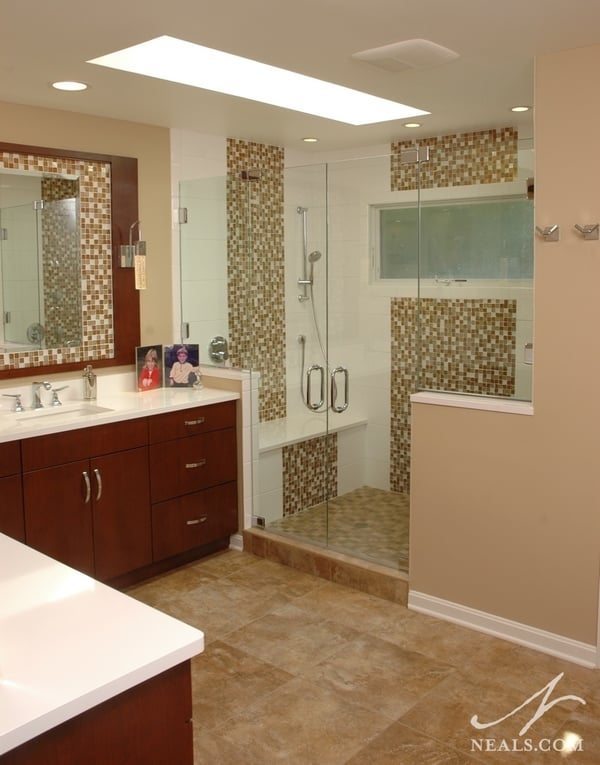 If you are considering a walk-in shower for your home, a custom-built shower can optimize your bathroom space and be designed to include the accessories you want or need. We recommend working with a bathroom design professional to properly size the shower for the room, create a functional aesthetic plan, and to show you products available for your project that fall within your needs and budget.