Summer heat can drive many families indoors, leaving yards and patios looking a bit empty and under-utilized. It doesn't have to be that way, however. Outdoor living spaces can be created that address some of the typical reasons homeowners tend to stay inside. While outdoor air conditioning is still a pipe dream, there are several other outdoor living design projects that can provide relative comfortable spaces that may make it easy to enjoy the outdoors. Here are our 6 picks for ideas to consider.
1. Sunrooms
A sunroom or three-season room is an interior space that is typically not part of the home's main construction. They are often not winterized. (When a sunroom includes insulation for year-round use, it moves into the category of a home addition.) Sunrooms are characterized by an abundance of windows, possibly including skylights, and usually have an exterior door. A three-season room relies on the sun to heat the space in spring and fall, but in the summer, ceiling fans or small AC units are necessary to ensure the room is not too hot to be useful.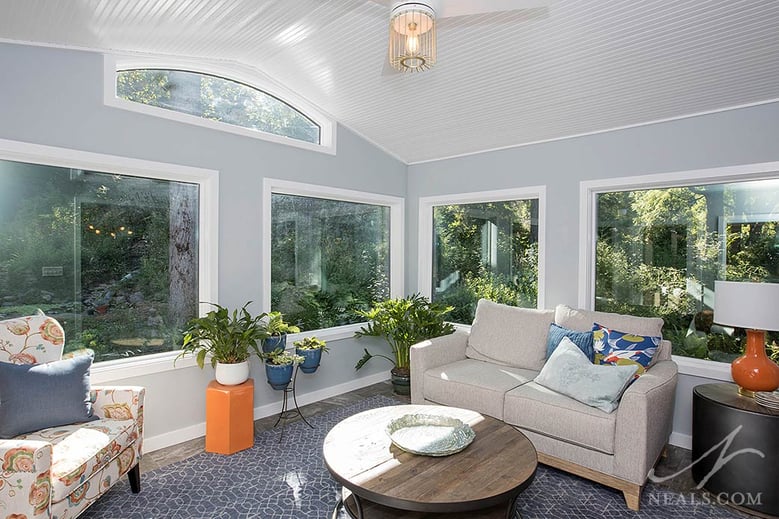 Sunroom Remodel in Cleves
2. Outdoor Living Rooms
Outdoor living rooms are multi-functional living spaces that can be considered an extension of a home. They are characterized by having a roof structure overhead that is attached to the house. The roof provides shade and allows the installation of ceiling fans that keep the air moving. The space is often unified with a garden, pool or pond. An outdoor room usually has defined areas for outdoor cooking and dining in addition to ample space for a seating area. Since the space is open, it is furnished with patio furniture and any electronic components are installed in locations that protect them from the elements.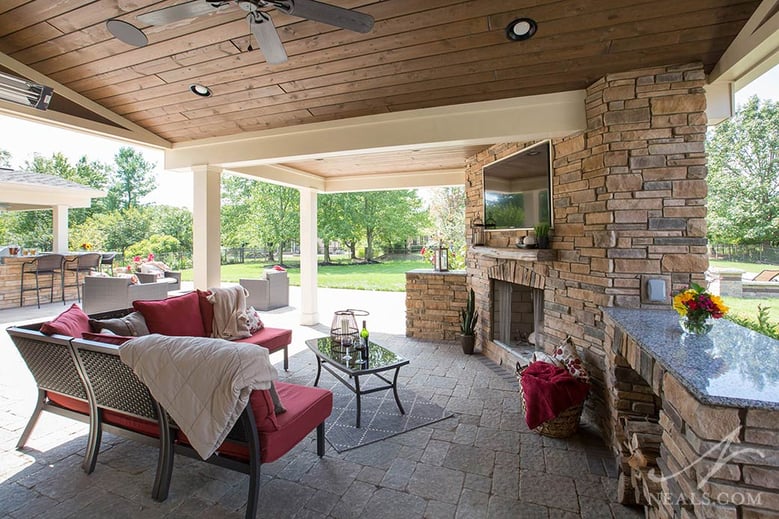 Outdoor Living project in Sycamore Township
3. Decks
New deck products can last decades and add beauty and value to a home, so the addition of a deck is a great project to consider. If you're planning to build a deck consider easy maintenance composite decking and take time to look at options for balusters and rails such as iron spindles or glass panels that will maximize the view. Also be sure to account for shade and comfort. Options for shading include a large patio umbrella, a retractable awning, or installing shading sails. When planning a deck project, pay attention to how the sunlight travels across your property throughout the day in the summer. You may discover that some areas receive very little sunlight in the day, which may make that the best location for your new deck.
4. Porches
Porches are the perennial gathering place during summer days to cool down, read or enjoy a cold drink. A screened porch provides the additional benefit of protection from flying insects. Screens can be installed that retract as needed for shade, privacy or wind breaking. Traditionally, a porch provided a space to "sit back and relax" but homeowners today are maximizing their porches by including outdoor kitchens, fireplaces, and entertainment areas.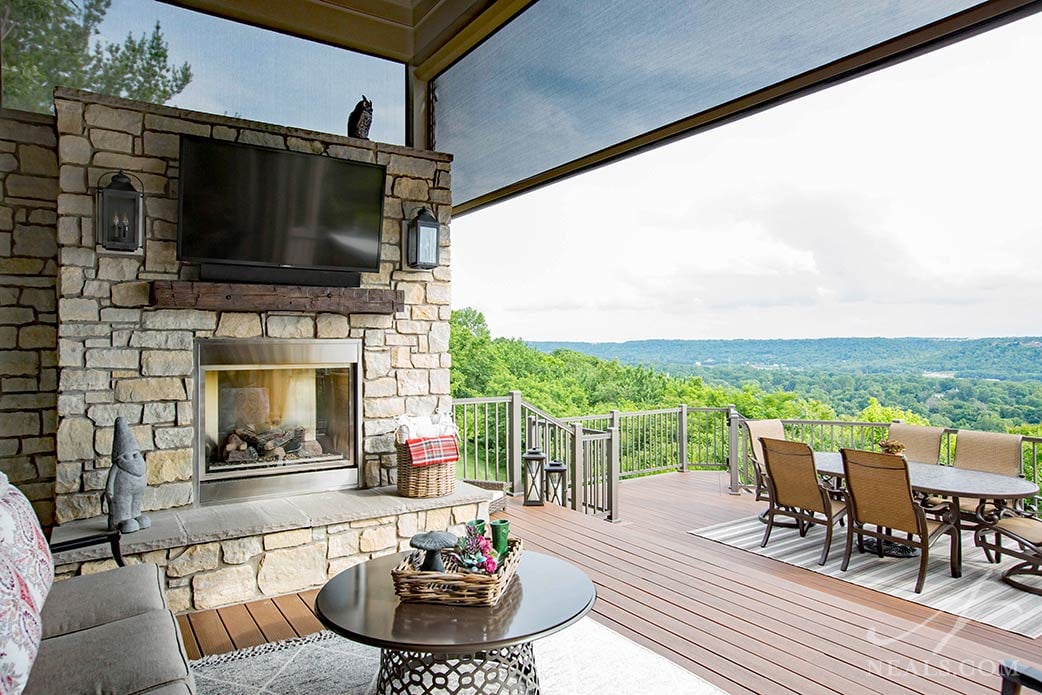 Outdoor Living remodel in Western Hills
5. Shelters
An outdoor shelter is a roofed structure used for outdoor entertaining that is separate from the house. Think of a picnic shelter at a park, but include amenities such as patio seating, a fireplace, TV, and an outdoor kitchen. Shelters can be constructed with wood and stone to match whatever style works best for the property, home and homeowner's taste. Just as with the outdoor living room attached to the home, a chandelier or ceiling fan can be installed to keep the space cool in the summer and space heaters can be used to allow the shelter to be useful in the cooler months.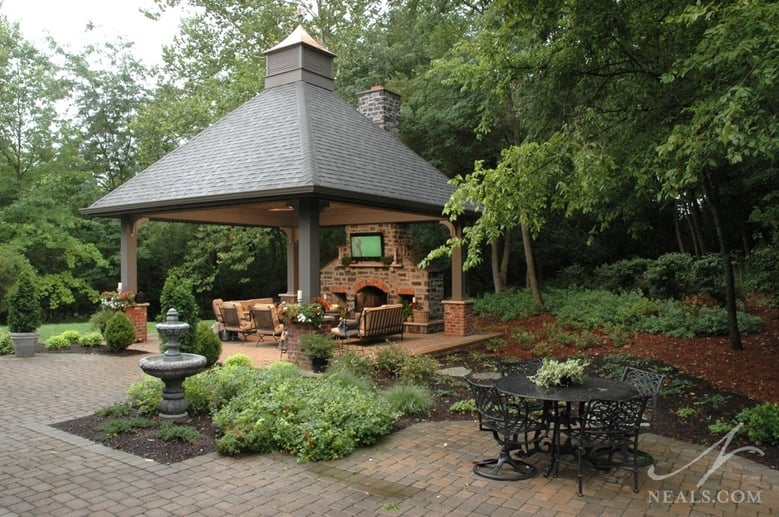 Outdoor Living project in Amberley Village
6. Cabanas and Pool Houses
A cabana is a shelter built on a beach or near a swimming pool. Once used for shade or changing after a swim, a cabana can also be an ideal place for a shower, kitchenette or bar. Add an overhang and you will have shelter from the sun's rays. A pool house can also double as a place to locate pool supplies.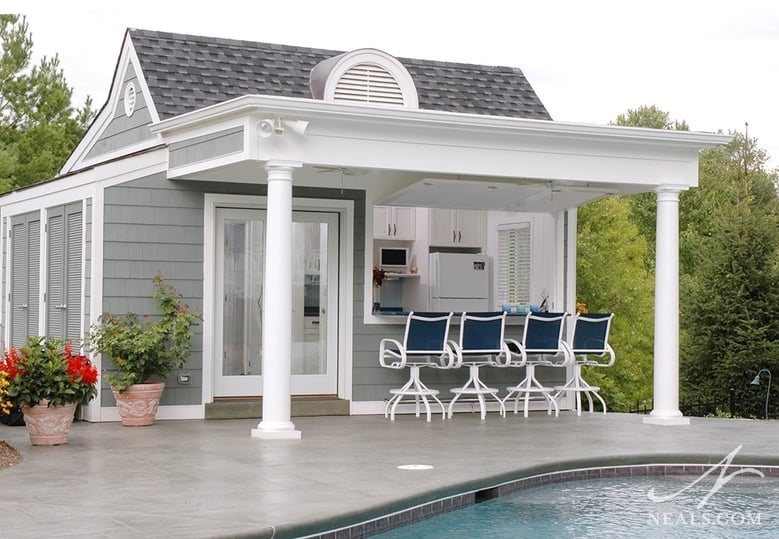 Pool house project in Mt. Washington
Note: This post was originally published on 5/7/2013. It was most recently updated on 8/25/20 with new images and text edits.