For many homeowners, having a home with a basement is like winning the square footage jackpot. This space, whether it's already finished or not, offers an entire category of possibilities that are often separate from the needs of the home above. Whether the basement is a lower level walk-out with easy access to the exterior, or if it has few windows and a lower ceiling, there are many tasks that it can be designed to accommodate. Options for a basement remodel include considerations for entertaining, family hang outs, storage, home office space, laundry rooms, and home gyms. Keep reading for great ideas from our local basement remodeling projects to inspire you in your basement redesign.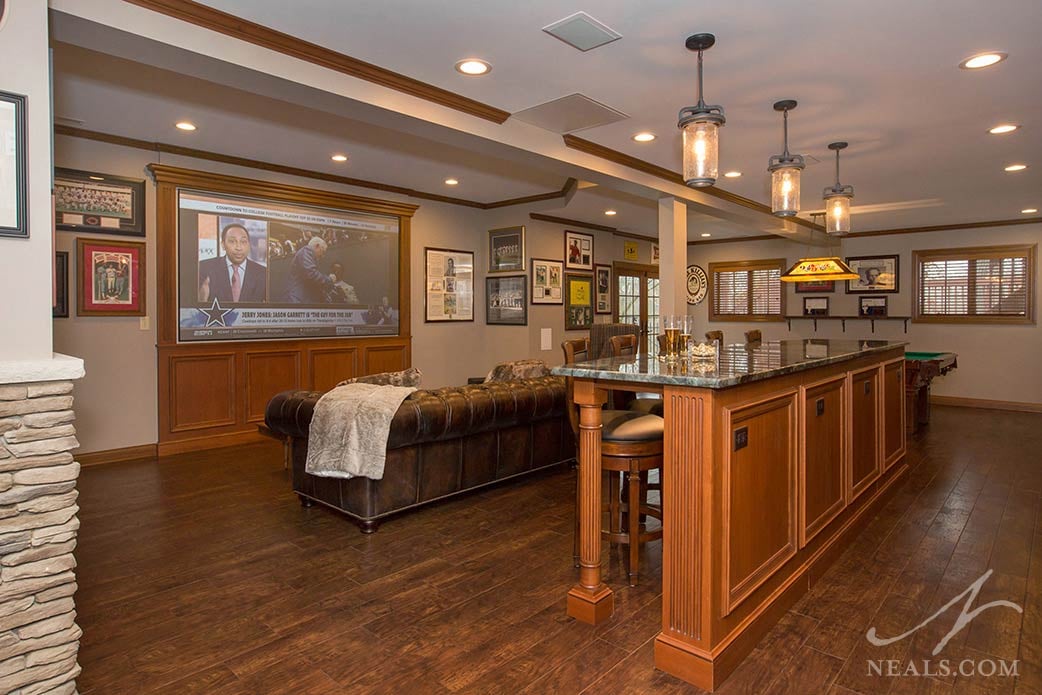 1. Play up the sports bar theme.
With the combination of traditional woodwork and an open space that can hold a group, this Harrison remodel provides an example of a laid-back, high-end sports bar theme at home. Details like industrial-inspired lighting, a colorful granite counter, and a well-considered surround for the TV, this space is ready for game-time.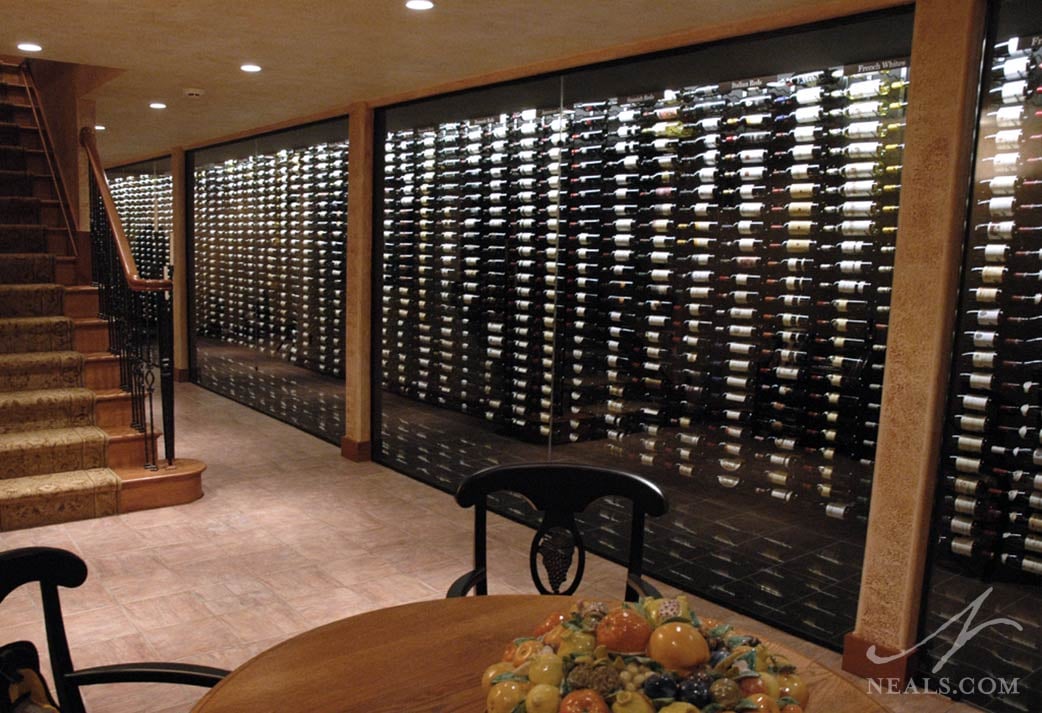 2. Celebrate a wine collection with an impressive display.
Over 3,000 bottles of wine, collected over decades of travel and curation, make this Mason lower level a show-stopper. The temperature controlled storage cases line two walls of the space, and each bank of bottles is labeled to assist the homeowner with finding exactly the bottle they want. The rest of the space is designed with a warm Tuscan style and has several tables and seating areas for guests.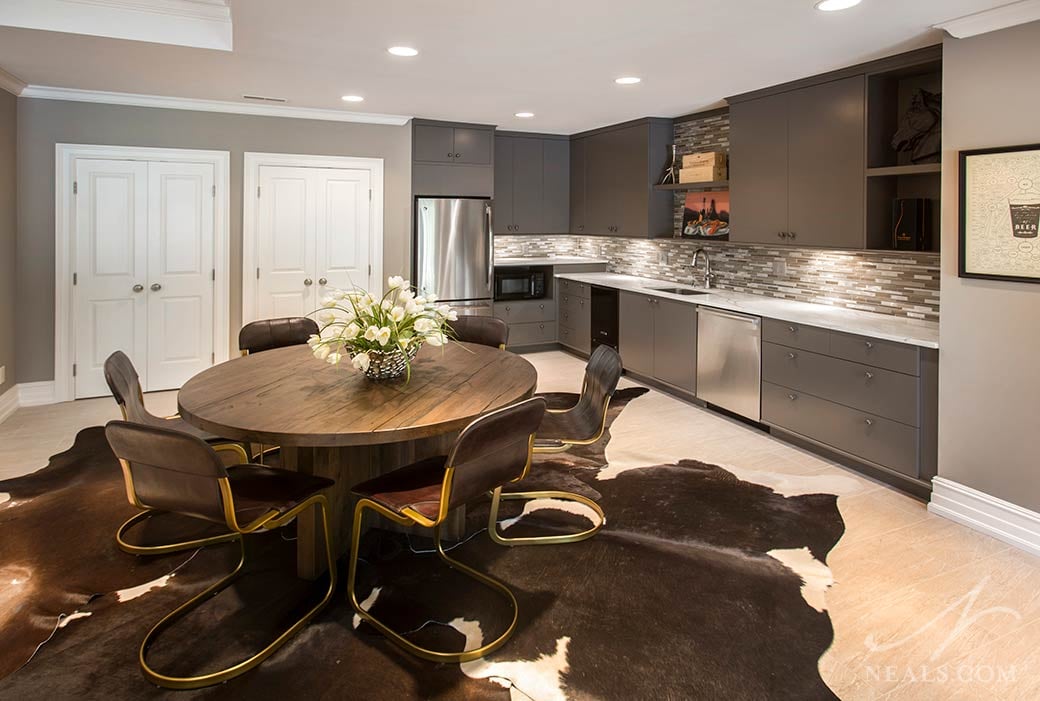 3. Add convenience with a basement kitchenette.
If you enjoy spending time in the basement and often have food to serve, it may work better for you as host to include a kitchenette in the basement. With several appliances and ample counterspace, this Indian Hill basement kitchen allows the homeowner to stay downstairs with guests and not have to struggle with bringing dishes or food from the main kitchen upstairs.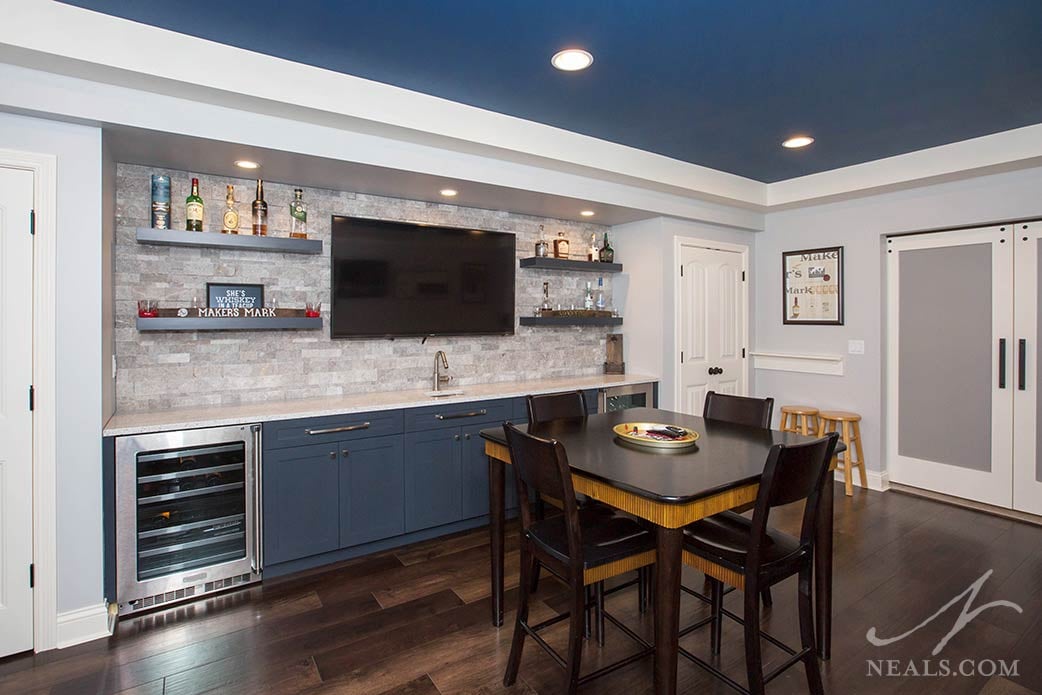 4. Don't shy from adding color.
It can be tempting to be concerned that in a basement with low ceilings and little natural light that using a bold color would make the space feel small. This basement remodel in Union, KY, however shows that a bold color choice- blue bar cabinetry that is mirrored on the ceiling, can add character and playful charm to the basement. This pop of playful color is a great design idea for basements that are sports-themed or house indoor recreational equipment like a ping pong table or indoor basketball hoop.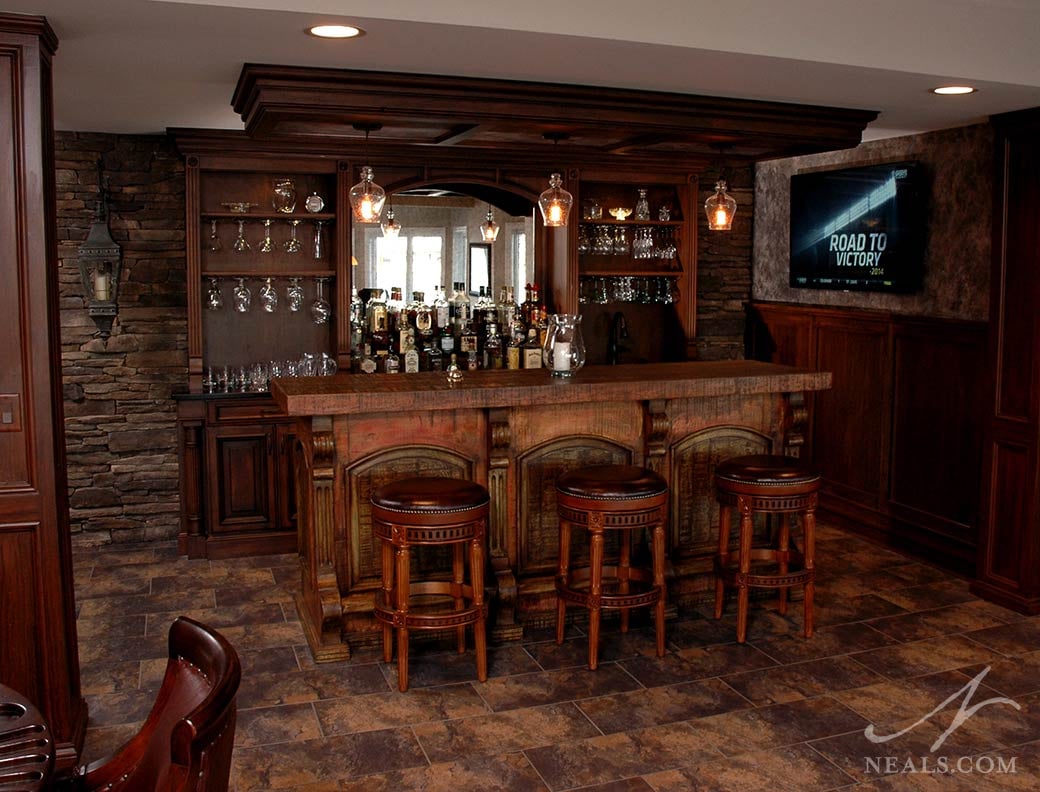 5. Create a bar around antique finds.
If you enjoy flea markets or browsing for unique finds online, you may have found interesting furniture items, like this antique bar counter in a Maineville remodel. Using special pieces like this as the basis for a remodel can be fun when combining with cabinetry and materials to create a unique space within the home. This type of project is ideal in the basement setting where the new and old can be combined with their own set of rules, without having to mesh too closely with other areas of the home.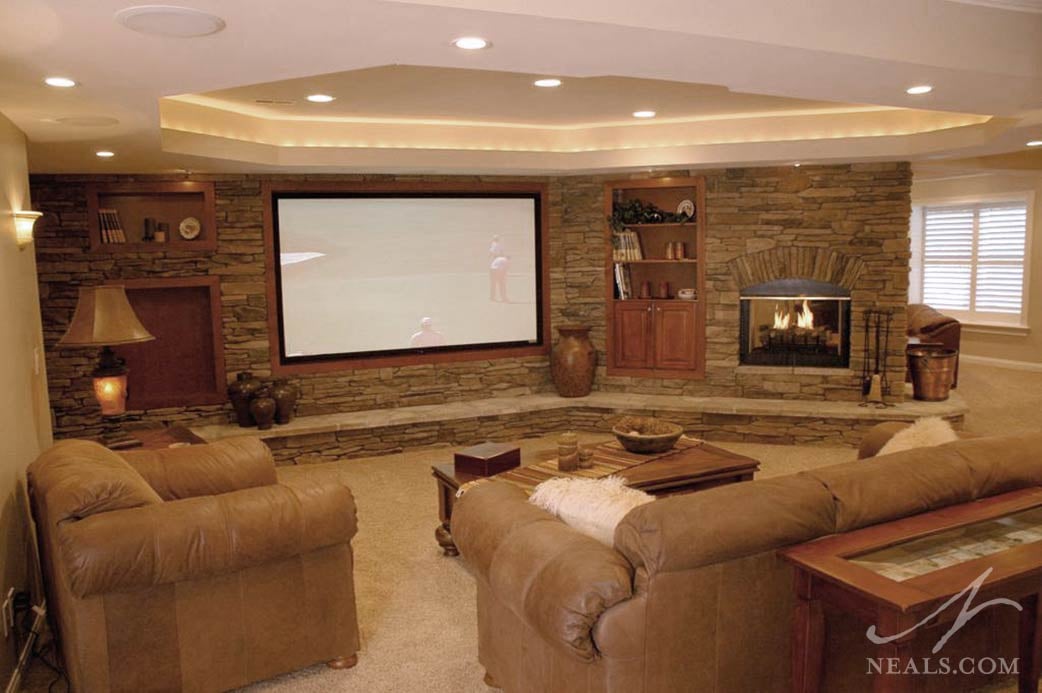 6. Conceal support columns within a stone built-in.
An inherent trait of many basements is that they are often littered with supports for the floor above. In many cases, these supports are crucially positioned and any floor plan design in the basement must work around them. One way to reduce the visual clutter of columns is to find ways to conceal them inside walls and built-in features, similar to this stone feature wall in a Maineville basement remodel.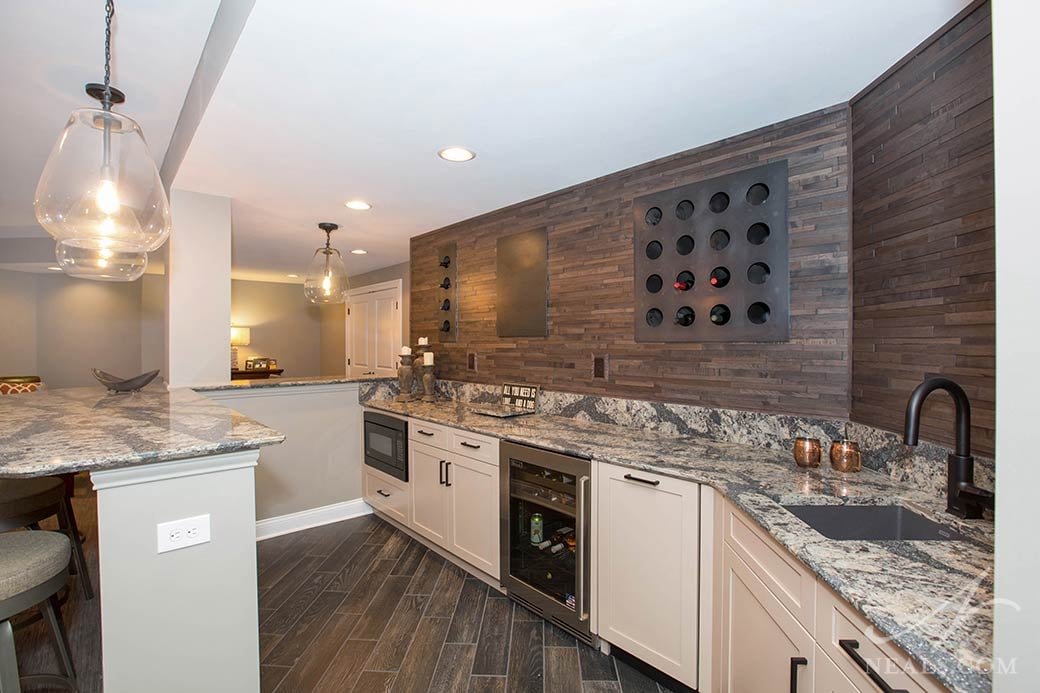 7. Play with modern style by using a textured wall surface.
The basement is a great place to try interesting styles or unique finishes without having to commit too deeply. For this reason, creating an eclectic mix of traditional style elements and modern touches seems well-suited for this home bar. FriendlyWall products, or similar reclaimed wood surfaces are ideal additions to the bar to add interest, warmth, and a touch of rustic styling in a modern format. This Montgomery basement feels bold with the wood wall accent, but the other style choices around it are classic and traditional.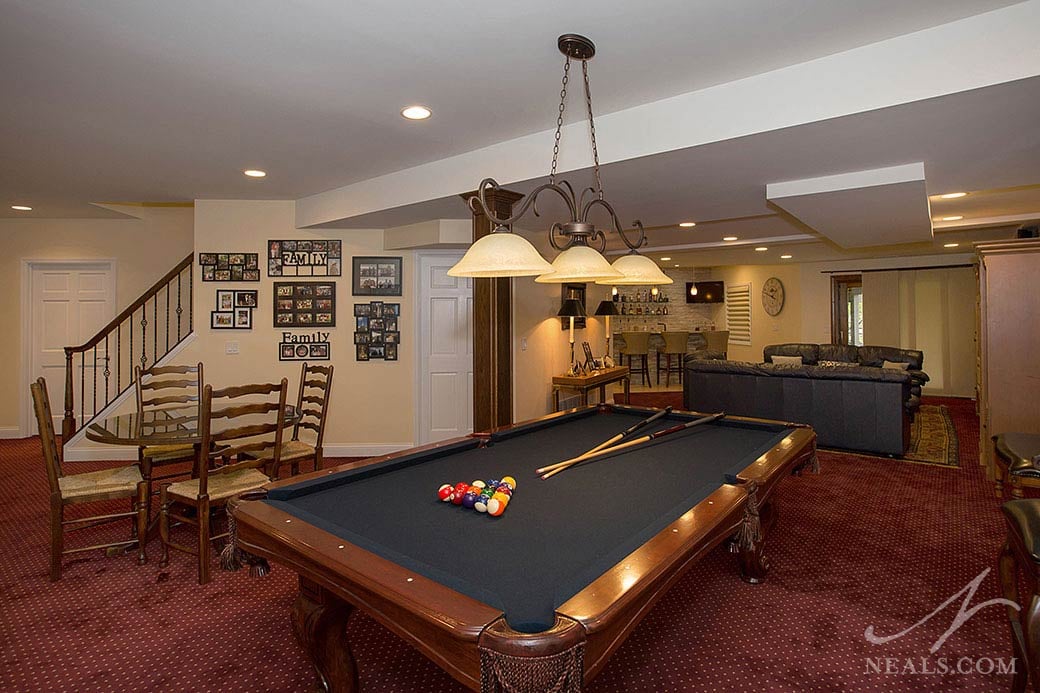 8. Divide a large basement into activity zones.
Some basements, particularly under long ranch-style homes, are long spaces with lots of potential. While dividing the space up with walls is an option, it may work well to keep the space open for several different activities. This lower level remodel in Western Hills shows how it's done with connected areas, each with their own core purpose- from a billiard room, to a seating area, and back to a bar.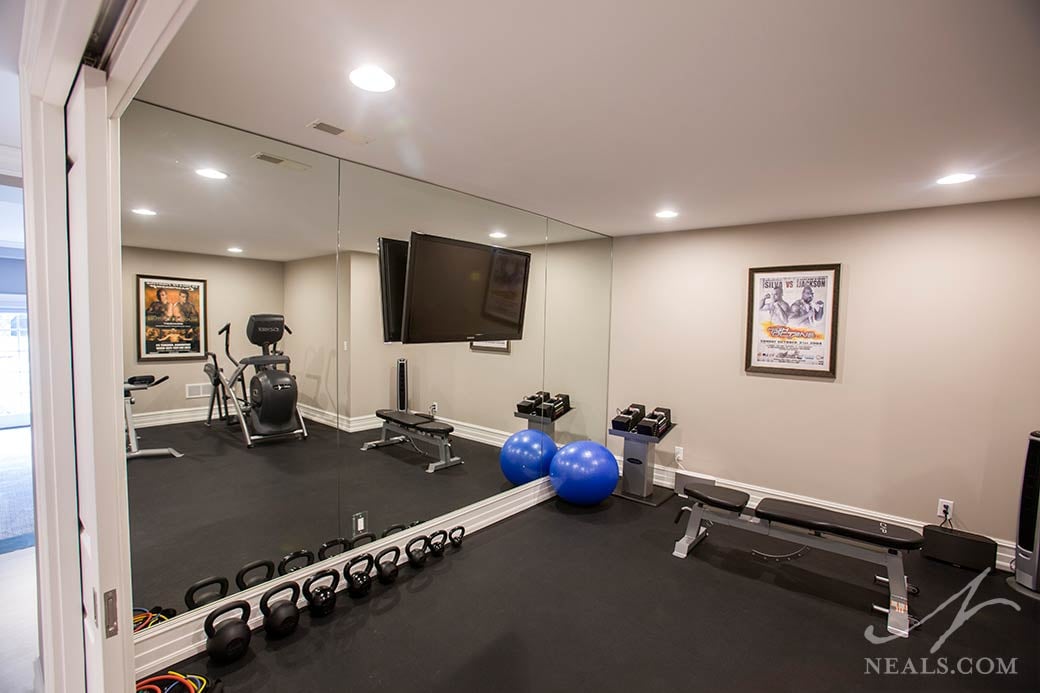 9. Create a comfortable home gym.
If you have some extra space in the basement and enjoy working out, consider creating your own personal gym, such as in this Indian Hill basement. Even if you only have a few items of equipment, a room with mirrors and impact-resistant flooring can be created to offer you a judgement-free space in your own home to get exercise in. Be sure to include ample lighting and consider installing an entertainment system for music, workout videos, or just for watching TV while you work out.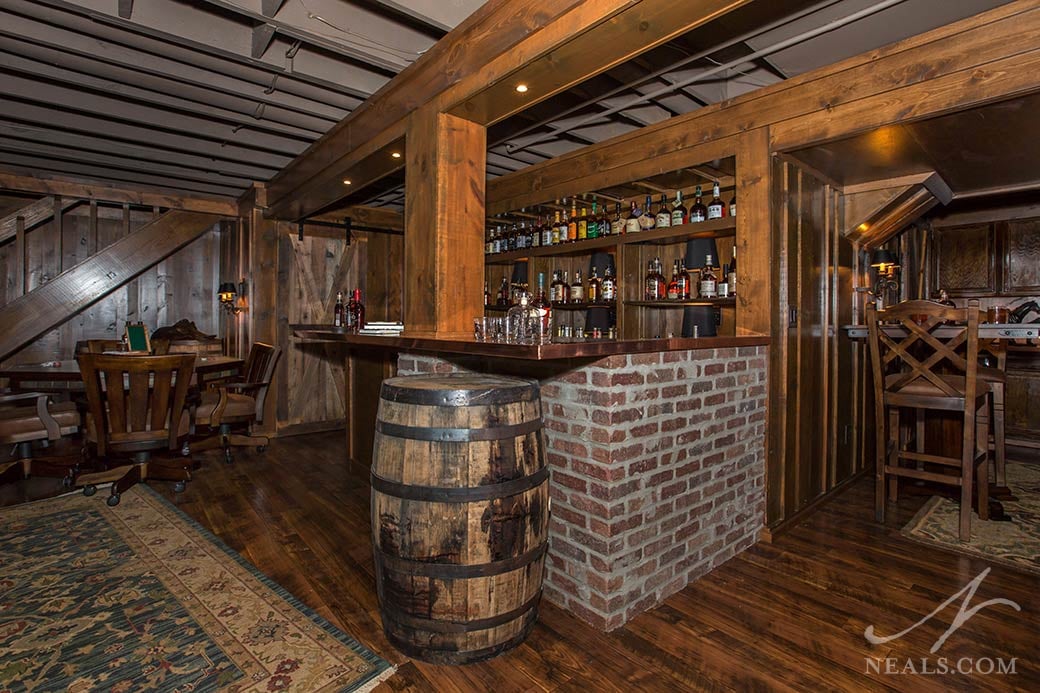 10. Go all-in with a themed basement.
Though not for everyone, a themed basement can be a fun project to complete. Though it's important to keep resale of your home in mind whenever you're creating a specialized space. Themes such as a European pub, or this bourbon themed basement in Glendale, are easy to accomplish while working with a designer at a professional design-build company. If you think a themed basement is the right choice for you, be sure to commit to the idea fully so that you don't end up with a half-baked concept that doesn't quite hit the theme.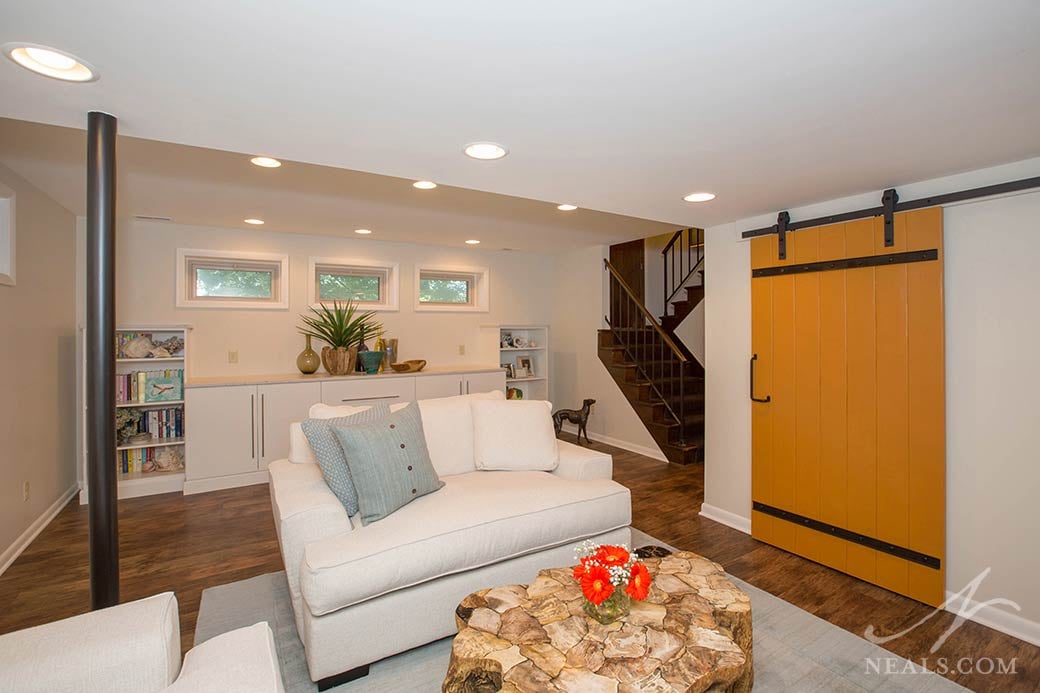 11. Include stylish touches in a smaller basement.
If the basement isn't a large space in your home, you can still include cabinetry and other design details to make the space feel useful and comfortable. This basement remodel in Cleves is a nice example. A small bank of cabinets, wood flooring with a textured look, a bright barn door, and a modern fireplace (not shown) are stylish elements that, together, pack a punch in the small living space.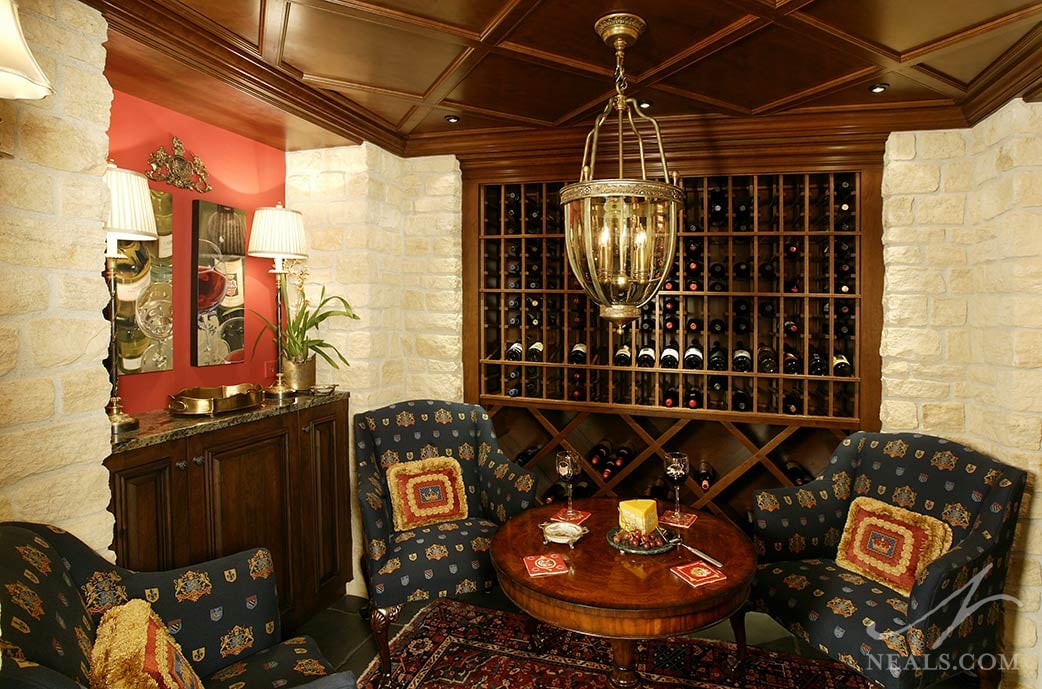 12. Play up a lack of windows with a cozy wine room.
Since many basement spaces are low on the window count, it can be a difficult task to make all the areas in the lower level feel like they have natural light. One way around that is to embrace the lack of windows and utilize layered lighting to create a cozy room that doesn't feel like it lacks natural light. An ideal candidate? A wine room, which can be created to feel like a cellar in an old manor, and still include comfortable and stylish furnishings, just like in this Anderson Township basement remodel.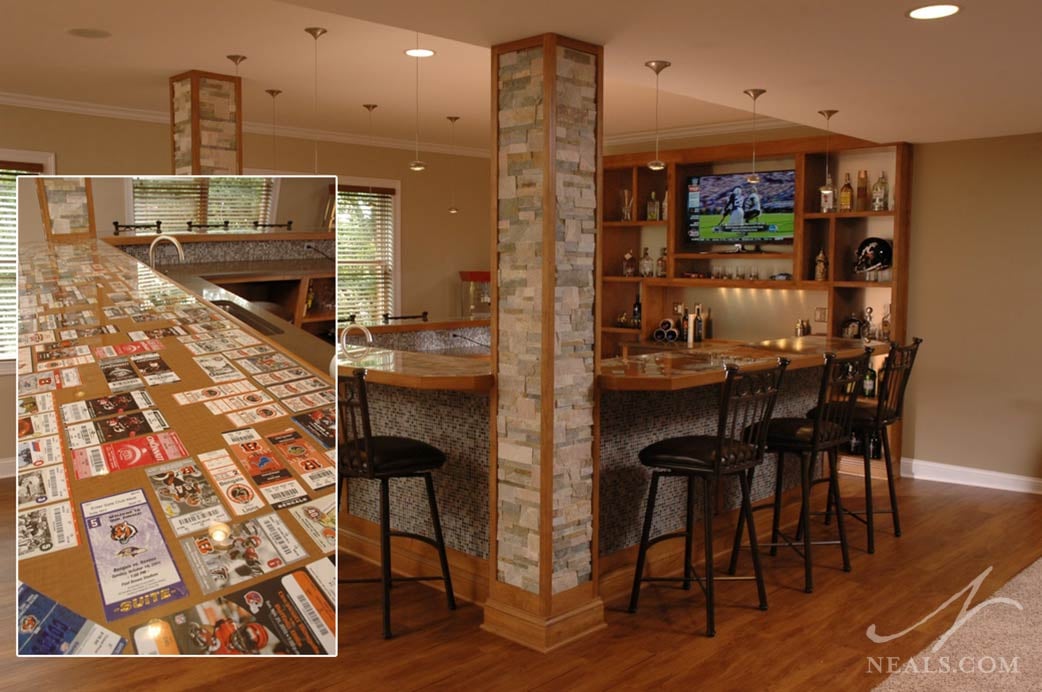 13. Customize the bar to hold tickets and mementos.
If you have a collection of mementos, from shows, sporting events, plays, art galleries, or just things collected on your travels, consider outfitting your lower level bar counter with a glass top so that these items can be displayed and preserved. This Cleves basement remodel does just that. A glass counter insert can be lifted up to allow the homeowners to add more tickets or other paper items to show off their love of sports. If the counter is designed as a shadowbox, this same trick can be used for more 3-dimensional items.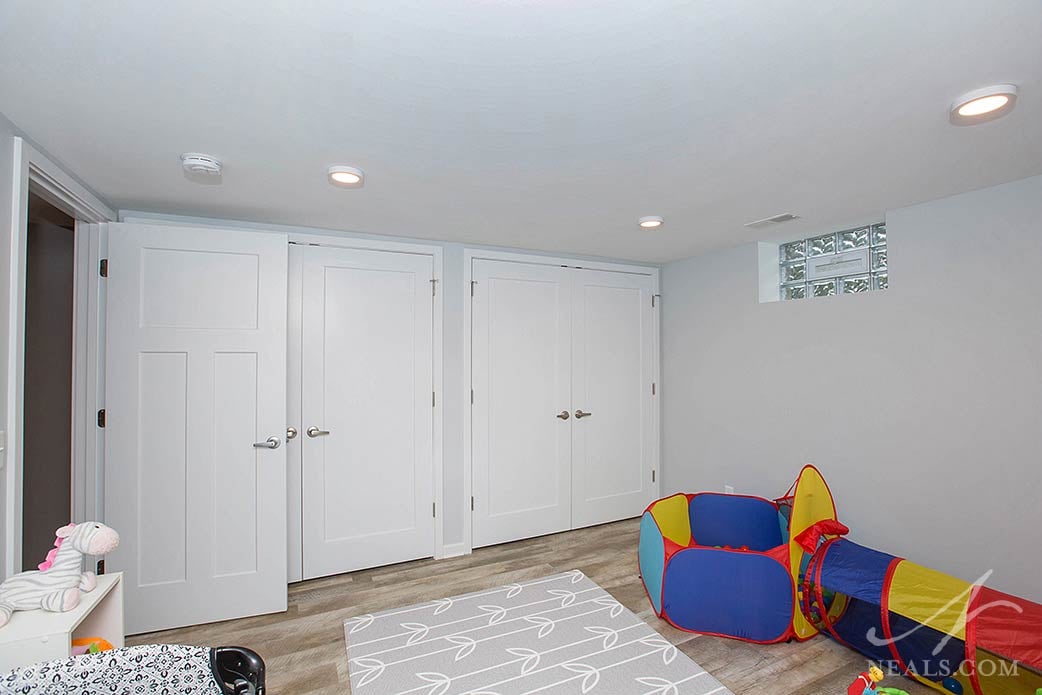 14. Give the kids a dedicated place to play.
A common problem in many family homes is the lack of a space for young kids to spread out with their toys without getting in the way of the adults (Legos on the living floor anyone?) The basement can be a useful place to transfer kids' spaces away from rooms with a more mature style or purpose, and into a contained environment, like the playroom in this Kenwood basement project. A basement room is also probably better suited to the relative noise level that comes with having kids. Include ample storage and lighting, and you may have a hard time getting your kids to want to be anywhere else.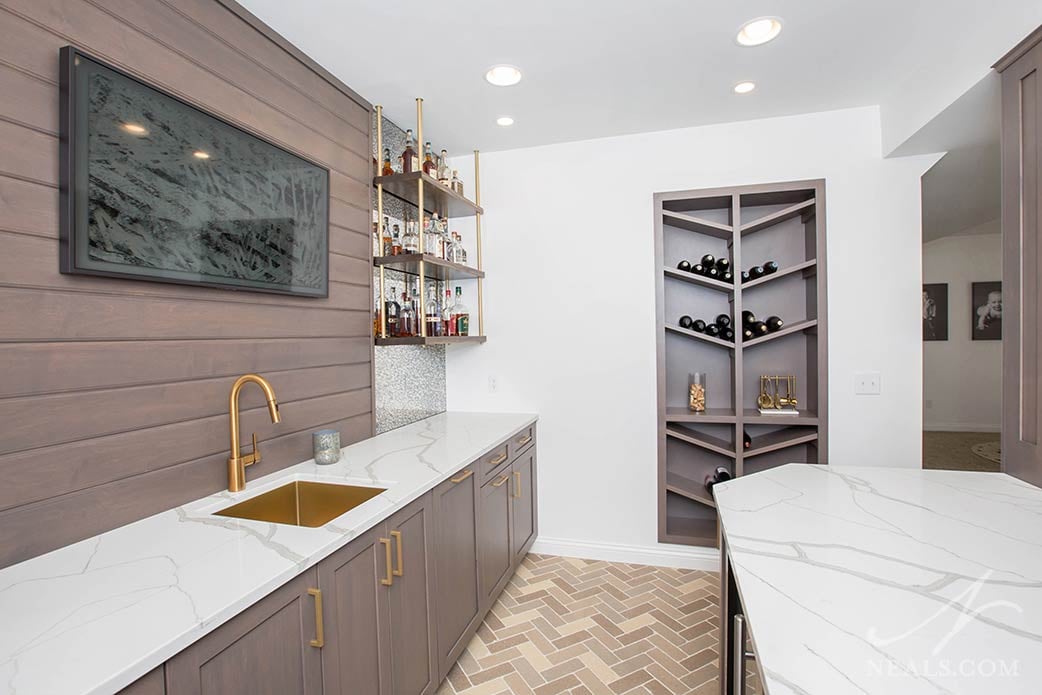 15. Add interesting details in smaller bar spaces.
If the area in your lower level that can work as a home bar is somewhat on the smaller side, look to the ways that you can maximize the visual impact instead. This Madeira bar project uses a mixture of finishes and materials, as well as a varied color palette of white, gray, brown and gold, to outfit the bar in style in a relatively small package. Note also that additional space for the bar was located in a custom wine storage niche that mimics the herringbone floor.