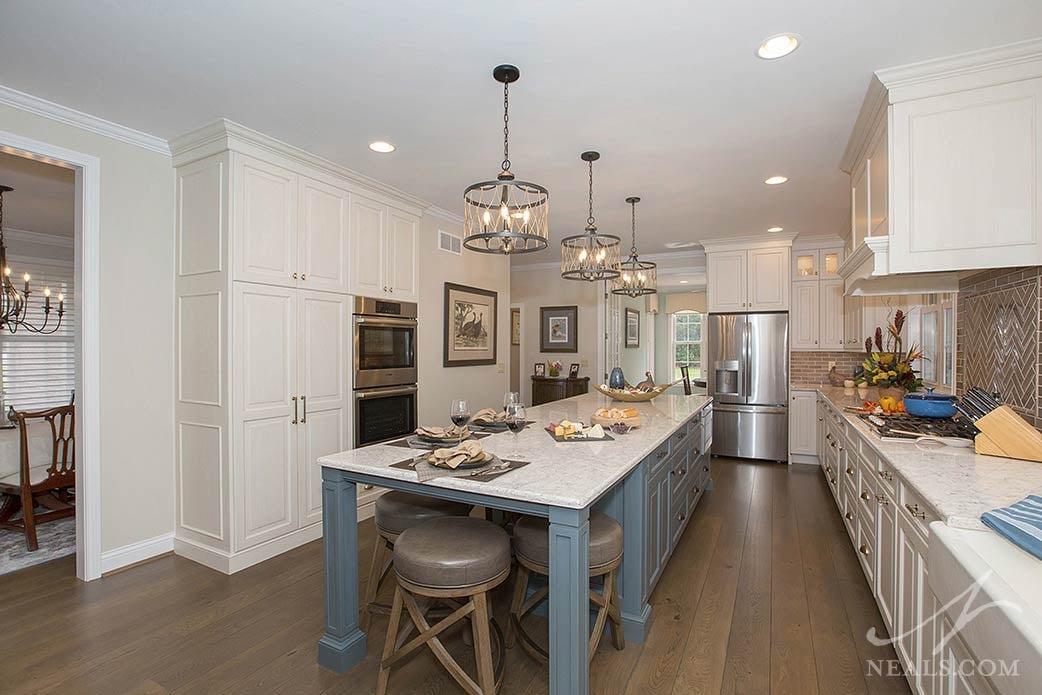 This kitchen in Williamsburg showcases many of the key elements of the classic kitchen style.
What makes a kitchen "classic"?
Classic style is generally more transitional in nature, which is a balance between the highly decorative details of traditional design and the minimalist lines of contemporary style. Classic style is often heavily influenced by the design movements between the turn of the 19th Century through to the pre-war era, which includes both the Arts & Crafts style and Art Deco.
A classically-styled, transitional kitchen, in today's era, is also casual-leaning. While the space can feel grand, with luxurious details and high-end materials, comfort is at the core. This may come through in cabinet choices that look like pieces of furniture, or in the use of inviting seating at the island. However it's achieved, a classic kitchen remains timeless because it's welcoming and comfortable for everyone.
In order for a kitchen to feel like a classic, it should also appeal to a
wide range of tastes. This is useful especially for the long-term value of your home and any future owners. There is a focus on creating a backdrop in a classic style kitchen that can be layered with different decor to create new looks without the materials of the kitchen itself getting in the way or dictating a specific design direction.
Below, we've outlined 5 specific style tips for creating a classic, timeless kitchen.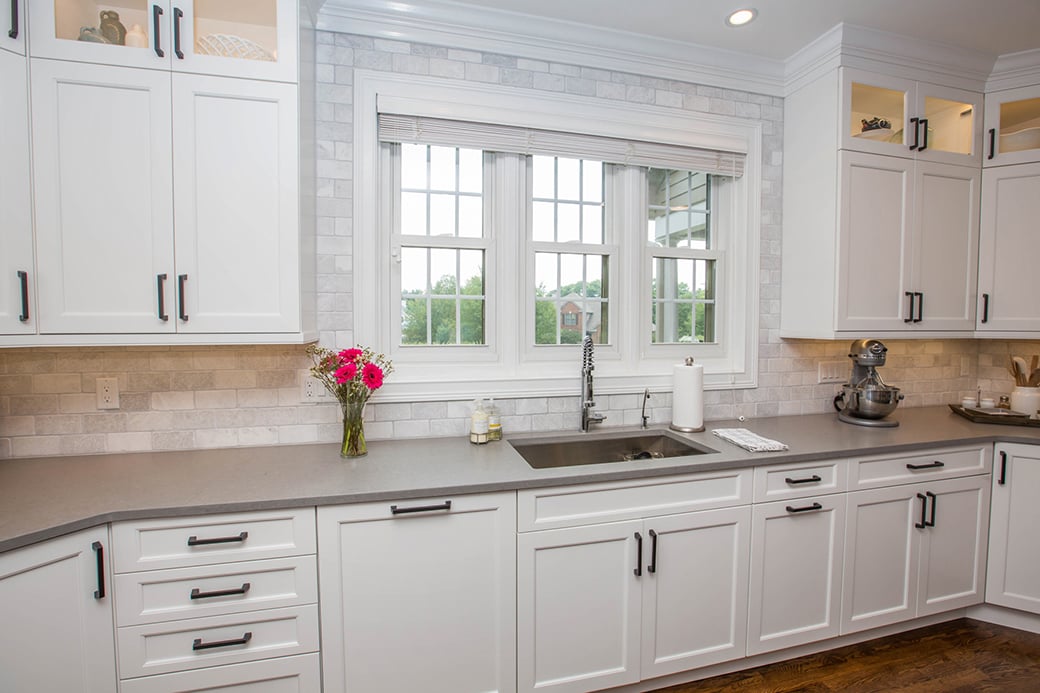 This family kitchen in Loveland balances several white elements with other neutrals.
1. A neutral color scheme with lots of white
White kitchens are a popular choice, and have been for several years. White or cream-colored cabinetry lends itself well to a variety of styles, so it is useful for creating a neutral palette. Since white has been used in kitchens for more than a century, it already brings a sense of timelessness. That doesn't mean that a classic kitchen has to be an all-white one, however. When considering a color or a wood finish, steer away from trendy colors, or any finish that dictates a specific color scheme with your decor. Great options that align with classic style are blues, grays, blacks, and walnut.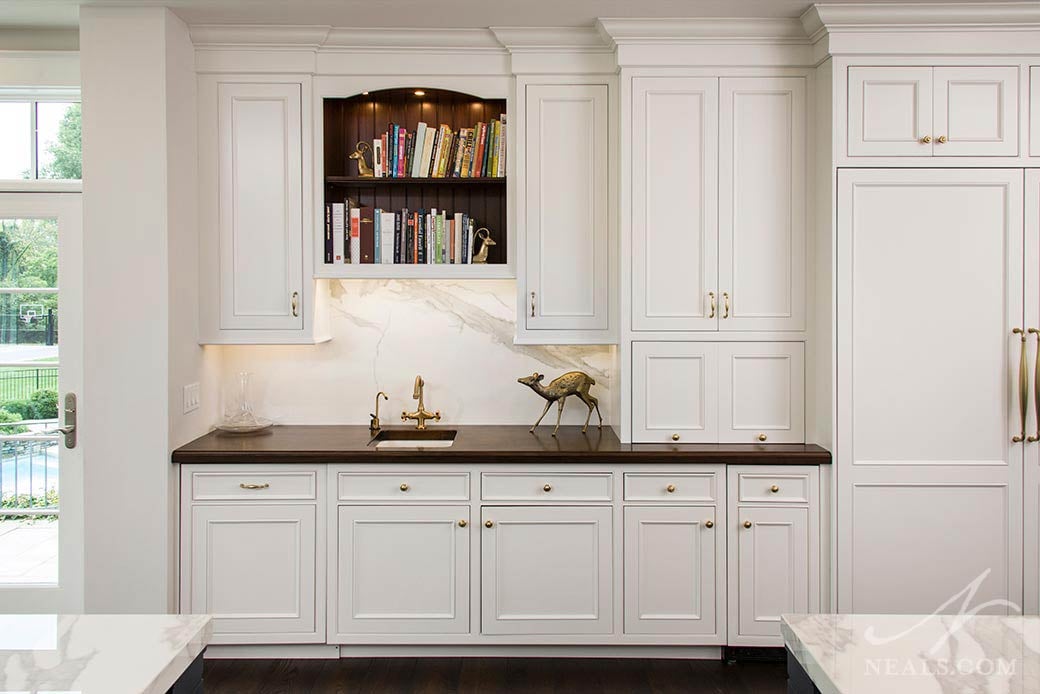 In this timeless Indian Hill kitchen, inset molding-applied cabinet doors add simple, unfussy detail.
2. Simple details that create visual interest
When it comes to cabinet, trim and molding styles, the key to creating a classic look is to include some traditional elements that are pared down to simpler forms. For example, your cabinets may be recessed with a line of decorative applied molding. Or you may use a crown molding that has few transitions on the surface but is substantial in size. In all cases, function should be the first consideration, since a kitchen that stands the test of time is one that is practical for the long-haul. Once function is established, minimal decorative elements can be added that bring personality and transitional style.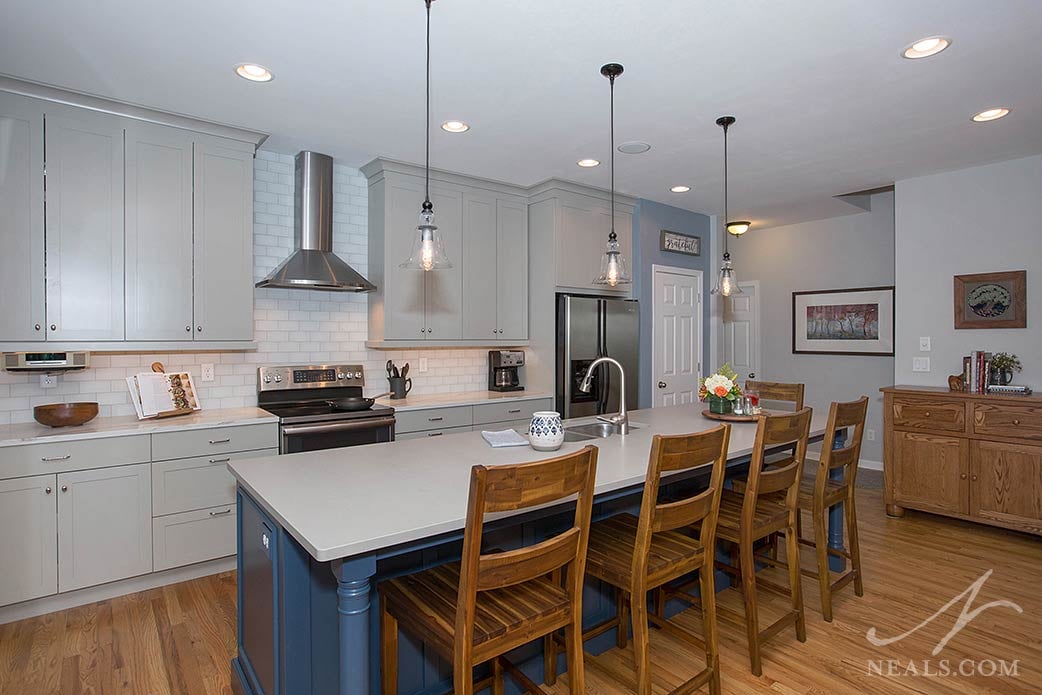 This casual kitchen in Mason has all the hallmarks of the classic style.
3. Always on-trend counter materials
Marble and granite counters are selections that have already become timeless, so going with these materials is a sure-fire way to establish a design that will last. Whether you opt for the real thing or manufactured surfaces that mimic these materials, such as Cambria or Caesarstone, the best bet will be to stick with neutral, natural-looking colors. White, gray and black counters will provide the most classic style, but within these colors, there are vast options. Look for counters with simple veining or subtle color movement, rather than anything with bold patterns.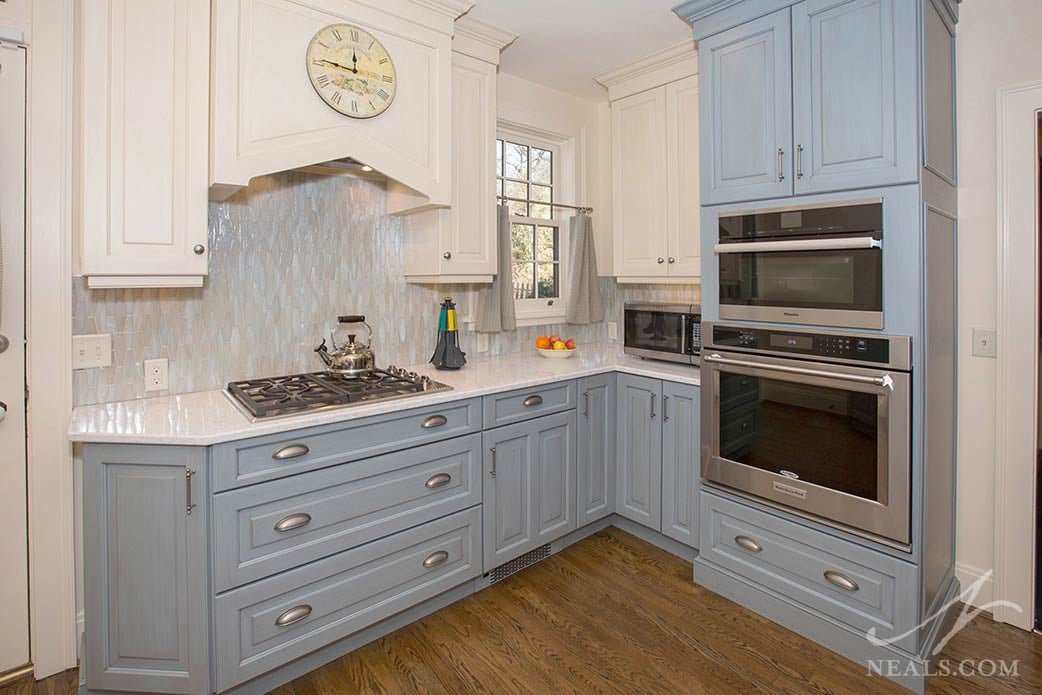 The eye-catching backsplash in this Clifton kitchen uses a modern-feeling elongated hexagon shape.
4. A backsplash with a single style of repeating tile
Subway tile may seem a bit overdone these days, but it's hard to deny that it's as classic of a backsplash design as you can get. One way to take advantage of this without creating a backsplash that puts you to sleep is to look at alternative tile styles beyond the predictable white. Subway tile in stone, artisan or hand-glazed ceramics, or colored glass create a chance for character and interest while still capitalizing on the timeless look of a tried-and-true pattern.
Also consider modern repeating tile options in other shape formats. We've seen hexagon, ogee, and oval tile achieve a similar look in an updated and interesting way that feels just as classic. In order to make the tile feel like a part of the neutral space, even if you select something with unique shape and a lot of color, is to stick with the same tile across the entire backsplash. This allows the eye to register the tile as a single element in the same way it would see a bank of cabinets, which adds the kind of simplicity that's necessary in a transitional space.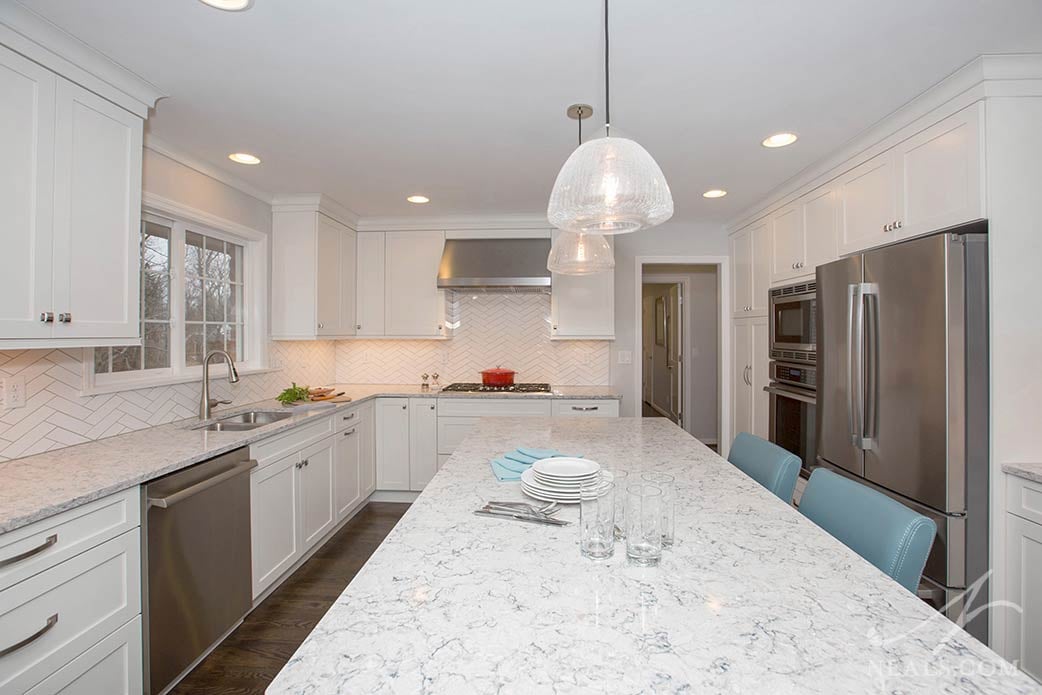 This transitional kitchen in Deer Park is complimented by a collection of stainless steel appliances.
5. Cutting edge stainless steel appliances
Even if classic kitchen design lives in the past for many of the style influences, in order to create a space that will stand the test of time, it's important to include forward-thinking features. There's no better way to do this than to upgrade appliances to the latest models. Whether that's convection cooking, a smart refrigerator, or a dishwasher you can control with your voice assistant is a matter of your personal lifestyle preferences and needs, but give consideration to the long-term impact and investment in appliances that are already geared toward the way we will likely be living in the next 10-20 years.
Stainless steel is the additional recommendation here because there's no other appliance finish that is as adaptable. Since the goal of a transitional kitchen is to create a balance between styles, having the chameleon-like quality to seamlessly fit in with a traditional space or a contemporary one is a great way to effortlessly achieve it.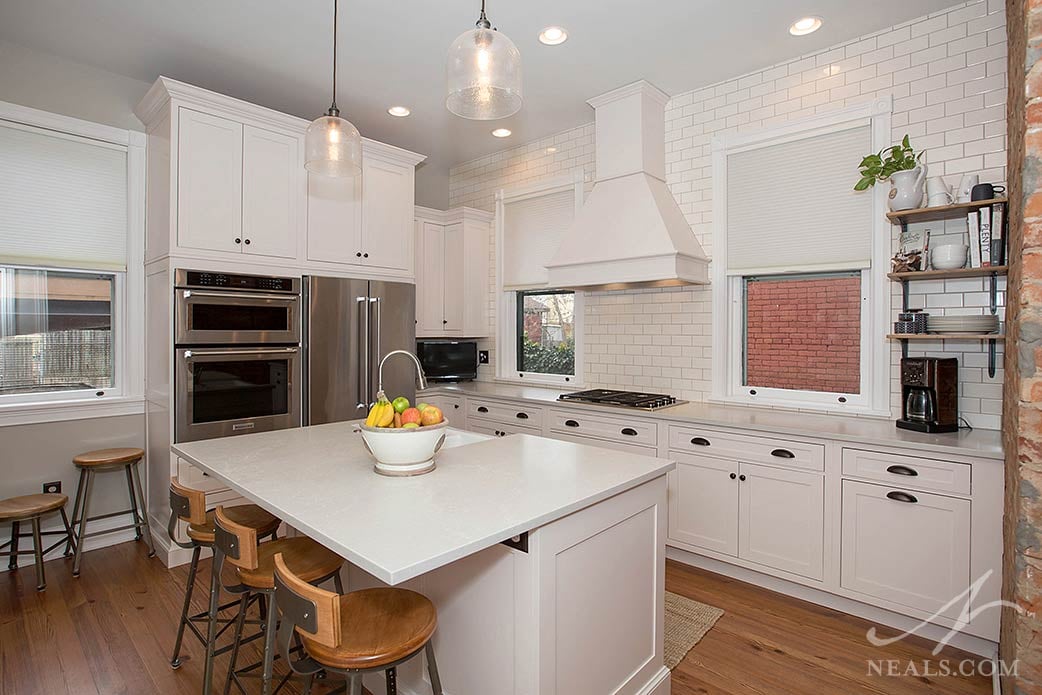 This kitchen remodel in Newport brought the classic style back to this older home.