With all the other choices presented to you for a home remodel, flooring can sometimes take a back seat. However, the choice of material at your feet can have a dramatic impact on a room and the success of other improvements you make. There are several choices for flooring materials available on the market, some tried-and-true and others a bit edgy and new. Whatever you're aiming for in your project, here are the basics of the 4 most common hard-surface flooring materials we use.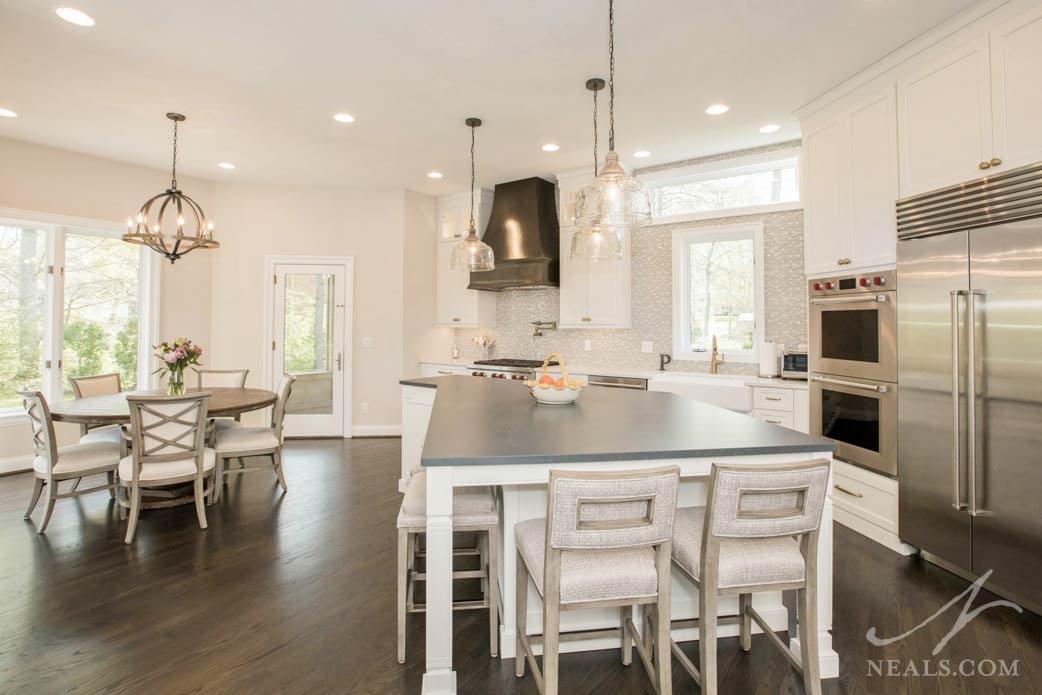 Kitchen remodel in Indian Hill with hardwood flooring.
Hardwood or Solid Wood
Hardwood floors are a timeless feature in any home. The most popular choices are maple and oak, but almost any hardwood can be used for flooring, including some exotic species. Solid hardwood floors can be refinished as often as needed to repair damages or change the color by sanding away the topmost layer to expose the natural wood in a new smooth layer. Solid hardwood is susceptible to warping and cracking due to temperature and moisture fluctuations, so be sure to research what woods are appropriate for your typical climate and the purpose of your room. Solid wood flooring comes in planks that can be nailed or glued down, or clicked together and allowed to "float" over the subfloor. The largest majority of non-bathroom projects we work on utilize either new hardwood flooring or refinishing existing wood flooring.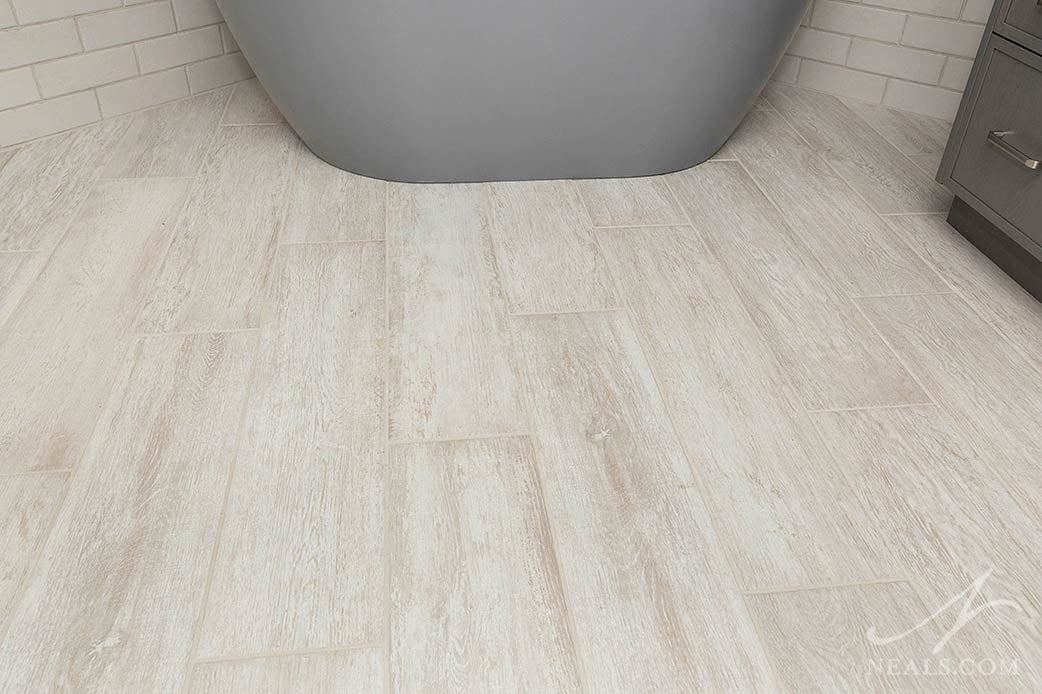 Porcelain tile in a Bathroom remodel in Blue Ash.
Ceramic or Porcelain Tile
Ceramic tile is a durable material that is ideal for rooms with moisture or heat conditions that wood flooring might not stand up to, such as bathrooms, laundry rooms, mudrooms, and entry hallways. Since the ceramic can be processed, fired and glazed in a wide variety of ways, the options in tile are nearly limitless, including making the tile look like other materials such as natural stone or wood. Ceramic tile is a cost-effective option. Porcelain tiles, which are distinguished by having a naturally occurring material called feldspar within the clay, are more costly, but the benefits are higher durability, better color qualities, and greater moisture control. Tiles are installed by securing them to the floor using a cement-like material called mortar or a specialized tile adhesive that can be dispensed from a tube. Tiles are arranged and spaced evenly according to the design, then grout is applied over the surface to fill in those spaces. The type and color of grout paired with the tiles will also affect the look of the floor.
It's important to keep in mind the absorbency and slip resistance of the tile you choose, especially when you'll be using it in a kitchen or bathroom. Look for glazing or finishing that adds a slip-resistant coating. Also be aware that dropping hard, heavy objects on a ceramic tile floor may create cracks or chips.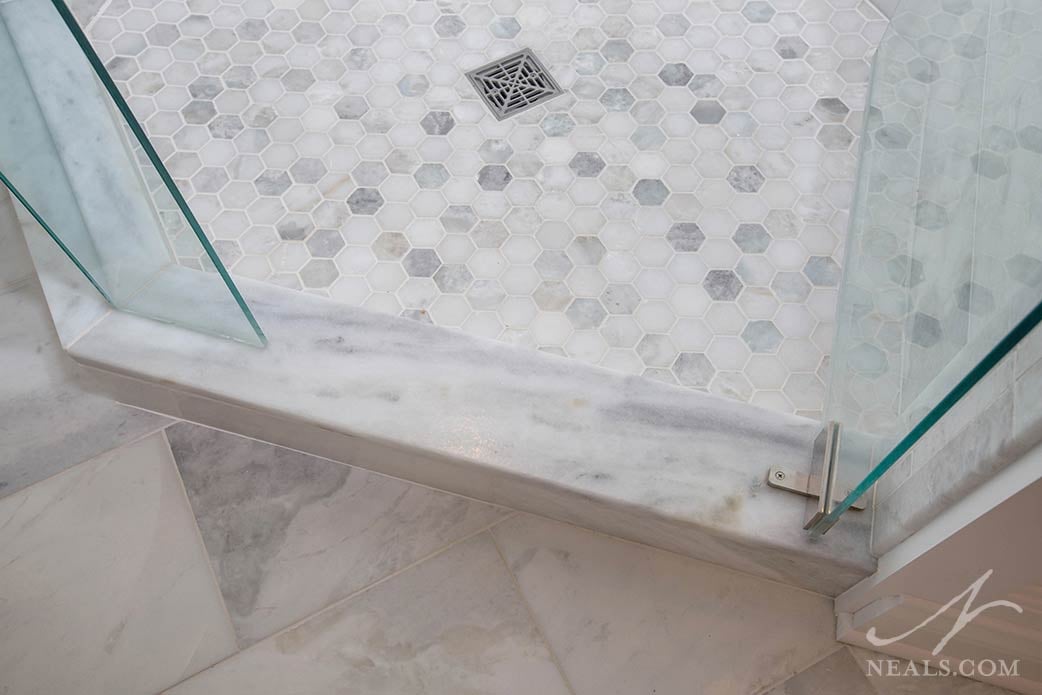 A selection of marble tiles in an Indian Hill Bathroom remodel.
Natural Stone
While ceramic and porcelain tiles can provide the look of many natural stones, it's true that you can't beat the real thing. There are several stone varieties, each with its own pros and cons. Slate, limestone, marble, granite, flagstone, travertine, and sandstone are the most common options. Each of these has unique finishing and maintenance needs to make them appropriate for flooring and will handle wear and damage in different ways. Marble, for example, can stain easily and is susceptible to scratching, while travertine will resist polishing. Natural stone can be installed as tiles (18" square is an average) or can be used with more organic, irregular shapes. The type of stone will dictate some of that. Slate is easily formed into straight-edged pieces because of its natural flaking qualities, where fieldstone is often created by simply slicing up boulders. Natural stone floors are installed similarly to tile flooring, but be aware that the dust produced in natural stone installation is significantly higher.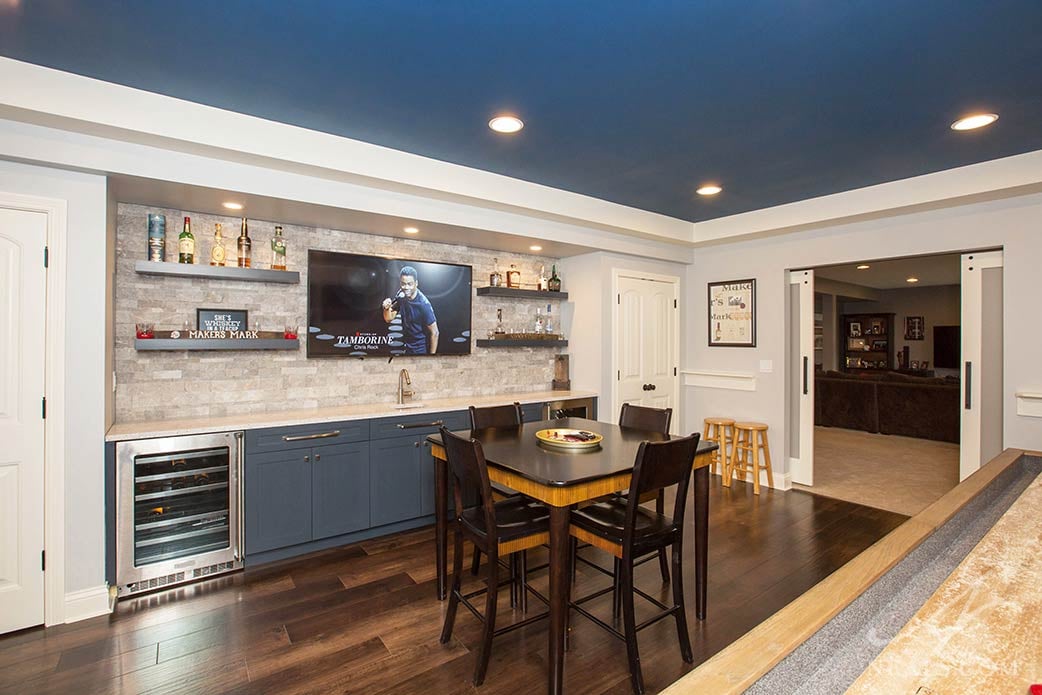 Game Room remodel in Union, KY with durable luxury vinyl tile.
Luxury Vinyl Tile
Luxury Vinyl Tile, or LVT, is a newer product that elevates low-cost vinyl flooring to a product that has the benefits of vinyl but with more options and flexibility in design and installation. Since the product comes as tiles or planks rather than a sheet, it can be installed in more ways, mimicking wood or tile. LVT is durable, waterproof, and is able to be installed over heated flooring systems. It is made up of several layers including a vinyl core, a printed layer with the design, and a top layer that protects the design. LVT is a great option for high traffic areas at a lower price point than the other flooring options on this list.
Editors Note: This post was originally published 4/28/2015. It was last updated 5/11/2021 with newer images and text edits for greater relevancy.