When it comes to home design, ceilings are often left to fade into the background. Rarely considered for their impact on a space, the ceiling is typically painted white and ignored, but in recent years, designers and homeowners have started to recognize the potential of the "fifth wall" above. Read on to see how ceilings can be used to make an impactful design statement.
Statement-Making Ceiling Color
Once upon a time, ceilings were simply painted white and forgotten. Statement ceilings are a growing trend, where the ceiling becomes a focal point or major design component of the room simply by painting it a color. This can be achieved with a bold or eye-catching hue, or by selecting a neutral that stands out as something a bit different. Whatever the choice, it's important that the selection works with the whole room, rather than overwhelming it.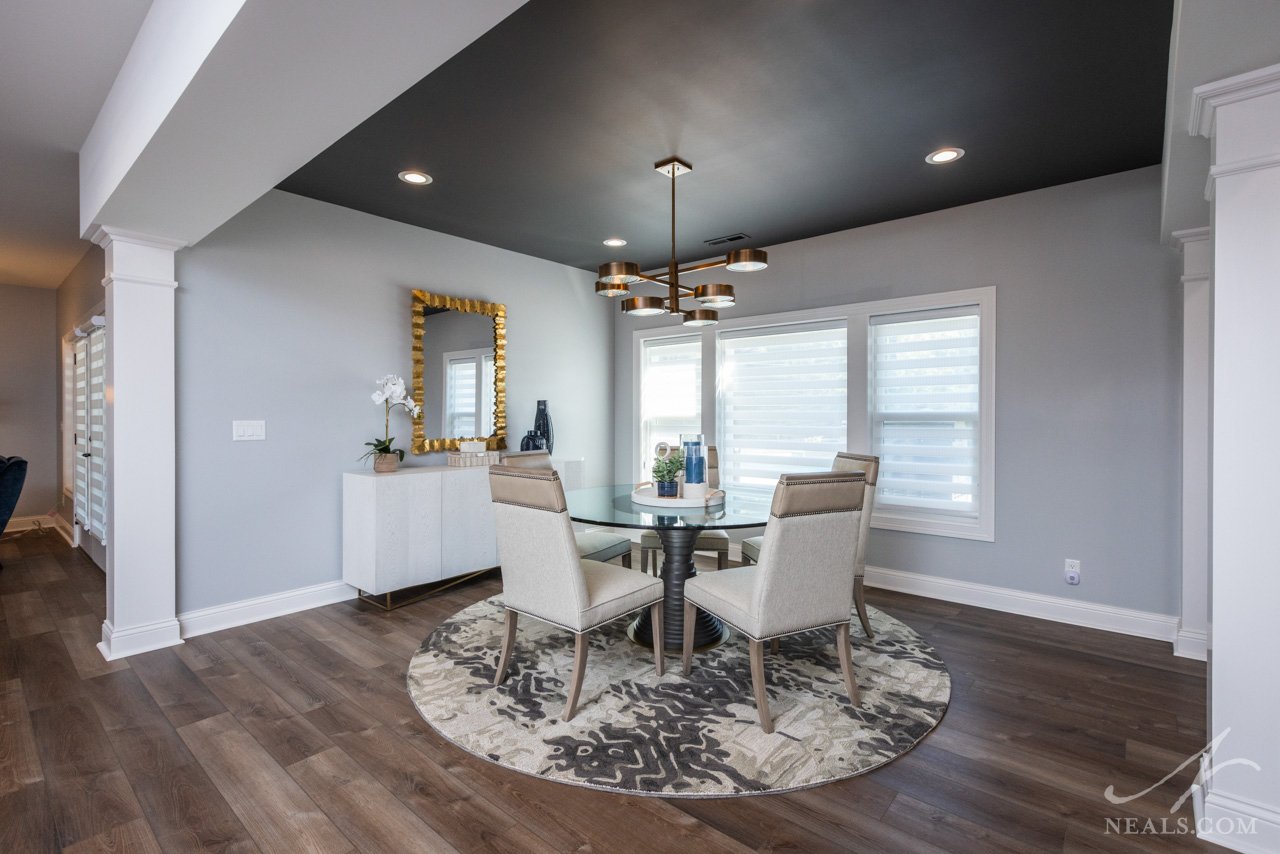 Ceiling with a dark color in a recent lower level remodel.
Eye-Catching Exposed Beams
Rustic, farmhouse or even industrial looks are popular, making exposed ceiling beams an excellent choice. Whether the real deal or crafted for the project, beams give the appearance of peeling back the curtain on how a room may be put together. The look of the beams can give your space a sense of character and history, adding warmth and charm. This option fits well with the popular Modern Farmhouse look but can also work in more traditional spaces to create a more casual quality to the room.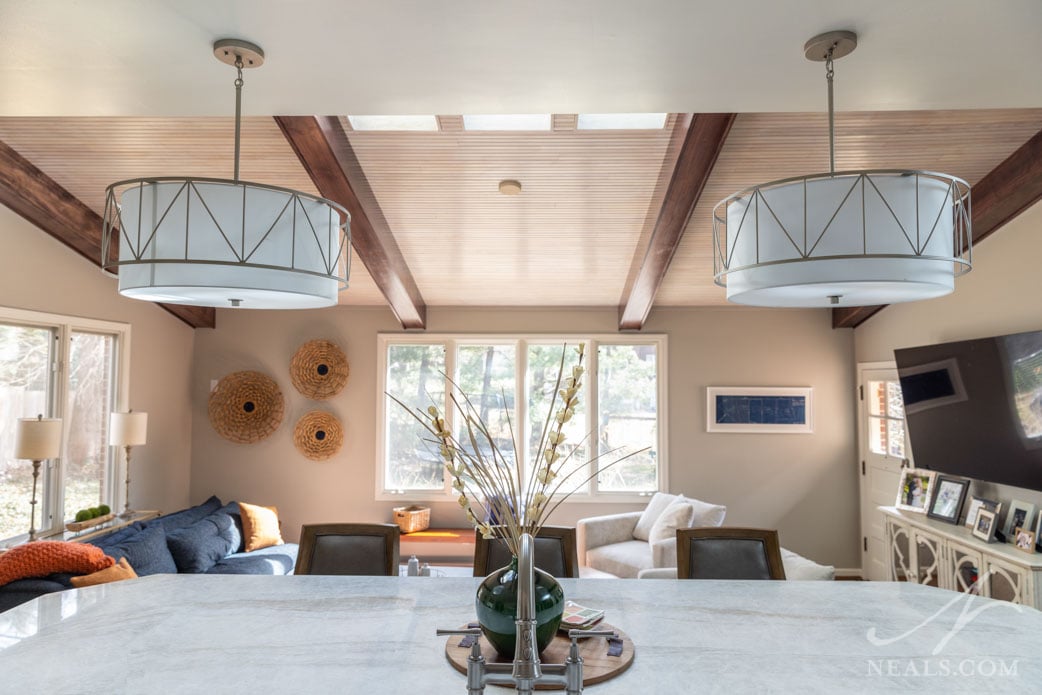 Exposed beams add interest and texture to this recent project.
Trending Texture Play
When we say textured ceiling, we don't mean what you probably grew up with. Gone are the days when a standard popcorn or stucco ceiling was the only option! Wood paneling, 3D metallic tiles, and even shiny, smooth ceilings are showing up in current design schemes.

Three-dimensional patterned tiles create a design statement in this kitchen remodel.
Wallpaper for the Win
For a truly bold and unique accent, wallpaper takes center stage. Homeowners love the pop of color, usually around a fixture, in a pattern that ties their whole room together in an unexpected way. With no shortage of wallpaper options to choose from, this type of ceiling treatment ends up being something truly unique. The best part? Wallcoverings are relatively easy to swap out down the road if you later decide to switch it up.

A blue patterned wallpaper on the ceiling pulls this kitchen remodel's color scheme together.
Have Fun With It
If you're ready to try something new in your home, remember that ceilings are no longer relegated to a boring background. Designers can now help you incorporate every inch of your space to maximize your style by not ignoring the possibilities of this additional surface. Whether you opt for bold or want a more subtle look, there's a new ceiling trend that might be right for your home and project.