Have you ever wished for a second kitchen to store items you use for entertaining along with extra appliances and a sink for preparing food? If you're planning a basement remodel, you may find the extra space you need. When designing a lower level living space, think of a basement kitchen, kitchenette or bar area the same way you would if you were remodeling the primary kitchen of a home. Here are seven design considerations for creating an attractive and functional second kitchen in your home.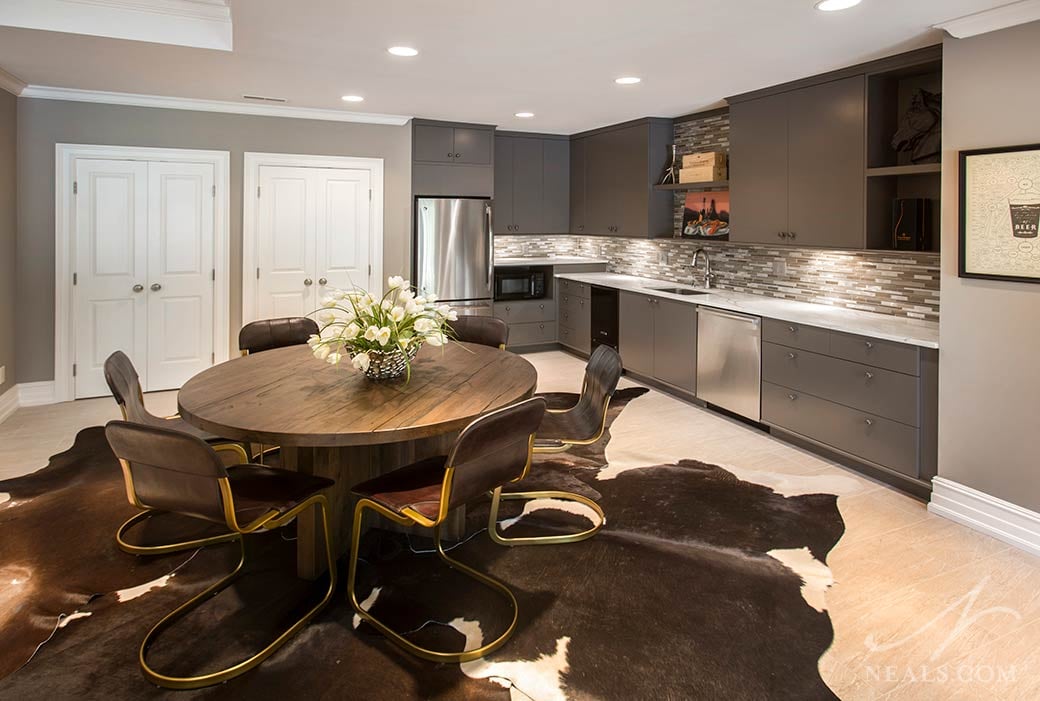 Basement kitchen in Indian Hill
Appliances & Devices
Most basement kitchens include appliances, and some may also include entertainment devices. Under-counter appliances are ideal for bars, but full-sized appliances are appropriate if that will better suit your needs. Door swings of refrigerators, ovens and dishwashers and the extension of pullout drawer-style appliances are important to consider in the design to create an adequate and safe workspace. Televisions or stereos should be considered in terms of size, location, and ease of access.
Refrigerators and coolers. Today you will find mini fridges, refrigerator drawers, beverage coolers, and ice makers that fit compactly under the counter of a bar.
Microwaves. Microwaves are available in many sizes and can be installed under a counter, on a counter or can be built into a wall. Standard microwaves, microwave drawers, and microwave/convection oven combinations are all available. If you need extra capacity for baking, a full-size oven may be more suitable.
Dishwashers. A dishwasher is a handy appliance to have in a bar area. If you don't need a full size dishwasher, consider a space-saving drawer dishwasher that pulls out for easy loading of glassware and plates.
Flat screen televisions. Flat screen TVs are often installed in or near basement kitchens. Discuss cable installation with your contractor if you plan to add a flat screen to your basement kitchen.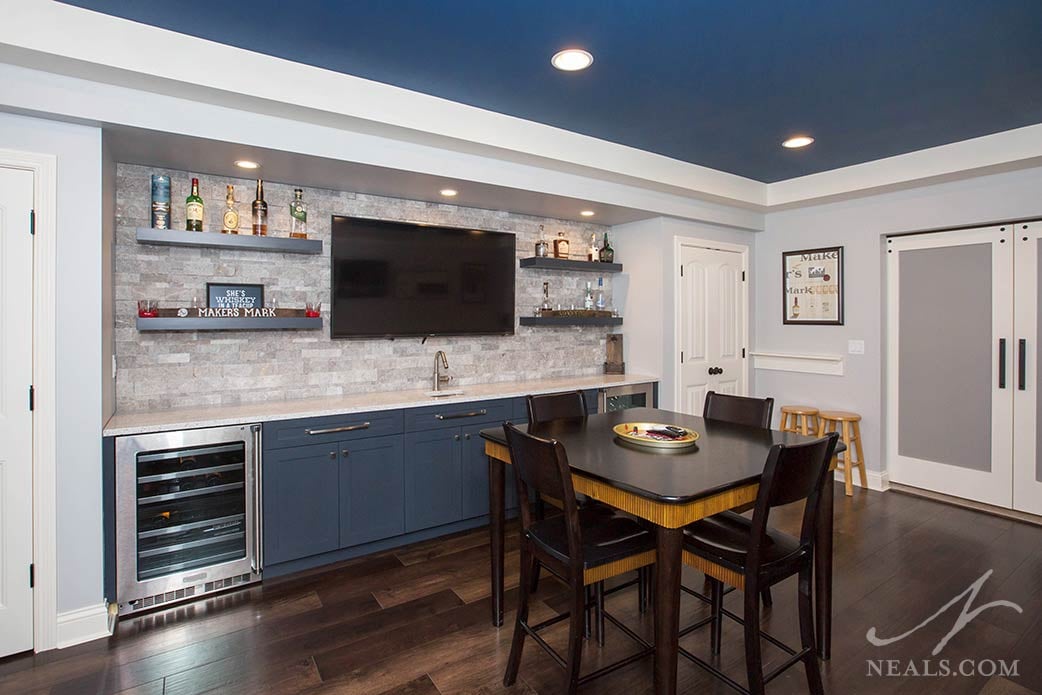 Game room with bar in Union, KY
Cabinet Storage
When planning the cabinetry for your basement kitchen, it's helpful to start with a list of the items you want to store in the kitchen.
Will you be storing dishes, platters and bowls specific to your basement needs? What size are these items?
Do you plan to cook in the basement kitchen? Will you need to keep pots, pans and bake-ware on hand?
How much drink-ware will be stored at the bar? Do you want this stored on an open shelf, behind glass, or in a cabinet with a solid door?
How many drawers would you need for small items such as flatware, cutlery or utensils?
Where will you put waste?
Will you need food storage
Where will you store items for clean up?
Will you need items for children stored in a location they can access?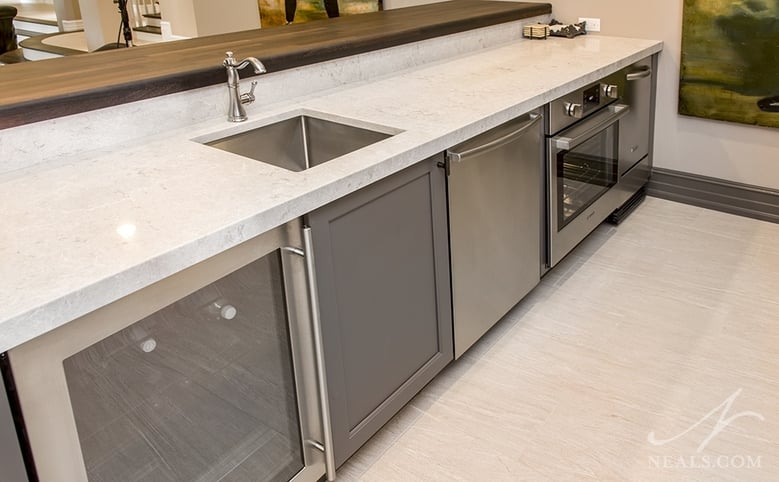 Basement kitchen in Indian Hill
Sinks
When determining where to place a sink, think about how you work in a kitchen. Would you want the sink to be located on a back wall with a prep counter or would you prefer to have the sink on a bar to be able to face people and engage them in conversation while you are working? A single bowl stainless steel bar sink is ideal for rinsing glasses and discarding ice.
Counters
Stone counters are popular for basement bars. Quartz and granite are easy to maintain and add sparkle. High-quality solid surface counters are also an option. As with the kitchen, it's important to weigh the pros and cons for any countertop material against your needs, budget and desires. When choosing a counter, also think about coordinating backsplash options especially if you plan to include a sink or an area for food prep.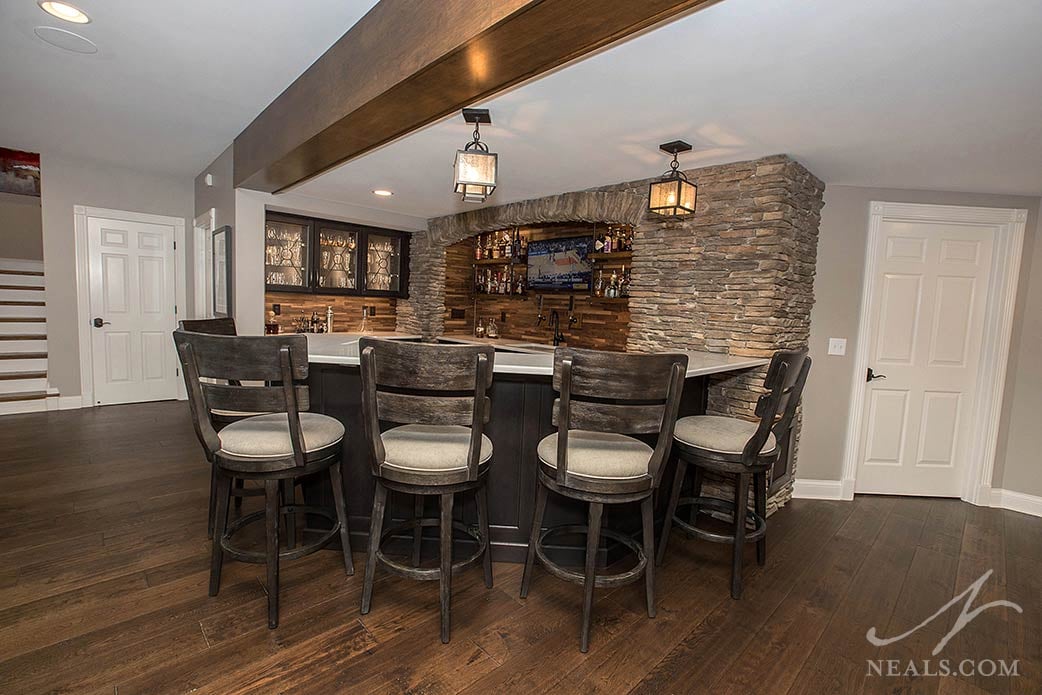 Basement Remodel in Western Hills
Lighting
Select lighting for general illumination, task areas and aesthetics, just as you would for a primary kitchen. A well-lit basement kitchen will include task lighting at the bar, possibly under-cabinet or in-cabinet lighting, and decorative lighting over the bar. A kitchen design professional can help you determine the best options for lighting the space.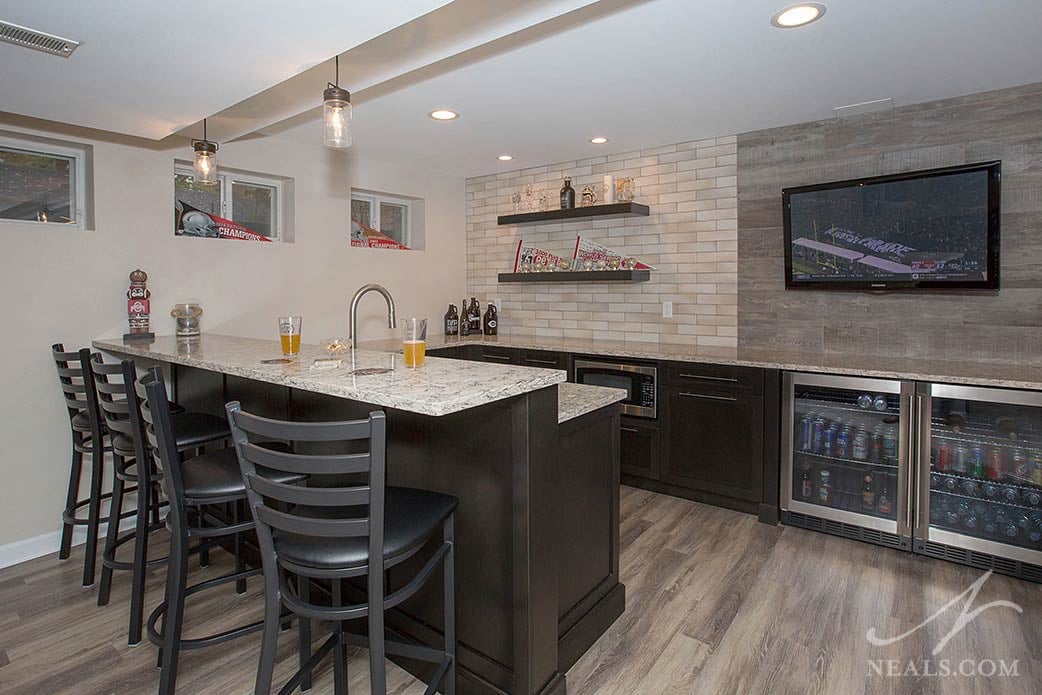 Lower Level Remodel in Mason
Electrical Outlets
Outlets are sometimes overlooked but are an important item in kitchen design, especially in a bar setting where you may be using more small appliances to prepare food and beverages for guests. There should be an adequate number of outlets for the number of appliances you'll want to use at the same time. Be sure to discuss outlet placement with your designer.
Flooring
Flooring for a lower level kitchen that is used for serving beverages should be waterproof, slip-resistant and easy to maintain. Ceramic tile and engineered wood are good choices. Wood-look tiles, ceramic or porcelain tiles made to look like wood, are an excellent choice to combine the best of both styles. With any flooring you choose, be sure to understand how well it will hold up over time and what it will require in terms of maintenance from you.
This post was originally published Nov 19, 2013. It was last updated June 30, 2020.