The master bathrooms is a personal space where we can relax and rejuvenate ourselves. It's also a place that reflects our individual style. Function, aesthetics and personal comfort are important in luxury master bathroom spas, but it's more important that they be designed around your lifestyle and personal needs. Luckily, creating a luxury bathroom can be achieved by adhering to some basic principles that aren't style specific. Here are the four ideas we have for creating luxury in your master bathroom.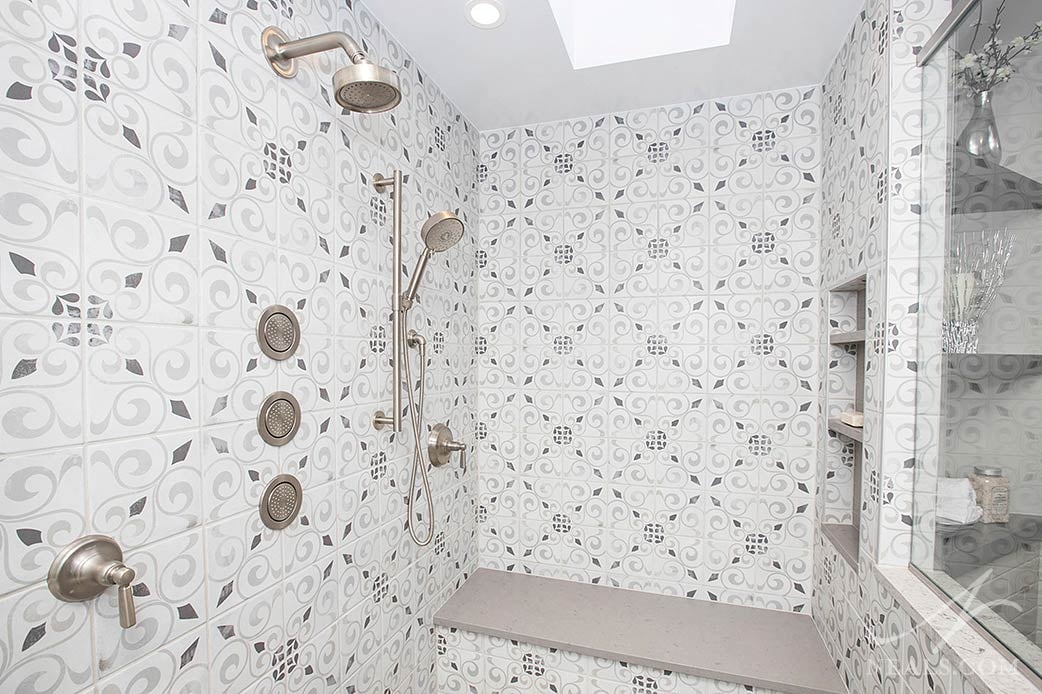 Master Bathroom remodel in Blue Ash
Create a Custom Shower
One of the first things to consider in your remodeling plan is the shower. A spacious shower will provide more comfort and room for a bench, niches and showerheads, and will also help convey the sense of grandeur that goes hand-in-hand with luxury. That's not to say that a shower must be massive to have that luxurious feel, since the quality of the features you select are what will make or break the design.
Frameless enclosures or custom walk-in showers without doors ease maintenance and add glamour. Fixed showerheads and handheld sprays offer a range of options for water flow. Also consider body sprays as that extra added element to drive a feeling if richness.
The choice of tile or stone will also help create more of a spa-like feeling. Soothing colors, tiles with a sheen, or intricate designs such as patterned tile or glass mosaic will all add to the high-end quality of the shower while also helping to show off your personal style.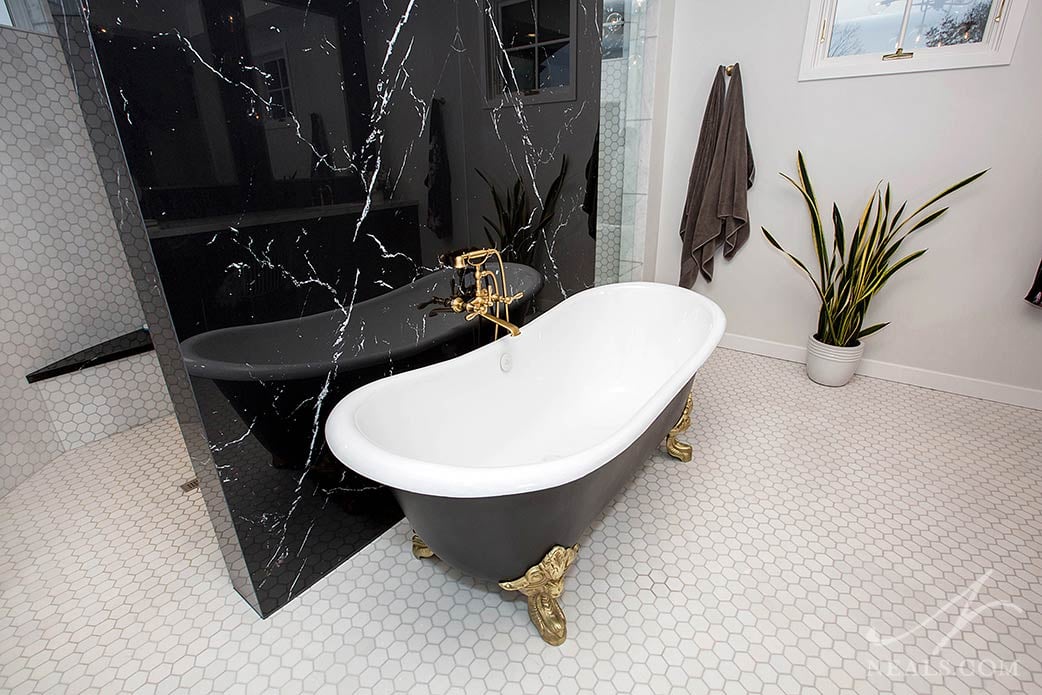 Master Bathroom remodel in Indian Hill
Include a Soaking Tub
The main purpose of a spa is relaxation. Tubs are a great way to calm stress and soothe sore muscles. Soaking tubs, rather than tubs with jets, are the current trend. Platform tubs are smaller for ease of access and can be trimmed in beautiful tiles. Freestanding tubs are also popular because of their shapes and the dramatic architectural impact they create in a bathroom.
Along with your tub selection, keep in mind the look and quality of the fixtures you pair with the tub. An investment in quality, and an eye for how the faucet ties into your entire bathroom design will go a long way to creating a bathroom that looks well-appointed, which will in turn add to the luxuriousness.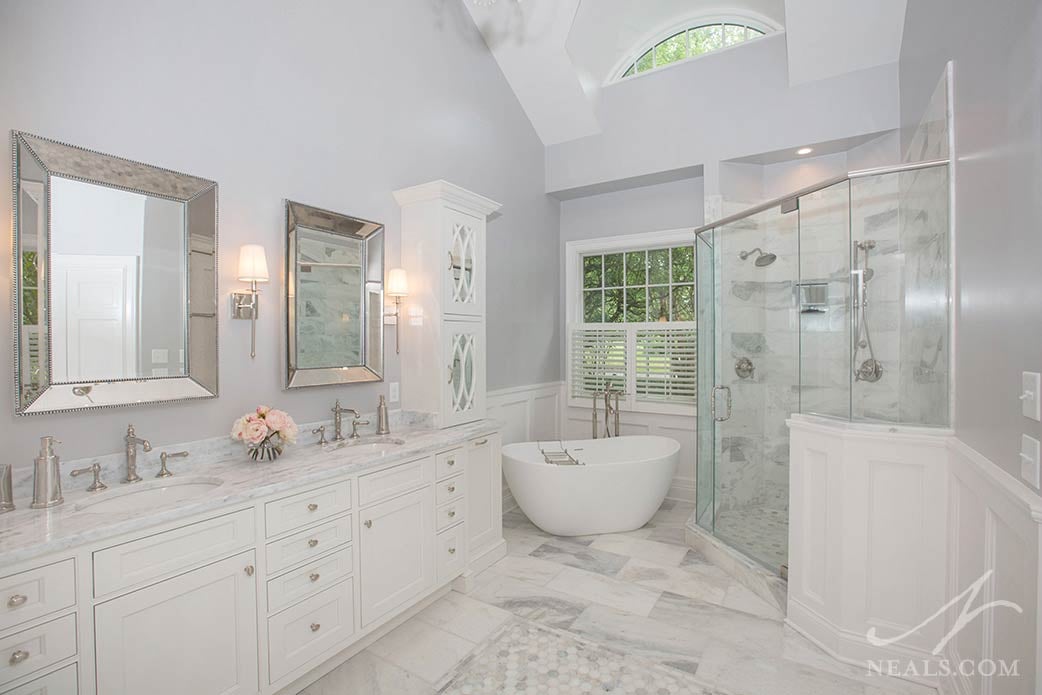 Master Bathroom remodel in Indian Hill
Create an Elegant Vanity
We're using the term elegant here not to suggest a specific style, but rather to indicate something of quality and visual appeal. The vanity is a key component of the bathroom, being not only where the sink and mirror are placed, but also as the primary location of the room's storage. Due to the practical nature of the vanity, it can be easy to overlook the visual impact it has, so paying attention to the look of the cabinetry and how the counter top works with the overall bathroom design is critical to the general feel of the entire room. Custom vanity design, with a curated layout of drawers and cabinets specifically suited to your needs, will inject a sense of intention with in turn makes the space feel thoughtful and luxurious. The same can be said of cabinetry that works flawlessly with the style of the space.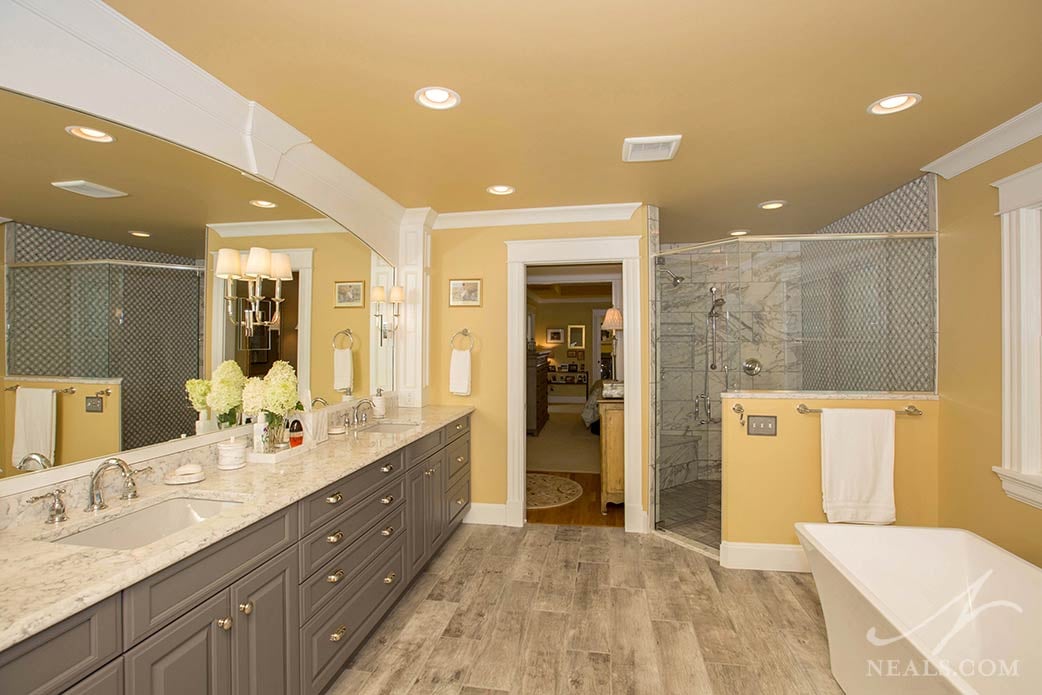 Master Bathroom remodel in Hyde Park
Stylish Accents
As with most things in design, details matter. The quality and style of the little touches in your master bathroom add to the design and carry the style. In terms of luxury, it's important, of course, to opt for well-made details and elements that carry a high level of craftsmanship. This can be true for your faucets and lighting as well as custom trim work. Again, this isn't style specific.
Accents and extras that add comfort and opulence are also key if luxury is the goal. Common items in this category include heated flooring, adjustable lighting to account for various moods, heated towel bars, steam showers, and any other elements that take the function and comfort of the bathroom beyond the necessary minimum.
Whatever options you choose, begin your remodeling project by consulting with a designer who will help you avoid pitfalls and suggest products and materials to help save money in the long run and add value to your home.
NOTE: This post was originally published 8/21/12. It was last updated 1/19/21 with revised text for clarity and updated information, and new photos.