When it comes time to remodel your living spaces, you take a lot of time thinking about the needs of your family, and how you'd like to use the space. Often overlooked, however, are the needs of your pets, who often times use the space just as much as you do. There are several ways to integrate the daily needs of your family pet that only require a bit of advanced planning in the designing phase. Here are some creative solutions for pet spaces: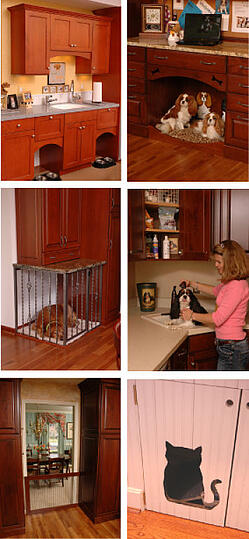 Create floor-level "cubbies" in a cabinet row for food & water dishes so they are accessible to your pet, but are not underfoot when you're moving about the space. Consider installing a pull-out cabinet next to the cubby that holds the pet's food for easier access.
If your pet likes to hang out with you as you work, increase the size of the cubby to allow for a pet bed. Position the cubby strategically in the room so your pet can observe your activity with ease.
Rather than trying to find a place for a cage in your newly remodeled space, why not integrate the cage into the design. This allows you to tie the look of your dog's cage seamlessly into the space. Just be sure to use the proper measurements for the size of your pet!
A dog-washing station, either at counter height for smaller pets, or at floor level for larger ones, can save a lot of trouble! Placed in a laundry or mud room, the station should also have storage nearby for shampoos, pet-specific towels, and treats. Be sure to include a hand-held sprayer to make it super easy to keep your pet clean.
Sometimes best place for the litter box isn't the best place aesthetically. Compromise with your pet by installing a large cabinet (with a fun, kitty-friendly door) that houses the box while keeping its presence in the room something of a secret. Make sure the cabinet is large enough to accommodate the cat in addition to the box, particularly in its height.
Why not install a dog gate that is integrated with your cabinetry? A gate that rolls away behind a bank of cabinets when not in use means there's no need to store the gate elsewhere, and placing it is a breeze.