Flooring is a major element in the design of a bathroom. Bathrooms require floors that are slip-resistant, hygienic, repel water and tolerate humidity. Beyond these practical considerations, however, the flooring selected for a bathroom can greatly impact the overall design and feel of the space. When selecting a bathroom flooring material, it's important to look at both the way the material will function in the space as well as the way it looks. In this post we'll take a look at the most popular flooring options for your new bathroom.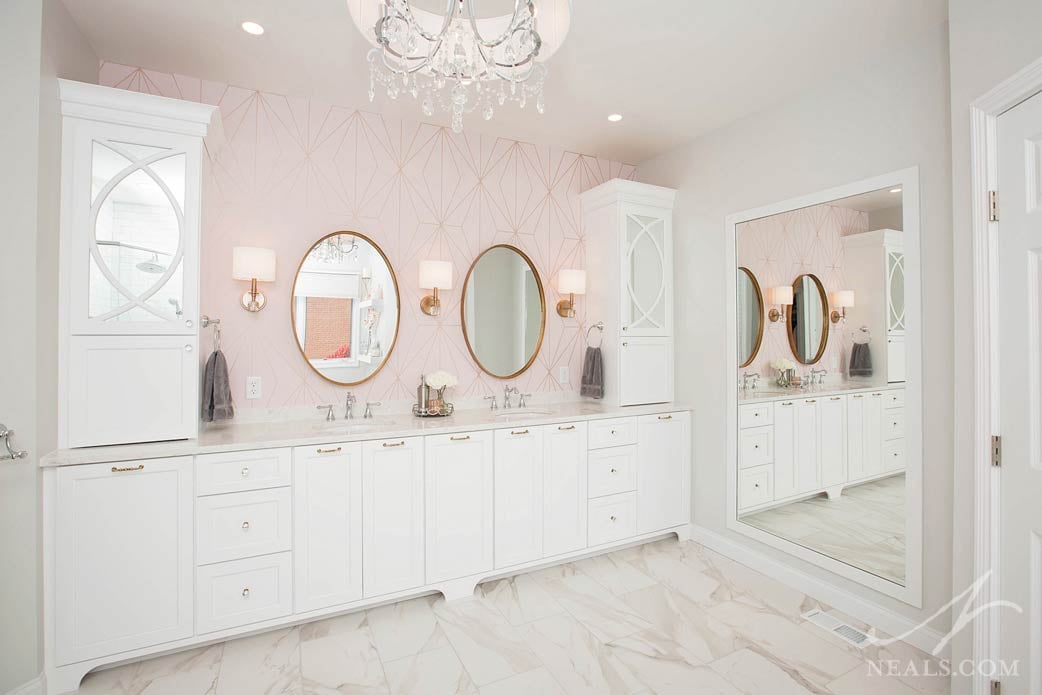 Porcelain tile flooring in this Bridgetown Bathroom.
Bathroom Flooring Options
1. Tile
Tile is one of the most popular products used for bathroom flooring. It comes in a variety of sizes, textures, colors and shapes. However, not all tile is appropriate for use in a bathroom so it's important to be sure you're selecting tile that's specifically noted as being suitable in a bathroom. Tiles typically come in ceramic or porcelain varieties. There are also different manufacturing, coloring and glazing techniques, primarily between mass-manufactured tiles or artisan tiles with a hand-made look. Penny tiles, small round or hexagon tiles that are typically no larger than a half dollar, is a trending tile option for the bathroom.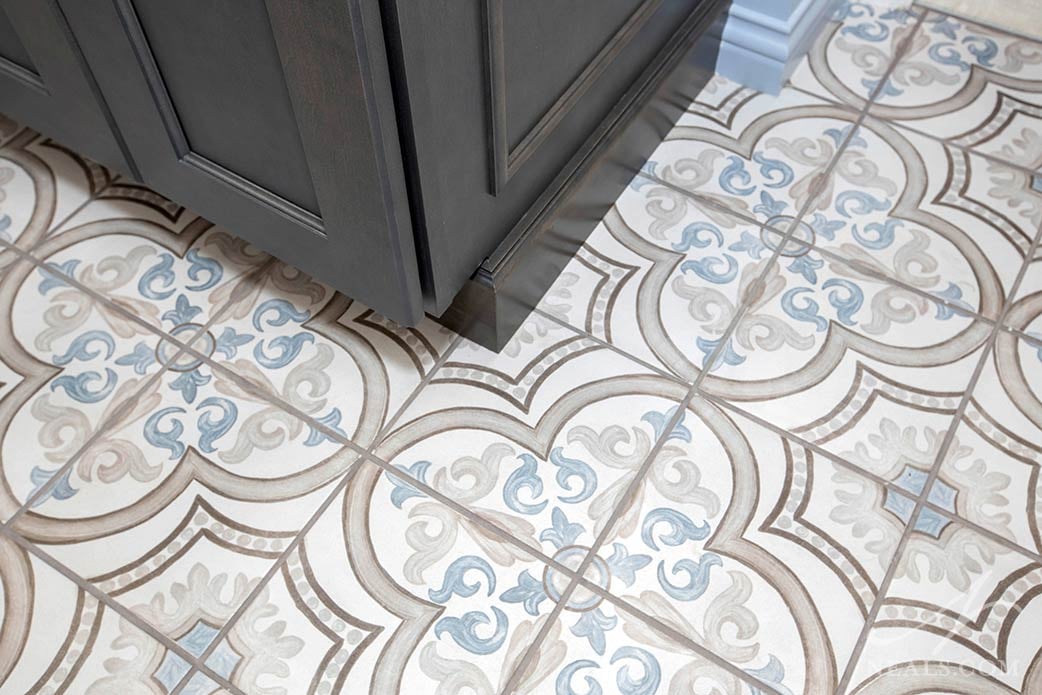 Printed tile in this Montgomery Bathroom.
2. Natural Stone
Natural stone or engineered stone can be used for bathroom flooring, though it's crucial to select stone products that are slip-resistant. Marble is a classic material that has been used in bathrooms for centuries. Travertine is also a good choice. Both of these material are available in a number of style and colors. One of the hottest newer trends in bathroom design is the use of natural smooth river rock stone flooring. These often come on pre-arranged sheets and are grouted the same as tiles.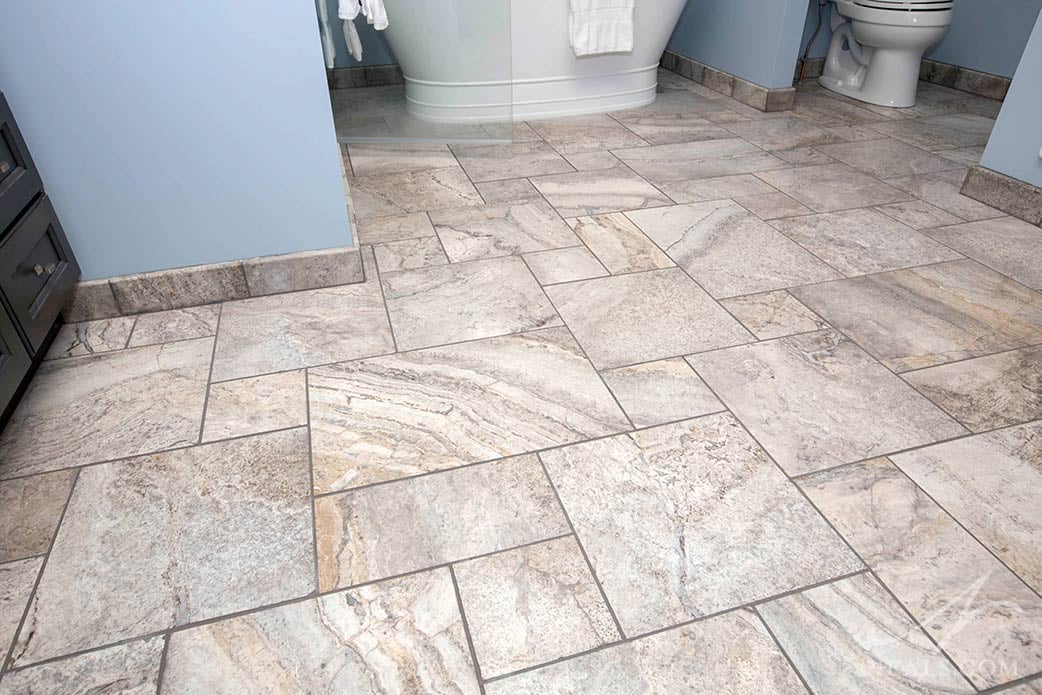 Travertine tiles in this Western Hills Bathroom.
3. Wood-Look Alternatives
Though some man-made wood products can be used in the moist environment of a bathroom, using a wood alternative will allow your bathroom floor to have the look of wood but with better maintenance qualities. Wood-look tile has become increasingly popular and now comes in a wide selection of styles to match any type of wood and finish you have in mind. Wood look flooring can also be found in luxury vinyl tile options that are rated for the bathroom.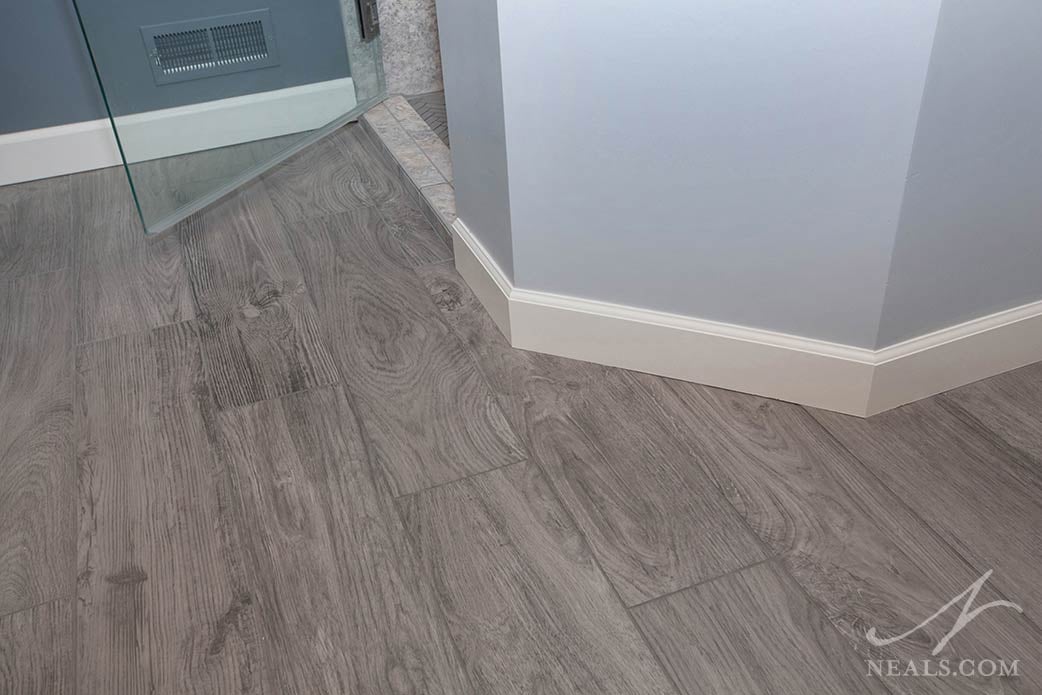 Wood-look tile in this Mason Bathroom.
Flooring Design Details
Even after selecting your primary flooring material, there are options for creating a unique flair for your space. Flooring materials can be combined to create borders or zones. We see this often with barrier free showers, where two flooring styles butt up against each other at the shower door.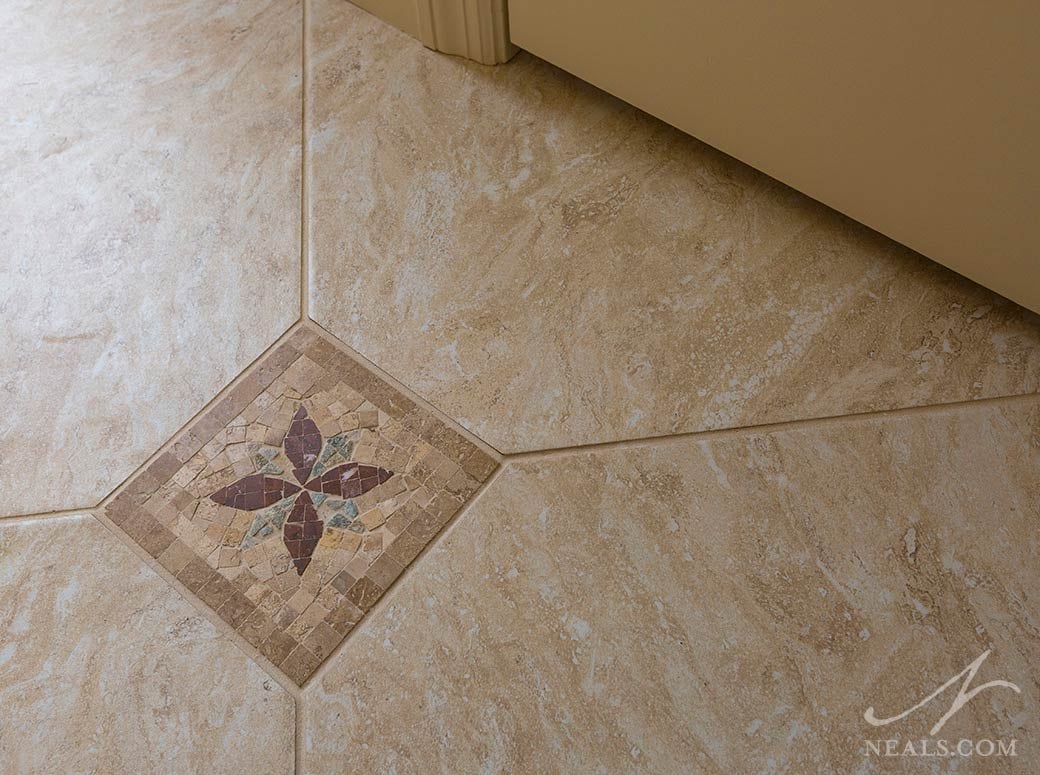 Mosaic tile insert in this Lebanon Bathroom.
Tile inserts using glass or other types of materials are also available to include between larger tiles to add stylish pops of detail or color in the floor. This is a useful option for bathrooms that are otherwise minimal in colors and textures.
Flooring can also be given more interest simply by changing the shape of the tiles in use while keeping that material the same. This is a great trick for the center of a larger bathroom to add some visual interest to a spot that can't functionally include anything else.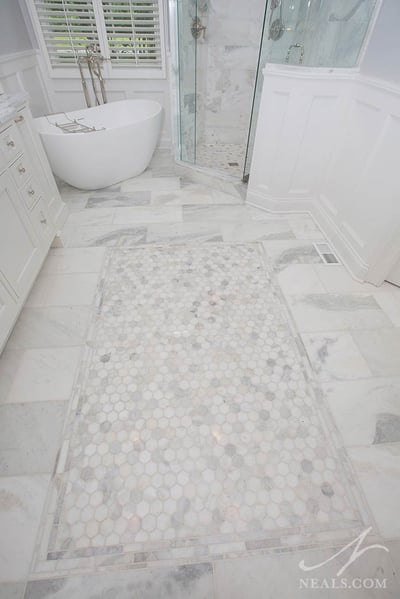 Rug-look tile texture in this Indian Hill Bathroom.
Safe, functional and stylish bathroom floor design.
To find the right flooring for your project it is often very helpful to work with a bath design professional knowledgeable about the different kinds of flooring products on the market. When selecting bathroom flooring, look at options for moldings such as baseboard molding or a row of tile where the floor meets the wall and options for shower thresholds. If comfort is important to you, consider radiant heated floors.
NOTE: This post was originally published on Nov. 12. 2013. It was last updated on Dec. 15, 2020.