Built-ins are not a new concept in residential spaces. In fact, many local historic homes have these unique and useful features. If your home does not, however, and you're interested in how to get a custom built-in that will add value to your space, here are some considerations to get you started.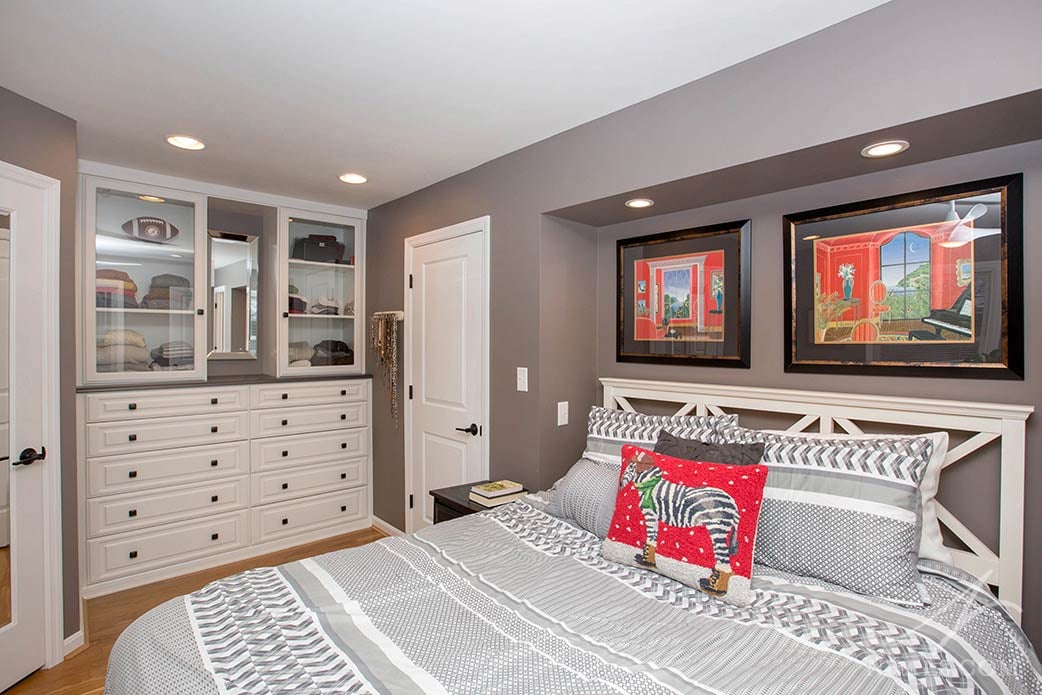 A stylish closet built-in in this Anderson Township master bedroom remodel adds storage in a small space.
What is an architectural built-in?
Built-in furniture, or architectural built-ins, are storage-based features that are included within the structure of a wall or connected permanently to the floor. Typically, built-ins include cupboards, shelves, or drawers, or a combination of these elements, which distinguish a built-in from a decorative display niche.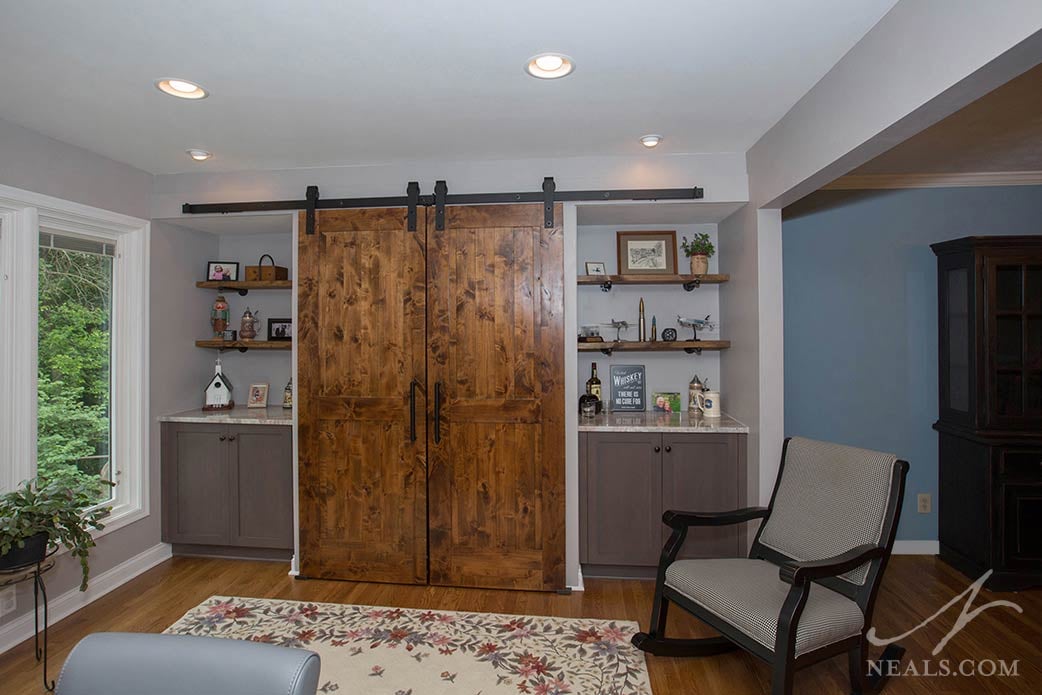 The built-in in this West Chester kitchen offers a lot of useful storage and display space.
Common Built-in Options
There are certain areas of the home that work ideally for integrated furniture. Living rooms, particularly surrounding fireplaces or televisions, are well-suited to the built-in. A fireplace, for example, may have wells of space on either side that can be filled with cabinetry for display and storage. Entertainment centers make great built-ins due to the requirements for storage locations for A/V equipment in an organized (and preferably concealed) manner.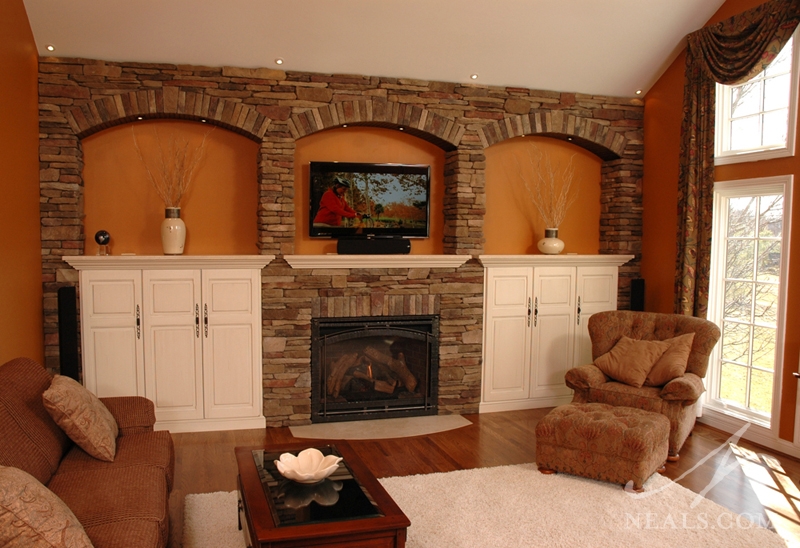 Built-in cabinets surrounding this fireplace in Loveland add ample concealed storage.
Bedrooms and bathrooms are also prime locations for built-ins. Integrated drawers and closet-style cabinets can replace the need for a separate dresser or linen cabinet in smaller bedrooms. One well-known type of built-in in the bathroom is the medicine cabinet- a cupboard built into the space between wall studs with shallow shelving for toiletries.
In the kitchen and dining room, built-ins are different from typical cabinetry installations in that the goal is that the unit be indistinguishable from the architecture of the surrounding wall, or that it takes the place of a piece of furniture. A window seat with storage or a hutch in the dining room that is affixed to the wall and includes trim details that match the room are examples of built-ins in these spaces.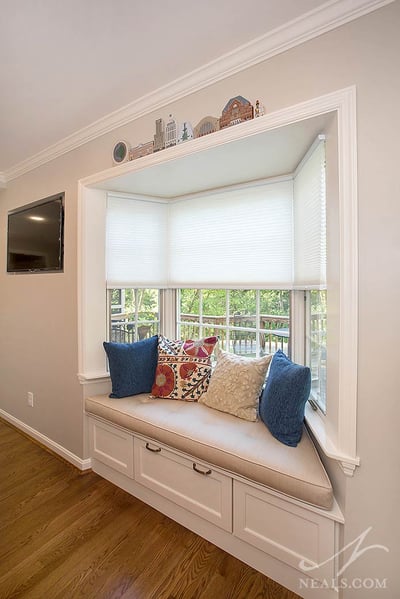 A built-in window seat with a drawer adds interest and storage in this Western Hills kitchen.
Planning for a Built-in
When considering adding a built-in feature in a room, you'll need to identify a few key things from the start.
1. Identify where you want the built-in & what you'll use it for. Since a built-in is meant for storing or displaying items, you first need to know what you want to store and how you want to store it. If we look at two different types of built-ins- one in a living room for books, games, and display, and one in the bedroom for clothing and jewelry- it becomes clear immediately that these two types of storage needs require different elements.
2. Get an idea of how much room your items will need in the future. If you are adding a built-in for a collection of something, it's important to keep in mind how much more of these items you may obtain in the future. If you go through the effort of creating a built-in for the size of your collection now and leave no room for more, you haven't adequately addressed your long-term storage need. This is also an important consideration for clothes storage in a kid's room- as they grow, so will their clothing.
3. Decide how integrated you want the built-in to be with your walls and floor. There are many ways to construct a built-in unit. Some are embedded into a wall, becoming part of the structure. Others are added to a wall and use molding and trim to make it appear to be a part of the wall while still jutting out from it. These two options create very different construction scenarios. If you aren't sure which is best for your space, speaking with a consultant can help you decide what your home, budget and needs dictate.
4. Consider the location carefully. Once a built-in is installed, it can't be moved, so it's very important that you take the time to consider the location that will work best. While you may have space for a built-in in one area of a room, as you think about having storage there, pay attention to how convenient or inconvenient that location actually is for what you want to store there.
Built-ins can add value and interest to your home and make a big difference to the uniqueness of your space. Take the time to think about these considerations, and you're sure to have a new, useful built-in that makes a positive impact in your home.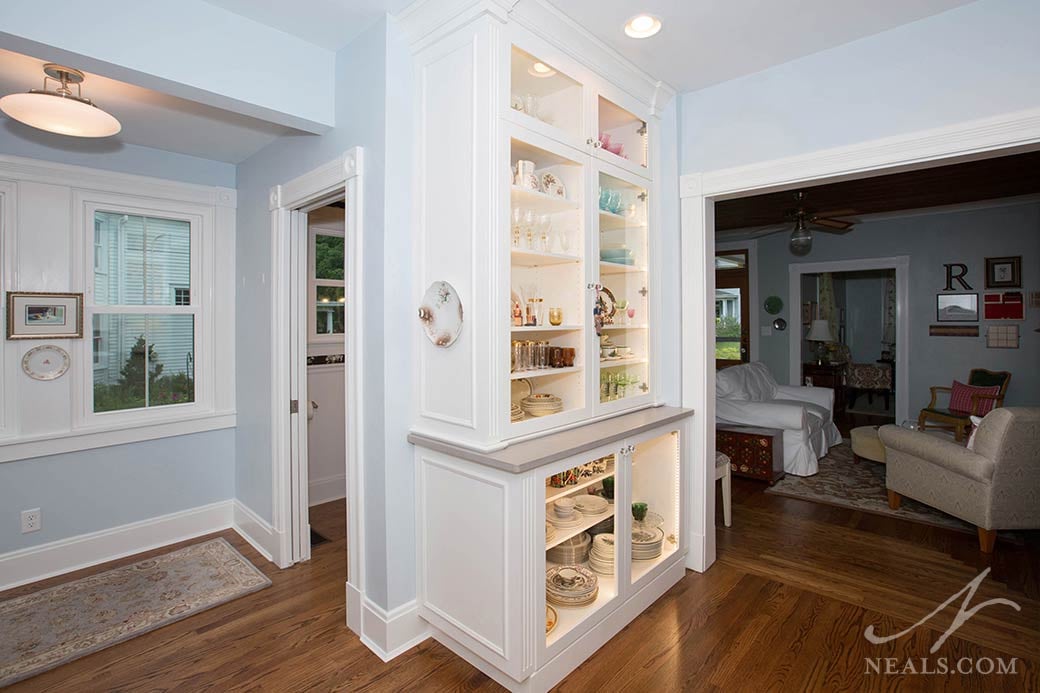 A built-in china cabinet in this Milford kitchen is a great display and storage combination.