The term "farmhouse style" is a loose phrase that encompasses a collection of design principals rather than a strict list of must-haves. A handful of more distinctive styles fall under the umbrella of "farmhouse", so it's easy to either follow one style or to grab components of several and still have your project result in a cohesive space. Keep reading for a look at some of the key style points behind a successful farmhouse look in your own home.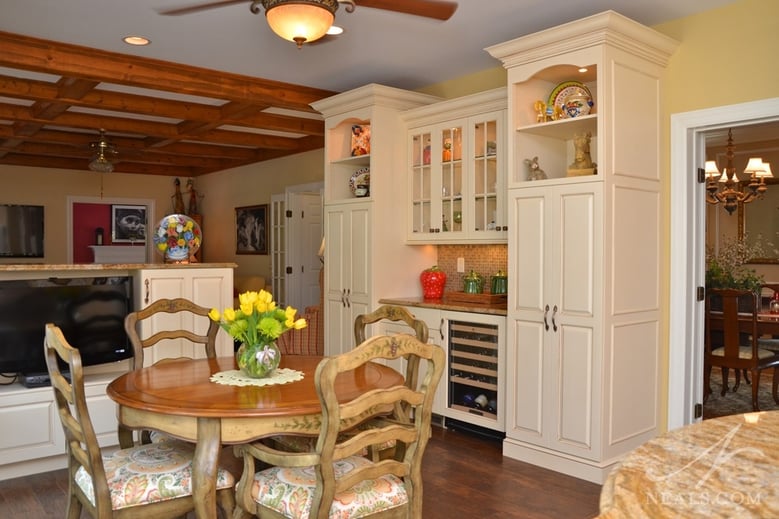 This new French country kitchen features a combined pantry and hutch, as well as a rich wood floor that will age well.
Distinguish Between Actual Farmhouse Style and the Refined Modern Concept
The roots of farmhouse style begin well before WWII. Simple homes, often with colonial or Victorian influences, were constructed to house families who spent more time outdoors than in, so luxurious or relaxing amenities weren't originally top-of-mind. The Great Depression greatly influenced the interior styling of these homes, since families dependent on agriculturally-based incomes were hit extremely hard, and luxury spending was the first to go. The "make do and mend" spirit, therefore, became a fundamental ideal in the working country home.
On the other side of WWII, the farmhouse look was one of thrift. Furniture was heirloom in nature, regardless of whether it had any true value, and working areas like the kitchen were dominated by functionality. As rural areas exist around the world, farmhouse style is a global concept, and each country has its own take and history. Today, the term "farmhouse" is most often meant to invoke American, French, English or Australian versions, though rural looks can be found in many more places. Additionally, styles like "rustic", "cottage" and "country" also feed into the larger framework of farmhouse style.
In contrast, the modern idea of farmhouse style is a much more refined concept with some key differences from authentic spaces. In most cases, a true farmhouse will display a mixture of materials, styles, colors, and textures. Translated to the modern age, farmhouse spaces tend to lean on white or pale colors as a base, transitional cabinetry styles, and a few "iconic" elements, such as the apron front sink or clapboard walls, to drive the style. When planning a farmhouse look in your home, you will need to decide how much of the eclectic, authentic look appeals to you, or if your preferences lean toward the more curated version you can create today.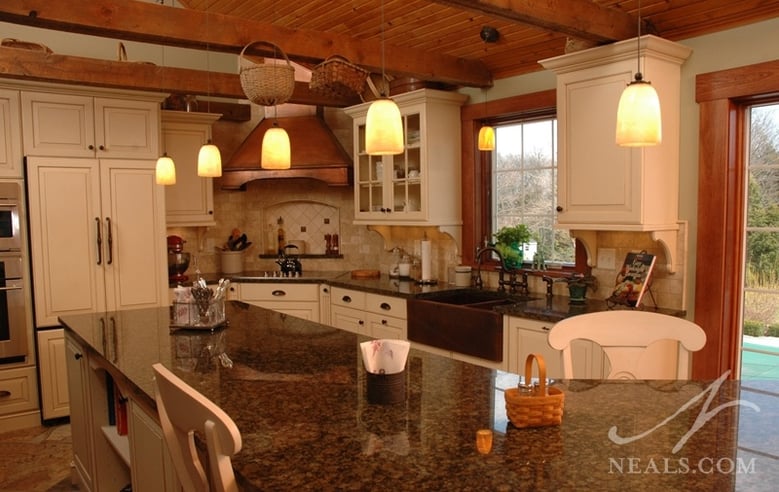 This remodel updated a farmhouse kitchen with white cabinetry and granite counters, while retaining the rustic look of the original ceiling.
Make the Most of What You Have
Reusing, re-pourpsing, and recycling aren't new concepts, and in the world of interior design, these "green" concepts fit in perfectly with farmhouse style. The point is less about making over flea market finds (though that's certainly a well-established modern trend to create chic country spaces), and more about looking at what you already have and trying to make it work for your needs. In terms of a remodel, say of a kitchen, this concept might come into play by retaining a functioning floor plan so that lighting and plumbing fixtures don't need to be moved, re-purposing or refinishing cabinetry that it is good condition, or working furniture pieces or hand-me-downs into the new design.

In this remodel, a worn wood archway, wide-plank flooring, exposed beams and unpainted wood trim create a classic country look.
Include Vintage or Antique Architectural Details
While adding well-aged pieces to your farmhouse interior can add to the ambiance, the real trick is to include those same types of details in the forms and specifics of the entire room architecturally. In other words, you can add vintage crafts and furniture to your 1990's home til the cows come home, but until you switch out the modern trim, lighting, wall finish, hardware, doors, etc. you're going to fall short of true farmhouse style. This doesn't mean that you have to go scouring an antiques market for baseboards, though. You can easily recreate the feeling of an aged farmhouse using new materials finished or installed appropriately. You might also have the makings for rustic details in the structure of your home- an exposed beam or brick wall is a great addition to a farmhouse space. For some ideas of what to look for, you can start with our "farmhouse style" photo search on Houzz.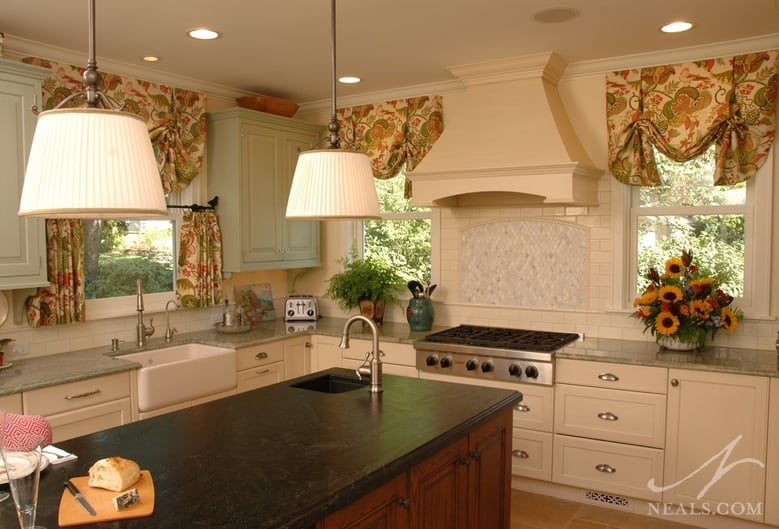 Influenced by cottage style, this kitchen pulls off a farmhouse look with an eclectic mix of materials, including a soapstone island counter.
Go with Materials that Age Gracefully
In general, materials with unfussy maintenance requirements create a cozy feeling and add to the character of a classic farmhouse room. You shouldn't be afraid of items getting scratched, stained or worn, so look for materials that handle these well. In many cases, real, reclaimed materials will be your best bet, but not a requirement. Look for alternatives with a patina or rough style to mimic the look of well-worn wood. Soapstone, a natural material, is a go-to counter surface for classic farmhouse kitchens because of how well it holds up and how it ages. Look for materials that are beautiful or interesting and let them shine on their own.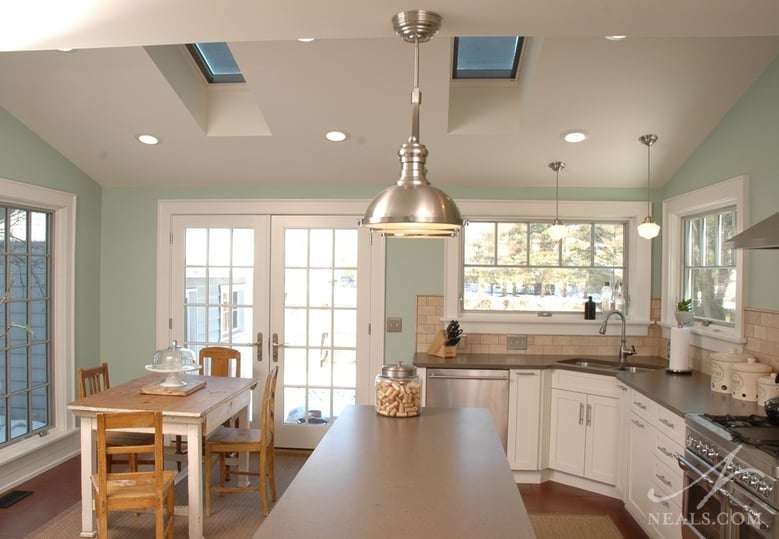 Farmhouse style has been updated here with a look that is serene and gender neutral with industrial details and a unique red tile floor.
Keep the Base Gender Neutral
By design, farmhouse style works best if it is designed with neutral elements that convey no particular gender style. The materials should be chosen according to function first and foremost, and not simply because one option happens to be "prettier" or "rougher" than others. With the foundation of the space outfitted in this way, it frees you up to add decor of any type to inject your personal style preferences.
Need More Inspiration?
Head over to Houzz to see our Farmhouse Style ideaboard.