Most people would agree that it's better to use your time to enjoy your home than spend all your time maintaining it. "Designers have a few ways they can help you cut back on cleaning time to give you more time to enjoy your beautiful home," Neal's Designer Laura Webster explains. Here are eight design solutions Laura asks clients to consider that may make it easier to keep up with cleaning and long-term maintenance at home.
1. Quartz for a hard-wearing material with a clean look.
A word of advice from Laura, "Utilizing beautiful, durable, and easy-to-maintain materials in your home may save you time and money in the long run." When it comes to materials for countertops that fit that bill, quartz gets high marks. It's resistant to stains, scratches, and heat, especially compared to natural stone or other manufactured materials. Unlike granite, it requires no sealing over time. Spills simply wipe up. Quartz can also be used as a slab backsplash to further create a cleaner look since it doesn't use grout lines and has no ledges that can catch dust.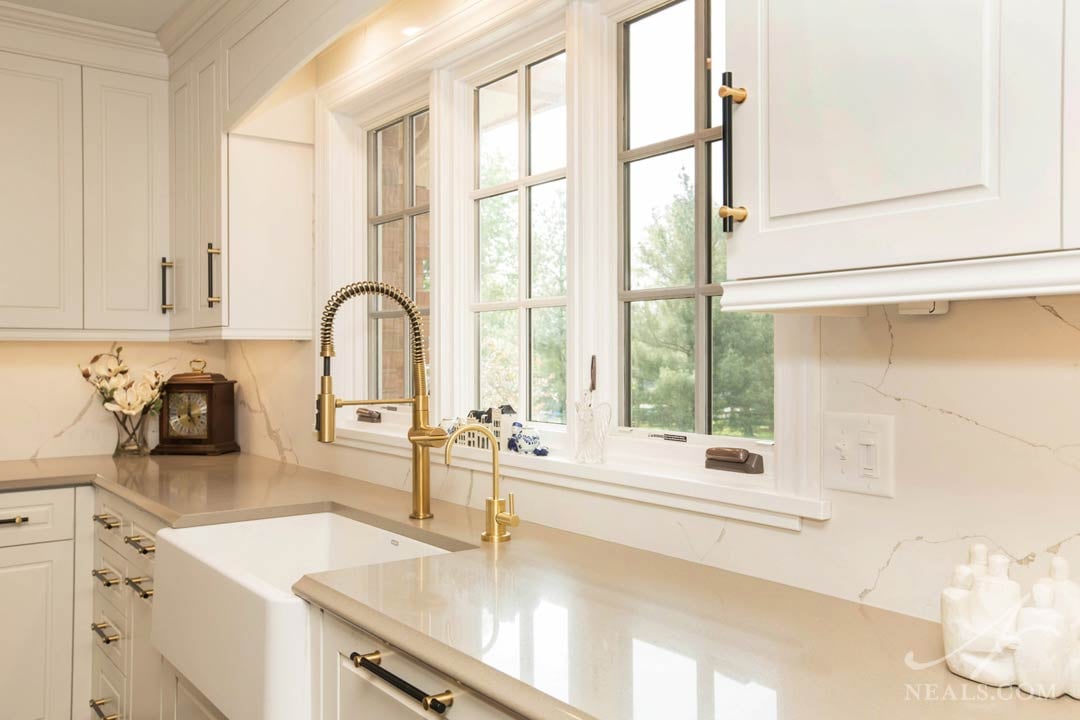 Kitchen Remodel in Liberty Township
2. Luxury Vinyl Tile for a hard-wearing alternative to hardwood and tile.
Often shortened to LVT (or LVP if it's in plank form), this material option offers incredible versatility and ease of maintenance without sacrificing looks. LVT comes in wood, stone, and tile styles and can often be a very close match to the real deal. It has a lower cost than hardwood or tile and can be used in nearly all the same ways. LVT is scratch resistant and more waterproof than hardwood so if you love the idea of a wood floor in the bathroom, this choice can get you the look and not become a maintenance nightmare down the road. LVT is warmer and softer underfoot and traps less dust, which may also make it a better option than carpet for people with allergies.
3. Brushed Nickel or Brushed Gold finishes keep visible water spots at bay.
In the world of metal finishes, "brushed" indicates a process that lightly and uniformly scratches the surface to remove the metal's polish. This process means that it's harder to notice the odd water spot or smudge. Nickel and gold are additionally good options if you'd prefer to clean less often because darker finishes, such as oil-rubbed bronze or matte black, will show spots even if the surface is brushed.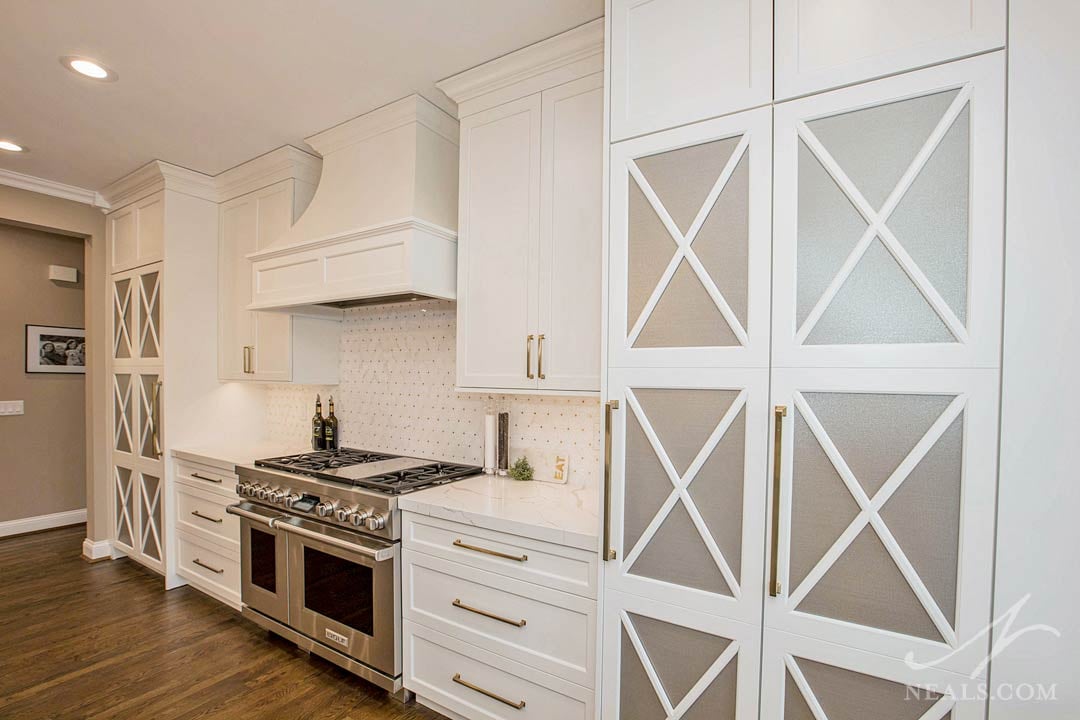 Kitchen Remodel in Indian Hill
4. Midtone colors make dirt harder to see.
Along the same lines, paint colors that are neither very light nor very dark work best with the everyday dirt and dander that exists in the home. If you own a pet, you have probably seen this in action- white or black clothing will usually always give your pet ownership away. It seems counter-intuitive, but darker colors highlight dirt while lighter colors can make scratches more obvious. Medium colors will make all of these harder to see since there's less contrast involved. Stick to the middle of the color spectrum to go a bit longer between cleanings.
5. Easy Design Hacks keep dust build-up at a minimum.
"The more detailed and ornate a home is, the harder it will be to take care of it," Laura points out. Unfortunately, there's no solution yet to completely eradicate dust. Instead, making design choices that prevent or limit the ability of dust to gather can make it easier to keep your home clean. Use cabinet doors with a minimal or flat design so that there are fewer spots for dust to settle. Include kitchen or bathroom appliance storage cabinets to keep items off the counter that will gather dust just by being out. This also creates a much cleaner look by keeping clutter under control. Take upper cabinets all the way to the ceiling to remove a large surface for dust to settle where you can't easily reach it.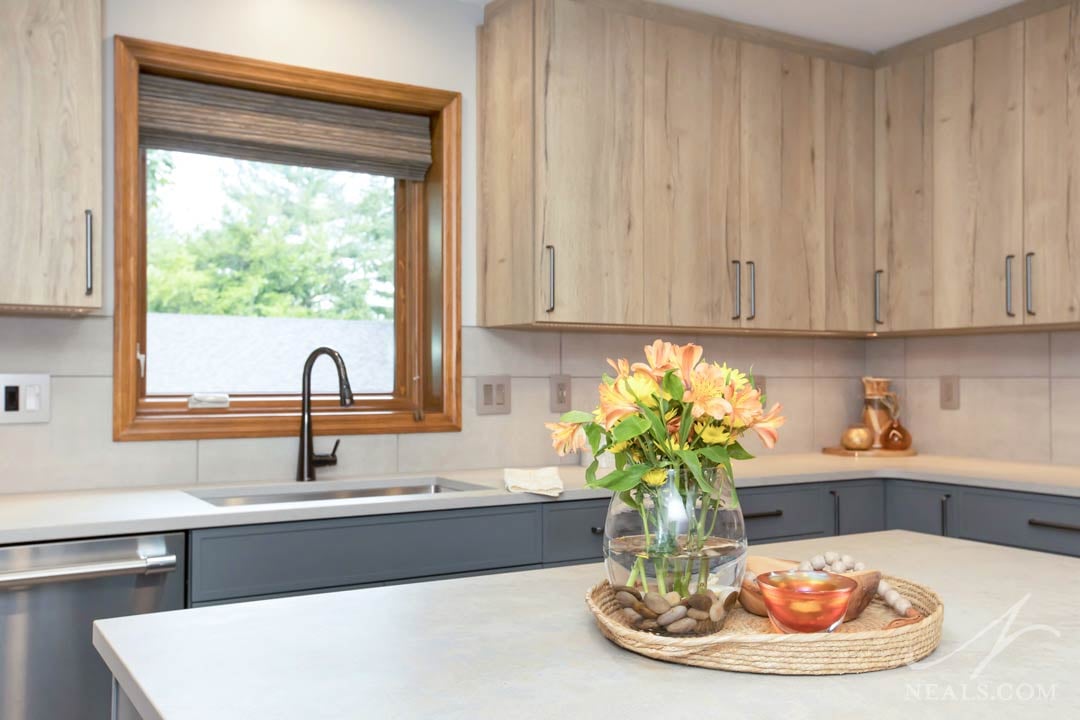 Kitchen Remodel in West Chester
6. Fewer grout lines create a cleaner-looking space.
Unless you're going with a visible grout line as an intentional design choice, grout is typically not meant to become a feature of a tile installation. Without regular cleaning, dirt and dust will get into the grout line and begin to make the tile look dirty and old. There are a few ways around this, but one option is to use larger tiles to reduce the number of grout lines. By spreading them out more, they become less obvious, and the tile gets to be the star of the show. Another option is to use tile alternatives (such as LVT mentioned above) that remove grout altogether.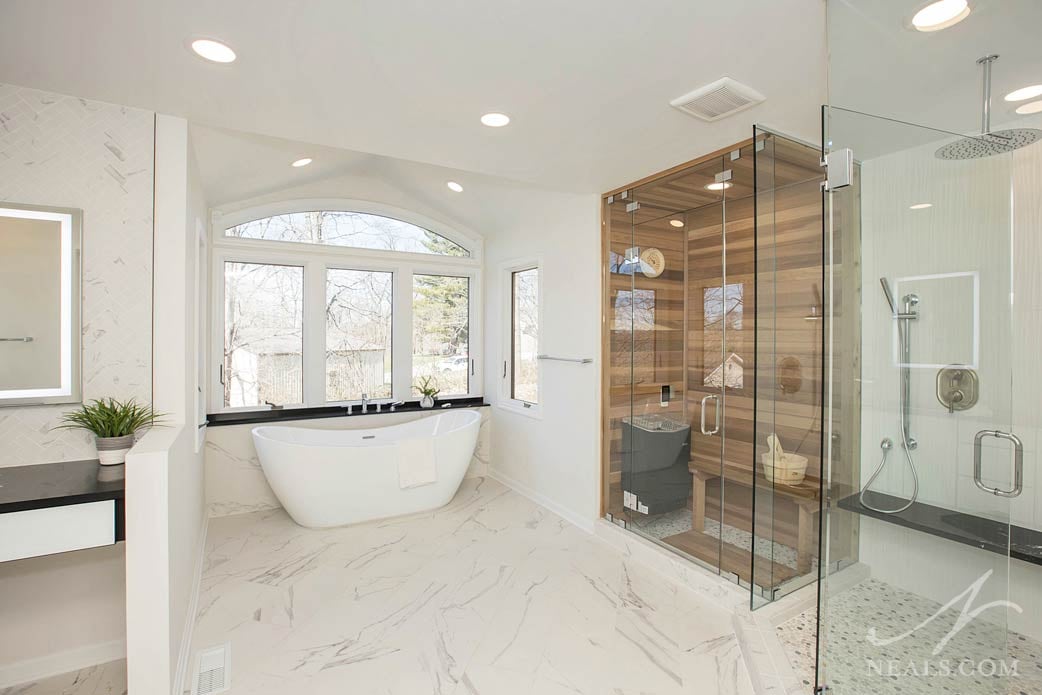 Master Bathroom Remodel in Bridgetown
7. A hand-held shower wand makes shower cleanup easier.
Water is great for so many things, but in the shower, water combined with soap and heat can create some pretty pesky cleaning issues. Water spots and soap residue should be cleaned up often, even as regularly as after every shower, to prevent build-up that's harder to clean. Remember that a handheld shower wand, especially with an adjustable flow and longer hose, can double as a convenient shower cleaning tool.
8. Composite Decking is your outdoor maintenance best friend.
Wood is great, but it's sensitive. Cut wood is susceptible to all sorts of damage from moisture, heat, wear, and pests. A wooden deck that isn't regularly sealed and maintained will quickly become hard to keep looking its best. Enter composite decking. This material is a man-made alternative that uses wood, plastics, and other materials to create planks that can handle most of what nature throws at it. Though not entirely maintenance-free, composite decking is more resilient against moisture, stains, scratches, and cracking than real wood, and is available in colors and options that mimic a variety of real wood types, including some hard-to-come-by exotic species.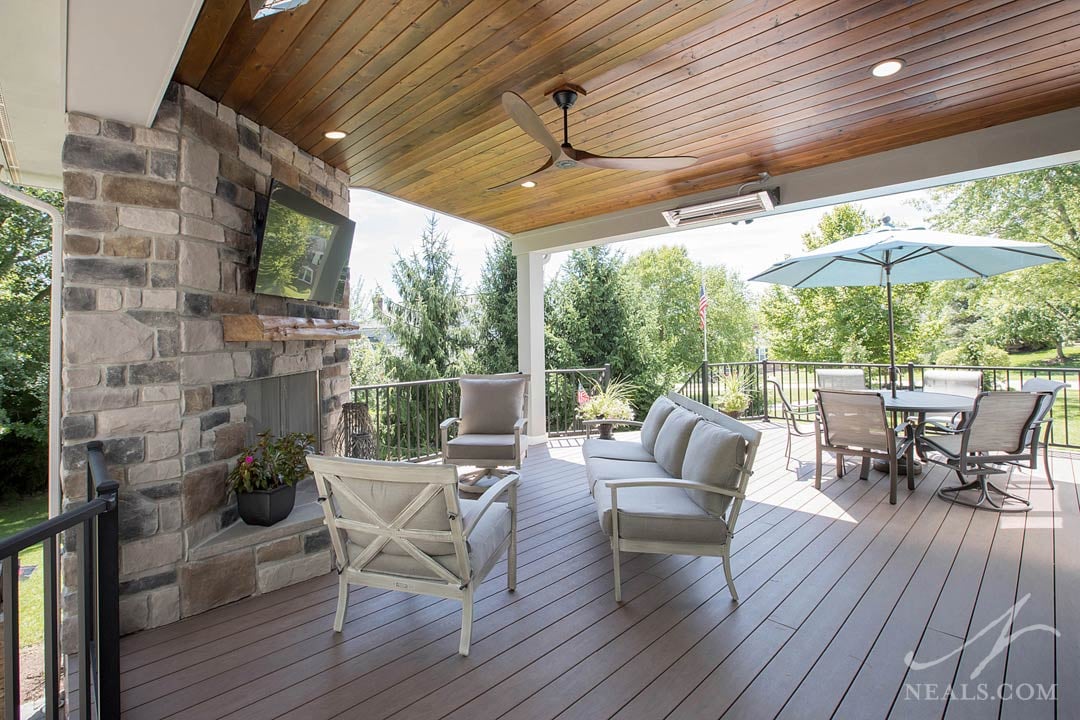 Outdoor Living Remodel in Wilder, KY