The underlying benefit of completing a kitchen remodel is that you get to create a new space that's perfect for you and your needs. One way to accomplish that is through the use of custom cabinets that solve specific needs or make use of certain features of your space. A custom cabinet or interior accessory can often be added to a cabinet plan even if it otherwise uses semi-custom cabinetry. Speak with your designer about the custom options that work inside your budget and plan, and keep reading for eight ideas to get you inspired.
1. Single-serve coffee cup storage drawer
If you like the idea of not having to think too much while getting your morning coffee ready to go and you use a single-serve machine such as a Keurig, an interior drawer accessory with cutout for the cups might be the ideal solution in your kitchen. This handy accessory allows you to have a range of options available in easy reach where you don't have to dig into a box. It also helps with keeping a clutter-free counter as a bonus.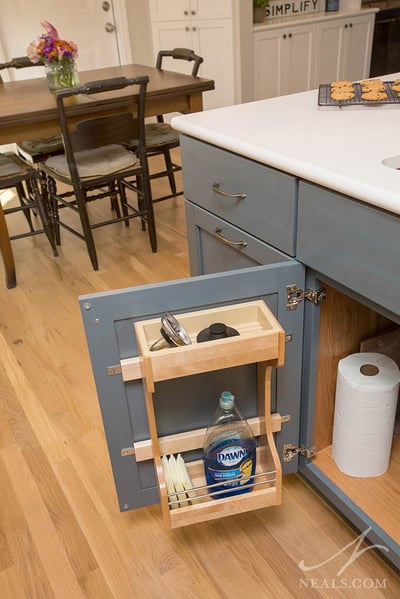 Kitchen remodel in Wyoming
2. Under-sink door caddy
Cleaning supplies are necessary but often hard to account for. Keeping the dish soap and other items in reach by the sink is important, but having to dig into the cabinet below the sink isn't easy. A simple solution is a caddy installed on the backside of the cabinet door with spaces for your primary cleaning items. It's a streamlined solution to a common problem that ends up looking good too.
3. Powered catch-all drawer
To call this solution a "junk drawer" would be unfair. A power strip installed along the back of a shallow drawer is a great solution for that one drawer near the back door. Use a solution like this to house electronic devices, rechargeable battery stations, and as a convenient spot for anything needing a quick charge. Most drawers can be outfitted with an outlet, but the electric connection needs to be available, so be sure to discuss this idea early with your remodeler to make sure it's accounted for.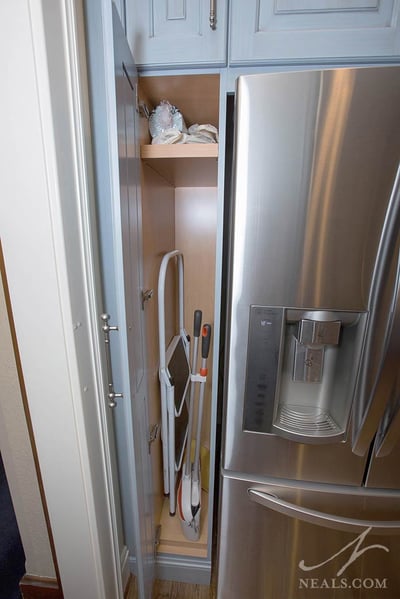 Kitchen remodel in Clifton
4. Broom closet
In many kitchens, there ends up being a narrow space where a traditional cabinet or drawers are less suitable, often next to the refrigerator or at the end of a line of cabinets. This narrow cubby can be fashioned with custom cabinetry and utilized as a small closet perfect for a broom, sweeper, or folding step stool. Especially if there isn't an ideal place elsewhere on your first floor for these tools, this custom cabinet idea is a great one to consider.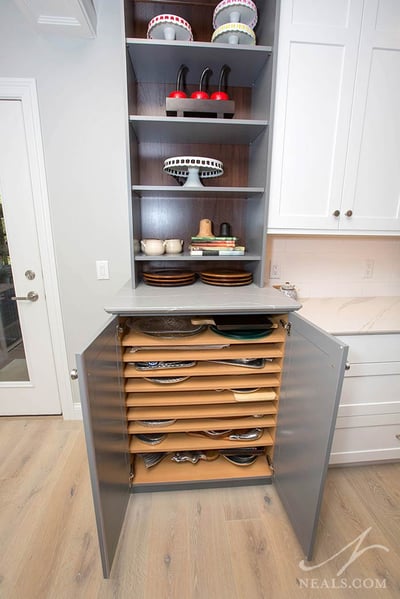 Kitchen remodel in Indian Hill
5. Horizontal tray and baking sheet storage
If you like to do a lot of baking or entertaining, you may have a decent-sized collection of trays, molds, and baking sheets. You may even have some specialty trays that you'd like to keep separate from your everyday items. A cabinet with adjustable shelving that can be arranged with narrow spacing may be a good custom option for you. The narrow space helps keep dust off the trays and there's no need to try to precariously stack trays, which can mean trouble when you go to get the one you want.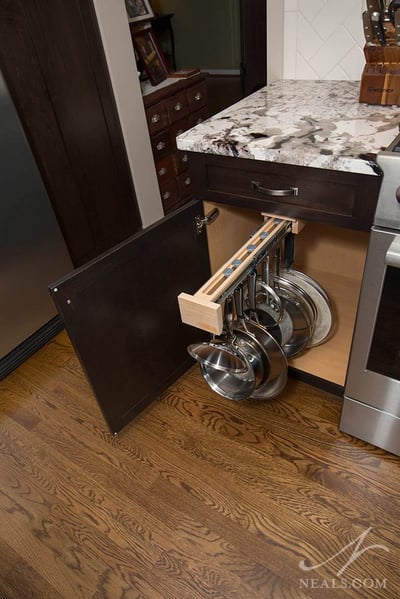 Kitchen remodel in Loveland
6. Hanging pot rack storage cabinet
A hanging pot rack is one great way to store pots and pans so that you can easily find what you need. While pot racks come in all shapes and sizes, sometimes the better solution is to install the rack inside a cabinet. The rack slides out when you need it, then everything can be pushed back in and closed up when you're done. This solution requires a cabinet with particular interior dimensions based on the size of rack you need. Knowing what and how much you'll want to store on the rack is how to get this cabinet option correct for your needs.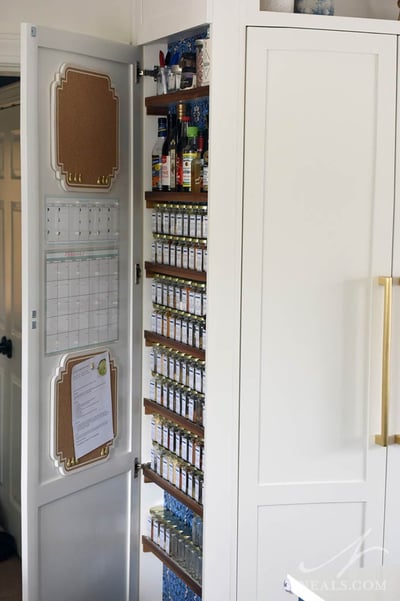 Kitchen remodel in Anderson Township
7. Shallow spice cabinet
Just as some kitchens have narrow spaces that can be used in custom ways, other kitchens may have shallow areas that can be used for specialized storage. One purpose for a shallow cabinet is to store spices or other uniformly-sized items. This can be added to the end of a cabinet, or on the end of an island, or perhaps there's a section of wall in your kitchen that can be outfitted with a cabinet in this manner.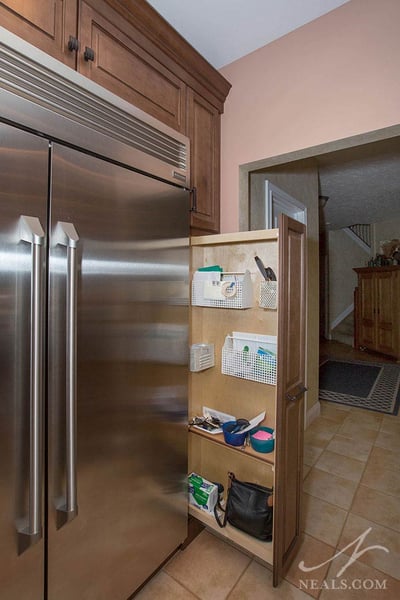 Kitchen remodel in Morrow
8. "Dropping zone" pullout cabinet
For kitchens connected to a family entry area or back door, an area referred to as a "dropping zone" may be a wishlist item. This is a space where keys, purses, mail, etc. can be placed, and it's often a central area for the family to use. Rather than dedicating a counter or table for this, however, you can use a section of cabinetry. A pull-out cabinet with a custom interior to suit your needs creates an easy-to-use spot that hides the typical clutter that comes with the family entryway.