Design statements can be made in the simplest ways. For kitchens, which are already layered with elements, textures, colors, and a mixture of materials, often times the floor gets overlooked as a surface that can add drama or a "wow" factor. Here are some ideas for eye-catching kitchen flooring designs.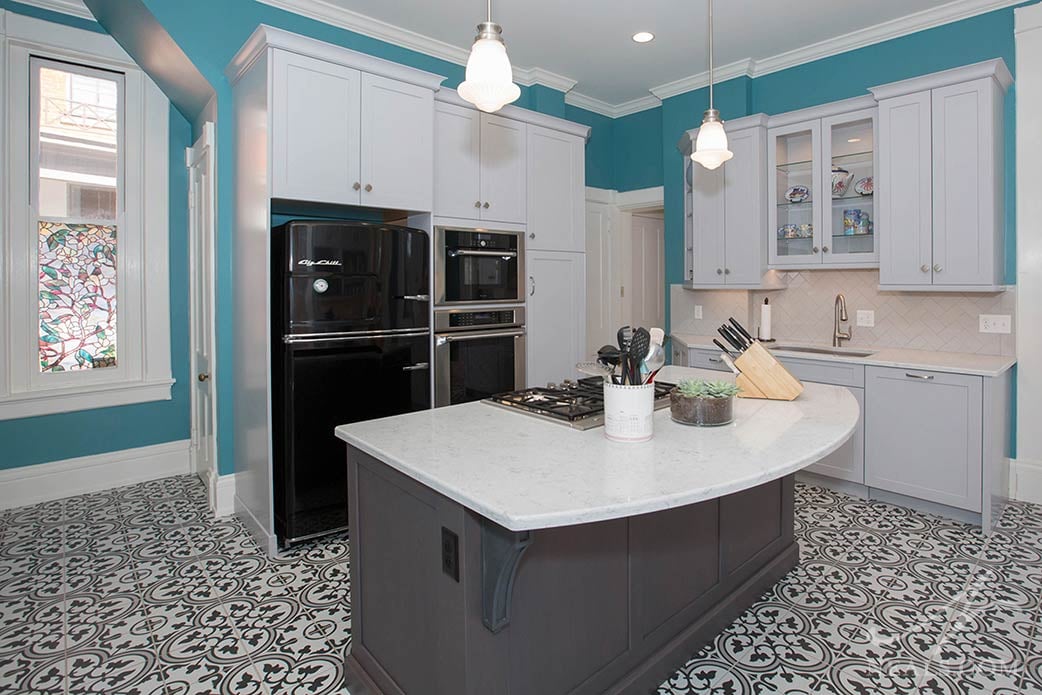 A bold black and white floral pattern in this Walnut Hills kitchen creates a graphic statement.
Bold & Graphic Tile
Graphic tiles with bold designs or colors is a trend we've taken note of in the past year. New or modernized techniques for creating these punchy tiles without the pain and expense of hand-painting have made these tiles much more readily available and useful for homeowners looking for something more exciting in their home. For a flooring application, look for a hard-wearing materials and process designed specifically for floor tiles that protects the design from the regular wear of everyday use.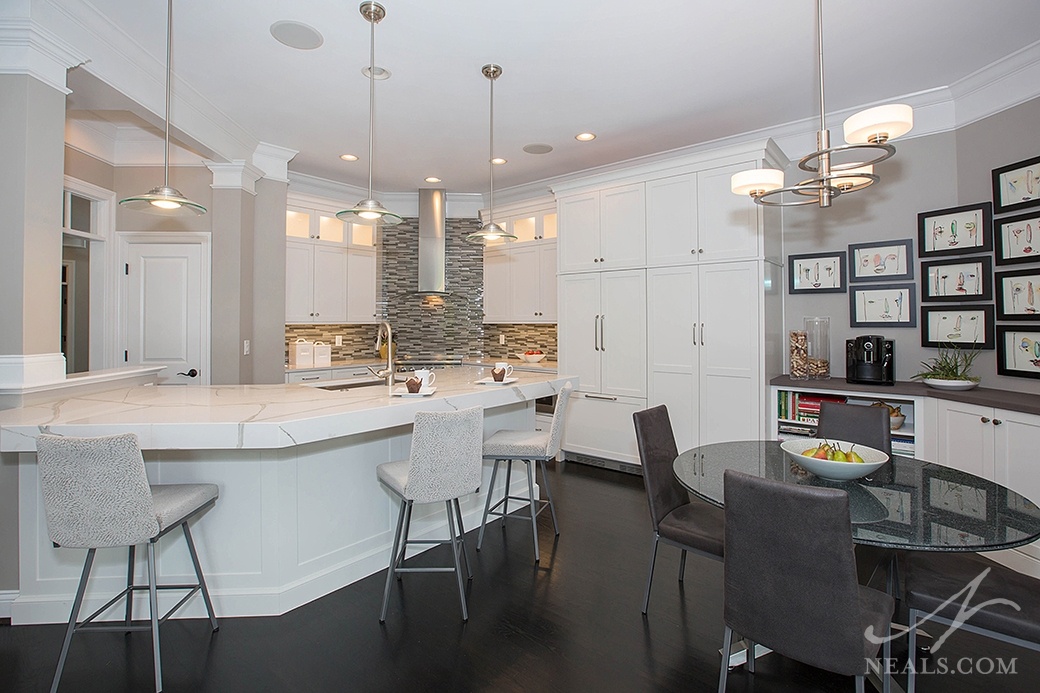 This Montgomery kitchen features a very dark wood floor that stands out against the white cabinetry.
High Contrast Flooring
If the colors of your cabinets, counters and backsplash all tend toward one end of the light or dark spectrum, a sure-fire way for the floor to add the element of drama is to go with contrast by selecting a color or tone on the other end of the scale. This works especially well with a white against black design, but can also work between deep or dark brown toned cabinets and a paler blonde colored wood floor. To tie the two ends of the spectrum together in the overall design, be sure to include details or decor throughout to make the contrast less out of the blue.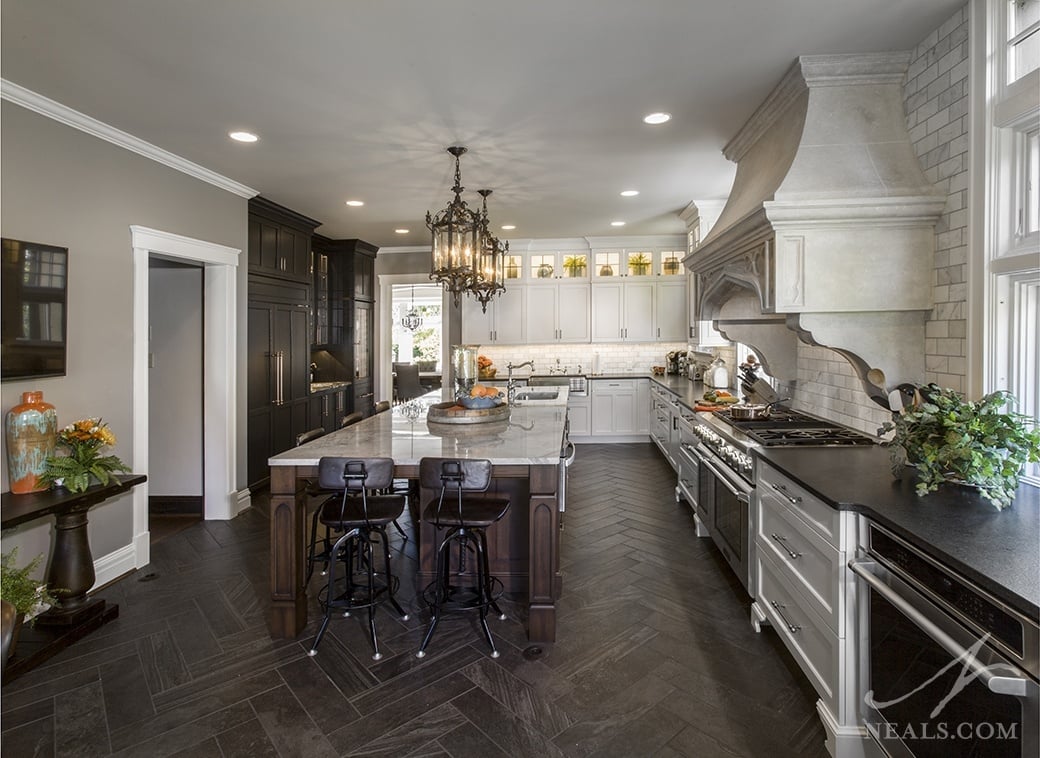 A herringbone pattern using tile in this Hyde Park remodel adds to the classic kitchen design.
Unexpected Angles or Patterns
While it does add to the labor involved, arranging your flooring material in a pattern that is not strictly linear is a great way to add interest with even simple materials. Herringbone, a classic pattern with a bit of complexity, is an ideal choice for this treatment because it's much more interesting than a straight-forward brick pattern. Patterns in flooring can be made with any type of material, and shape. They will just take a bit more in the planning stage to make sure that the material quantity and installation plan have been accounted for.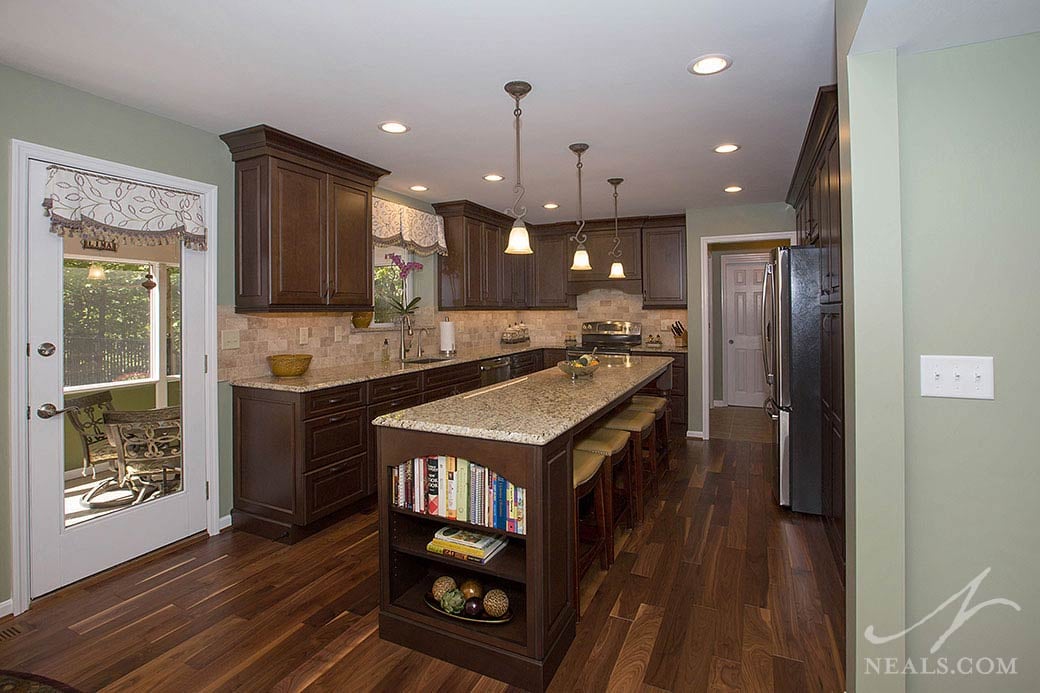 A range of shades in the wood flooring in this Loveland kitchen add interest without going to extremes.
Purposeful Inconsistency
Both wood and ceramic tile flooring offer the chance to add some eye-catching interest without having to commit to anything extra in the design or installation, and that is their natural ability to have a range of shade in a single finish or color style. These inconsistencies can be used to great effect when a subtle effect is desired that doesn't overwhelm or detract from other elements.