Your choice of countertop material for your kitchen or bathroom is a key element to creating the design and style of your space. There are many types of counter surfaces to chose from (and many color and style options within each), so it can be a bit of an overwhelming decision. It's helpful to know the popular materials and their properties, so we've outlined the 6 most common options below to get your started.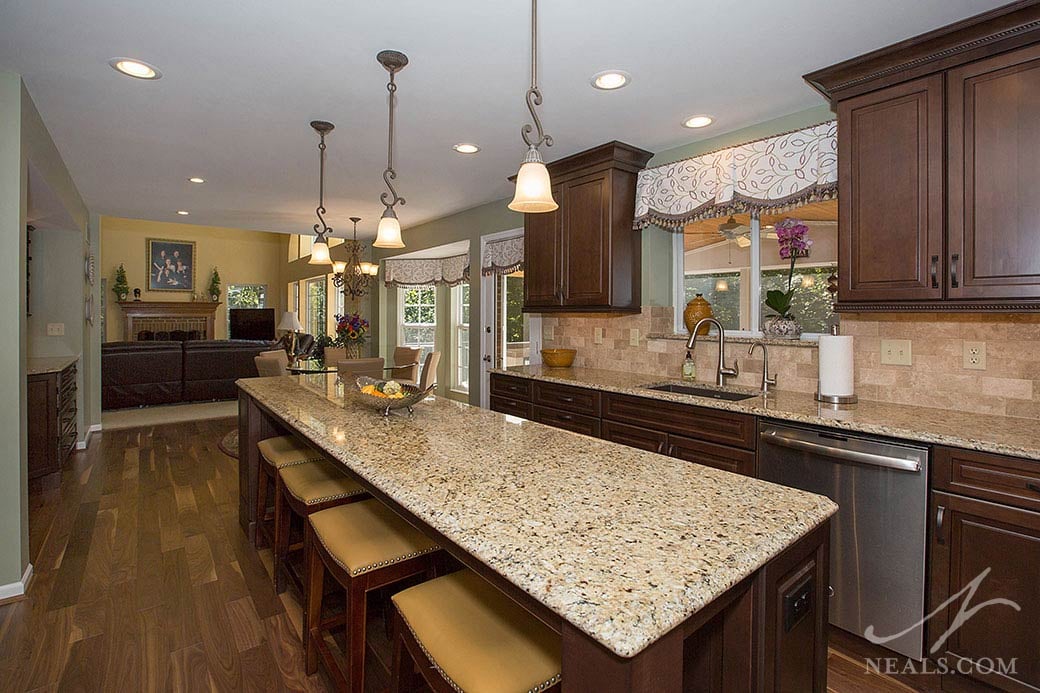 This Loveland kitchen features New Venetian Gold granite counters that brings the kitchen's entire color palette together.
Granite
Granite has been popular for countertops for many decades. While this natural stone option is an investment, the cost is most often influenced by the pattern, source, and thickness. Granite is a hard rock with mottled color, often including crystalline flecks. No two granite slabs are the same, owing to the material's natural formation. Granite is durable and can be wiped with a mild soap solution for easy maintenance. It requires sealing once a year to resist staining.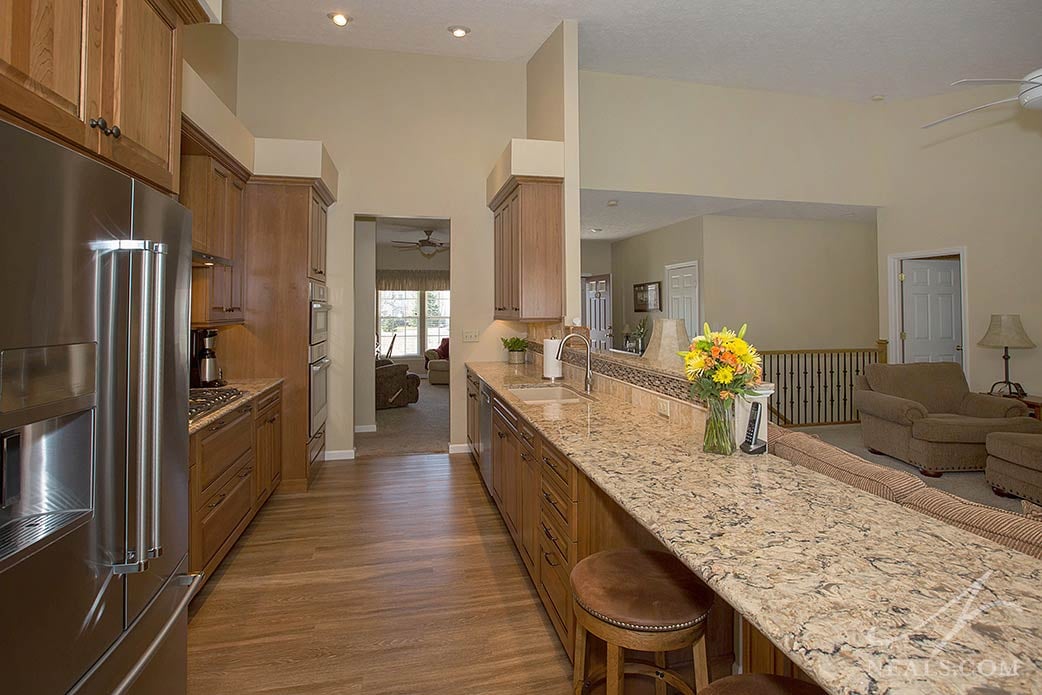 The statement-making peninsula counter of this Lebanon kitchen is Cambria's Bradshaw quartz.
Quartz
Quartz is a man-made alternative to natural materials like granite. It is typically created using a type of resin combined with natural quartz and colorants to create a hard counter surface that bears a close resemblance to fully-natural stone. Quartz has been growing in popularity in the past decade as companies like Cambria continue to improve the technology and create more interesting designs that look more natural. Quartz is not always less expensive than granite, however. Quartz is often chosen over granite because it resists stains and water absorption better than naturally occurring stone and does not need annual sealing. It is also scratch, heat and mildew resistant.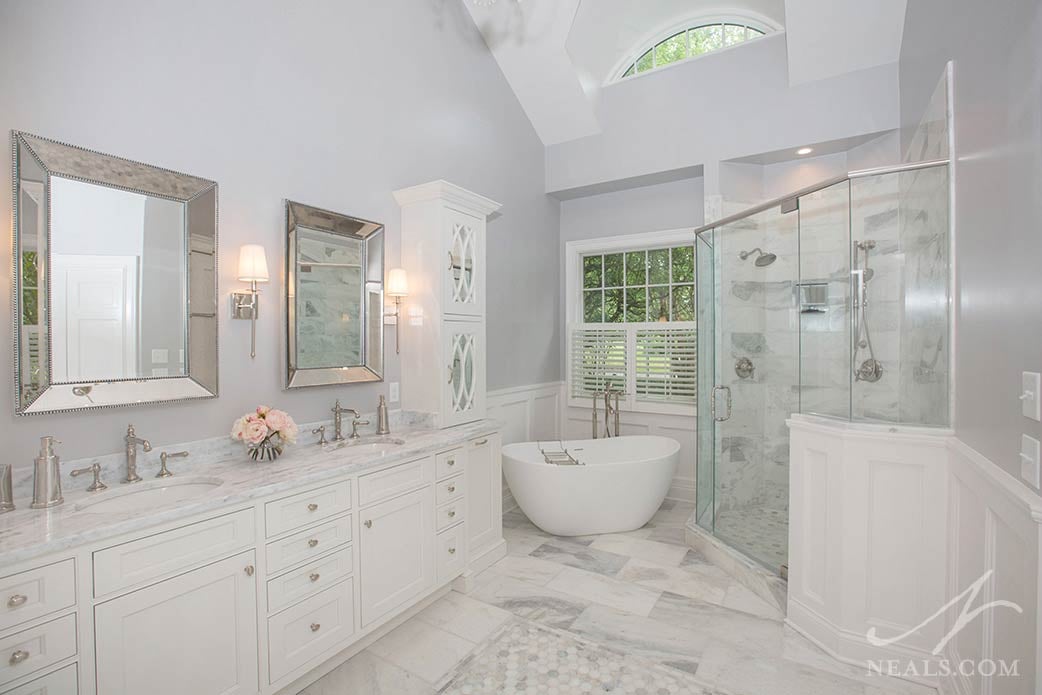 Marble features prominently in this Indian Hill master bathroom, including the First Snow marble vanity counter.
Marble
Marble, like granite, is a naturally-occurring stone. While marble is a hard material, it is more susceptible to staining and chipping, and requires regular maintenance. It can also be a more expensive option, depending on the type. Marble is usually selected for its style- it is a light colored material with gray and cream toned veins- and it has a strong association with classic design. It will patina over time, resulting is a soft shine that is particularly well suited to bathroom installations.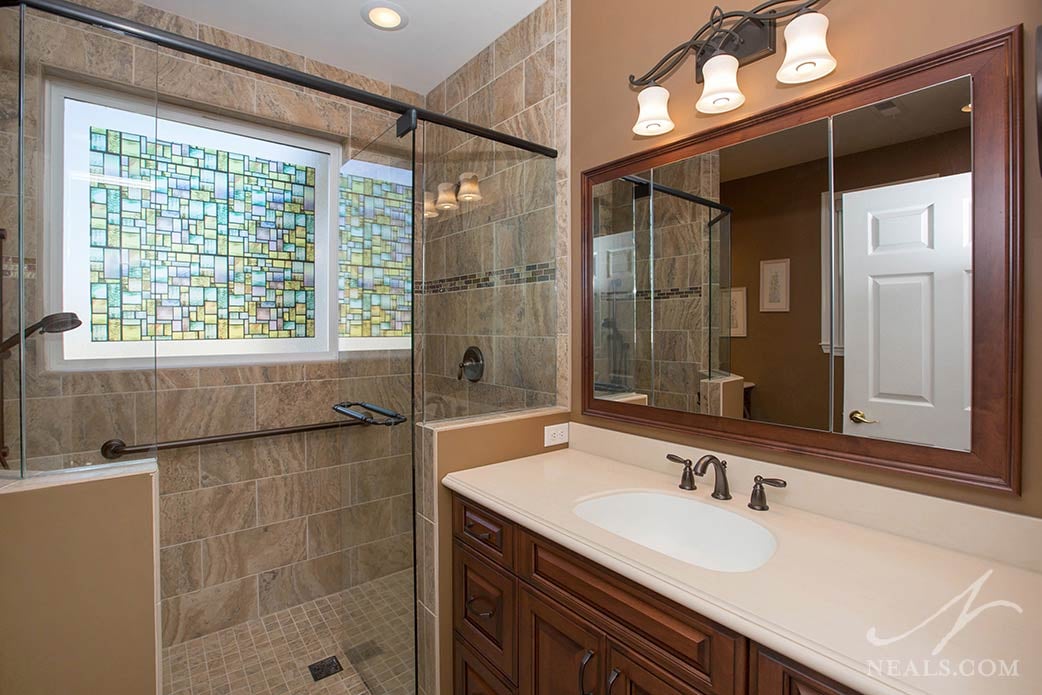 The solid, creamy-colored counters in this Maineville bath are Corian's Ecru.
Solid Surface
A solid surface counter is a material that is primarily resins and pigments, not typically containing large amounts of natural materials, unlike quartz. The manufacturing process creates a counter that is the same color all the way through, so if it does get nicks (which it is more likely to get than other materials) it's relatively easy to sand them off. Solid surface materials are on the lower end of the price scale, making them good choices for minor remodeling projects. The most well-known solid surface is Corian made by Dupont. Solid surface countertops are non-porous, easy to clean, and stains will not penetrate the surface. It is available is a wide variety of styles, both natural-looking and obviously man-made.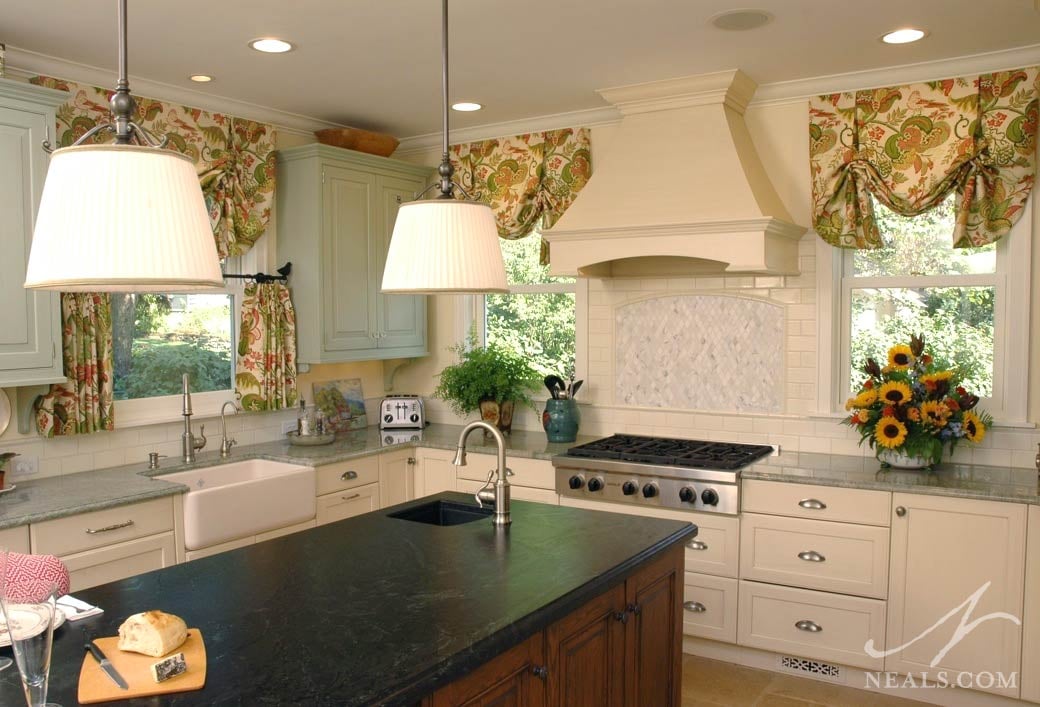 The island in this Glendale kitchen is topped with a striking dark Antolini soapstone that adds an eclectic tone to the cottage-style space.
Soapstone
Soapstone is a natural stone material, and in many ways falls between granite and marble in terms of pros and cons. There are a few varieties of soapstone, but the most common is a dark green with subtle lighter-colored veining. Even when smoothed and polished, the surface will look like it has depth. Soapstone, like marble, has strong associations with traditional design. The cost will fall between granite and marble on average. It is a low-maintenance choice. Soapstone is non-porous and non-staining, but it is soft and can be chipped or scratched. It will patina over time, but mineral oil can be applied regularly to deepen and enhance the color.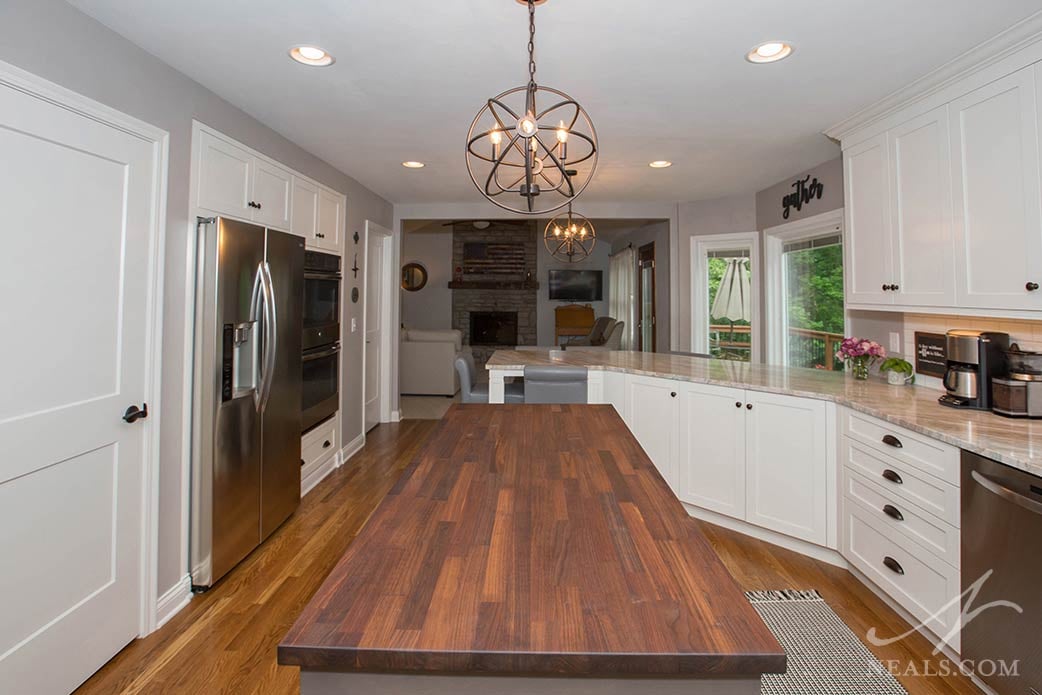 In line with over a century of tradition, the island in this West Chester kitchen is a sophisticated black walnut butcher block.
Wood
While wood isn't an ideal choice in a bathroom setting, we've seen the addition of wood counters in kitchens increase in the past several years. The idea of using wood for a counter is not new, but recent "chic style" trends have brought the option into the limelight. Wood counters can be traditional butcher block (planks of wood glued together) or a larger boards that showcase the woodgrain. These types of counters have significantly higher maintenance needs that the other options we've listed, and they aren't always ideal for actual food prep like a cutting board is. Wood counters are typically less expensive than stone, but they require daily cleaning and regular treatments to keep stains, mildew and damage at bay. They are best used as accent counters on islands or sidebars.