The beauty of Contemporary-style kitchens is found in their sleek clean lines, geometric forms and function. When planning a Contemporary-style kitchen, kitchen design professionals often rely on natural elements such as wood and stone, as well as manufactured materials such as stainless steel and glass, to create the Contemporary-style look.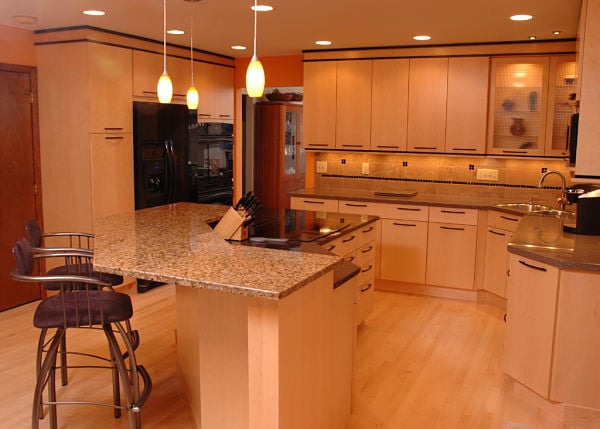 Contemporary kitchens are warm and stylish. This kitchen design features clean lines and slab-front full overlay cabinets in a natural wood stain.
Here are six design elements that define Contemporary-style kitchens:
1. Full Overlay Cabinets
Cabinets help to define the design style of a kitchen. Full overlay cabinets are cabinets where little or none of the door frame shows, making the layout appear seamless. Two door styles are dominant in Contemporary kitchen design: slab front and Shaker-style. Both have simple lines. Hardware can be added to cabinet doors but some designs omit hardware to maintain a minimalistic, clean look in the room.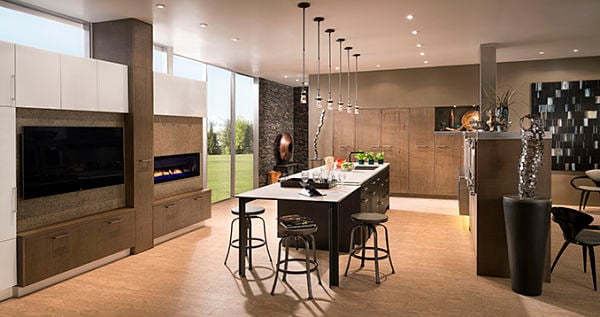 Wood-Mode cabinets define the style of this elegant contemporary kitchen. Photo courtesy of Wood-Mode.
2. Horizontal Lines
The design of a Contemporary kitchen focuses on linear congruence. You will see horizontal lines in the way components are used. This includes:
Layout of cabinets and counters
Flooring
Backsplash and tile accents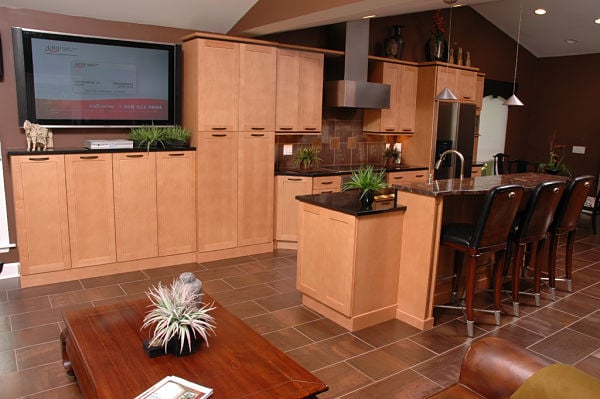 Horizontal lines dominate in this Contemporary-style kitchen where full overlay Shaker-style cabinets are used. Note the cabinet layout, floor tile, positioning of the counters and seating, alignment of the backsplash tile, and placement of the pendant lights.
3. Geometric Forms
Think back to your days in high school learning the principles of geometry. Angles, curves, circles, squares, triangles, rectangles, diamonds, globes, boxes and other geometric forms are important accents in Contemporary-style kitchen design. Look for geometric shapes in:
Lighting fixtures
Furnishings
Counters
Wall décor
Windows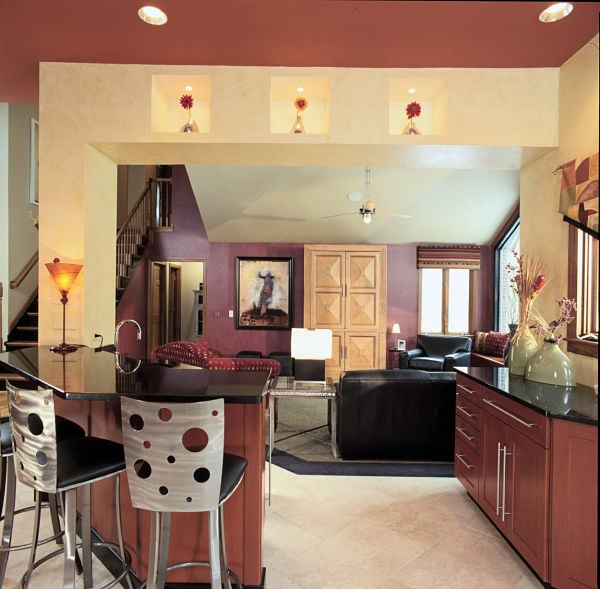 Angles form the counter and flooring in this open concept Contemporary-style kitchen. Geometric shapes were used in the display niches, an angled window, lamps, a storage cabinet in the family room area, ceramic vases and fabrics.
4. Commercial Appliances
Stainless steel commercial appliances are commonly used in Contemporary-style kitchens because of the industrial look. Some appliances also provide geometric accents in the room such as a stylish arched or angled venthood. Stoves, ovens, cooktops and even dishwashers can have futuristic looking control panels and lights that augment the modern look.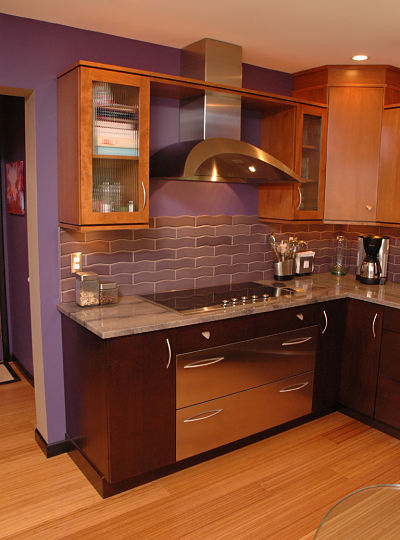 An arched vent hood, induction cooktop and stainless steel fronted drawers are important design elements in this Contemporary-style kitchen. They are accented by the curved tile backsplash.
5. Simple, Sleek Hardware
Bar shaped hardware has been a "traditional" choice for Contemporary-style kitchens. The rule of thumb for hardware is sleek and simple, not ornate. Finishes can vary but stainless steel, brushed nickel and chrome are popular selections.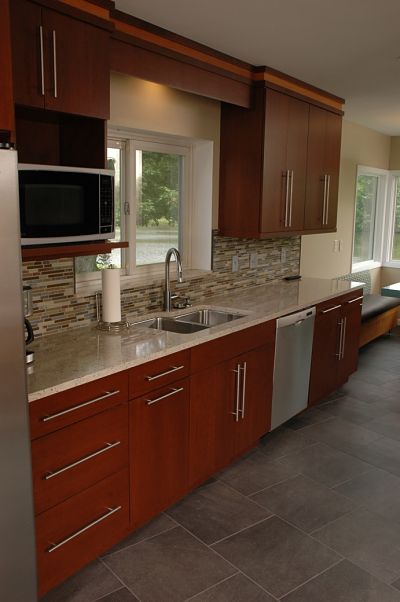 Stainless steel bar shaped cabinet hardware complements appliances, fixtures and the steel gray floor tile in this Contemporary-style kitchen.
6. Natural Elements
Many of today's Contemporary-style kitchen designs combine elements found in nature such as wood and stone as well as glass. Among the products used are travertine tile on walls and floors, wood flooring, wood finish cabinets, granite counters and glass used for cabinet inserts, shelves, light fixtures and counters.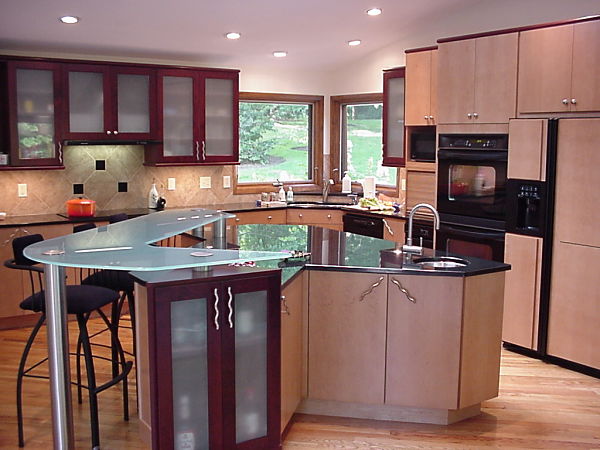 Glass cabinet door inserts and a tempered glass counter for informal dining add style to this Contemporary-style kitchen. Slab door cabinets feature two wood stain finishes that complement the wood flooring and moldings. Black appliances blend with the black granite countertops of the island and perimeter. The geometric hardware adds an artistic touch to the room.