A sunroom is a great feature for any home, providing additional living space that can be enjoyed throughout the year. A sunroom, or solarium, is a specific type of room featuring several large windows (not just open screens) that may be winterized, or may be considered a "three-season" room. The purpose of the space is to provide a comfortable room to enjoy sunlight and views, without actually being outside. This makes sunrooms ideal for both entertaining and relaxing.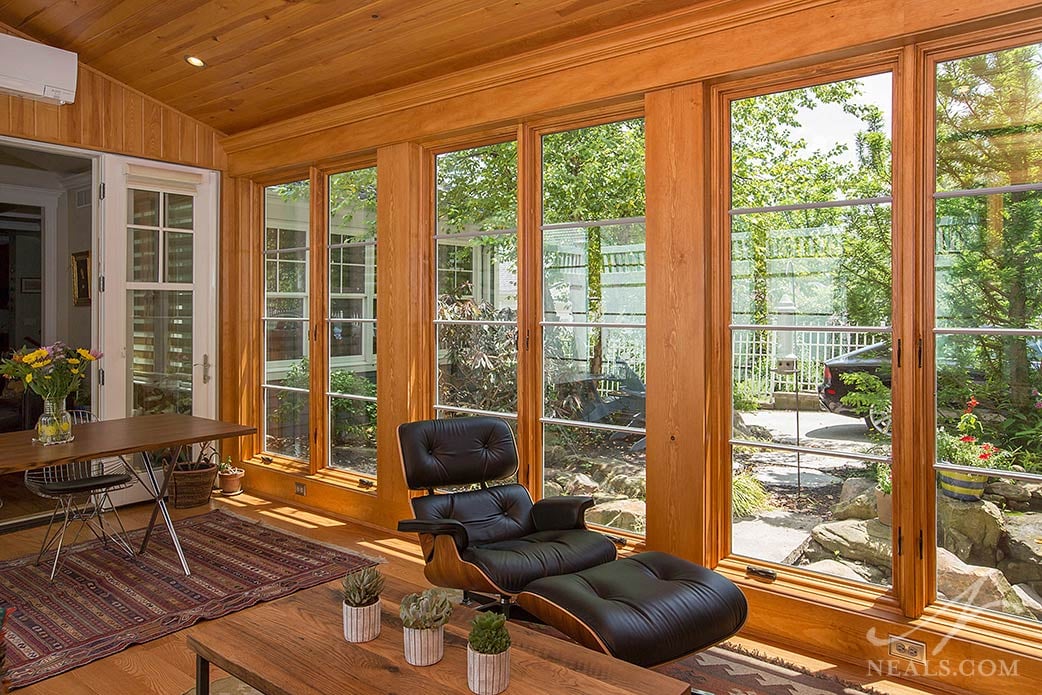 A sunroom in Madeira is a warm space with views to a well-appointed backyard garden.
Location
Since the main function of a sunroom is to be a sunny space with interesting sites out the windows, the first important decision is where your new sunroom should be placed. The sunroom is an attached addition, often with two or three exterior walls that will be filled with windows. Make sure to check each of your placement options for things you may not want to see, such as a neighbor's yard, power lines, or where you keep your outside garbage bins. If you wish to include a door in the room to the exterior, where will it lead and will you need to adjust gardens or landscaping to make it function well?
Also consider what the connection to the home will have to be for any location you are considering. Can it be adjoined to a hallway or shared space, or will interior walls need to be reconfigured to allow easier access?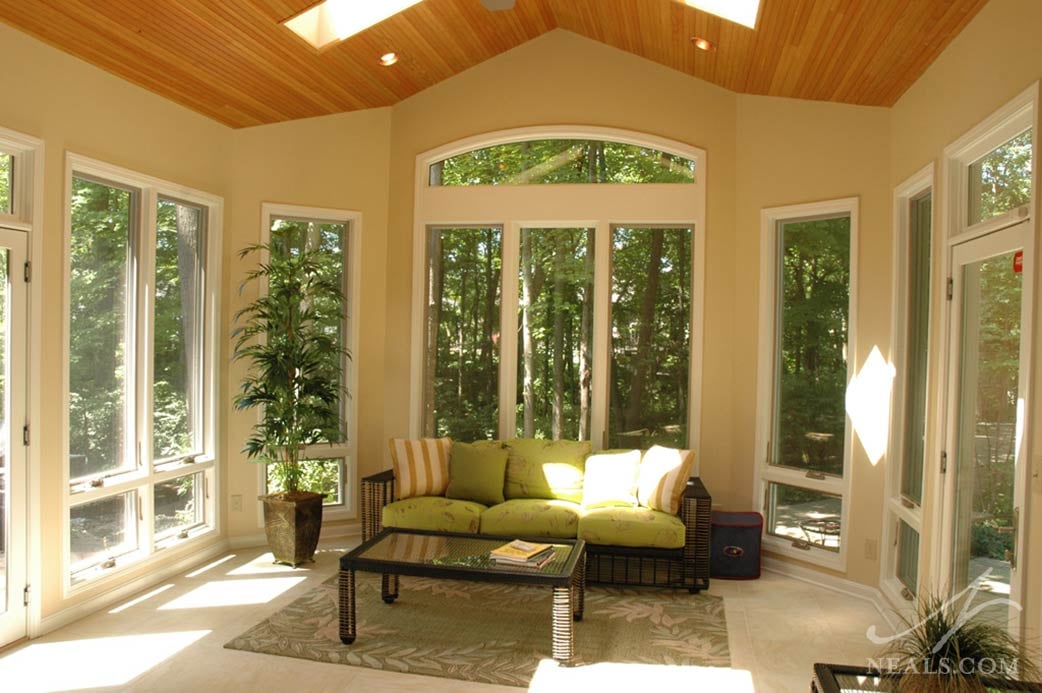 The windows of this Loveland three-season sunroom are awning windows that can be opened for some fresh air.
Windows
The addition wouldn't be a true sunroom without plenty of windows on as many walls as possible. The particular size and style of window will ultimately be up to your preferences, but be sure to look for windows with higher levels of UV protection. If you want your sunroom to be used in colder months, also opt for double pane windows that provide insulation.
Traditionally, sunroom windows are fixed, meaning that they do not open. This is because the windows take the place of a solid wall. You may decide, however, that having the option to open your windows would be preferable. If you would like to install windows that open, you have more choices. Windows can slide horizontally, open vertically, push up and out (called awning windows), or open a set distance with a hand crank (known as a casement window). With any option you choose, be sure that screens are installed.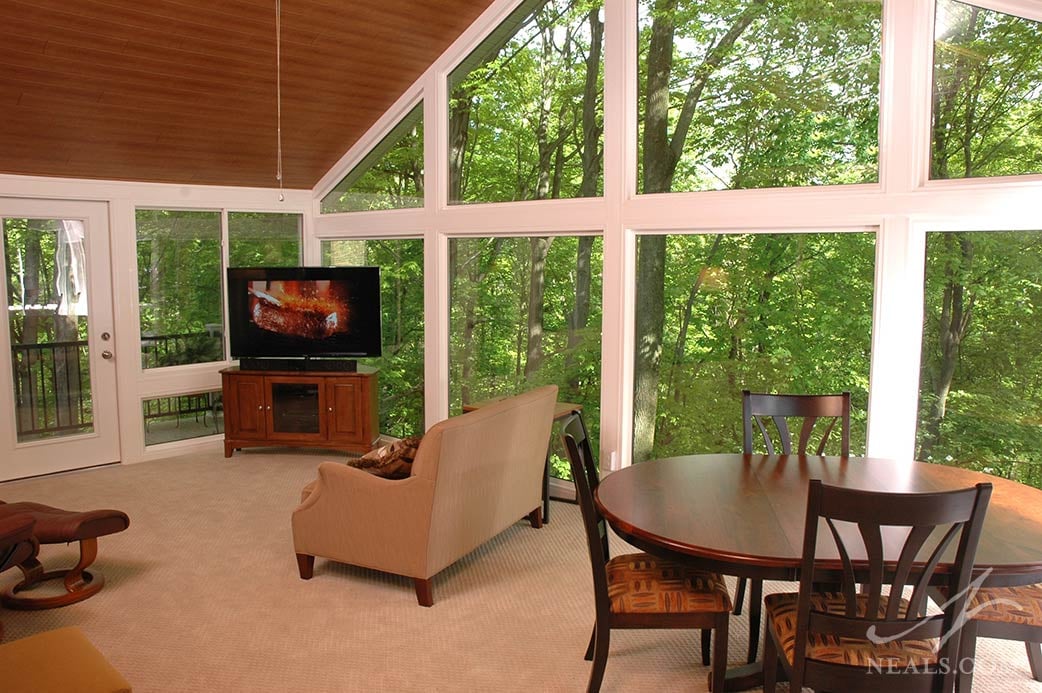 A carpeted floor was chosen to go with the living room function of this Western Hills sunroom.
Flooring
The type of floor that you install in a new sunroom will be based on what you believe your typical use of the sunroom will be. If you intend to use the room for meals, parties, or if you have in mind to furnish it like an interior deck, then a tile floor would be appropriate. You may also consider a hardwood option, but be sure to speak with your installer regarding the sun and temperatures the room may endure so that your wood flooring won't be damaged.
If you're creating a winterized sunroom, and you would like to treat is as a den or other comfortable living space, carpeting is another choice. If the room has exterior access, look for stain resistant options. Here also, be sure the carpeting has a high lightfastness rating so that long exposure to sunlight doesn't prematurely fade the carpet's color.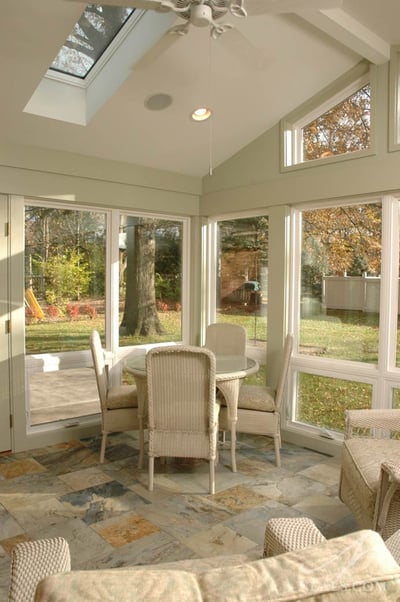 Recessed can lights positioned around the skylights in this Montgomery sunroom help when the sun goes down.
Lighting
During the day, the sun does all the work of lighting your sunroom. When the sun goes down, though, you'll want to be sure that you can still use the space by including light fixtures. In most cases, decorative pendant lighting will be somewhat out of place in a sunroom. Instead recessed can lights, ceiling fans with integrated lights, or LED track lights are ideal for sunrooms in the evenings. You may also consider specialty up-lighting installations for ambient lighting.

A fireplace at the end of the Madeira sunroom creates a cozy atmosphere for both relaxing alone or socializing with guests.
Other Options
A sunroom doesn't have to be dedicated entirely as a sitting or eating space, but it handles either of those purposes quite well. Your sunroom may also include cabinetry for a wet bar or board game storage, or bookcases for collection displays. Perhaps an entertainment area may be well-suited to the space. The sunroom could also be a good place to add a fireplace. Any additional items you add should work well with ample sunlight and the enjoyment of your view.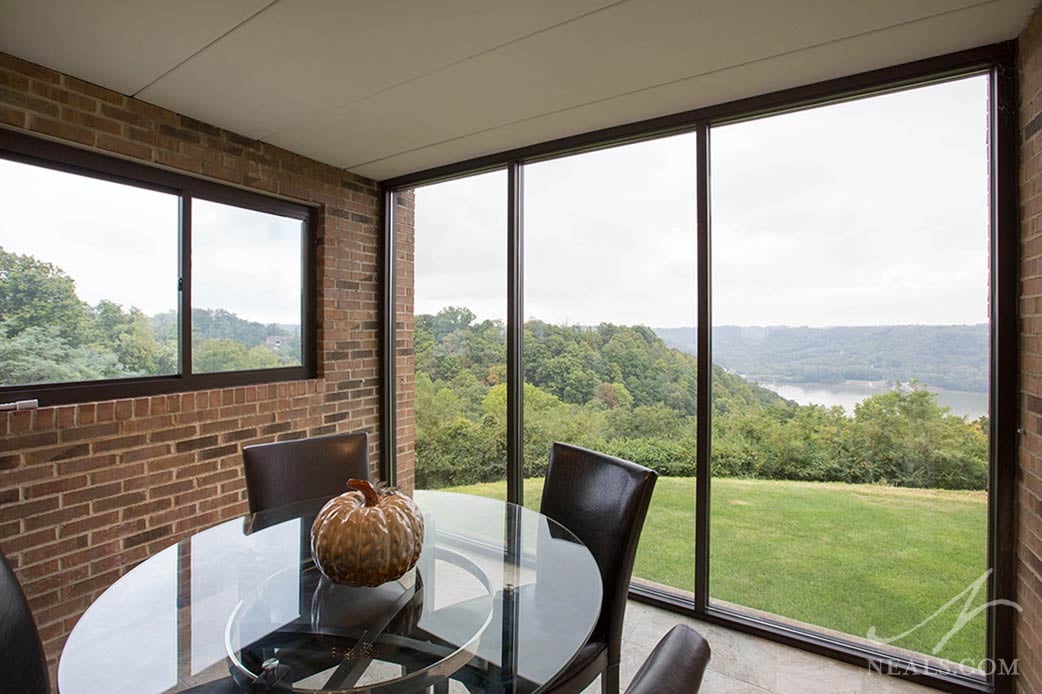 This sunroom in Delhi is makes up for its small size by capturing an amazing view.