When planning for the inclusion of a gym in your home, there are some very important questions to ask to ensure that you create a space that is well-suited to your workout needs. While any space in the home can be set up for exercise, getting the details right can make a big difference in the success of your personal exercise goals.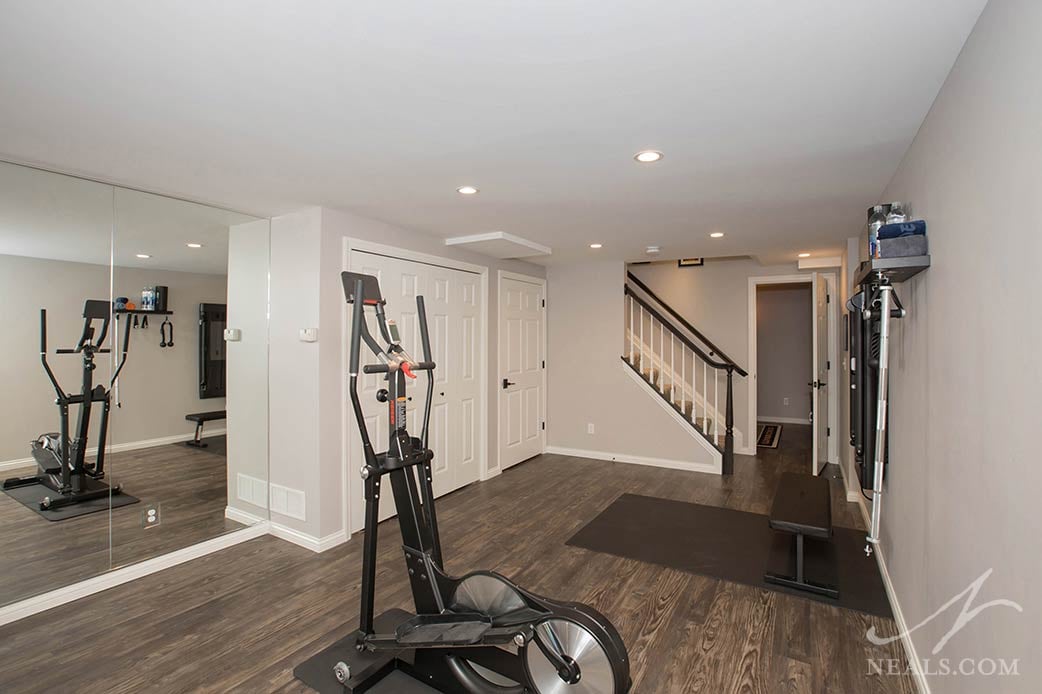 Home Gym in a Whole Home Remodel in Montgomery
What kind of exercise will you be doing?
There's a big difference between the quiet, slow practice of yoga and the high-energy pace of aerobics. Each type of exercise comes with its own set of equipment, atmosphere, sounds, and safety concerns. Before deciding to outfit a home gym, be sure to think through each of the types of activities you'd like to do. If you are currently doing these at a gym, you can get the ball rolling on this by taking a look at the things used there and how they are arranged.
Home Gym in a Kitchen & Lower Level Remodel in Indian Hill
What sort of equipment will you be using?
Gym equipment can take up a fair amount of room, so be sure you understand the dimensions of the items you'd like to include to make sure your space is large enough. A successful home gym will be one in which you don't have to constantly move your equipment to make way for the next activity. Consider the storage space or shelving you might need for your yoga mat and ball, or your weights.
How will you ensure a safe workout environment?
One of the biggest concerns for any gym activity is that it is being performed safely. In the case of a home gym, you often don't have the benefit of an instructor and a maintenance crew to make sure everything is working how it should, or that you aren't risking injury. A large mirror is recommended by exercise professionals because it gives you a view of yourself to check your form or position and to ensure that you are aware of your surroundings. Lighting is also crucial. Start by looking for ways to increase your natural light, then add artificial lighting to brighten the space at any point in the day. A well-lit room will increase your awareness and get you ready for the workout. Ventilation and air circulation are also important elements of a safe gym. Make sure you can get fresh air and that the air doesn't stagnate (which can cause odors that are less than motivational.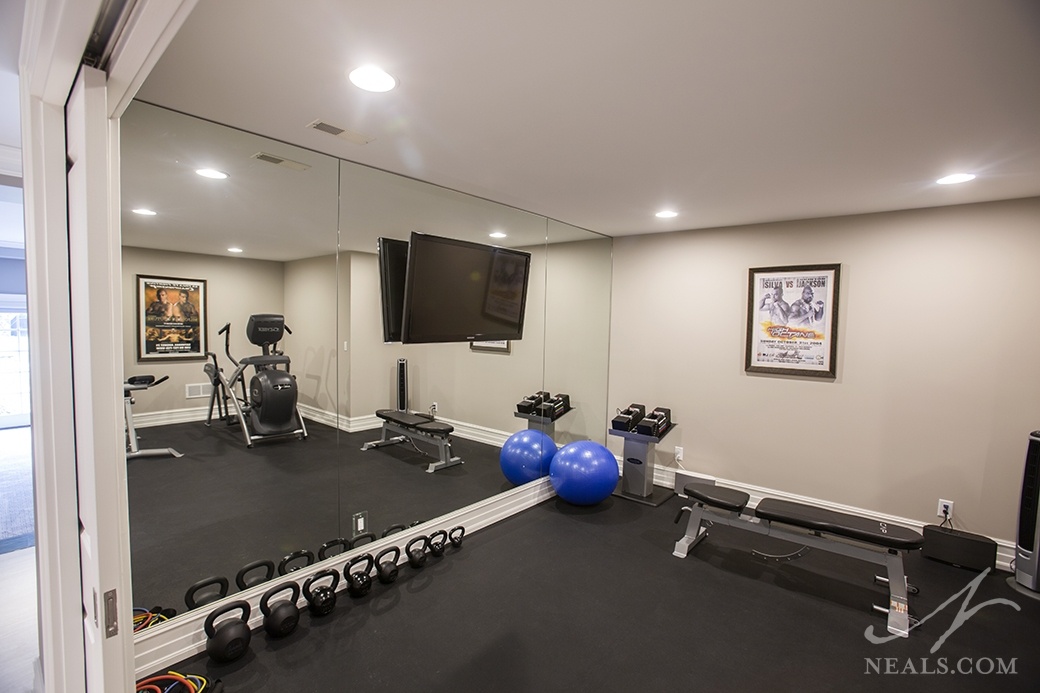 Home Gym in a Lower Level Remodel in Indian Hill
How will you finish the floor?
Unlike most other rooms in the home, the floor in your workout space is a vital element. Most exercises require a similar set of flooring characteristics, and not all flooring options will meet them. A non-slip surface is the number one priority, especially for weight training. A rubber floor, which provides cushioning, is championed as the best all-around option. There are a few different products that can work, including rolled or tiled rubber flooring and rubberized carpet tile. The option you select will depend on the look you want in the space and your budget.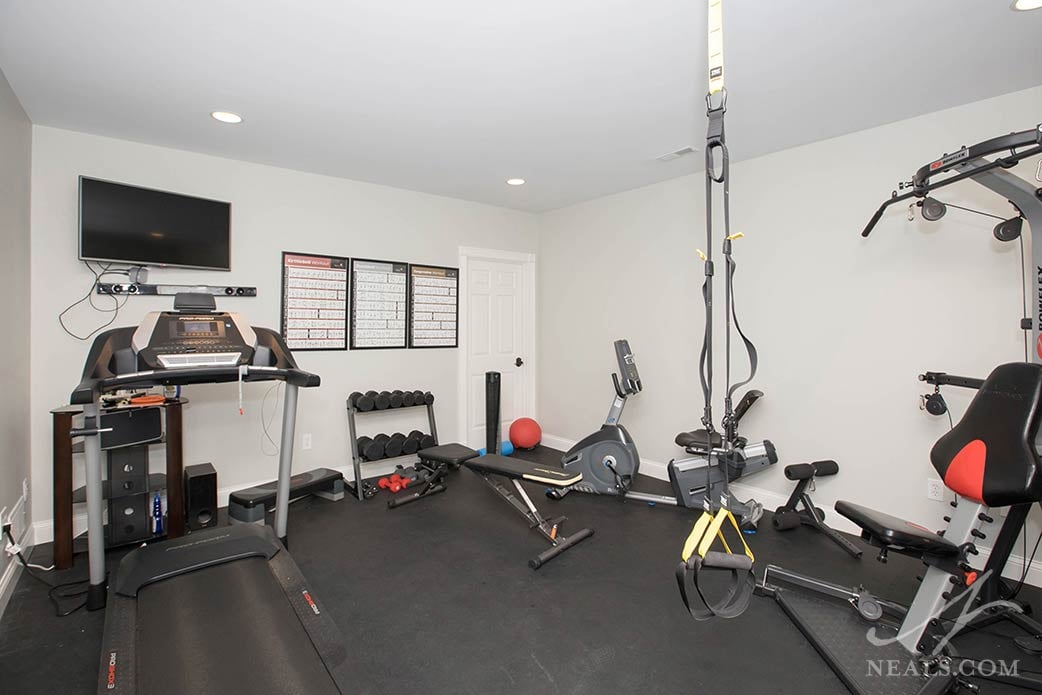 Home Gym in a Lower Level Remodel in Western Hills
How will you stay motivated to keep going?
One final important consideration is to think about what else you may need or want in the room with you while you work out. If you enjoy having cold water on hand throughout your routine, consider the addition of a beverage cooler or kitchenette in your gym. If you'll primarily be using stationary equipment, such as a treadmill or stair climber, think about your view. Televisions are not a necessary component of a home gym, but you may wish to have the option of watching your favorite shows or movies while you work out, or you may want one to be able to follow along with recorded routines. If you'd rather listen to music, think about whether a place for a smartphone speaker dock is all you need, or if a full surround sound system is more your style. Don't forget about artwork and paint color.