Family rooms have evolved over the years. The concept was first introduced in the 40's, but didn't really come into vogue until dens were included in home designs along with the wider-spread ownership of television sets which homeowners didn't want in their formal sitting rooms. In the 1990s, family rooms were included in many new home designs as a "great room" that combined the kitchen, dining room and family room as one open space- a home design style that's still being used in newly built homes. Today's family rooms are designed according to the lifestyle needs of modern homeowners. A family room can be located in a central area of a house but also on a second story or basement, ideal for homes in which there is limited space for a family room on the main floor. Homeowners are also building home additions to provide space for new dens or family rooms. Often a family room addition will be built off a kitchen to create an open and functional space for the family and guests.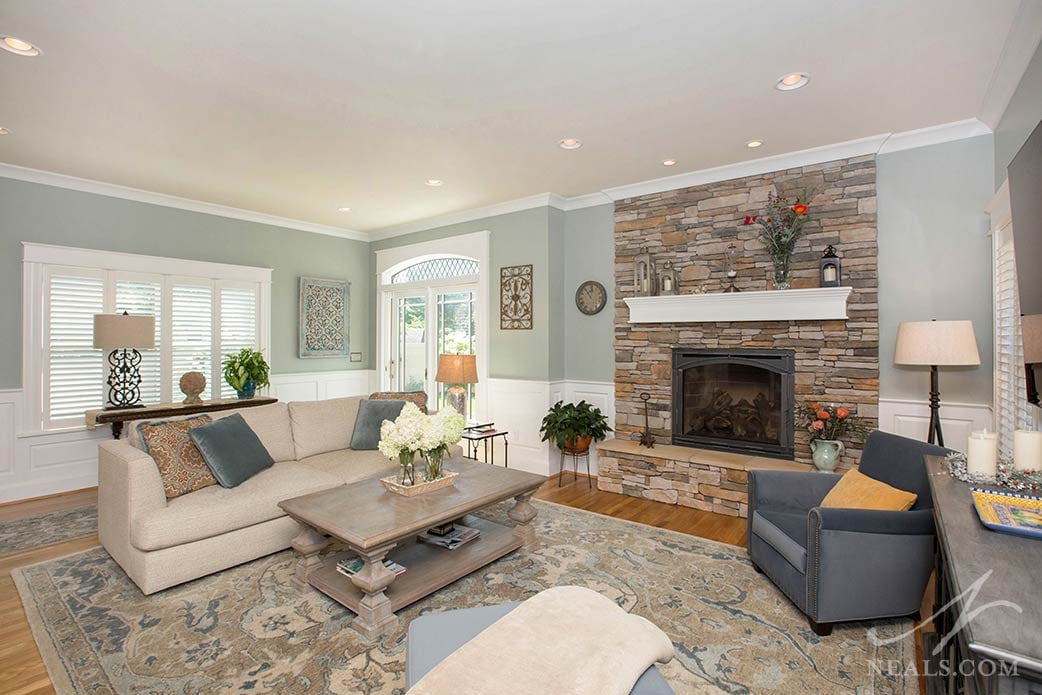 Family Room Addition in Hyde Park
If you are thinking about remodeling or adding a family room, consider the following in your design plans:
1. Function
Family rooms are often designed as "multi-purpose rooms". Begin your plans by identifying all the ways you would like to use the room. Are you planning to create play space for the kids, watch sports or movies with guests, or include space for a home office? Will you want a bar, craft area, or a space for exercise? Will you need a new powder room or closet near the family room? Do you want a fireplace? What space or features will you need for celebrating holidays or other important family occasions?
The list can go on but it is important to define uses for the space before determining the layout. From there you can divide the room into zones for the different activities.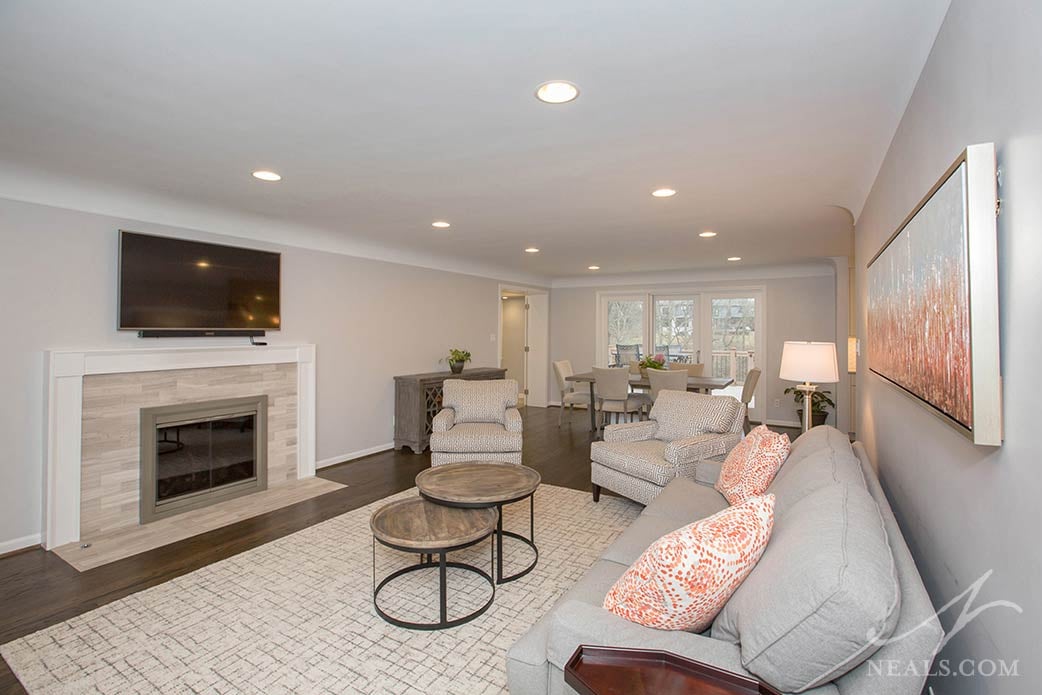 Family Room in a Whole House Remodel in Deer Park
2. Location
Where will the new family room be located in your home? Are you re-purposing an existing room such as a formal sitting room or dining room by changing furnishings or adding shelving? Will you be converting existing space into a family room by removing walls on a main or second floor? Are you planning a basement conversion? Will you need to build a home addition to your home to meet your needs?
Determining the location of the room will be important to generate drawings and options. If you plan to remove existing walls you will want to consult a contractor early in the planning stages to assess structural issues, particularly if the walls may be load-bearing or structurally necessary.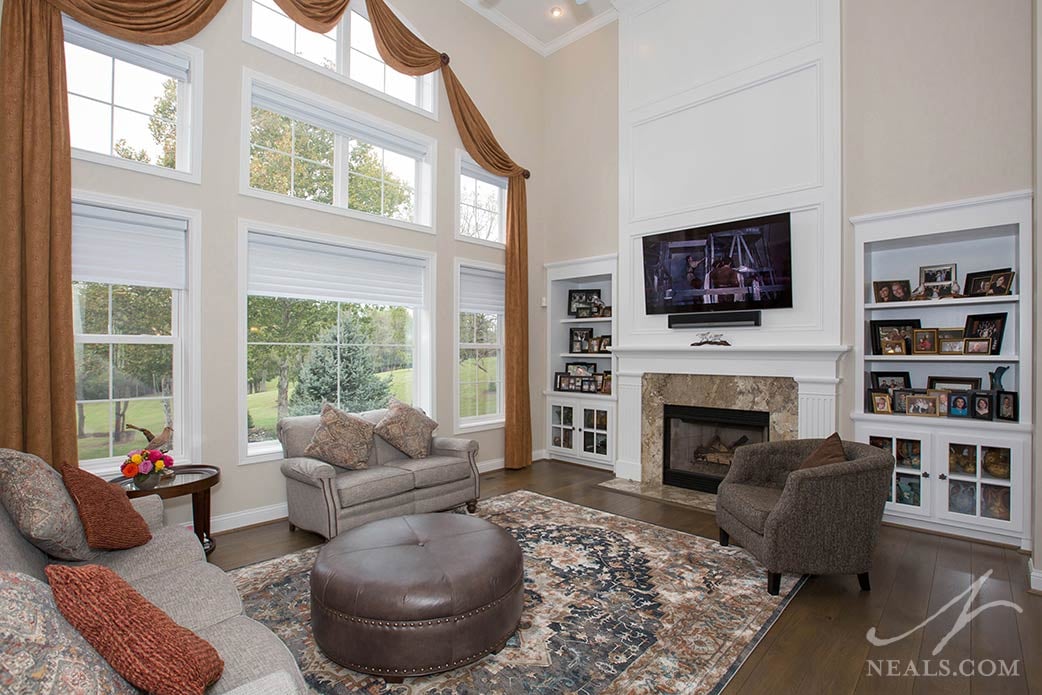 Family Room in a Williamsburg Remodel
3. Storage
Determining your storage needs is essential to designing any room. Make an inventory of things you plan to store in the family room. Here is a general list of items requiring storage space in a family room:
Video gear including a television, cable boxes, video game equipment, etc.
Audio equipment and speakers
Books, movies, magazines
Collectibles and photos you plan to display
Charging station or computer equipment
Office equipment and files
Wine, beverages, glassware
Toys and games
Some of these items can be hidden from sight in cabinets, drawers, storage benches and closets. Other items can be displayed on open shelves, walls and tables.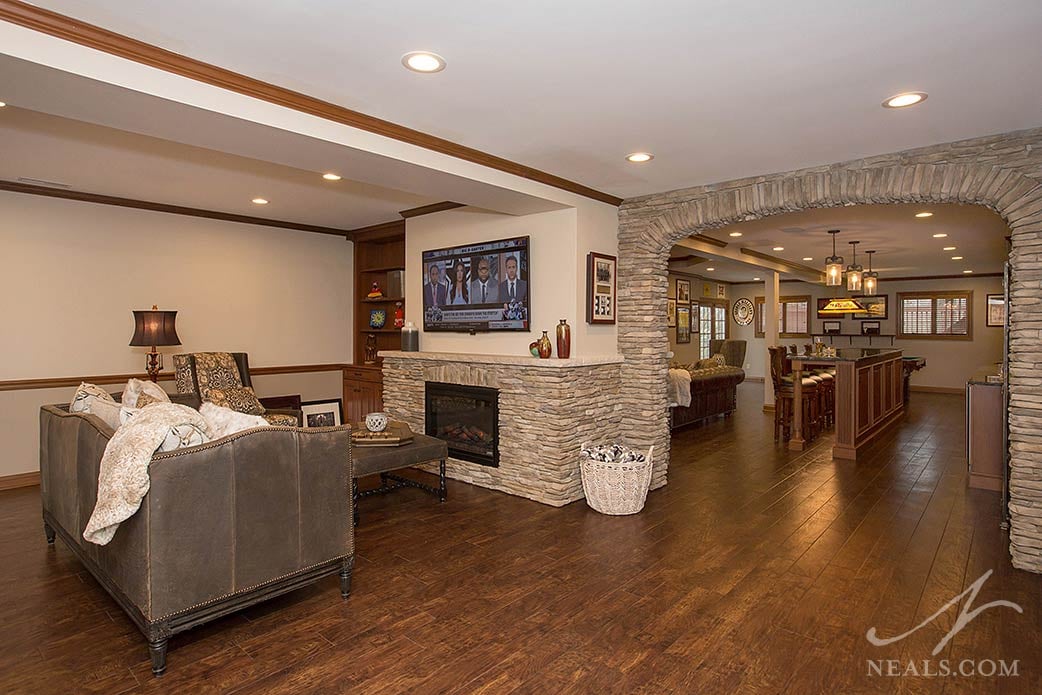 Lower Level Remodel in Harrison.
4. Lighting and Electrical Needs
Planning for lighting, electrical devices and the location of outlets and switches is an important step in designing a functional family room. Lighting includes natural light that enters the room during the day, general lighting and accent lighting. Accent lights can be placed in shelving, under cabinets, over paintings, over fireplaces and in bar areas. Use dimmer switches on lights if the main purpose of the room is for viewing TV and movies. There are compact fluorescent and LED light options to consider. Talk with your contractor about your electrical needs.
5. Seating
Consider how people will use the room and what type of furniture you will need. Here are a few helpful facts to know about furniture:
The standard size of a couch is 84 inches and three people can sit comfortably.
Love seats are generally 60 inches in length and seat two.
Arm chairs measure 35"x35".
Once you've addressed the basics, consider your style and how you will decorate the room to make it comfortable and inviting.