A fireplace in the home is a feature that adds comfort and a ready-made focal point. There are many different styles and types of fireplaces, so there's one for every home, budget and need. When you're considering remodeling a fireplace or adding a new fireplace, the wide range of options can make it hard to know exactly what might be right for your space. Below, we've found 5 distinct fireplaces from our projects to highlight 5 very different styles to help you envision what might be possible and right for the fireplace in your home.
Modern Tile Fireplace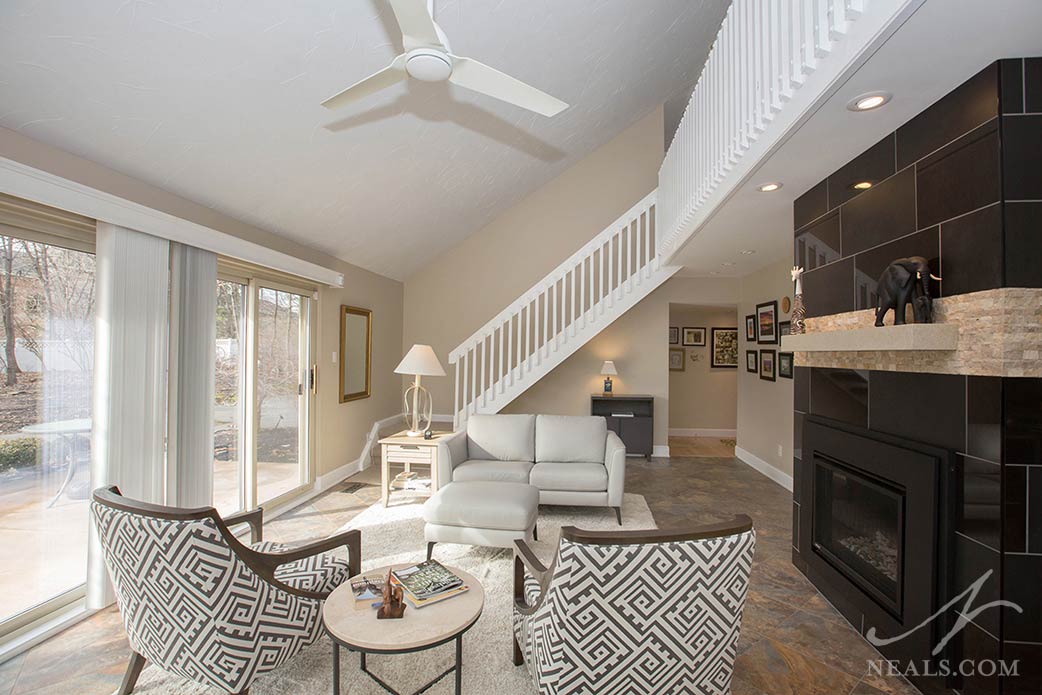 Fireplace remodel in Kenwood
An alternating mix of matte and glossy black tile, combined with an accent strip of warm natural stone creates a bold look for this modern fireplace. This gas fireplace is a lesson in using materials in a balanced and interesting way- a hallmark of contemporary design. The effect is a focal point that draws the eye in, but is so subtle and perfectly scaled for the room that the eye isn't stuck there. Clever styling of the sitting room, and an abundance of pale colors, offers the right amount of contrast so that the fireplace looks like a piece of furniture rather than a black hole that overpowers the room.
This fireplace remodel was part of a kitchen remodel (which also utilized modern black tile). You can see photos of the full project here.
Traditional Great Room Fireplace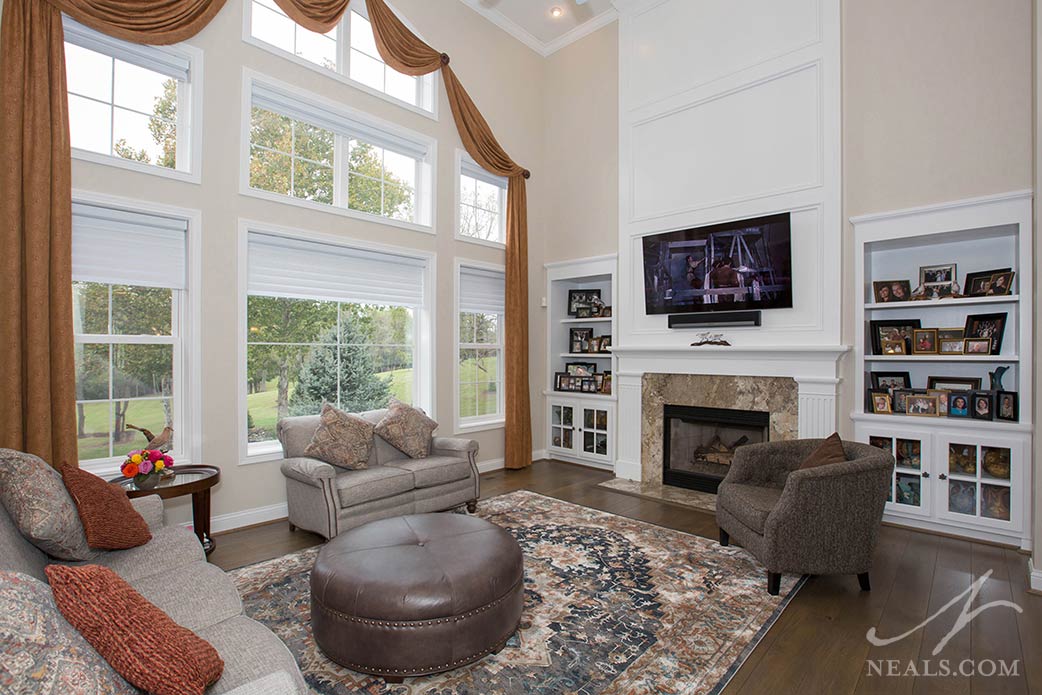 Great Room Fireplace in Williamsburg
If your space is roomy, with high ceilings and a fair amount of drama, the scale of your fireplace can have a huge impact on the look of the space. A fireplace that is low, with no features that draw the eye upward, can feel undersized and disappointing. Even if the fireplace unit itself, whether it's gas or wood burning, is not large, scaling the surround up, and using the full height of the wall, can add impact and style. In this project, bands of traditional style "paneling" create the illusion of a chimney that fits perfectly with the style of the room. This feature fills the large wall adequately so that there's no need to try to find large pieces of artwork or other decor (that would need regular dusting to look nice) to fill the visual space. It's important to scale up the right things in a tall space like this, however. The original mantle was several inches higher, which made the fireplace feel like it was made for giants. Lowering the mantle to a more human height while also adding the paneling brought the whole design to a dramatic but not overwhelming scale.
This fireplace remodel was part of a whole house project. You can see more photos of the full project here.
Built-in Fireplace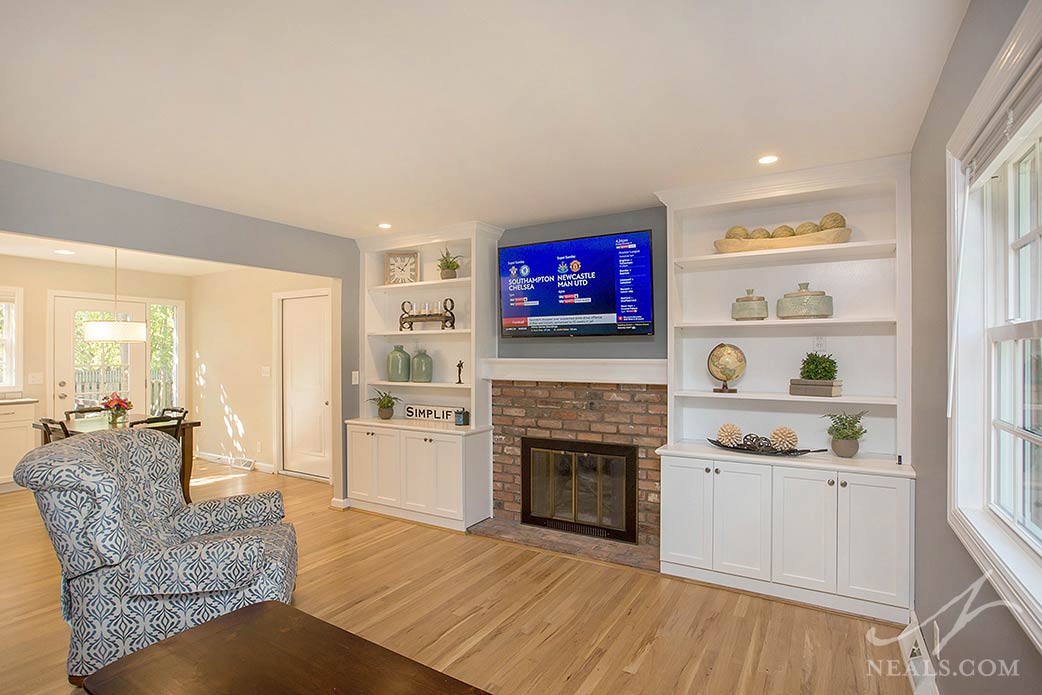 Fireplace built-ins in a Wyoming remodel
For many homes that already have a fireplace, sometimes it can be the case that the fireplace itself is perfectly fine, but the design around it is not. This is when considering the usefulness and style of built-ins to reinvent the surround can be just the right solution. Fireplace built-ins can be a mix of cabinets and shelves- whichever is needed for your things and your space. Here the built ins, joined by a new mantle to create what feels like a single unit, are designed for display and storage. Entertainment components have a home inside the cabinets, freeing the fireplace up to shine as the focal point as much as the TV above does. The result of this built-in design is a cozy look that recalls traditional home design while being functionally ideal for a modern family.
This fireplace project was part of a kitchen remodel, which you can see here.
Transitional & Playful Fireplace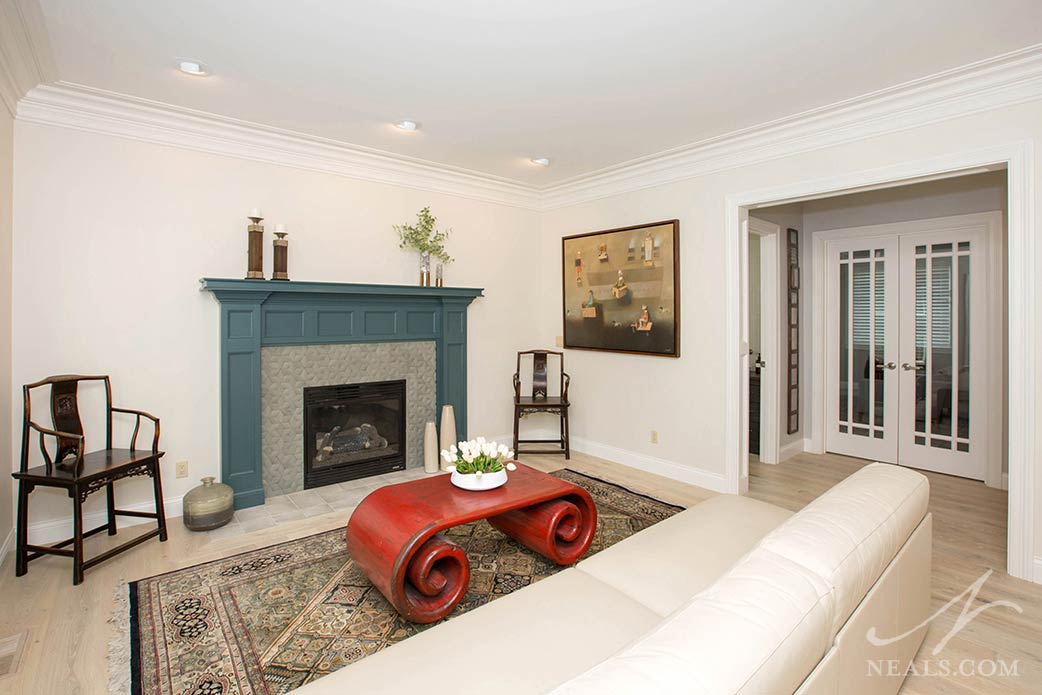 Fireplace remodel in Indian Hill
The fireplace can be a feature to have a bit of fun with. Unexpected colors and textures in the design of the surround can create an interesting and unique fireplace that can define the character of a room as one that doesn't take itself too seriously. This is an especially whimsical design option for fireplaces that would be considered traditional if the colors and tile work had been kept sedate with traditional finishes, which is the case for this fireplace. A teal mantle, which still has all the details of a traditional wooden mantle piece, is a color that makes a bold statement of playfulness and interest. Balancing the teal, Moroccan-style stone tiles create a surround that offers a huge dose of subtle modern texture. The juxtaposition of all these elements is perfect for the design of this room, which also features Art Deco inspired furniture. The eclectic quality of this fireplace isn't for everyone, but for those with a taste for the unexpected, playing a bit more boldly with color and texture in the surround are great considerations.
This fireplace was remodeled along with the kitchen in an Indian Hill home. You can see more photos here.
Casual Family Room Fireplace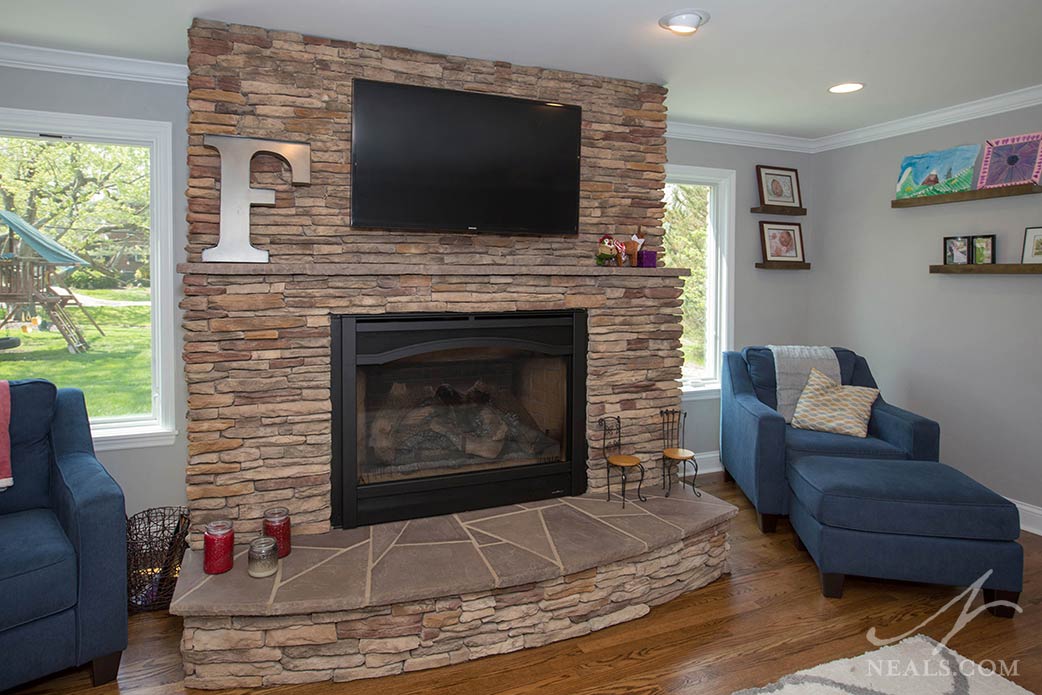 Fireplace in a Montgomery remodel
A stone fireplace, while not automatically a rustic design statement, does inject a great deal of old time, natural charm into the style of a space. A casual family room is a good location for this type of treatment, where the year-round enjoyment of the fireplace isn't completely dependent on whether it's lit or not. This stacked stone fireplace is a stout and friendly feature that can just as easily be the focus of attention as much as it can become a part of the backdrop of this family's daily life. This is because the stone, while rustic and interesting, is such a straight-forward material we are so used to, we tend to feel like having it in our living spaces and is comfortable and normal, like our pioneering forebears did in their cozy wilderness cabins. This particular fireplace also has a great location- flanked by two windows- which makes this whole wall feel somehow both inside and out at the same time.
This fireplace was created as part of an addition project, including a kitchen. There are photos of the whole project here.