For families, large or small an essential space in the home is the family room or den. It is in this casual space that the family can gather for a variety of activities, none more ubiquitous than family movie night. For this room to function the best for this all-important task, it must be balanced in size and have the correct configuration so that all seats in the house can comfortably and clearly see the TV. Here are five family room spaces to inspire your remodel for the perfect movie night experience.
Open Plan Living Room in Deer Park

With the L-shaped configuration of this first-floor space and the location of the TV over the fireplace, the options for movie night become wide open. While the couch is in line with TV viewing, so is the kitchen, and to an extent, the dining area, meaning that even if the movie isn't for everyone there's still a way to stay together in this space. This is a particularly great family room solution for multi-generational family gatherings or for the 15th time your granddaughter insists on watching Frozen.
Family Sun Room in Montgomery
While there's nothing that says you can't watch a movie in the middle of the day, a room that is cozy, inviting, and relaxing with or without a movie will provide a greater value to your family. This family and sun room combination space has ample windows and skylights that flood the room with natural light during the day, which is great for afternoons of hanging out. When the sun goes down, a glass fireplace insert and front-and-center TV easily and seamlessly set the mood for whatever genre is on the ticket for the evening. Also of importance is that the TV is easily viewed from the adjacent room, extending the space should the family turn into family and friends.
Entertainment Lower Level in Western Hills

While not exclusively a family room, per se, we felt remiss not including this basement space which was designed specifically for gatherings of all sizes. While most homes will have a family room on the main level, sometimes it's better to admit that it's not enough for your needs. If you have older kids, or often have guests over for movies or sports broadcasts, then re-defining the needs of your living room to include more is a great solution. In this space, the large TV area is open to a bar along with a wine area. A billiard room sits at the other end of the space.
All-Day Family Room in Hyde Park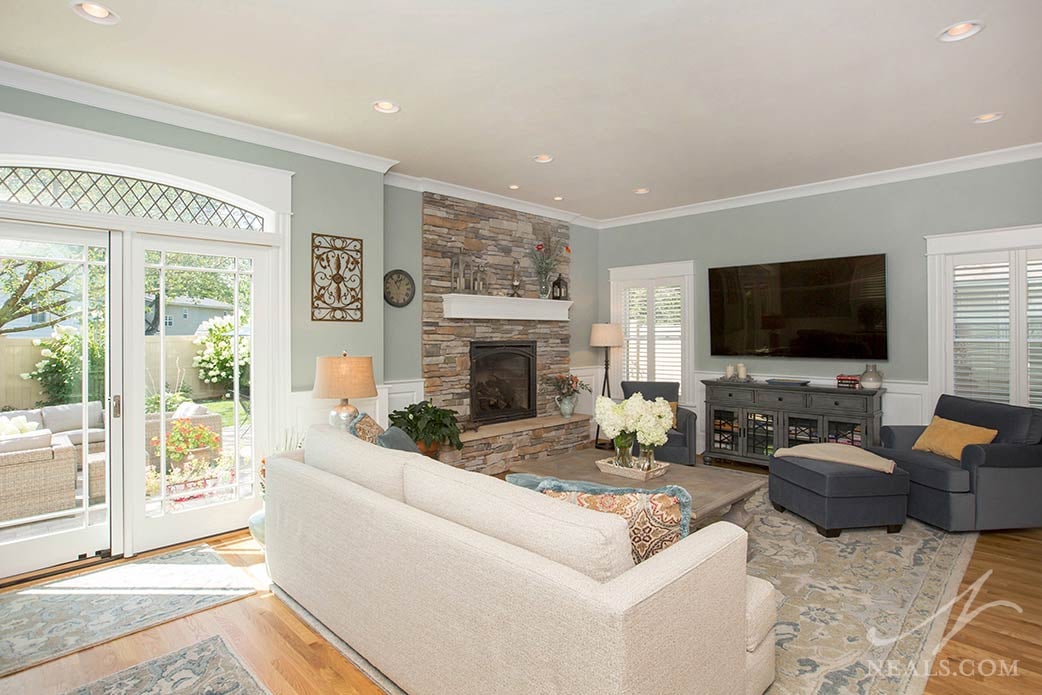 The family room isn't just for watching movies. Sometimes it's also for catching up with the news over coffee in the morning or throwing on a favorite show on a Saturday afternoon. A living room like this one, sized and arranged perfectly for all the scenarios, however mundane, will easily become a favorite room in the house. The best part is that a room that's designed for everyday living, and not just movie night, will be better used and better loved by the entire family. This example also shows that a family room doesn't have to be a large space to accomplish its goal.
Full-Service Famly Room in Delhi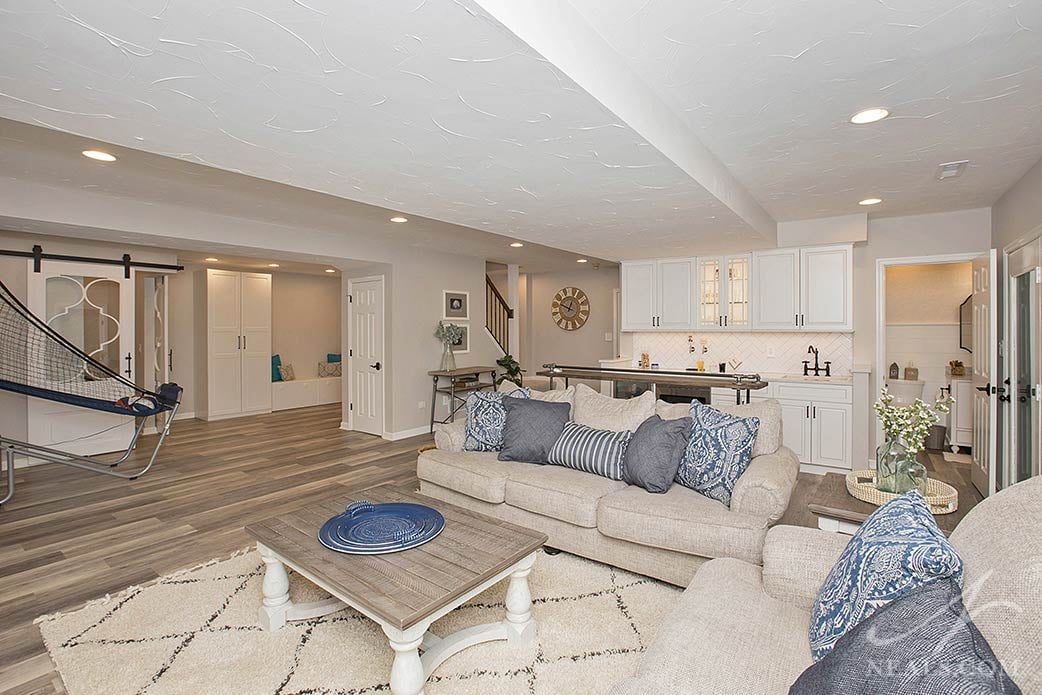 Here again, we're looking at a family room in a basement. Basements make great locations for family spaces because it's possible, as in this case, to include conveniences that keep the whole family happy. An inviting seating area is ready for TV viewing (the TV is mounted on a wall just out of frame on the left), but more than this, a kitchenette and a powder room make it easier to stay put rather than needing to go upstairs. This is especially great for a family room that caters to younger children. A play space nearby offers a secondary area for little ones in case the movie doesn't capture their attention longer than fifteen minutes. Which is usually likely.
If you're ready for your dream movie night experience with a home remodel, click here to let us know about your project and get to get started.