Remodeling a bathroom is a great way to instantly improve a home. There's something rewarding about having a fresh, new private space that feels like a luxury no matter what the budget was. A bath redesign is a great opportunity to rework the functionality of your space to match your current needs and lifestyle, and can be a great way to add your own character and style to your home. Here are 5 dramatic before and after baths remodeled recently for your inspiration.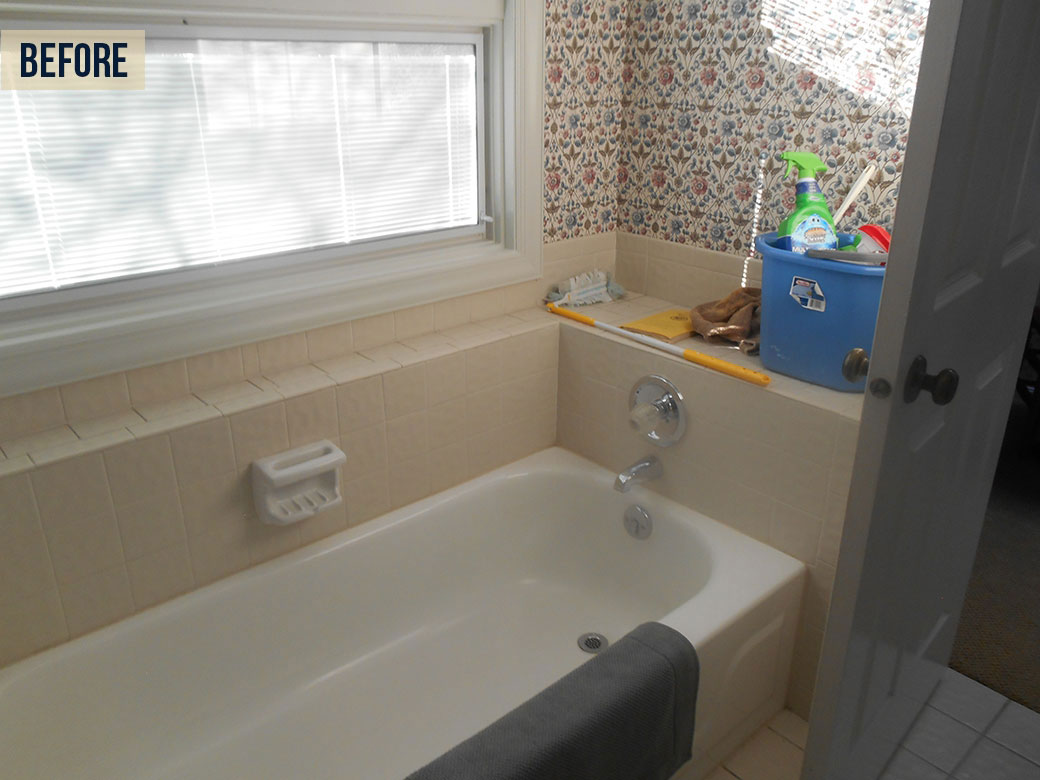 A common arrangement in older master bathrooms in this area is to have the vanity situated in a separate area than the tub and commode. Many homeowners, such as the one in this West Chester home, prefer to have all the features of the bathroom together in a single space for added privacy and efficiency. In this project, the basic layout of the vanity, tub, shower, and commode were retained, but the wall and door that divided the two spaces was removed to bring all the elements together. The remodeled bathroom is a striking transitional design that captures the new open feeling with a combination of gray tile, pale green cabinetry, and white accents throughout.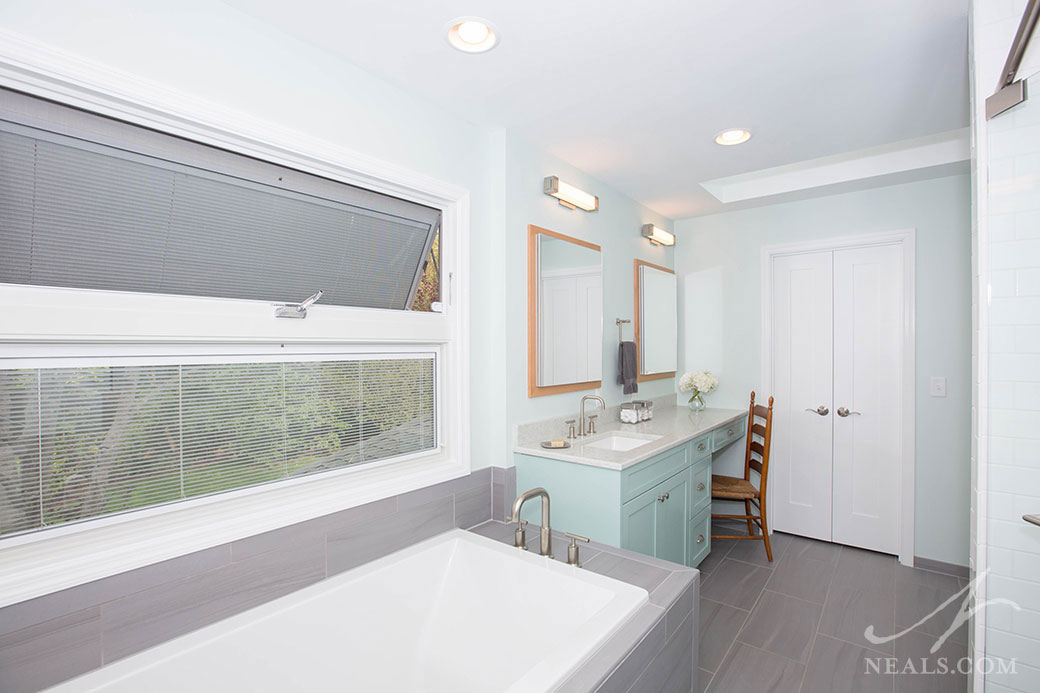 See more photos from this West Chester project.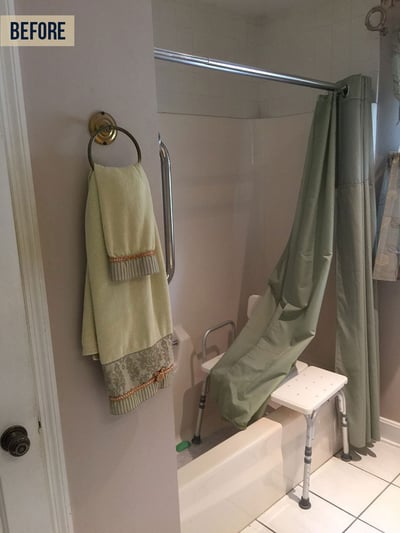 The key to gaining more space and function in this Fairfield bathroom was to take space from an adjacent closet (which was replaced with a new walk-in dressing room) to provide room for an ample barrier free walk-in shower, and a second vanity. Neutral style choices in the remodeled bath create contrast in keeping with Universal Design principles. The wood-look tile flooring offsets the cream-toned cabinets. The vanity counter is then offset with Caeserstone is a soft brown color. Tile in the shower is a random mosaic in tan and cream that create another visual barrier. The resulting master is a design that looks sophisticated and will easily accommodate aging in place.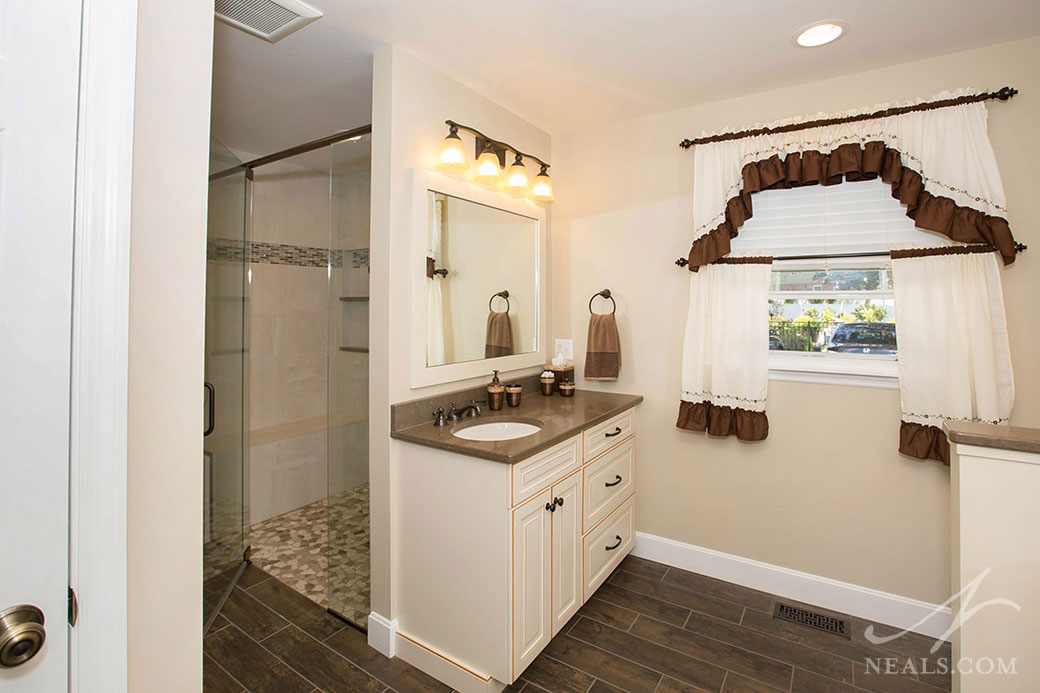 See more photos from this Fairfield project.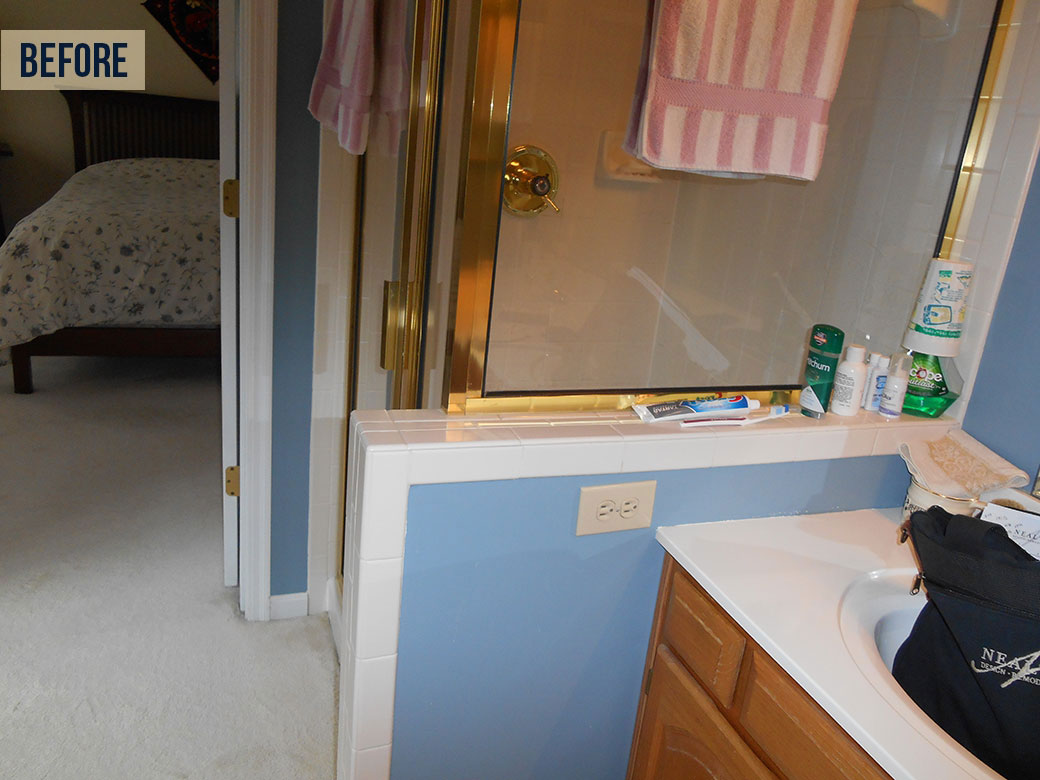 In this Loveland master bathroom remodel, dated and cramped features were replaced with a modern aesthetic that opened the space up visually. The tiny shower with heavy brass framing was swapped for a shower with a larger footprint and stylish frameless glass surround. This allows the striking veins of the porcelain wall tile to create a statement in the room. The gray tiles throughout are paired with a dark brown, flat front cabinet that acts as a place to rest the eye. While the style of this new bathroom is contemporary, the mix of neutrals and the straight-forward approach to function creates a timeless space that won't date itself anytime soon.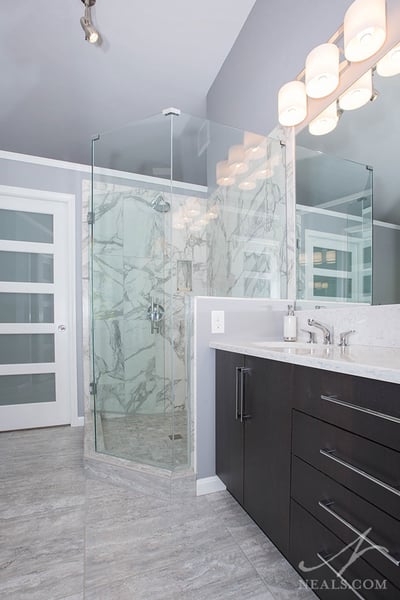 See more photos from this Loveland project.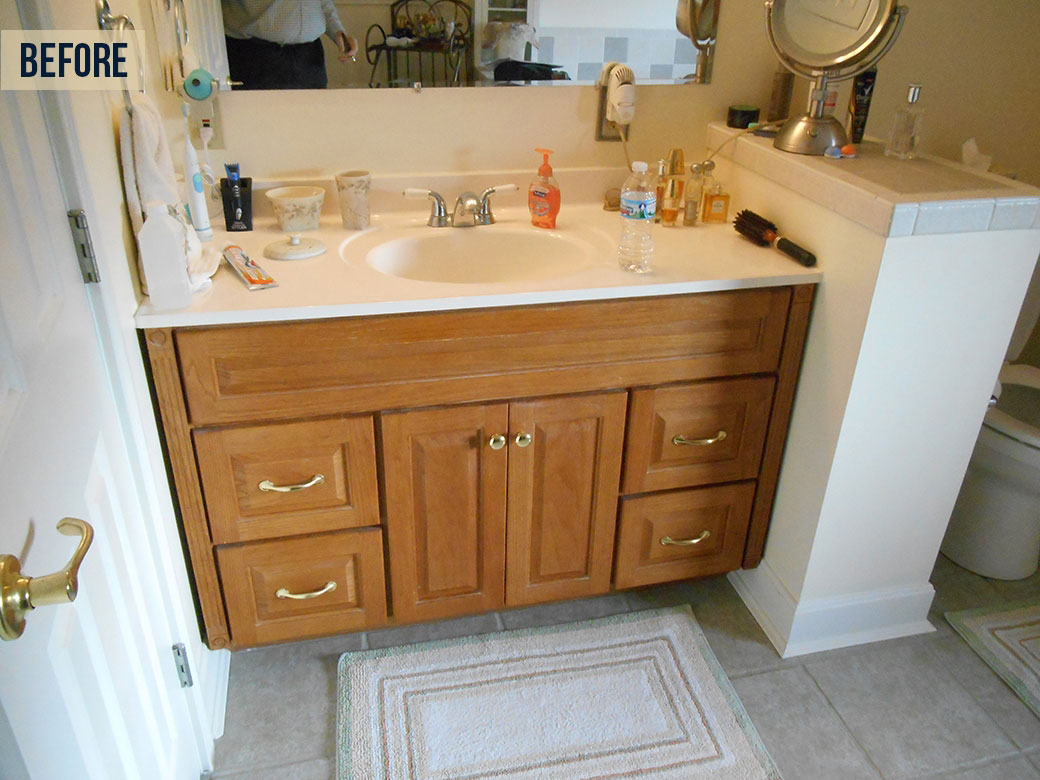 In some cases, a bathroom that seems to function but needs improvements can be best improved by a complete reworking of the floorplan. This Morrow bath sacrificed a tub and moved the commode to make room for a larger shower and a second sink. This also created more storage in the space. The shower now acts as a solid focal point, giving the room a sense of grandeur. The new bathroom updated the room's style more specifically traditional, with a brown and beige color scheme, cabinets with plenty of rich detail, and Cambria quartz counters.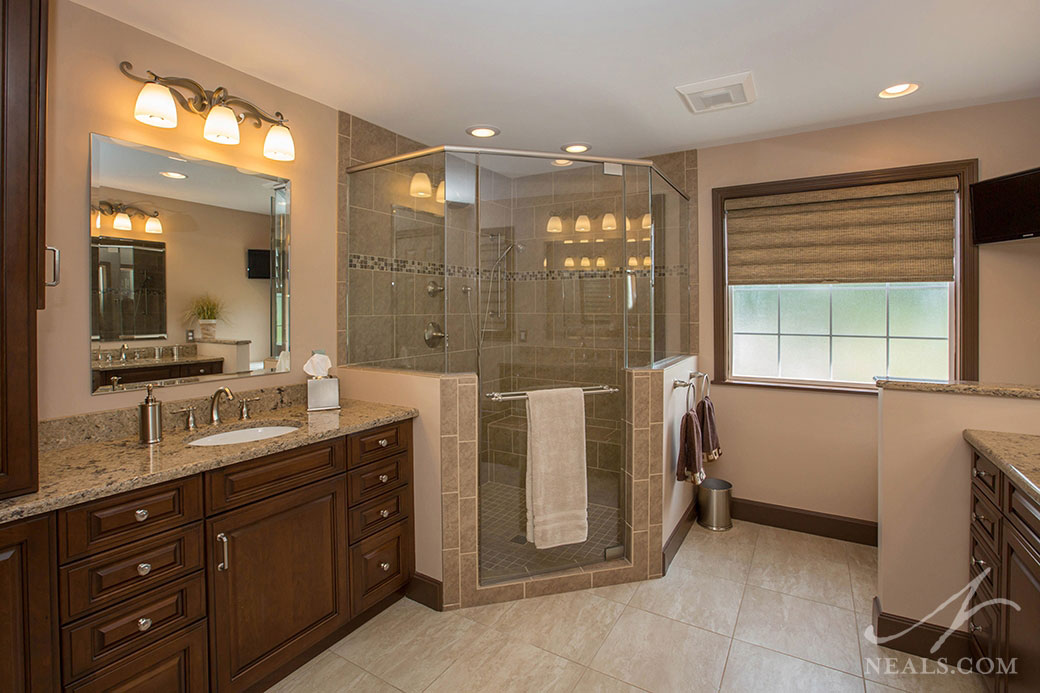 See more photos from this Morrow project.
At one time, the original bathroom in this Sycamore Township home would have been considered a fashionable design. While it was still a fairly sophisticated space, the brass hardware, bold wallpaper, and ample use of a single tile type was not the style the homeowners were looking for. The goal? Capture that same fashionable character in new fixtures and finishes. The result is a stunning master bathroom that makes some bold design moves. A streamlined, contemporary style soaking tub creates a strong statement as a focal point. The walk-in shower is also a contemporary take, with no barrier or door. The rooms new finishes, however, speak to traditional style in shades of cream and brown, allowing the bank of deep brown cabinetry on the other side of the room to coexist with the more contemporary choices. This combination creates a romantic and current design that feels like a suitable homage to the bathroom's past life.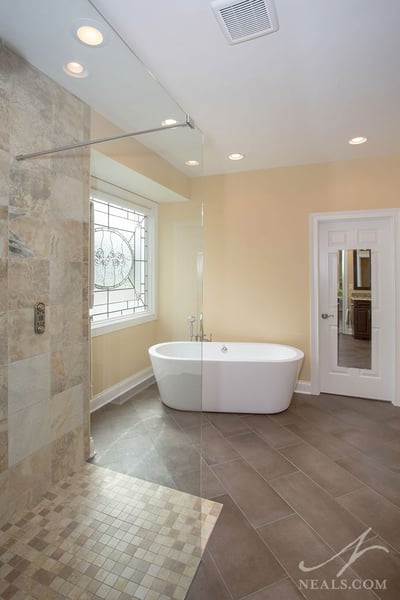 See more photos from this Sycamore Township project.