Contemporary design lends itself well to bathroom design. With the angular nature of bathroom features like vanities and showers and the need for moisture-resistant materials, it's easy to create modern-feeling spaces in large or small bathrooms. When considering what specific design choices make a bathroom feel more contemporary than other styles, there are some key concepts that we can use. We took a look at several bathroom projects from our library of remodels and spotted five concepts to help you decide if a contemporary bathroom might be in line with your style.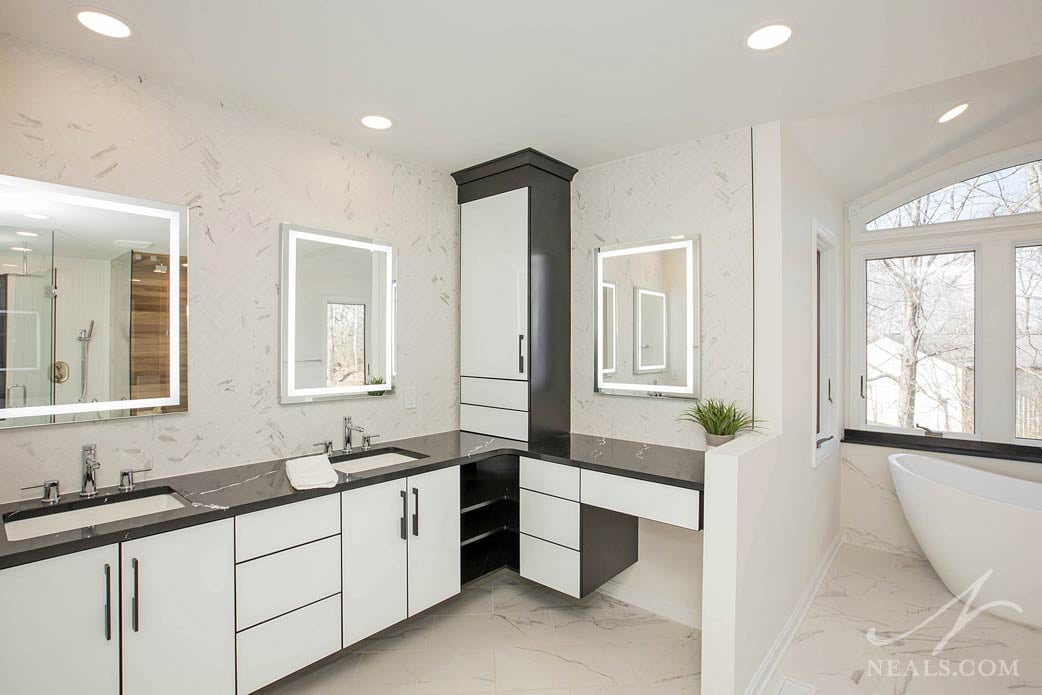 Bathroom remodel in Bridgetown
1. Higher Contrast
It's not necessary for a contemporary space to be highly contrasted, depending on the presence of other concepts on this list, but a bathroom that favors both light and dark tones can pretty instantly feel more modern. When the bathroom uses both light and dark colors in fairly equal amounts without a lot of "middle" colors between them, this is what's meant by "high contrast". It makes the room look bold and punchy, which creates a much more contemporary design style than what we typically see in traditional spaces where colors are more varied and mixed.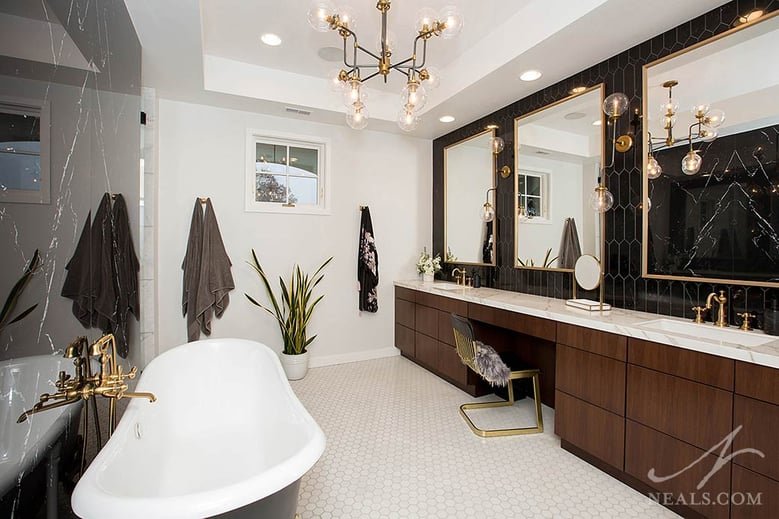 Master Suite remodel in Indian Hill
2. Texture & Pattern
A hallmark of a contemporary style bathroom is that it relies on the materials of the space to do all the design work, rather than relying on the addition of textiles and decor to carry the style to its fullest. Because of this, modern bath designs will often include tile or hard surface materials with patterns or 3-dimensional shapes to inject unique style and interest into the space where a different style of bathroom may have used curtains or artwork. When designing bathrooms in this way, it's important to consider the longer-term appeal the material might have for you since hard surfaces and tiles will be harder to replace should you change your mind.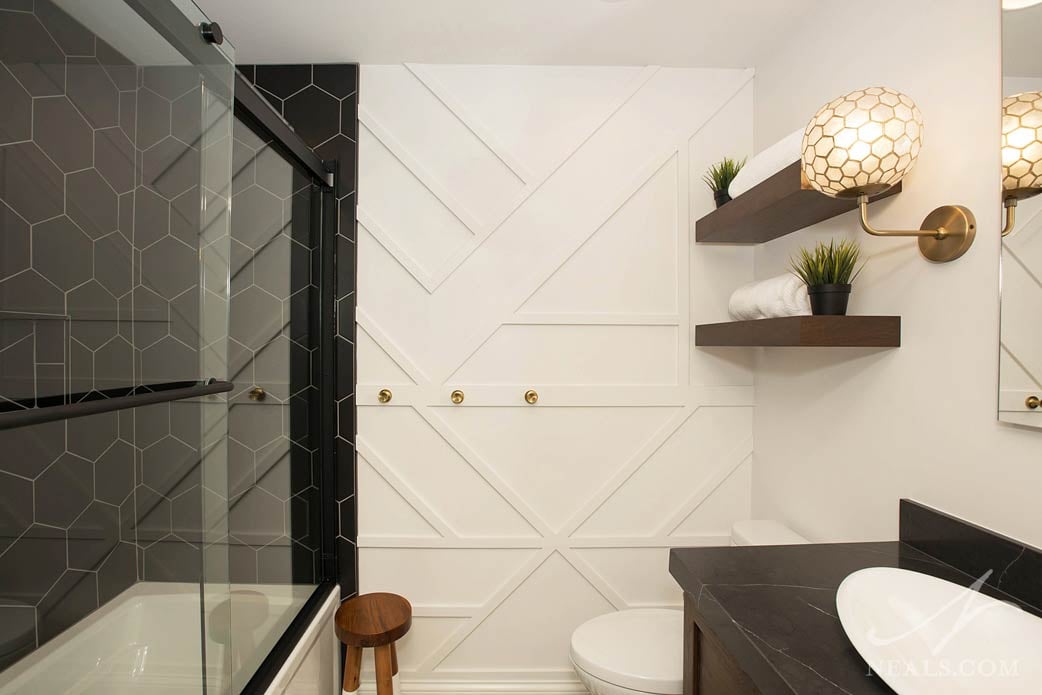 Bathroom remodel in Maineville
3. Unexpected Classic Detail
Similar to the previous item, contemporary design is adept at allowing homeowners to co-opt features of other styles and repurpose them with a modern take. This creates an unexpected look where something that might be normally considered classic is integrated in a way that reveals just how versatile it is. We can see this often in bathroom surface design with tile patterns like hexagons or herringbone used in modern ways. In this manner, a contemporary bathroom can feel very new but also familiar, which is a great feature for a space that's meant to feel relaxing.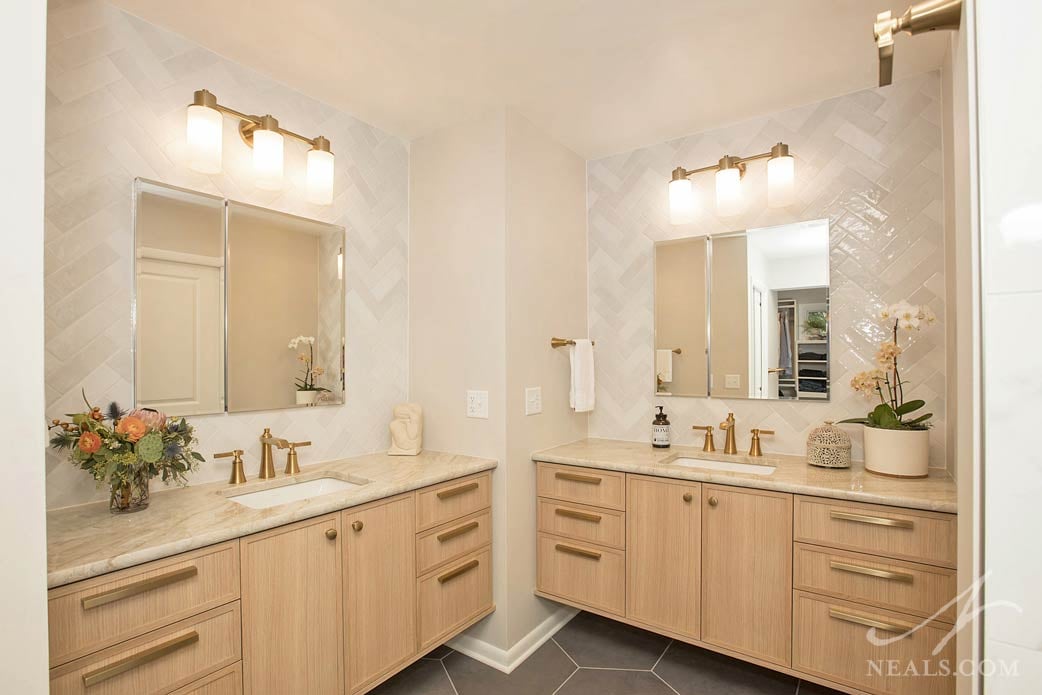 Bathroom remodel in Indian Hill
4. Preference for Neutrals
People who like contemporary design are not usually averse to color, but when it comes to the design of modern bathrooms, neutrality typically reigns. Whether the overall color scheme of the space has more cool shades like gray, goes warm with tans, or jumps on the "blue is a neutral" bandwagon, the contemporary bath will often stick within neutral territory rather than bring in a variety of vibrant and distinct colors. Though there's always room for color to find its way into the room (see #2 & #3 above), contemporary design will generally lean away from a painterly palette and stick with the basics.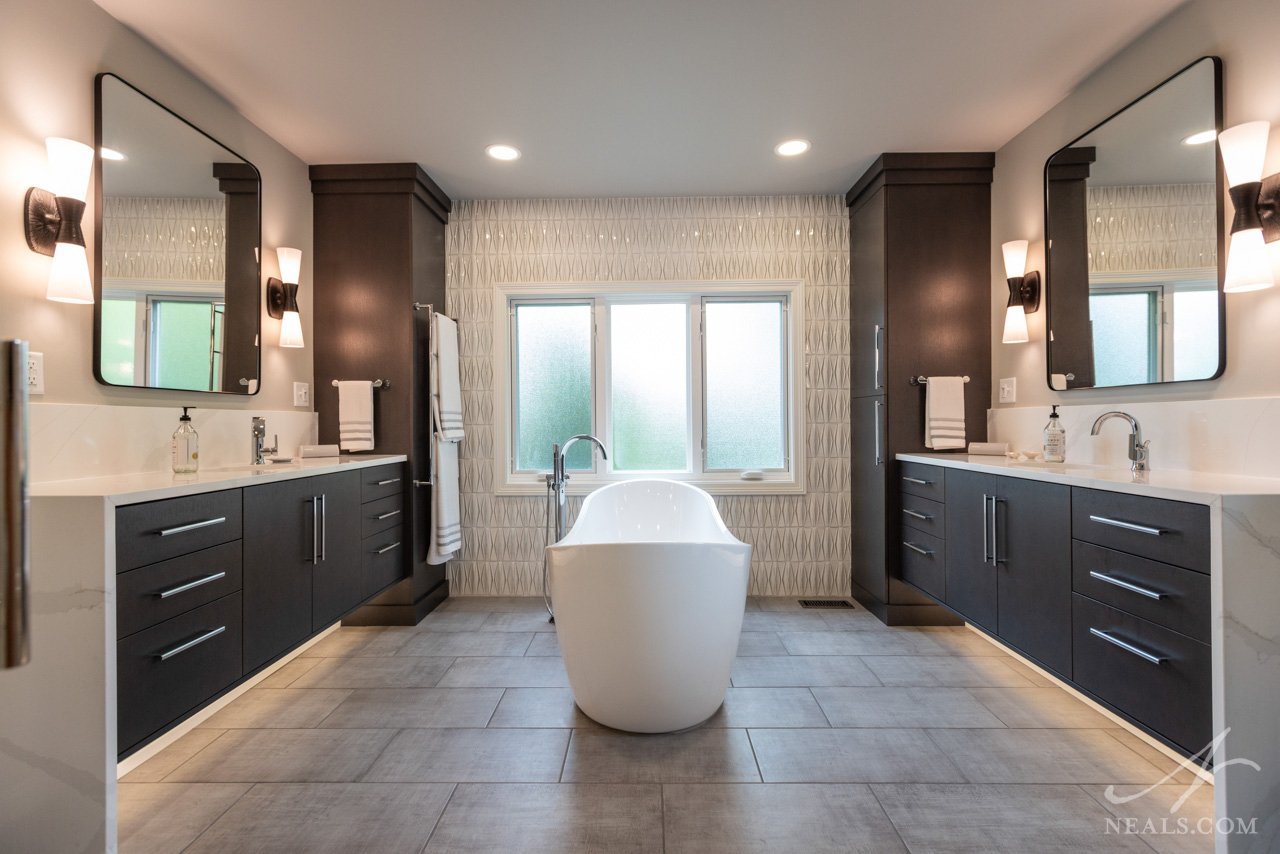 Bathroom remodel in Montgomery
5. Modern Cabinetry
Most full bathrooms will include some type of cabinetry, most often in the form of a vanity, making the style of the cabinetry key to how the overall design of the space is conveyed. In contemporary bathrooms, it's most typical to use either flat front cabinet doors or sometimes a simple recessed panel door for a little more interest. Rarely will more complex door styles be used in contemporary bathrooms because they can too easily create visual confusion beyond just an unexpected detail. Modern vanities may also utilize a technique that eliminates the legs or toe kick, making the cabinets appear to be floating off the floor. Floating vanities offer the chance to install custom lighting underneath that can add to the modern vibe of the space.