Islands are a great feature to include in the design and layout of a kitchen, but without understanding some important factors, it can be difficult to get this component right. In many remodeling projects, a poorly designed island is one of the major reasons a kitchen isn't working the way it needs to, or doesn't look the way the homeowner wants. Neal's Designer Jodi Smith has some key insights into how to create a functional island that adds to the design and solves problems. Here are 5 considerations she addresses as she plans a new kitchen island.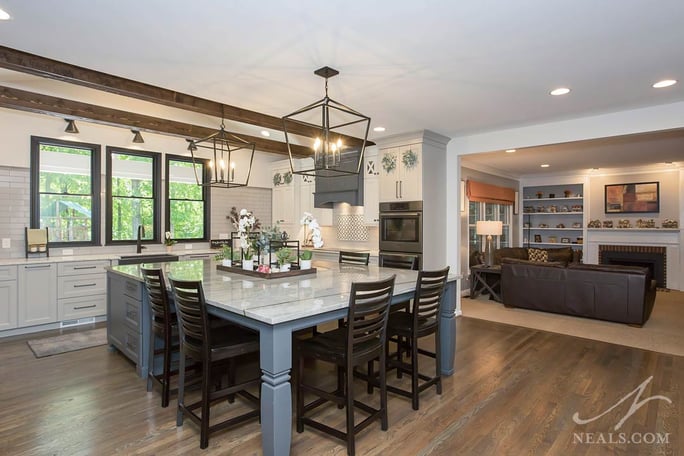 Kitchen project in Mariemont
1. Space Constraints
Not all kitchens will be able to accommodate an island. "I will usually try to address space constraints at the initial measure so the client knows right away if an island is even feasible," Jodi says. Luckily there are some standard measurements that designers can rely on to help determine whether there's enough room. Jodi has in mind a minimum length of 13 feet from wall to wall to be able to fit in the smallest functional island. "We want to make sure the flow around the island is ample and won't restrict someone cooking or getting into the refrigerator." A kitchen that has 36" to 42" of space between the island and the closest base cabinets will feel comfortable and allow appliances and cabinet doors enough room. Anything less than that and she'll suggest other options, such as a peninsula or extra counter space and storage in another portion of the kitchen.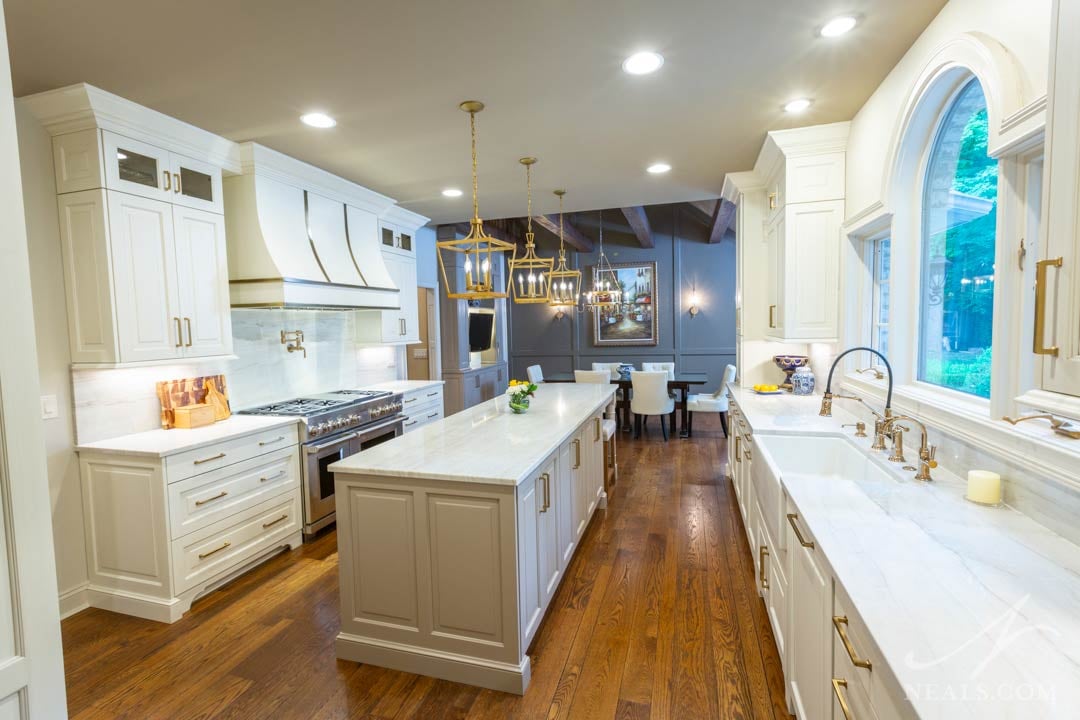 Kitchen Project in Indian Hill
2. Function
"I'll always ask early on how the client wants the island to function," Jodi states. What the island will be used for and what might be situated in or on it will greatly determine its size and shape. Jodi has some specific features in mind that she'll ask about. "Will we need to house appliances in it? Do they want seating? Is the island for prep space only?" There's no right or wrong answer here, and she's seen all types of configurations requested by her clients. There are many popular appliances and features that can work well on an island such as microwave drawers, dishwashers, beverage or wine fridges, cooktops, or sinks. Jodi points out that islands are great locations for appliances that the homeowner would prefer to keep out of sight. If seating is on the list, how many seats and the configuration will be discussed, such as being in a row or around a counter for a more "family style" arrangement? Jodi will also be certain to discuss things such as electrical outlet needs and desired storage.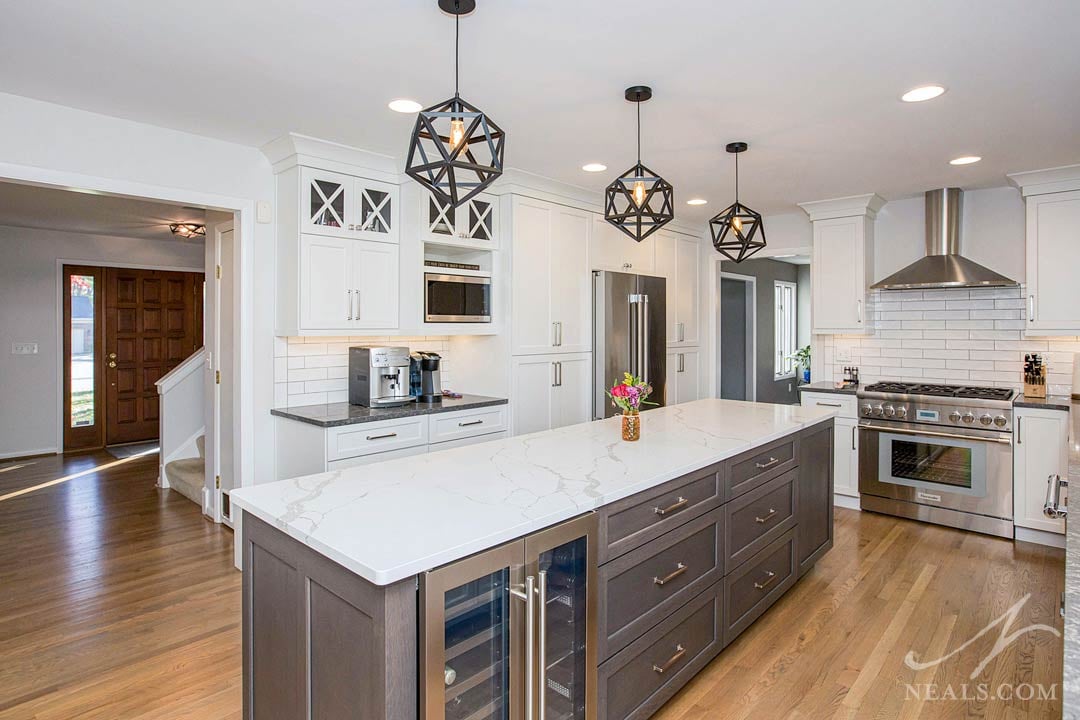 Kitchen Project in Symmes Township
3. Configuration
Jodi has developed a standard practice to really help her clients narrow down what they want out of their kitchen island. "In the first meeting I share my plan options with them, I'll show three different configurations with different suggestions for decorative elements," she explains. Islands, like design in general, are never "one-size-fits-all" and the possibilities and solutions for any given project are nearly endless. By presenting some of the ways the island might work, Jodi gets to start a more specific conversation about the island's look at function. Sometimes in design, it works really well to see things in action to be able to narrow down what you're actually envisioning for your space. Sometimes, the clients will point out different traits they like about each of the islands, which allows Jodi to tailor the final design uniquely to what they want.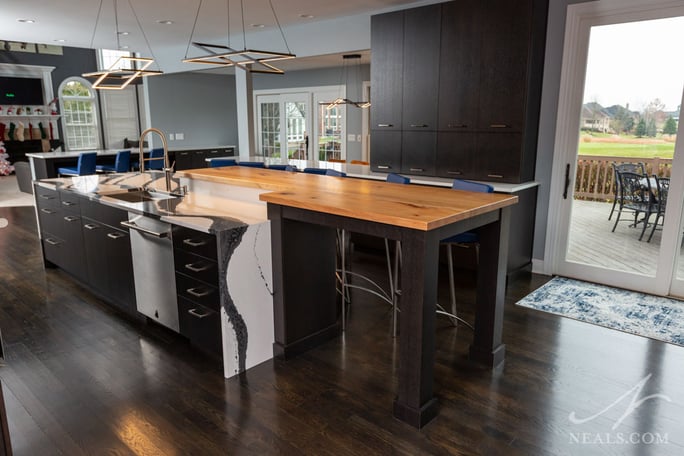 Kitchen Project in Liberty Township
4. Overall Design
Once the basic configuration of the island is sorted out, Jodi moves on to the style, colors, and materials. By focusing on function and practical considerations first, style decisions can be made much easier because things like appliances, sinks, seating areas, and how much counter space there will be are already accounted for. Jodi asks the homeowner whether they want to keep the style consistent with the rest of the kitchen or use a different color, material, or cabinet finish. Jodi points out, "Various material changes, such as a different cabinet paint color, or perhaps mixing in a wood-stained cabinet are popular choices." The same cabinet door style can be used for the entire kitchen and just changing the color and hardware on the island will make it look very different. Jodi will also discuss countertop materials along with the counter thickness. Sometimes a thicker countertop on the island works better for the proportions of the space or the style goals the client has in mind.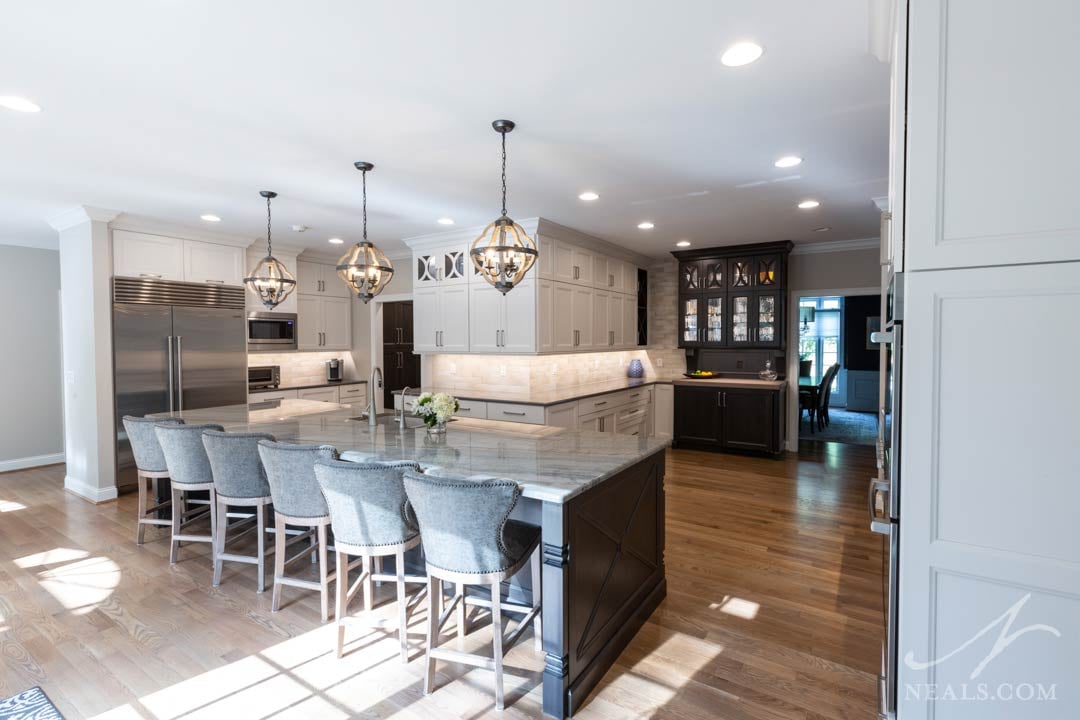 Kitchen Project in Anderson Township
5. Details
The final details bring the entire kitchen island together and are often key components of the entire kitchen's full design style. Jodi will take cues from the colors and styles they've already decided on to offer suggestions for additional carpentry or trim elements such as freestanding legs, decorative faux legs, corbel supports under the countertop or molding on the side or back panels. She'll also look at how the countertop will look. "Do they want a simple overhang or do they want a waterfall edge?" Jodi will usually ask. Then, of course, hardware and overhead lighting options will pull the final functional kitchen island design across the finish line.