Remodeling the bathroom can be a great project to tailor your home a bit more specifically to your tastes and needs. Unlike the more public areas of your house, the bathroom comes with a lot of personal considerations for storage, comfort, and use. In our years working with homeowners to design new bathrooms, we've created a huge variety of design solutions and styles, and we know that when it comes to this particular space, a one size solution does not fit all. Below, we've collected some of our best bathroom remodeling design ideas to inspire you.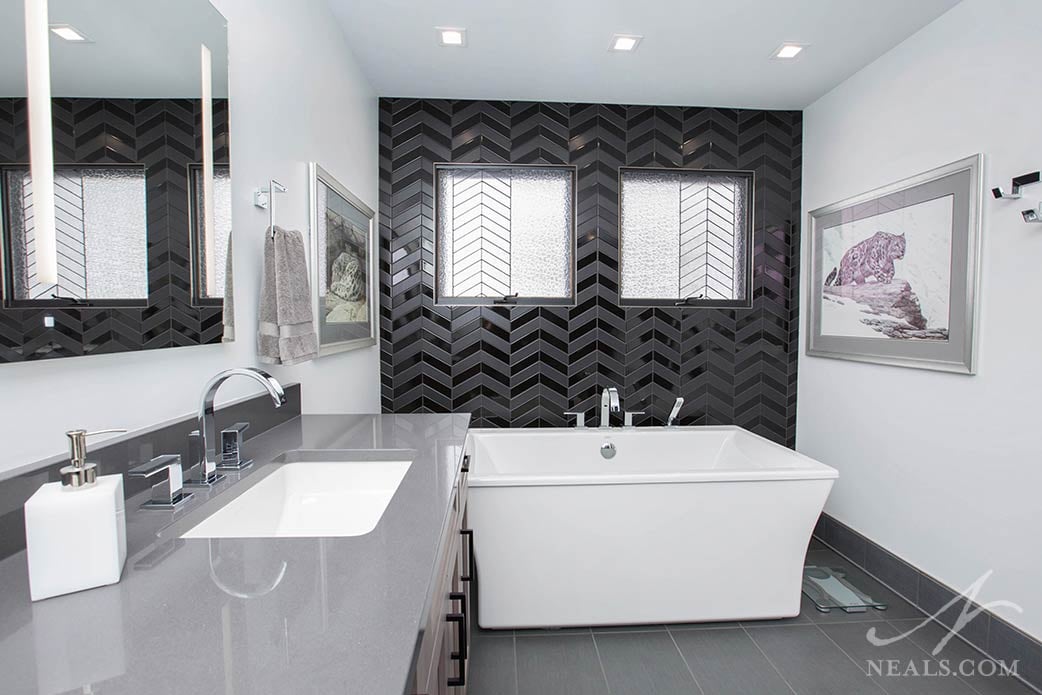 1. Make a Bold Tile Statement
A combination of matte and glossy black tiles, arranged in a classic herringbone pattern, creates a striking backdrop for this contemporary Evendale bathroom remodel. Even though the effect itself is subtle, the boldness choice of black creates a show-stopping effect, highlighting the white modern soaking tub.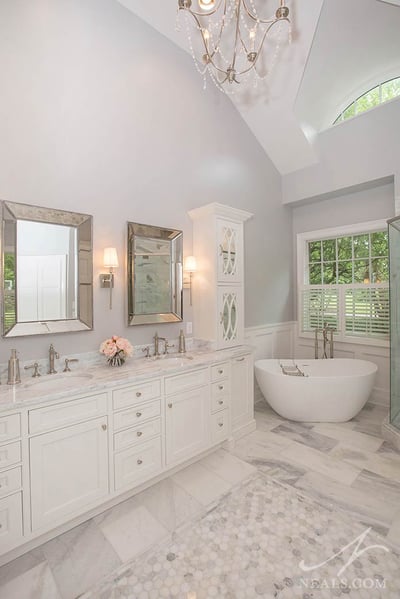 2. Tile Inlay Flooring Detail
To add interest to the marble floor in this Indian Hill master bathroom, a rug effect was created by using different size and shapes of marble as an inlay in the center of the space. This effect adds a classic detail that fits with the style of the bathroom, as well as breaks up the marble visually to prevent it from looking too bland and to keep the eye moving.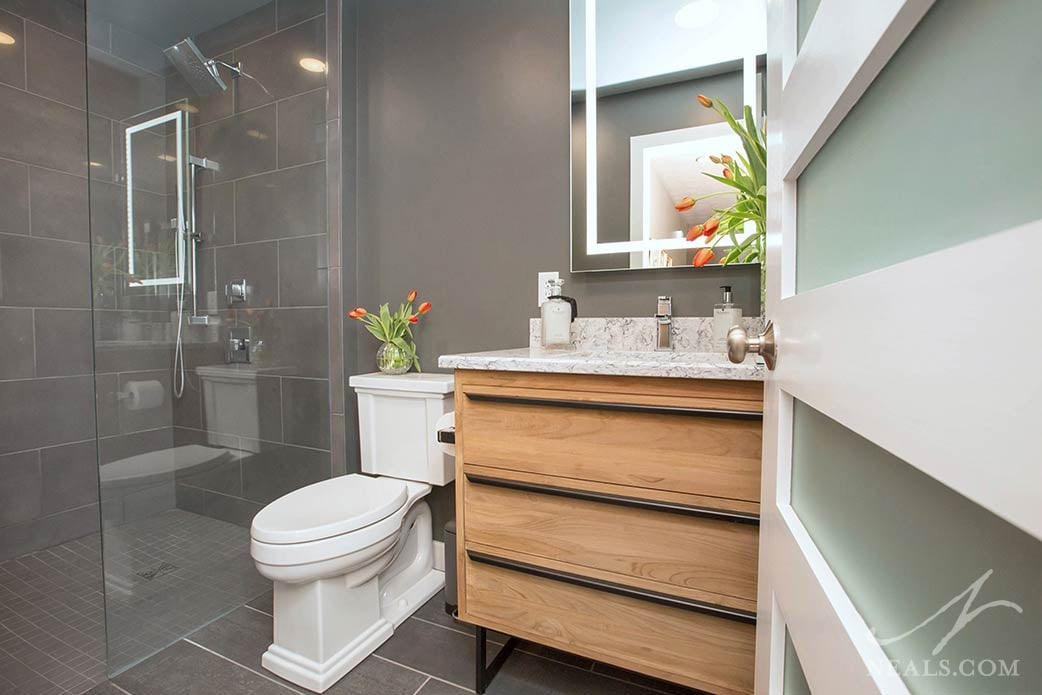 3. Streamline with All-Over Color
What this Anderson Township bathroom lacks is space, it makes up for it with a sophisticated and masculine gray used as a backdrop on all the surfaces. A slightly rustic vanity and a contemporary style shower form an odd-couple pair in the space that works so well with the contrast of the dark neutral supporting them both.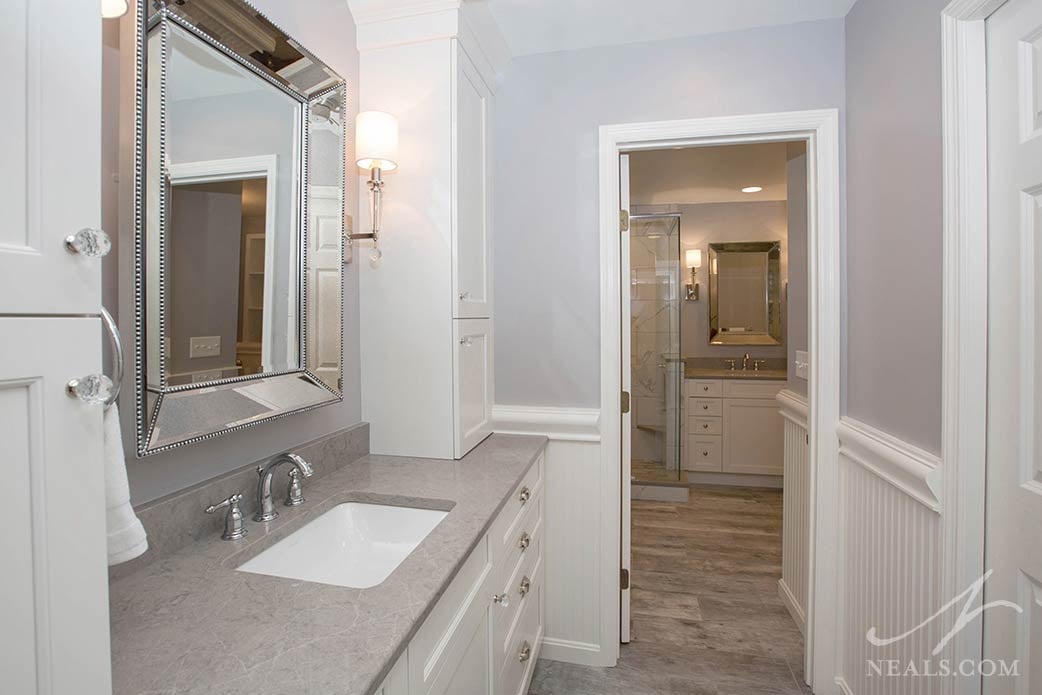 4. Separate Vanities Make Room for More Features
By locating one vanity in the main bathroom and a second in the hall from the master, this Indian Hill bathroom made room for a variety of features. Not only was there space for a tub, but the hallway vanity includes additional storage that might have otherwise had no place to go.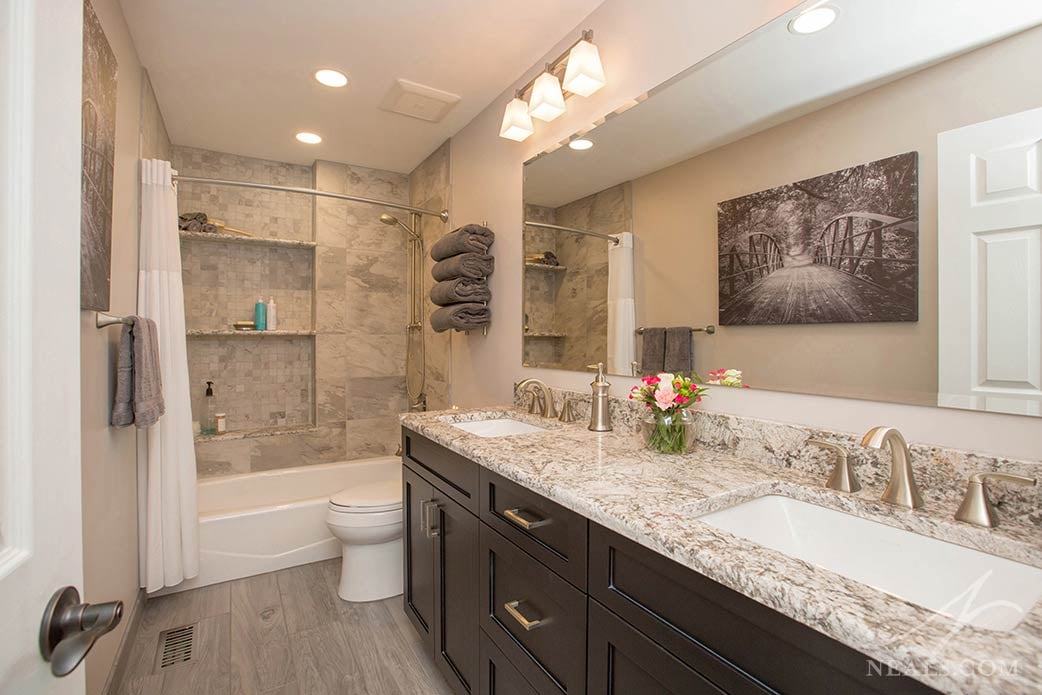 5. Shelving in the Shower
Many showers have niches that are fine for some items, but if you have a full-sized shower, why not take advantage of the space with open shelving? This Loveland bathroom uses granite shelving installed into a recess to provide ample room, as well as create some unique interest in the room's design.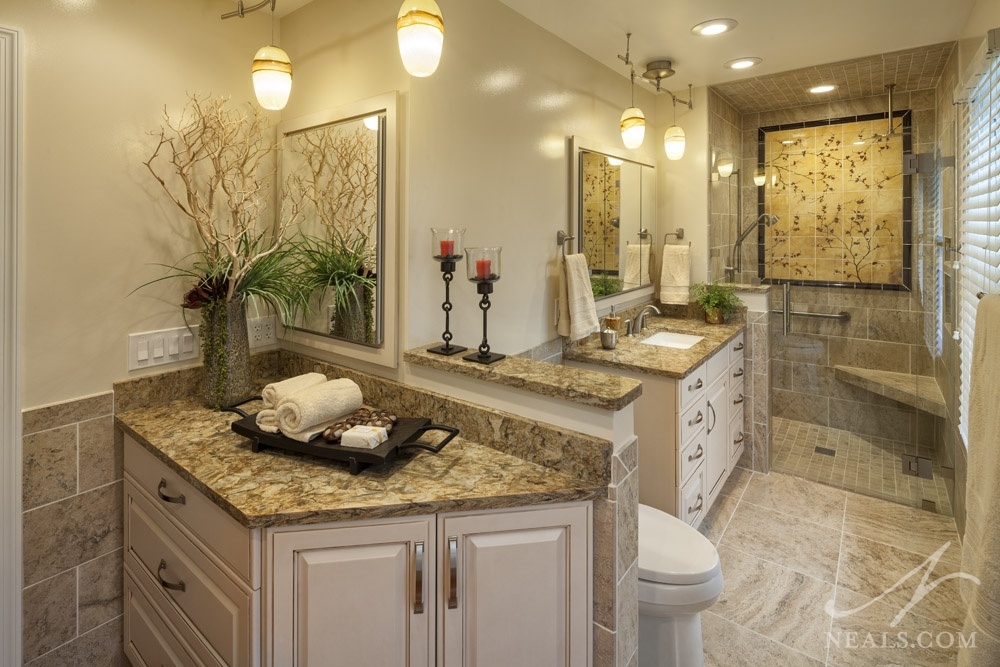 6. Add Style with a Tile Mosaic
This Loveland bathroom, with an underlying warm yellow and brown color scheme, was given an added style statement with the installation of an Asian-inspired tile mosaic of a blossoming tree. This single element elevates the space from something a little basic to a unique space with a style direction.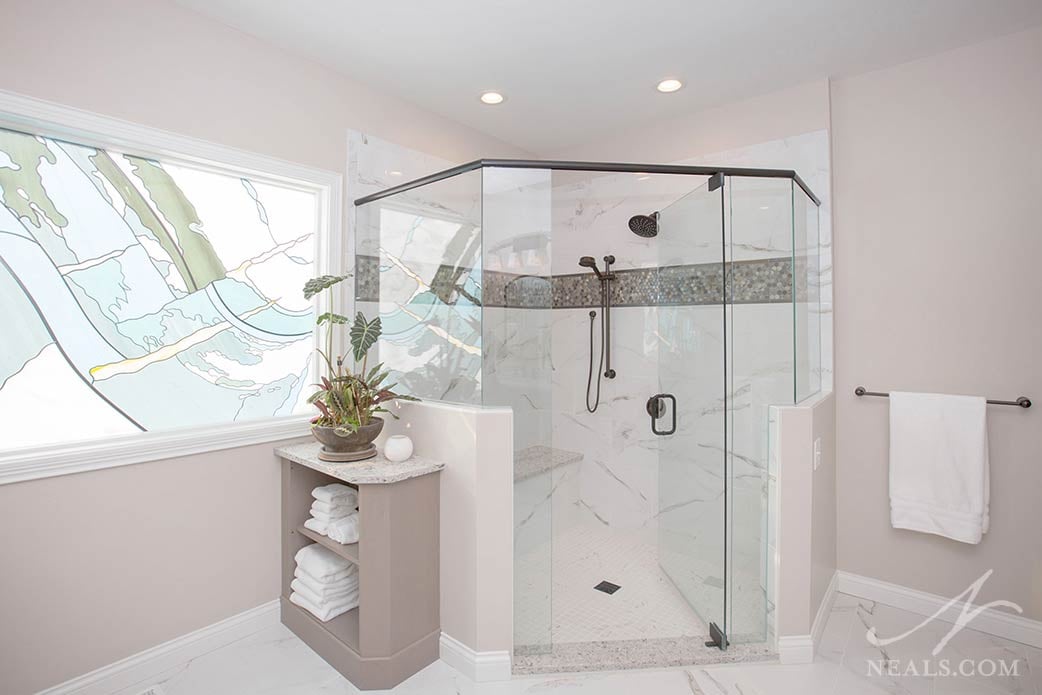 7. Ditch the Tub
Tubs can be a luxury in the bathroom, but if it's not being used regularly, consider removing the tub and using the space for a larger shower, like in this West Chester bathroom. A roomy walk-in shower takes center stage, and a second vanity and storage built-in add to the spa-like atmosphere.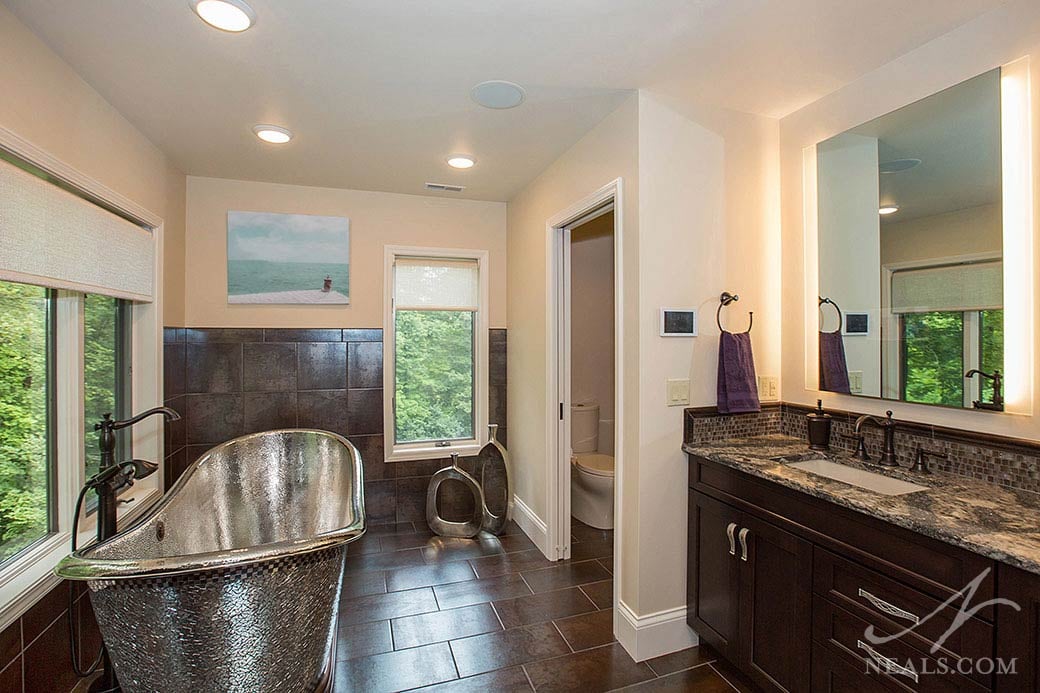 8. Design Around a Show-Stopping Tub
The mirrored and hammered metal soaking tub in this Indian Hill bathroom suite is a wild card element that could either make or break a bathroom design. By pairing it with rich floor and wall tile, a counter with matching metallic details, and scrollwork hardware, the tub is eye-catching but not out of place.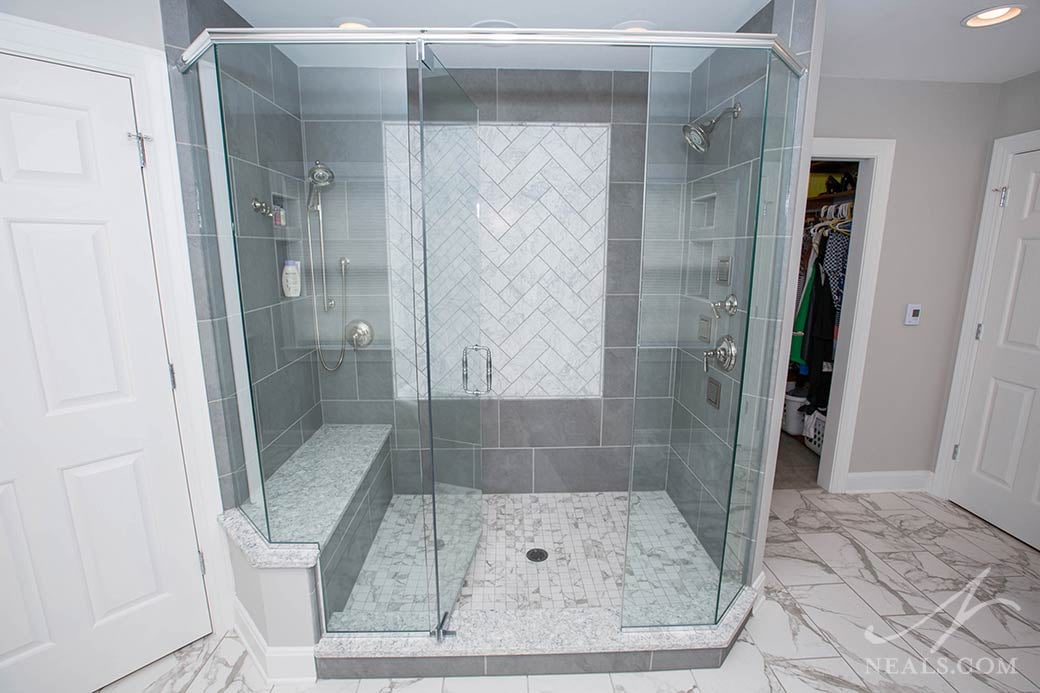 9. Create a Double Shower
When you share a bathroom, sometimes it can be difficult to schedule who gets the shower first when it's time to get ready. Take a cue from this Western Hills master, and install showerhead options on both sides of a wide shower. No need to wait around for your turn!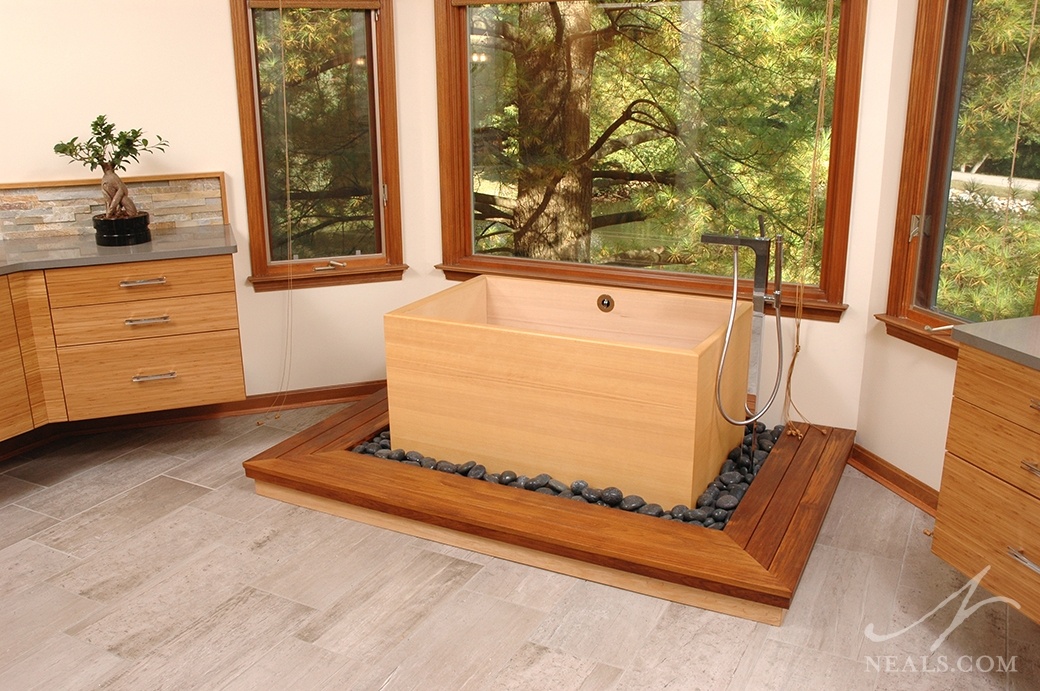 10. Consider a Japanese Soaking Tub
If your idea of a tub is one that is meant strictly for relaxing, and if you have an appreciation for traditional oriental design, consider installing a Japanese-style soaking tub, like in this Sycamore Township master bathroom. The form and nature of this type of tub is ideal for a bathroom designed with natural materials and Asian spa influence.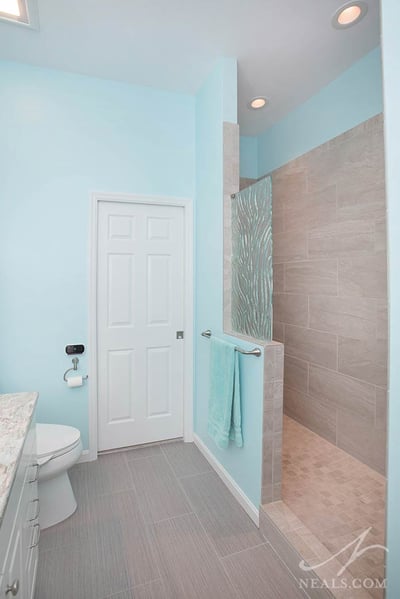 11. Create an Open Shower
While we generally consider a door or curtain on a shower to be a good thing, in some cases, such as this Mason bathroom, the shower can be arranged in such a way that the entrance can be left open. This is an ideal design for small spaces, where a door would be a hindrance. To help with privacy, a decorative artisan glass has been used on the half wall.
12. Reconsider the Undermount Sink
While a standard undermount sink in the vanity is a great option, other types of bathroom sinks may get you better style results. In this Montgomery bathroom, a drop-in sink with curvy edges creates a more interesting look and adds a touch of natural, organic form to the zen-inspired space.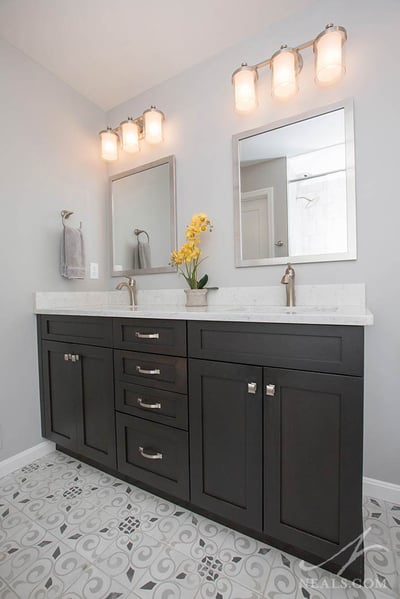 13. Use a Printed Floor Tile
Printed or painted floor tiles have been trending in home design for a handful of years, and they make a great style impact in a small space like a bathroom. This new master bathroom in a Deer Park whole house remodel incorporates the graphic tile with a mix of neutral grays to keep the design visually exciting without being overwhelming.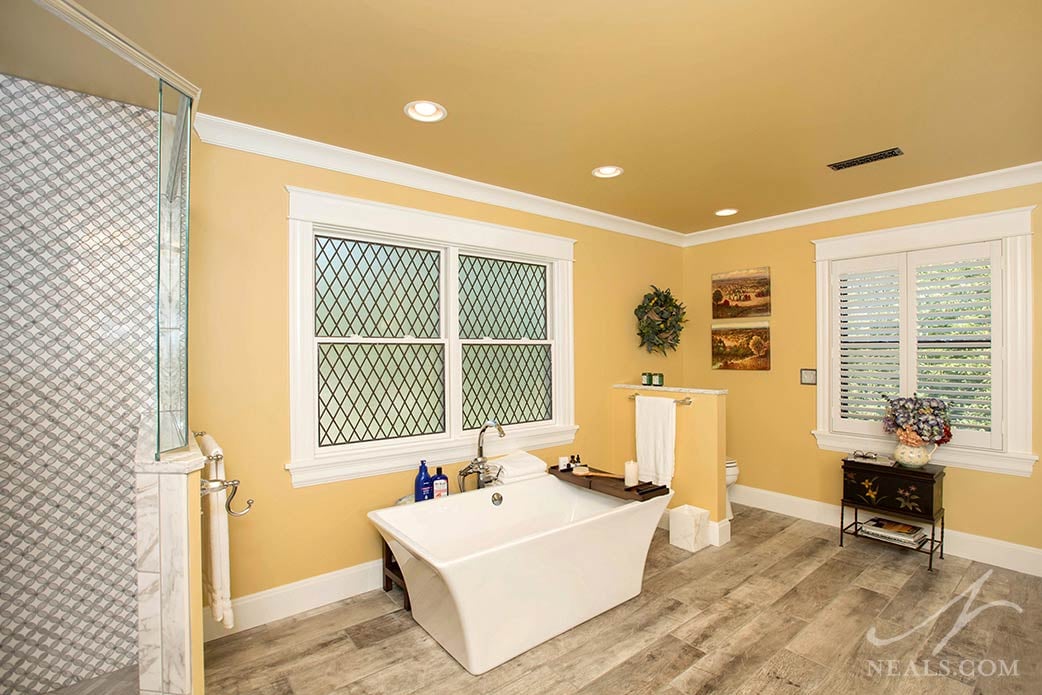 14. Convert a Bedroom into a Master
If you're making wide-spread changes to your home or creating an addition, such as in this Hyde Park project, you may discover that what was once a bedroom may be more perfectly suited to become a spacious and full-featured bathroom. This type of remodel can be a major investment, but if your home will benefit with the change, it's worth considering.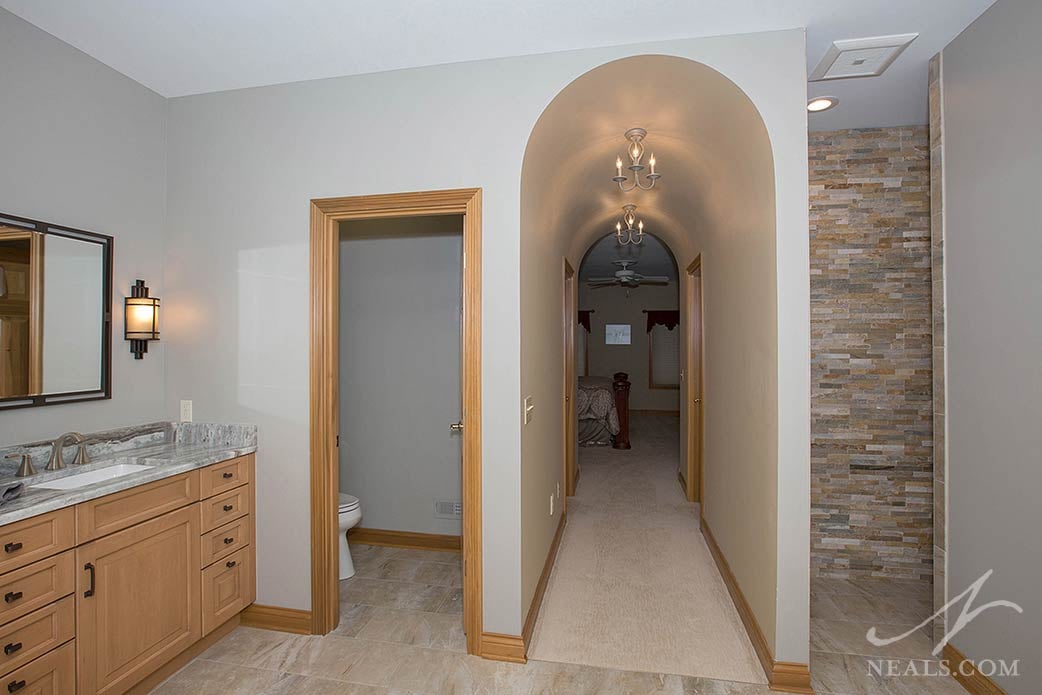 15. Use Stacked Stone in the Shower
For a more natural, rustic feel, consider installing a feature wall of stacked stone in the shower. The stone in this Western Hills master bathroom makes the shower, feel like an exotic grotto. Just be sure to include proper lighting and enough space in the shower so that if the stone has any rough texture, you won't bump into it.