If you're planning a new kitchen or thinking about the possibilities, it can sometimes help to zoom in and look at some of the details and ideas that make a kitchen unique or practical. Rather than taking a broad view, we've looked through our library of local kitchen projects and found 10 detail-oriented ideas, from stylish to practical, that may have a place in your new kitchen plan.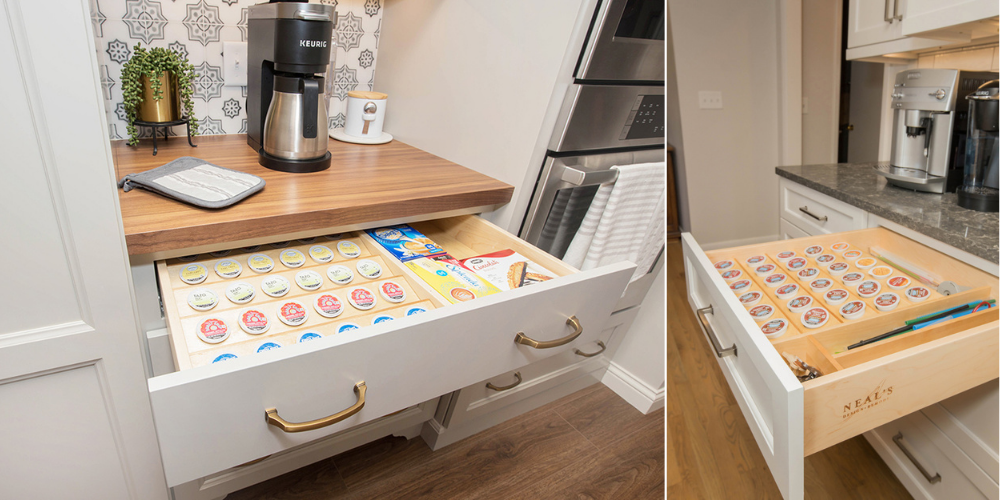 But first, coffee.
If you and your family enjoy the convenience and variety of single-serve coffee, then a drawer with special racks to hold these little cups might be a great addition to keeping your coffee collection orderly and easily in reach. This is also a good way to showcase different types or flavors so your family knows what their morning brew options are.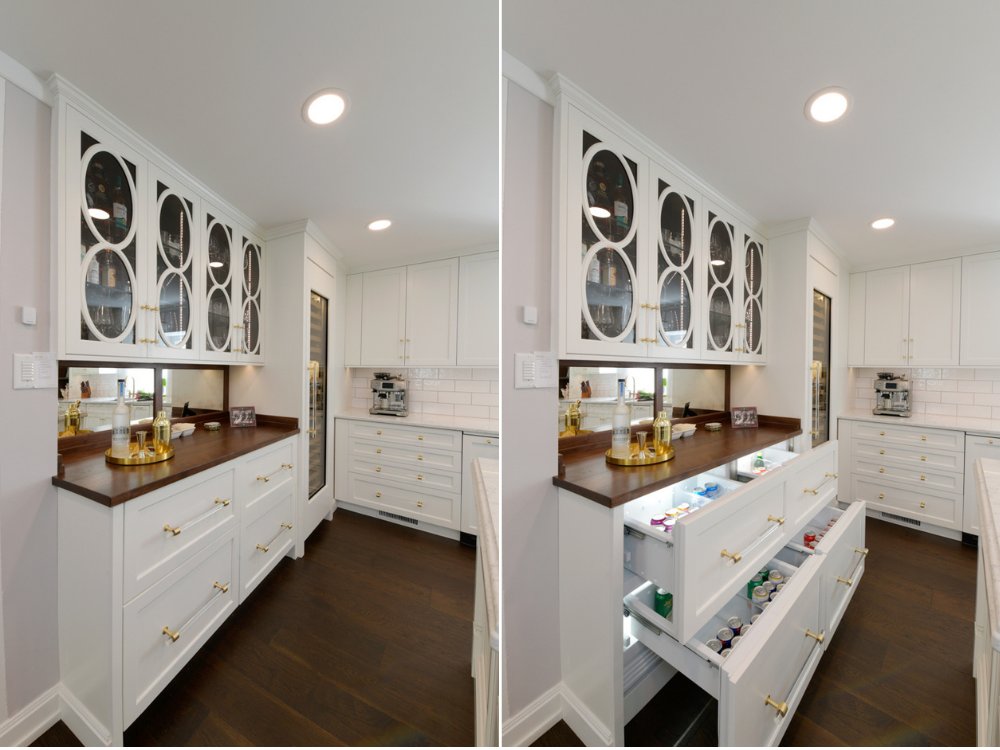 Drinks in the drawer.
If you like the idea of a beverage bar, but you aren't sure you care for the look of standard under-counter fridges, refrigerator drawers might be the right choice for you. Look for models that can be outfitted with drawer fronts that match your cabinetry for an entirely seamless look.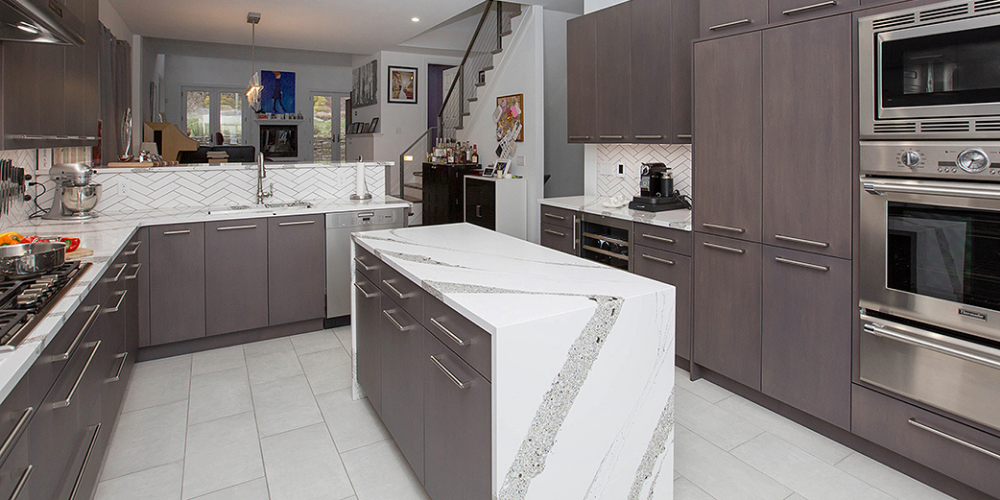 Instantly modern appeal.
Looking for a way to inject some modern style into your kitchen? Using a waterfall counter on your island is a sleek and contemporary option. To achieve this look, the counter material is wrapped to cover one or both sides of the island along with the top. Your designer or counter supplier can help you visualize this installation.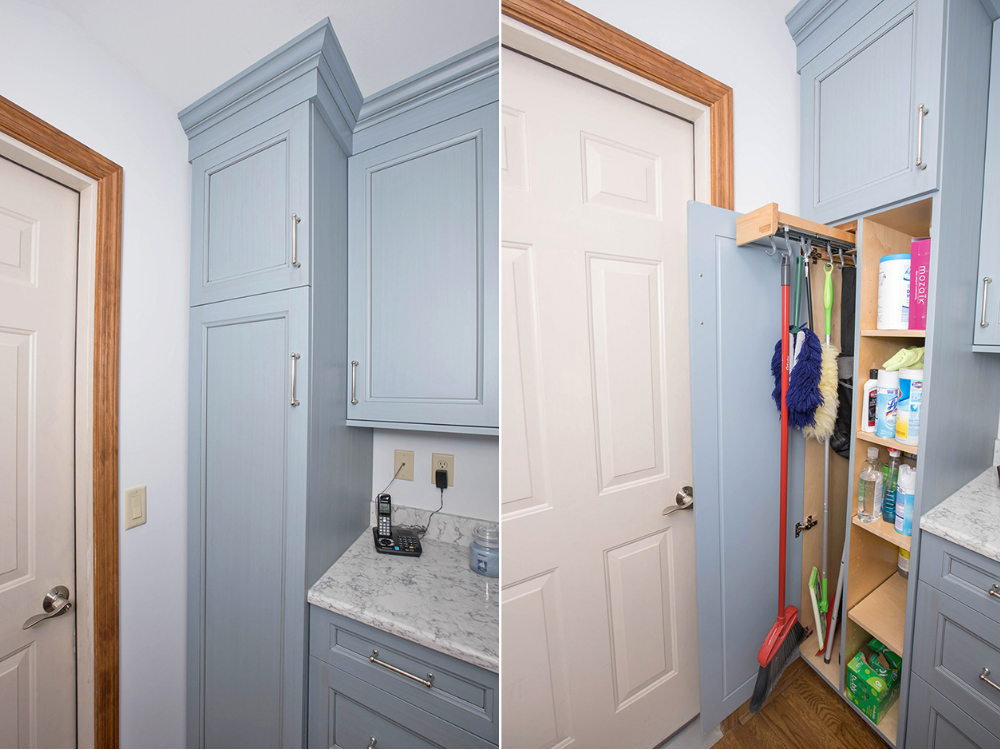 Cleaning supplies where you need them.
Consider integrating a broom closet or dedicated cleaning supply cabinet into your new kitchen plan. Specialty pullouts can make even the narrowest of cabinets a useful space for tall thin brooms or mops. You could also include an outlet inside the cabinet to recharge your lightweight vaccum.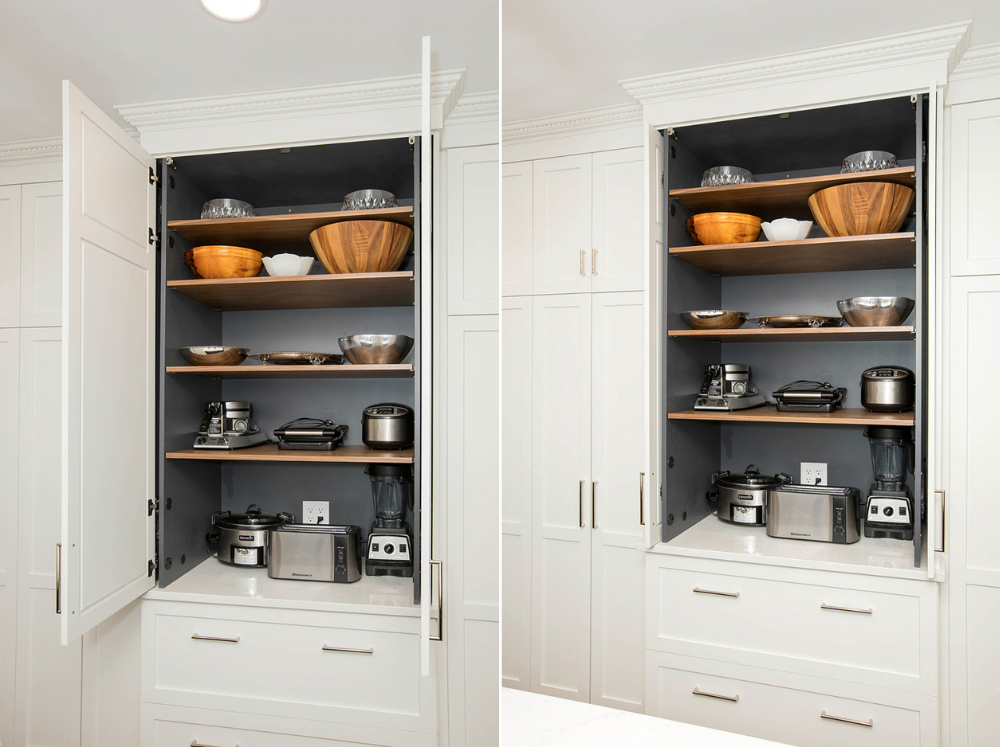 Open for business.
When you're in the groove with a big cooking session, the last thing you need is cabinet doors getting in your way. Doors mounted on retractable tracks can be opened and then tucked out of the way to keep your small appliances and dishes open and available while you need them. Treating this cabinet interior like a section of open shelving will also make sure it looks good while it's open.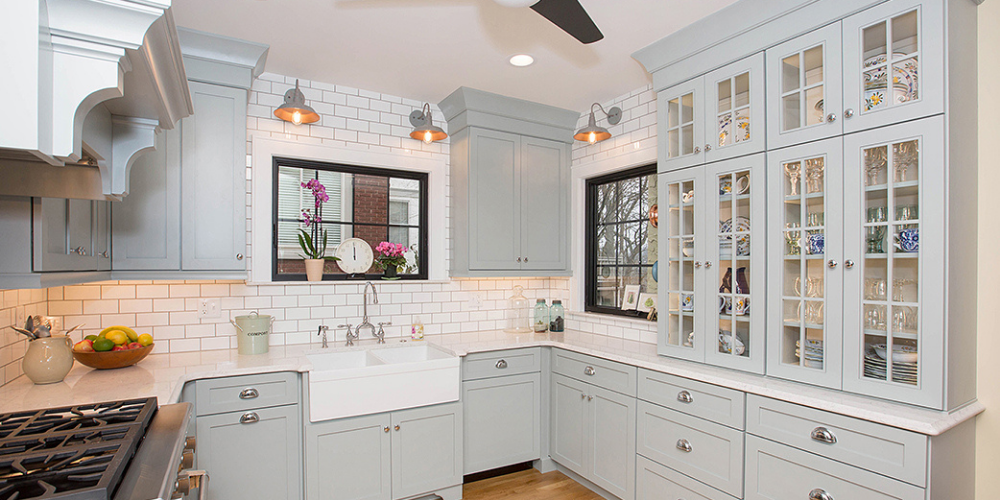 Display the nice stuff.
If you have a collection of beautiful dishes and glassware, do as the Victorians did, and be sure to have a space dedicated to both storing and showing these items off. China cabinets integrated into your kitchen scheme will help ensure that your favorite dishes get used when you want them, rather than put somewhere they never get seen or remembered. Be sure to include lighting in the cabinet to give the dishes the spotlight they deserve.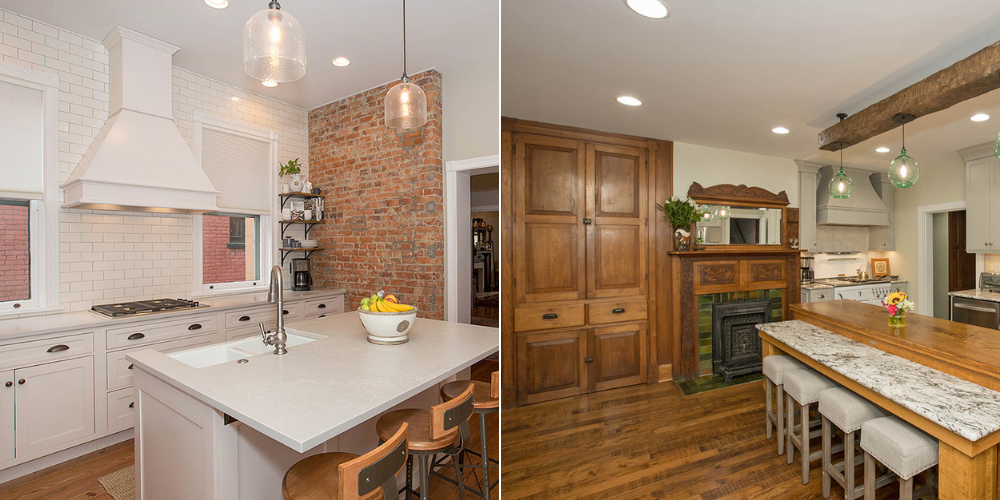 Keep the old.
Not everything needs to get tossed out during demolition when it comes to your remodel. If you have an older home with original details, be sure to communicate with your remodeling team about what can be kept and designed around. Sometimes treasures are revealed during demolition too. If it's beautiful to you, still in good shape, and safe to keep intact, know that you don't have to ditch it just because you're remodeling.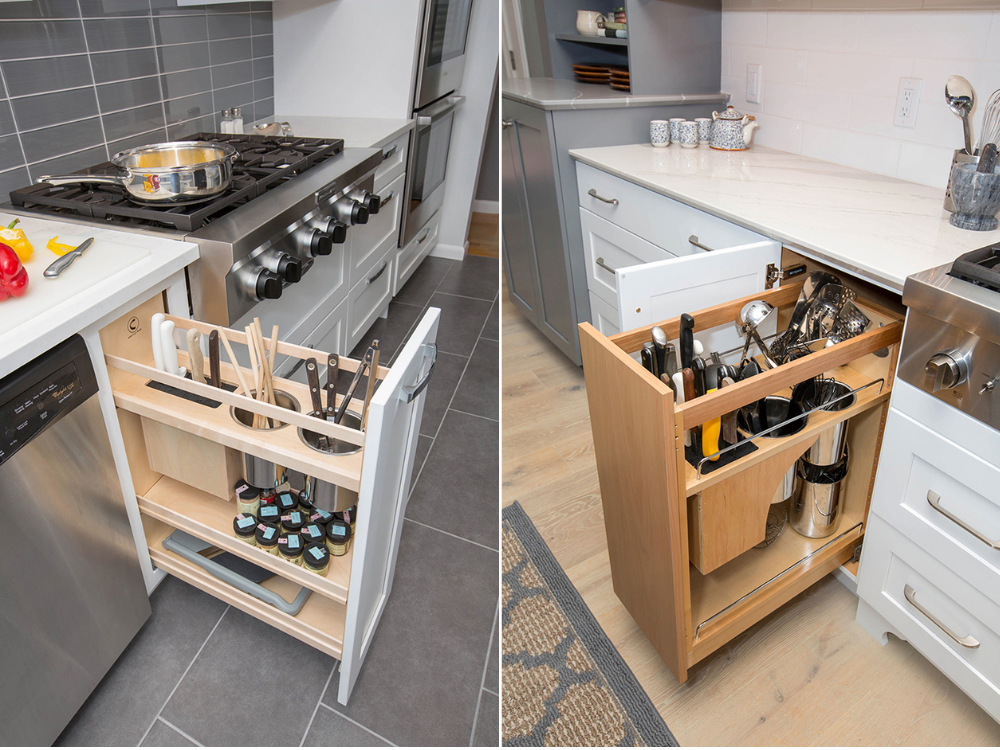 It's good to have a caddy.
Home chefs often gather up a good amount of favorite tools for whipping up tasty eats in the kitchen. These things need to be on hand and easy to grab, but if you would prefer the look of a clear and uncluttered countertop, consider using a utensil caddy- a pullout drawer with canisters and other useful accessories to hold all the things you need nearby.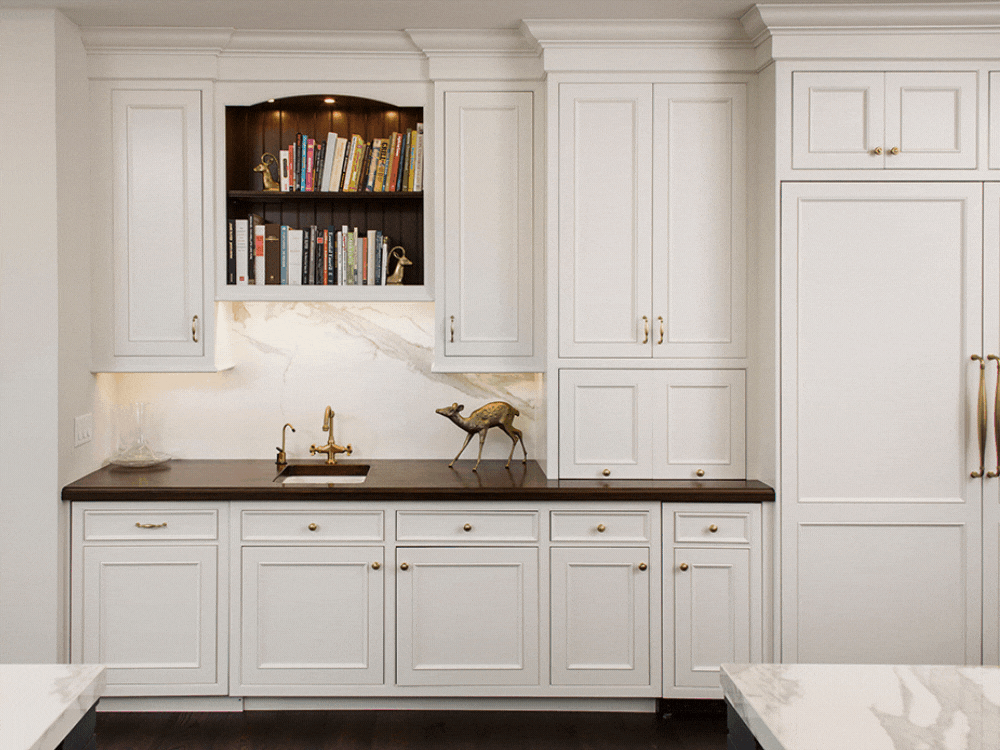 Hidden in plain sight.
There are a lot of different appliances out there that you could include in your new kitchen. If you want these conveniences, but don't want your kitchen to start looking like an appliance showroom, work with your kitchen designer to come up with a plan that incorporates them. Using covering panels and hidden compartments, most appliances can be concealed.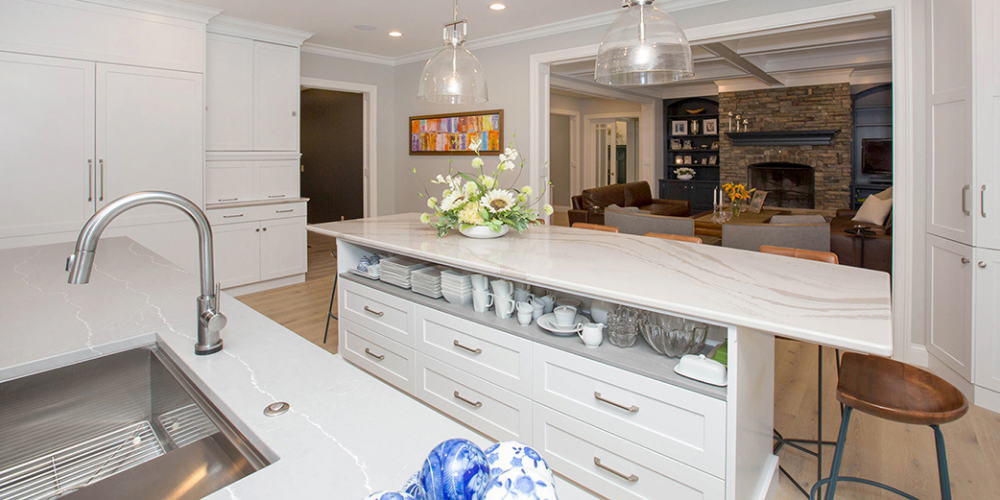 Easily within reach.
Sometimes we just want the items we use daily to be the easiest things to grab, but the idea of a kitchen full of open shelving doesn't really appeal to us. The "working" side of our kitchen island could come to the rescue. An open shelf here is a handy spot for the grab-and-go items but isn't open for all to see.