In recent years, the tiny home concept has been taking off as an option for vacation houses or permanent living spaces for the adventurous minimalist, but in many neighborhoods throughout the greater Cincinnati region, small homes or condos are an everyday way of life. First time home buyers often find that small homes are a good initial investment. There are also certain design styles of small homes that have withstood the test of time such as craftsman bungalows, cottages, cabins, ranch, and prairie style homes that have unique appeal to buyers. Luckily there are many tricks and techniques that can be included in your home's interior design that greatly help a small space feel larger. There are several decoration ideas, such as hanging curtains higher or using the same color in several rooms, but here we'll focus on remodeling, interior design and architectural tips that you can include in your home improvement projects.
Note: This post was originally written in November, 2012. It has been re-written with new images to improve relevance.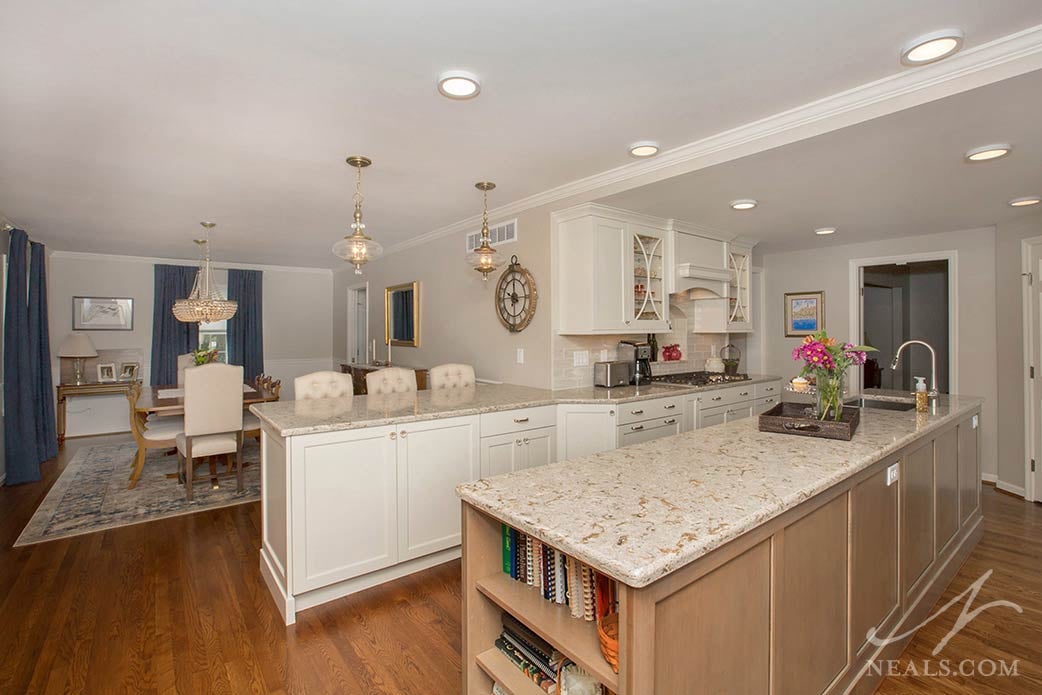 Kitchen remodel in Western Hills
1. Open up the floor plan.
Interior walls break up the space in a small home, making it feel crowded and cutting off many of the practical options for storage, lighting and flow. This is especially true of kitchens and dining rooms in older homes, which were once considered spaces that needed to be separated from the living areas. If the kitchen and dining room are adjacent and separated by a common wall, consider removing the wall to open up the space. If there is a living room adjacent to the dining room or kitchen, the wall could be removed to create more of a connection between rooms in the home. Removing walls will also allow the exterior windows to naturally light more interior space, making the home brighter. If you're considering this type of change to your home, speak with a professional first. A structural engineer will need to identify the load bearing walls and locations of plumbing and electrical mechanicals in your home.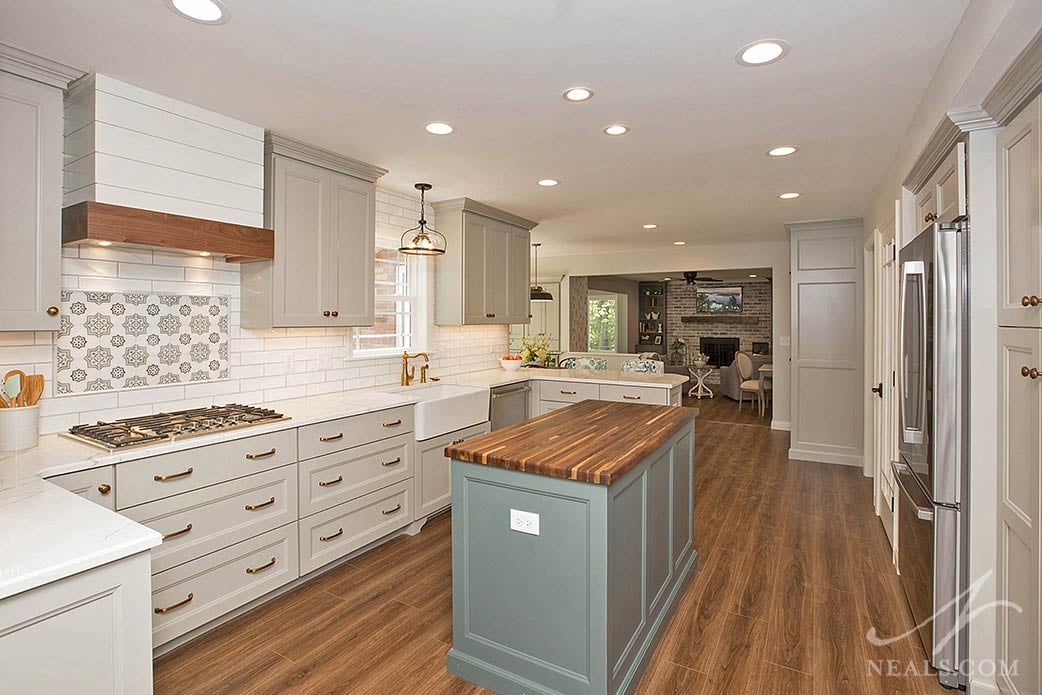 Whole Home Remodel in Montgomery
2. Use a single flooring material through several connected rooms.
Using a single flooring type in several connected rooms tricks the eye into seeing the spaces as one large space rather than several smaller rooms. This technique is especially effective if you've opened up the floor plan or have wider doorways between rooms, but can still work in home with tighter spaces. Hardwood or engineered wood flooring is a versatile option that will work in most rooms on the first floor and a neutral carpeting is ideal for upstairs. Whatever flooring you select, be sure to match the materials maintenance properties with your needs in each room.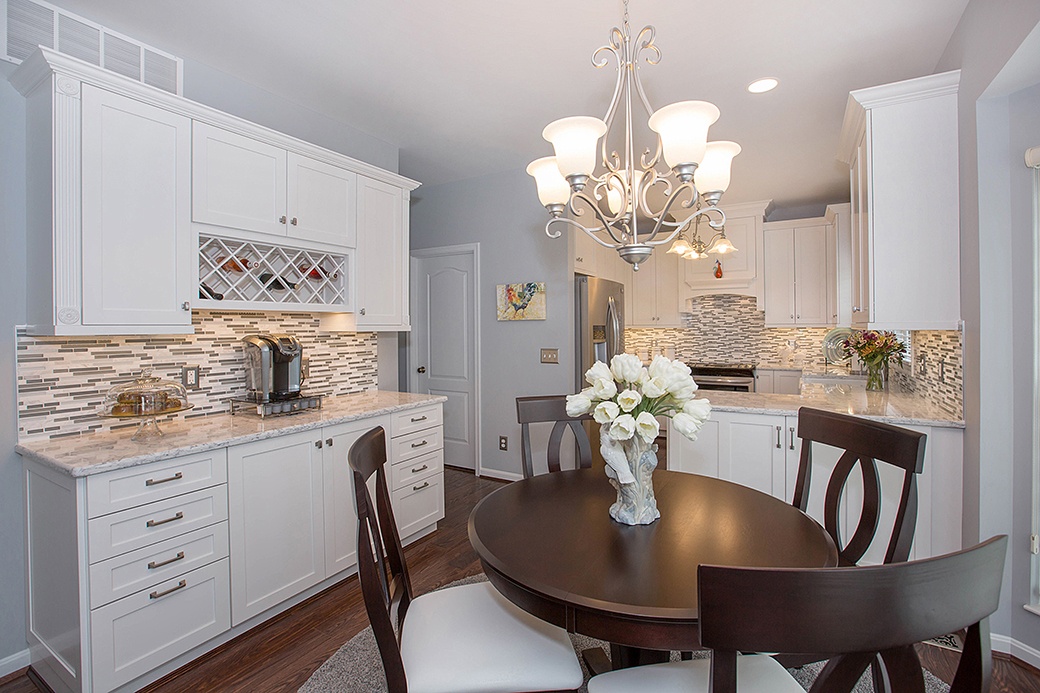 Kitchen Remodel in West Chester
3. Reduce visual color contrasts.
It's often a worry that a dark room will feel smaller, but in reality, rooms with high levels of light and dark contrast are when we feel the most cramped. While larger spaces can handle this contrast well, when there are lots of sharp differences between the colors in a small room, our eyes can spot those differences easier and we're more aware of the limits of the space. Rooms that use colors in a smaller range of light and dark tones feel larger because we don't see the color changes as quickly.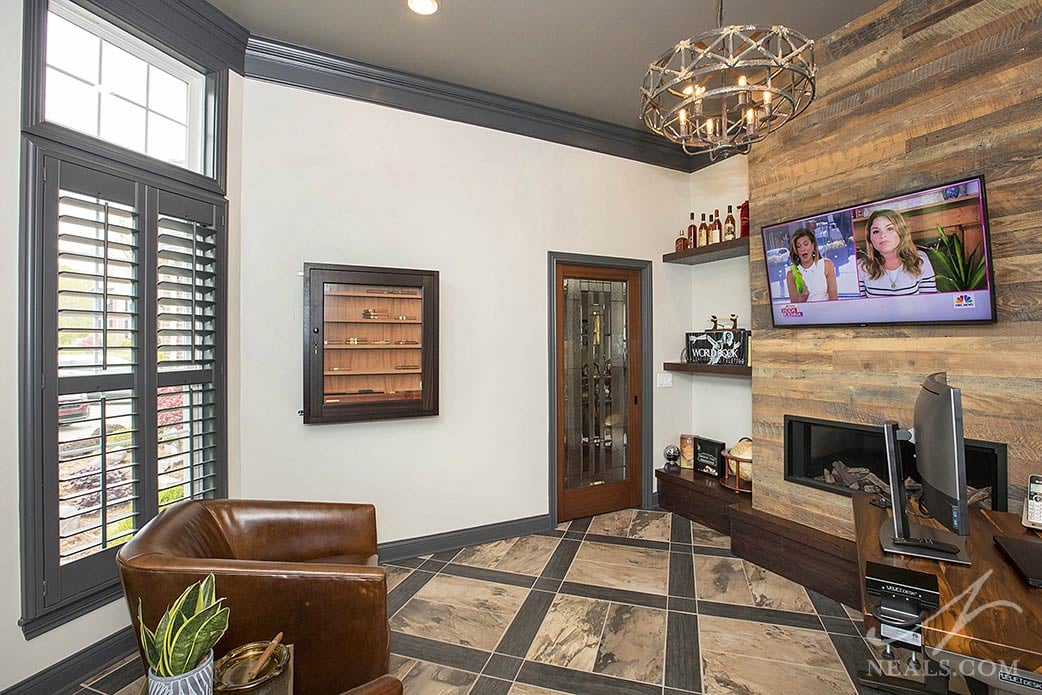 Cigar Room Office remodel in Union, KY.
4. Take advantage of available height.
Even small rooms can often have tall ceilings. This is often the case in historical homes, particularly in Cincinnati's downtown areas. Use the available height by extending cabinetry, fireplaces, trimwork and doorways upward. When we feel a sense of grandeur overhead, we are less likely to notice closer walls at eye level. This also provides more space for storage and decoration which can reduce clutter closer to the floor.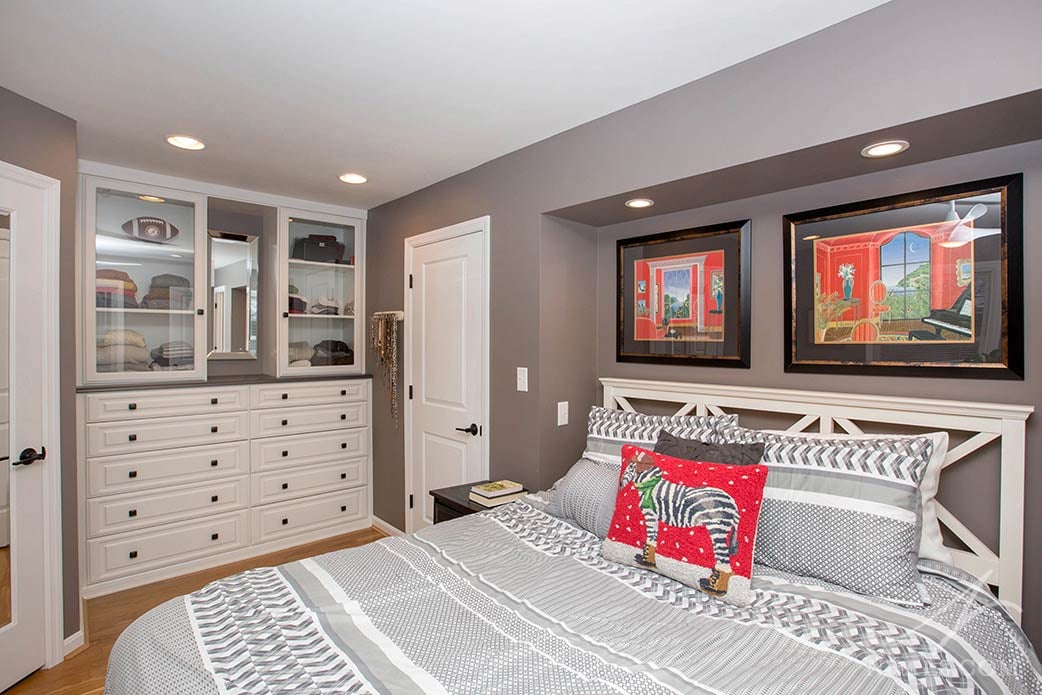 Master Suite remodel in Anderson Township
5.

Utilize built-ins where furniture would be too bulky.

Functional storage space is essential in a small home. Shelving recessed into a wall can provide much needed space when every inch counts. Recessed cabinetry also conserves floor space. Cabinets help to contain contents and keep the home's appearance uncluttered. Built-ins can take advantage of spaces where a piece of furniture wouldn't fit, and can be custom tailored with the storage needs of the space.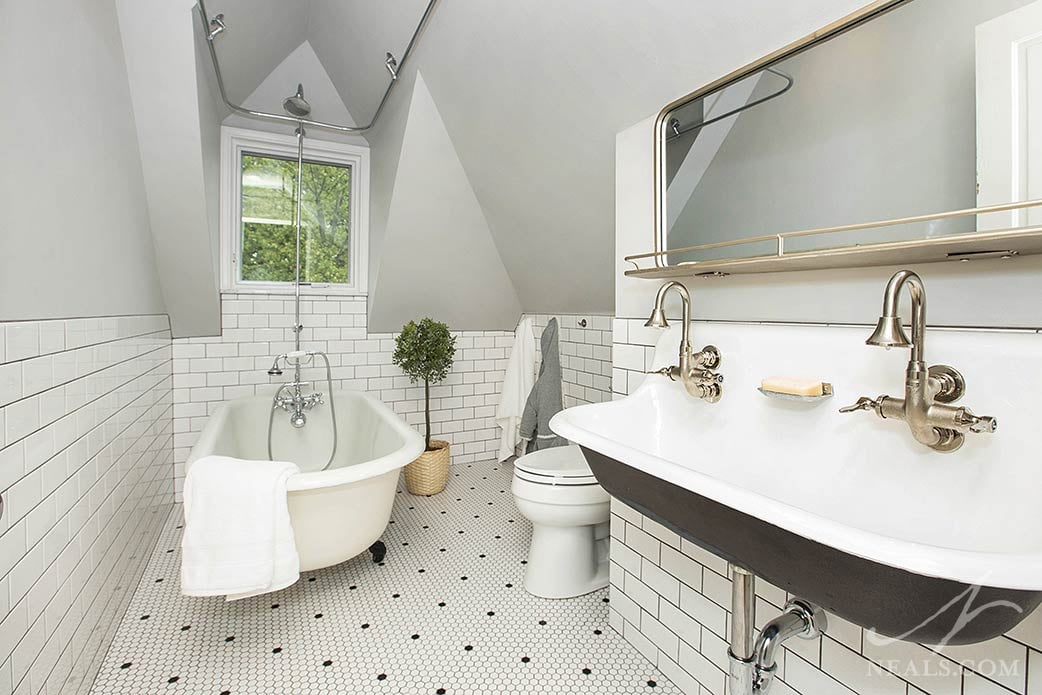 Bathroom remodel in Newport, KY.
6. Keep the floor open and visible.

While not everything can be elevated off the floor, wherever possible look for options that allow more of the floor to be seen. A great example of this is using a pedestal sink in a small bathroom, or an island with open shelving underneath in a small kitchen. Same as with many other techniques on our list, this allows the eye to see more free space, which makes the room feel larger.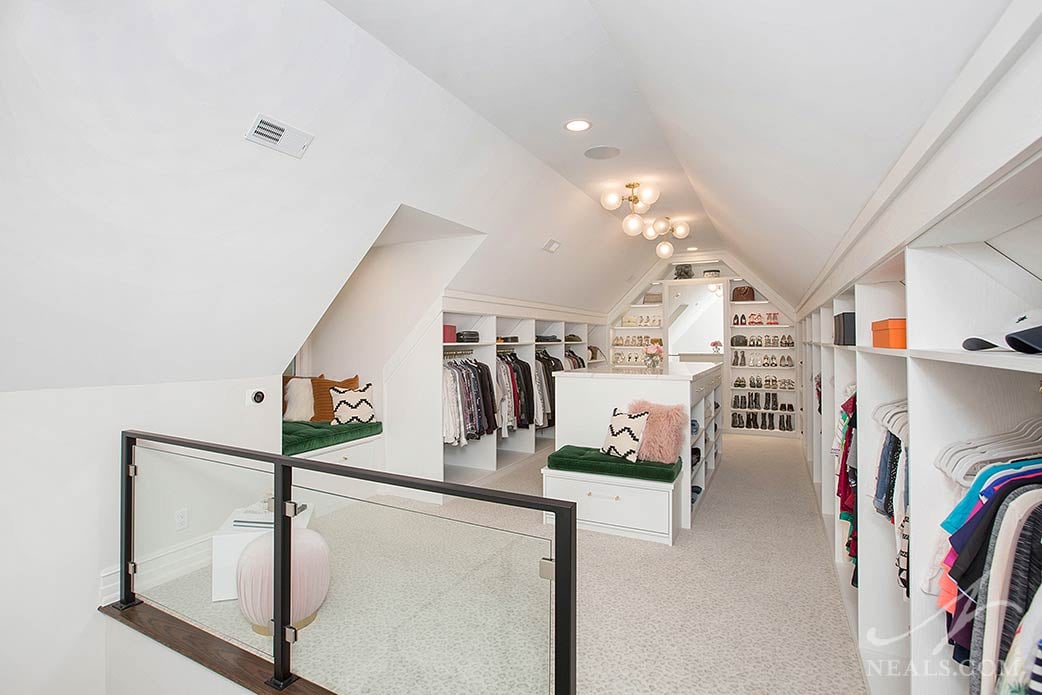 Attic Closet Remodel in Indian Hill
7. Repurpose unused or underused space.
If your home has small rooms that you're not using for a specific purpose, consider repurposing them or joining them up with adjacent rooms. This can be a useful tactic for creating a master suite with a walk-in closet if one does not currently exist in your home. Another option is to review the construction of your home to see if there is space that can be expanded into to create new square footage. Two places to look for this kind of space are garages and attics, but in some cases, rearranging a hallway can have a great impact on usable space.
8. Keep fixtures in the correct scale for the space.

When you're searching for items such as light fixtures or furniture, be cautious about keeping them in the correct scale for the space. A large hanging light can easily crowd a small room and look like overkill for the needs and limits of the space. A professional designer can assist you with finding the right fixtures.
9. Prioritize organization in your remodeling projects.
A small space that is orderly and organized will feel instantly larger than one without. When planning your space, look at how you can keep clutter off counters and prevent a free-for-all for available space. Also consider how your storage solutions can double as points of interest or offer a way to highlight collections in a way to keep them visually streamlined. Glass-fronted cabinets for china in the kitchen, or cabinetry around a fireplace allow you to have a place for everything and everything in its place.
10. Add natural light wherever you have the option.
Large windows that bring in natural daylight and offer views to the outside will instantly help a small space feel larger by blurring the line between inside and outside. It's a simple tactic that can be applied in nearly every room either with windows or skylights.