Though gardens are primarily composed of plants, they can be enhanced with additional features like pathways, retaining wall or structures. Non-plant landscaping elements are referred to as hardscaping, since most of these features are composed of hard materials such as stone or concrete. Hardscaping serves as a framework around which gardens can be arranged, separating planting areas, offering connections between different garden plots, or helping to pull an all-over yard landscape together. Though a hardscape isn't necessary for a beautiful garden, it may be worth considering. See how different hardscape design ideas were used in our outdoor living projects to inspire using the additional elements in your landscape to help your yard feel more put together and usable.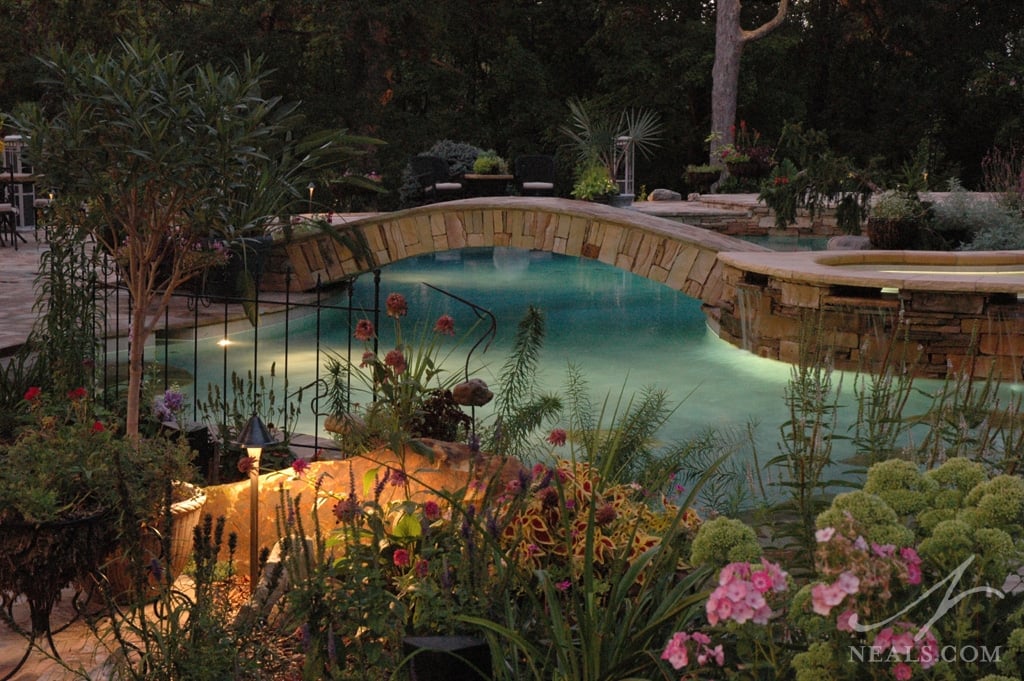 Poolside Garden in an Indian Hill project
1. Poolside Gardens
Garden plantings in a pool area add color and beauty to a yard. Garden beds can be integrated with pool surrounds to provide privacy and hide fencing, or to add to the style of the pool.

Patio in a Hyde Park Home Addition Project
2. Patios
Patios are flat areas of hardscaping that can be used for seating and tables, or just as a space to gather. Patios can be constructed from natural stone, concrete or brick. Paving stones, or "pavers", are shaped pieces that can be fit together to form patterns in the patio. Shelters can be built over a patio to provide protection from the sun and rain, but patios also work well for homeowners that don't mind the sun or want to use a sun umbrella instead.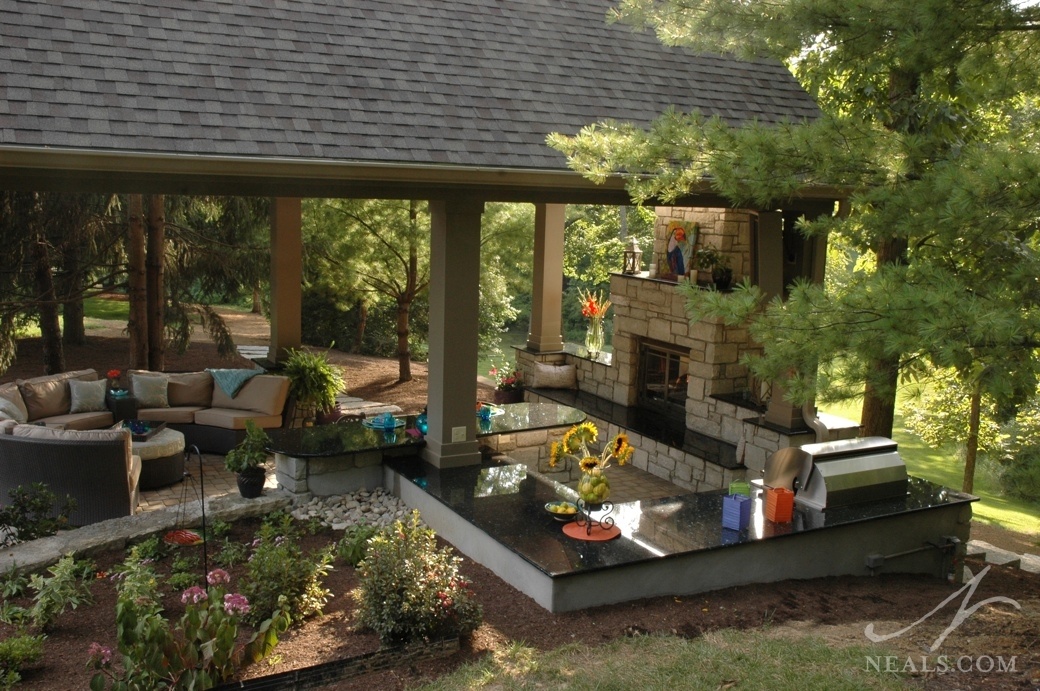 The retaining wall in this Mt. Airy project doubles as a counter for the outdoor kitchen.
3. Retaining Walls
Retaining walls are a highly functional but can also add to the style of a garden. They are used to tame a slope, create raised beds for gardens, define the border of a yard, serve as a surround for outdoor structures, and can also provide seating. Walls can be constructed from brick, stone and wood. There are also products on the market specifically designed to create retaining walls that look as nice as they function. A retaining wall should be considered as a part of the engineering of a garden or landscape, so consult with a professional to make sure the wall is built correctly.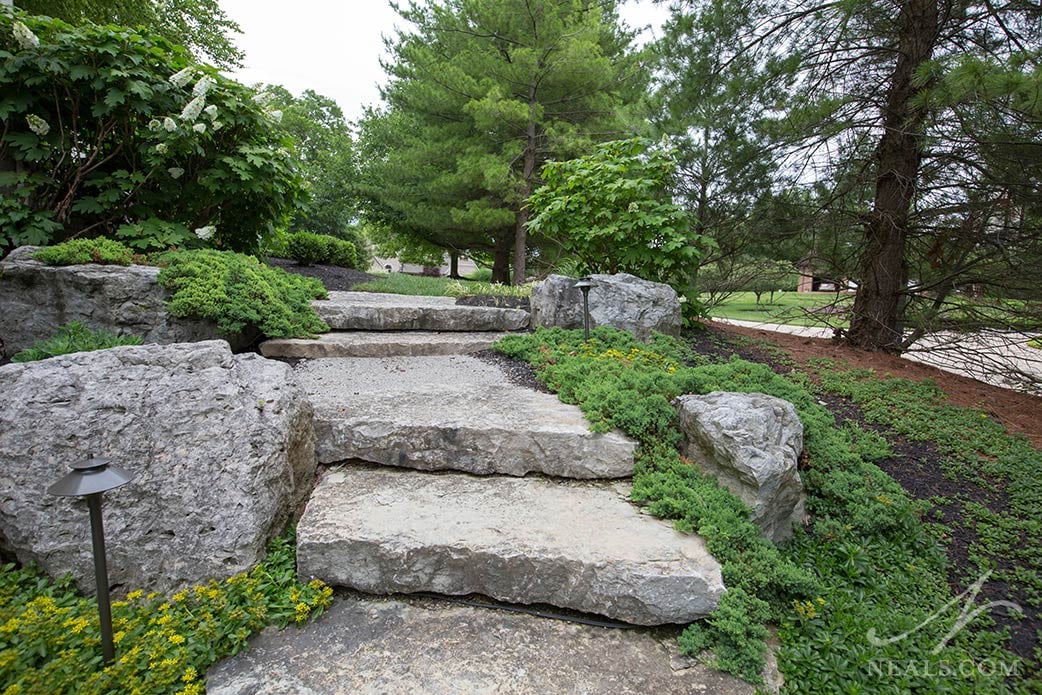 Boulders added to the landscaping in a Western Hills outdoor project.
4. Garden Rocks
Natural stones, rocks and boulders are ideal for creating low maintenance rock gardens, but can also serve as a foundation for adding water features such as ponds, fountains and waterfalls. Rocks and boulders add a rustic and natural look to gardens, but how casual or wild they end up looking depends on quantity, placement, size, and of course what's planted or installed around them. The best rocks to use in a natural-looking landscape are those that can be found in your area, but rocks brought in from other geographic locations can add drama or interest because they're unexpected.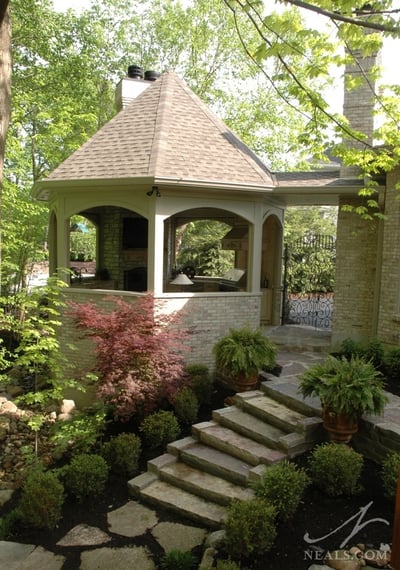 A Montgomery outdoor living project on a sloped yard.
5. Slopes
Sloped yards can be tamed by adding retaining walls to create a terraced garden, but that's not the only way to deal with a hill. If the slope is dramatic enough, consider playing up the drop off with a deck or pavilion that extends out over the hill, like your own private scenic overlook. A hill may also offer the option to create two separate gardens (one at the top and another at the bottom) connected by a stone staircase or meandering path.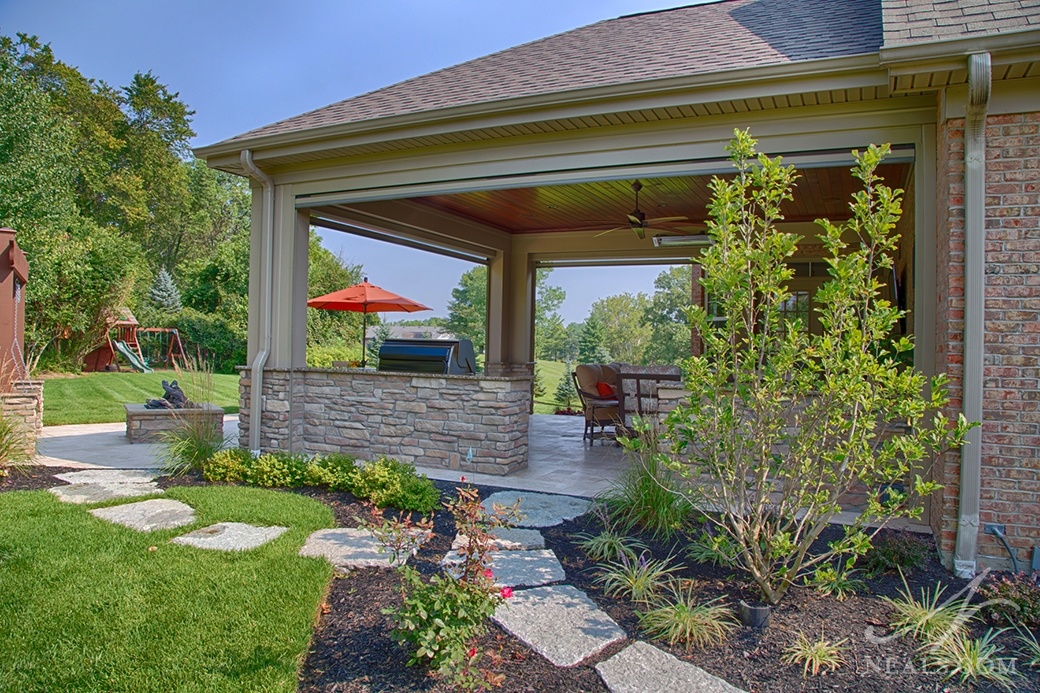 Pathway leading to an outdoor living area in White Oak
6. Pathways
Popular materials for garden pathways include pavers, natural flagstone, cement, and stepping stones. Pathways can blend in with a home's architecture and landscape, or stand out in the manner of a formal garden. There are few rules regarding when, how, and where to install a pathway, but consider first and foremost access points and pathways you already use in your yard or around any structures, and go from there.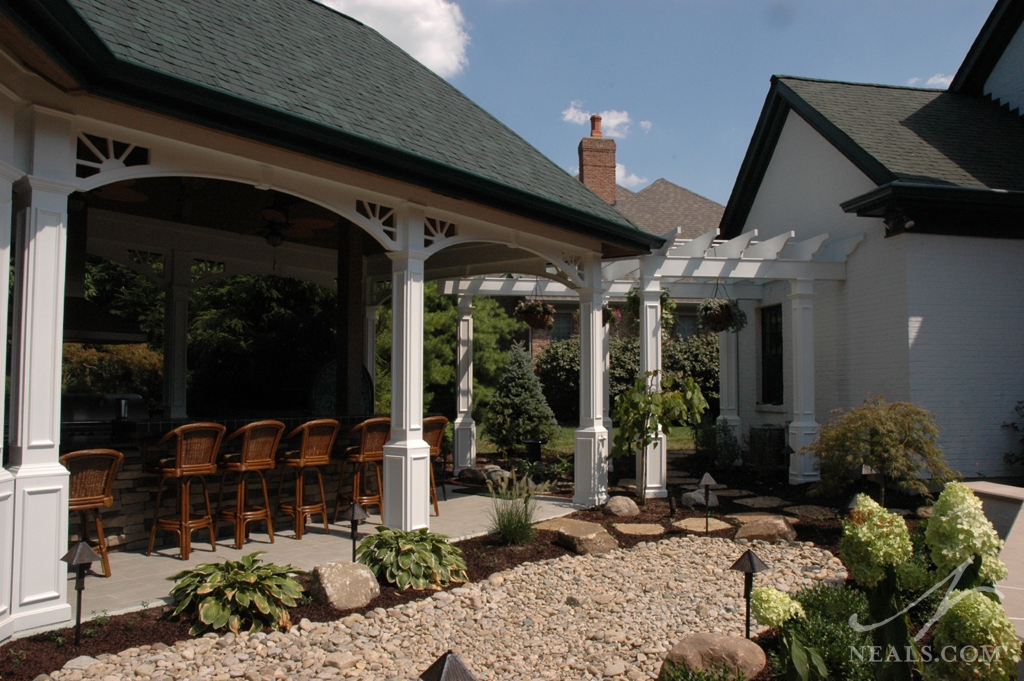 A Pergola connects this Mason veranda project to the main house.
7. Pergolas
Pergolas are open structures that offer minimal shade and offer a frame for climbing plants. Pergolas are constructed with vertical supports and beams placed regularly across the top to form a flat "roof". Often times, the true beauty and usefulness of a pergola can't be fully seen until many years later, when the plants have grown and covered the structure, increasing the shade underneath. If you like the look of a pergola on it's own, though, it can also function as a decorative, architectural element in your garden.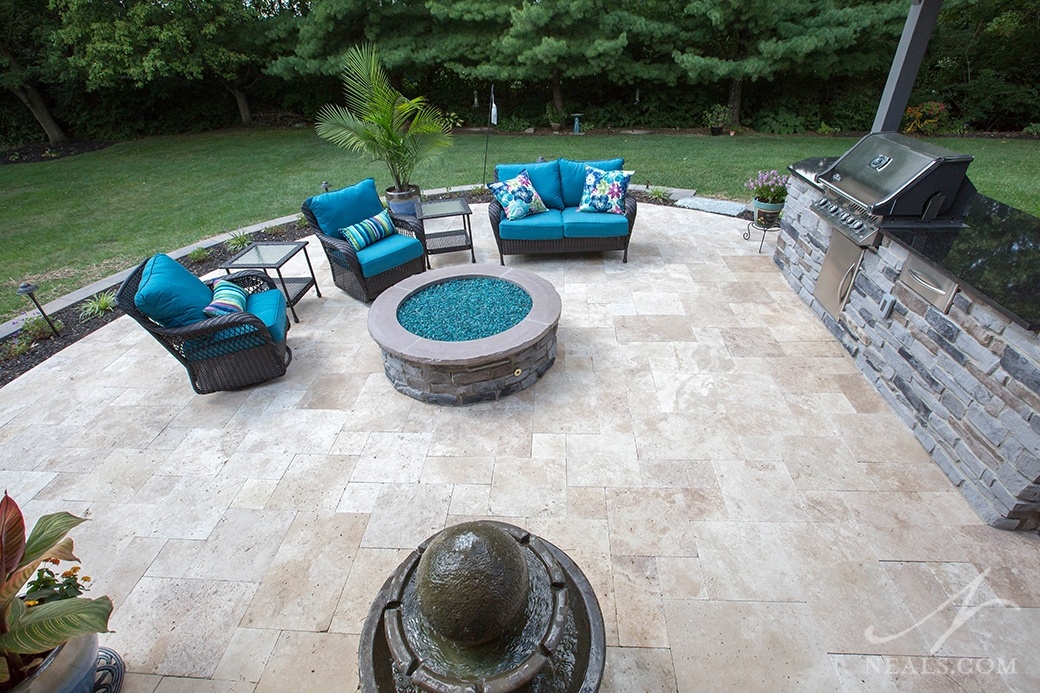 Gas firepit in a West Chester project
8. Firepits
There are many ways to go about including a firepit or fire ring in a garden landscape. Firepits can be made from a variety of hardscape materials, including stones, pavers, metal, or ceramic, so the look of the firepit can match the overall theme of your garden environment. The important thing with a firepit when planning is to make sure you keep safety in mind by ensuring there's enough space around it.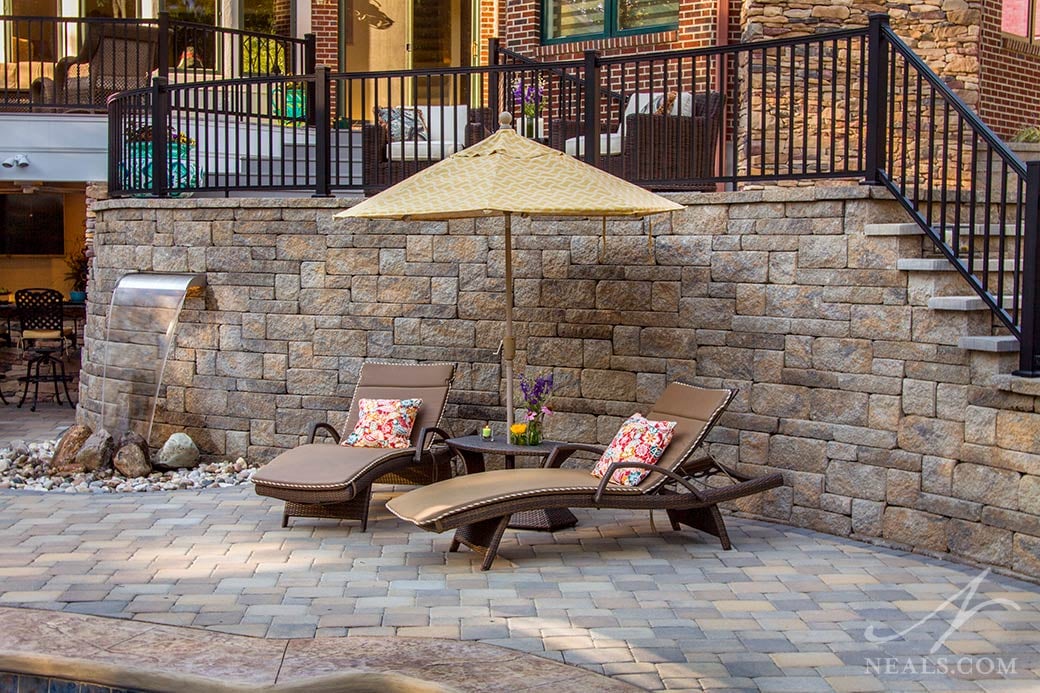 Waterfall feature in a Bridgetown yard transformation
9. Water Features



Water features add an element of artistry and peaceful sounds to gardens. A fountain can be used in both small and large garden beds and can be either a stand-alone piece or created as an integrated part of the hardscape. Consider placement with a water element to account for the noise level and how it will be viewed. One popular option is to include cascading waterfalls in pool designs. All water elements will need to be fed water, use a pump, and have a shut off switch, so the logistics and installation of these will be a part of your landscaping plan.

Courtyard between two structures in a Sycamore Township project.
10. Courtyards
A courtyard is an open space partly or completely surrounded by the walls of a building or other structures. Courtyard gardens often have small bushes, shrubs, perennials and potted flowering plants. A courtyard is ideal for entertaining, and works really well for traditional style gardens, but a courtyard can also be created in a less formal landscape with materials that match the style. Since courtyards are constructed adjacent to structures, there's more opportunity for lighting or other outdoor living features to be included that make the space feel almost room-like.