An easy way to update the look of any room in your home is to refresh the look of the walls. Even a simple change of color can make a room feel like a whole new space. The options for wall treatments have been around for a long time which means that they keep getting technically better, or easier to install. So if it's been a while since you've taken a look at how to finished your interior walls, now is a great time to look again.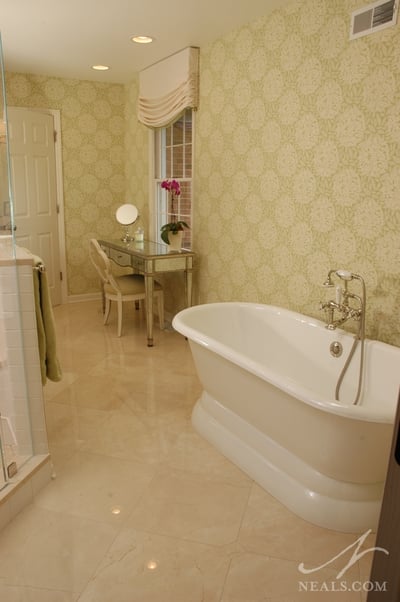 A floral motif wallpaper adds more romantic style to this narrow bathroom remodel.

In: Wallpaper
If you haven't given wallpaper a chance lately, say in the last 5 years, it might be time to look again. According to Ron Klei, President of Ron Klei & Sons, Inc. Paint and Wallcovering, "Wallcoverings are better today and easier to remove in the future because of the quality of the material." Wallpaper manufacters are now creating products that don't require the labor-intensive messy processes they once did to hang, and new advancements in adhesives and paste mean that wallpaper is easier than ever to remove should you change your mind.
Additionally, today's wallpapers come in a huge variety of patterns, colors and textures to fit every design mindset, even that of the minimalist. The biggest paper trend? Klei calls out "Grass cloth and strie materials in particular" for their texture and look. Grass cloth creates a natural backdrop that can easily be styled traditional or contemporary, and comes in many colors.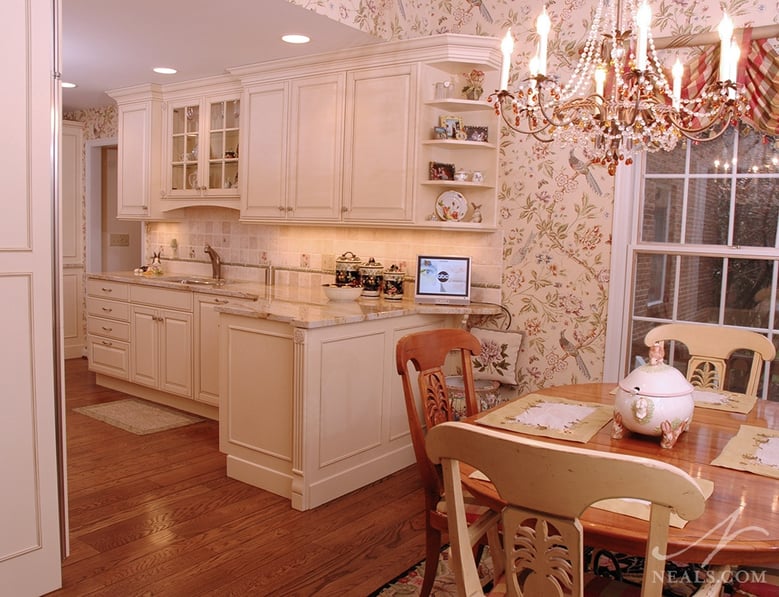 A chinoiserie style wallpaper in this Neal's kitchen and breakfast room play off the homeowner's collections and eclectic style.
Wallpaper should be installed on a perfectly smooth wall surface, so it may be best to bring in the professional to get the best results. While the cost of the paper and the labor of the hanging process are certainly more expensive than only painting, a wallpapered room can set a tone that paint just can't capture.
Remember that trends come and go. Wallpaper has gone in and out of style several times in the last few decades, and each time it comes back, the products and designs get better. Most wallcoverings can be expected to have a 10 year life if treated well and properly installed, so when weighing your options, be sure to ask yourself, "Am I willing to live with this for the next decade?" If you're not sure that you are, maybe a smooth, matte painted wall is the right trend for you.
In: Glazing on Cabinetry
When it comes to cabinetry, which in the kitchen can take the place of the actual wall, glazing is gaining in popularity. A glaze is a translucent, thin paint that adds a sheen, tint or texture to a painted surface. Interestingly, glazes are one of the main ingredients in the faux paint tool kit, allowing paints to layer over each other to create the desired look. Now, however, glazing is used in cabinetry to pool into the cabinet's trim details, add character and depth, or to give new cabinets a distressed look. Glazes are typically applied by the manufacturer, as in the case of Wood-Mode Cabinetry.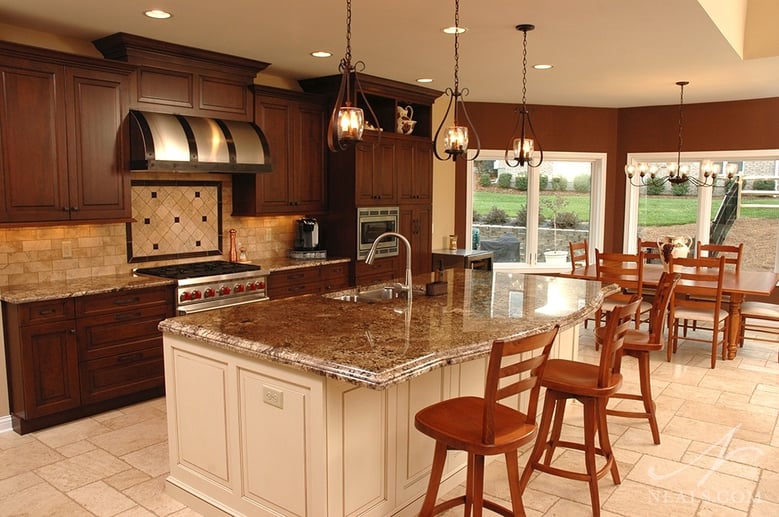 A black glaze over the brown stain on these wall cabinets brings out the door profile and diffuses the natural light so that the texture of the cabinets can be seen and enjoyed, rather than washed out with glare.
Out: Faux Paint Treaments
Due in part to many examples shown on HGTV's home remodeling show line-up, faux finishing on the walls enjoyed a surge in popularity throughout the late 90's and early 2000's. A variety of tools and methods were used to make walls look like old-world plaster, leather, aged paint, linen, you name it. The appeal of these finishes came in their inherent DIY quality, and like stenciling in the 80's, or decopage in the 70's, creating your own faux finished wall was like earning an interior decorator merit badge.
Klei says, "faux painting is out" in 2016. The effect, he says, is becoming very dated. Part of the reason for this may be because faux treatments are meant to make inexpensive materials look like something more expensive or exotic, but with changes in the ways that homeowner's can access and obtain designer materials for their homes through online sources, the need to fake it just isn't there anymore. The cost of labor involved in a professional faux-paint job can be applied to getting the real deal, or at least an alternative that doesn't rely on a trick of the paint brush.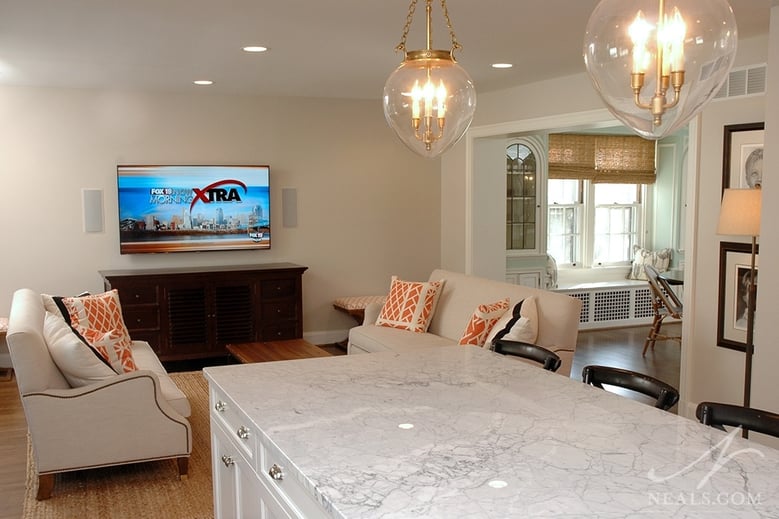 A pale gray in a low-gloss finish here helps create a soft space in which the homeowners' belongings don't have to compete for attention.
Instead of the faux treatment, homeowners are looking for flat or low-gloss paint in pale, earthy colors, or bold hues for major style statements. Historical colors, particularly, are enjoying a revival (think Colonial or Revolutionary era colors), but now in transitional or modern spaces, rather than strictly traditional homes. White, due in part to being named Benjamin Moore's Color of the Year, is also a popular choice now, and offers a bright backdrop for your possessions and collections to stand out.
Another trending option is reclaimed wood. Recently we discussed this in The Newest Home Design Trend: Reclaimed Wood.