The addition of an island or peninsula to your kitchen is a great way to maximize space. Additional storage space, work surface, and space for seating are all welcome enhancements that can come with the inclusion of either feature. The possibilities for design, function and layout are nearly endless, including the potential for universal design considerations, making it easy to find an island or peninsula that perfectly suits your needs.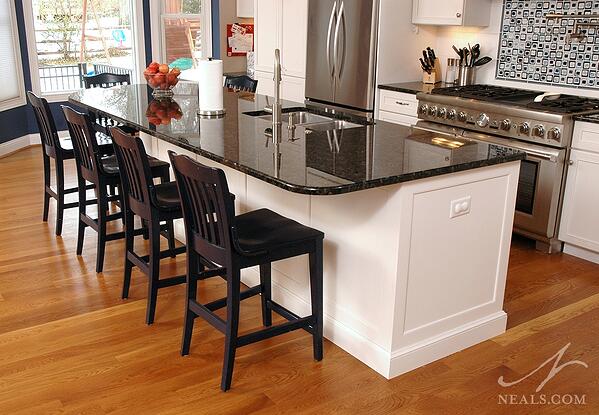 In this great room kitchen, the island creates a visual barrier between the working space and the rest of the room, but includes seating on one side to encourage interaction with the cook.
Kitchen islands and peninsulas can be considered cousin design elements in the kitchen. While they offer very similar benefits, there are some notable differences. Islands stand alone in the space, making it possible to walk completely around all sides. A peninsula is attached to the wall at one point, making it accessible from only 3 sides. Stationary islands (those without wheels) require a medium to large space that offers an appropriate amount of clearance on all sides. Peninsulas are only limited by the space required for traffic flow and are more typically used to help define a kitchen's boundary.
There is no rule against having both a peninsula and an island in your kitchen, as long as you have the space. One could be used for seating while the other is used for appliances and storage.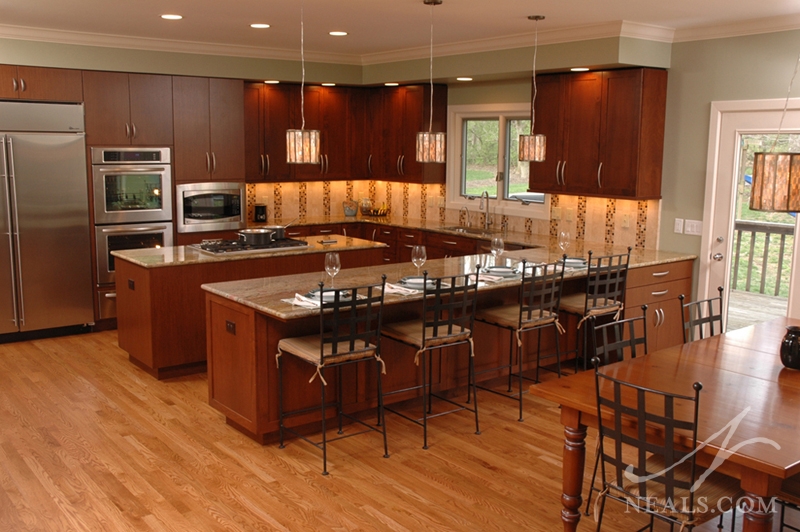 With both a peninsula for an eating area and an island for additional work space, this Neal's kitchen has efficiency and style.
Shape and Size
The dimensions of the island or peninsula will be primarily determined by the size of your kitchen. Other factors include the amount of storage you wish to include, whether or not you will be adding appliances, and the amount of seating you wish to fit at the counter. For islands, The National Kitchen and Bath Association recommends about 42 inches of space between the edges of the island and the perimeter counters and appliances. The actual shape of your peninsula or island can be whatever you and your designer think will work best in your kitchen. We've seen square, long, narrow, L-shaped, and rounded, along with any combinations of these. Choose what works best for your home, your style, and your needs.
The design of the island or peninsula can separate helping hands from company. The outward facing side can give guests or family members a space to be in the kitchen, but not hinder the cook's working triangle. A well designed island or peninsula will be one on which everything is easily within reach for the host, and at which guests aren't taking up valuable work space.

The addition of a cantilevered counter, which hangs away from the supporting structure, leaving the space below open, creates a convenient seating area. Kids can work on homework, family can sit down for a quick snack, enjoy a meal, and guests have a comfortable seat while visiting. The seats can be tucked away under the counter when not in use so they don't take up any more floor space. This type of seating in the kitchen doesn't have to replace a separate table in the kitchen, but may free up much needed space.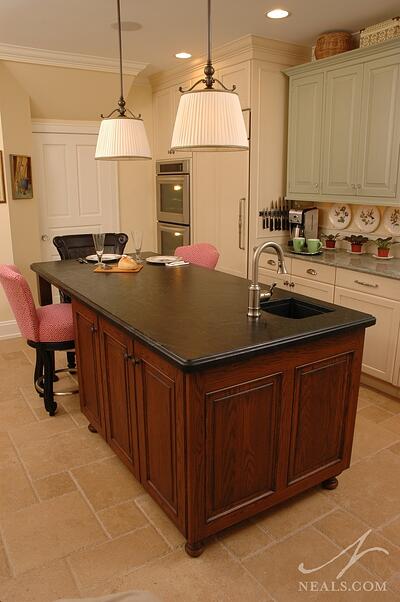 A medium-sized furniture style island provides plenty of storage space, an additional sink, and a seating area.
A design we've often seen in basement level bars has made its way into the kitchen: multi-leveled countertops. Using one level for guests to relax and eat, the other for food preparation is an easy way to stay involved with the party while hiding the messier side of the prep.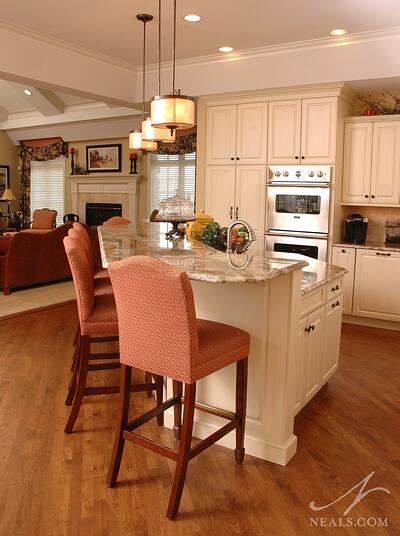 The raised height of the seating area on the island allows guests to eat in comfort and style around the island while also keeping a separation from the workspace.
For peninsulas which often sit at counter height, seating can also be arranged by opening a side or the end. We're also create peninsulas with multiple heights to accommodate all the same functions of an island. Depending on the amount of space you need and the size dictated by the kitchen area, your peninsula could become a focal point for activities or just another span of work surface or appliances on the edge of the space.
Kitchen Island Design Considerations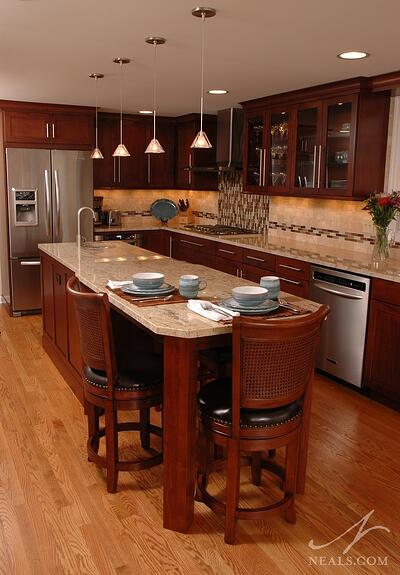 The long, narrow design of this island allows for both comfortable seating and additional storage. An elongated island doesn't disrupt the continuous flow of the room.
Long and narrow islands are sleek and modern. Perfect for kitchens that need the additional space for appliances. If the design of your kitchen only uses one or two walls, consider this model of island for additional storage and functional working area.
Square islands offer a more traditional feel, and can easily replace a kitchen table. This style of island is usually popular in larger kitchens with plenty of storage and counter space on the perimeter walls. Since the island will not be primarily relied on for functional use, it can easily include an extra prep sink or work station, and is more often designed specifically for seating.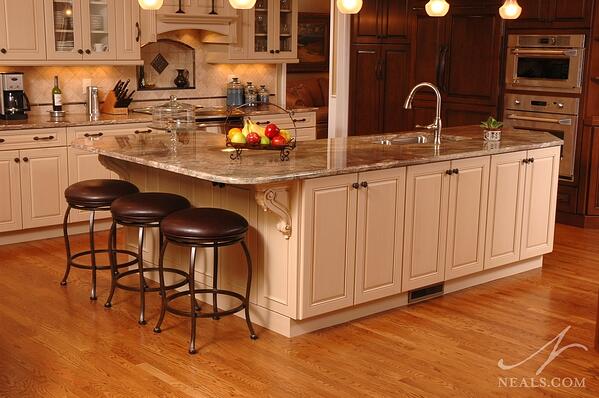 By including a small L on this large island, a counter was made available for seating without encroaching on the prep area.
L-Shaped islands provide a fun design for a larger kitchen and are a great combination of classic and modern aesthetics. This type of island allows the cook to feel like they have a space that is all their own on one end, while others can share the other end without intruding.
Peninsula Design Considerations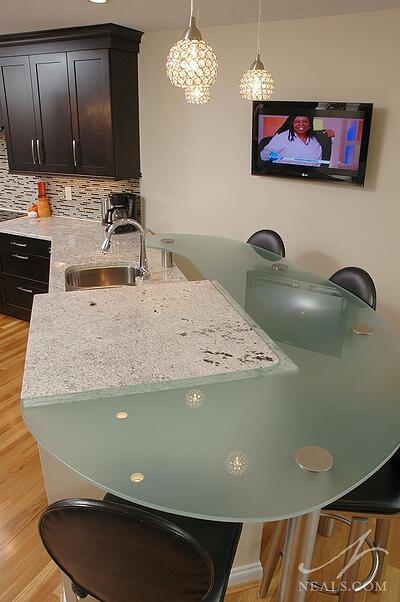 In this example, the peninsula not only changes material, it also has added width to create more space for family to sit and work or eat.
Generally, the shape and scale of a peninsula will be influenced by what's happening at the wall or counter it's attached to. In most cases, a peninsula is going to be long and narrow, like a counter, but it may change direction, scale, height and material on its way out into the space.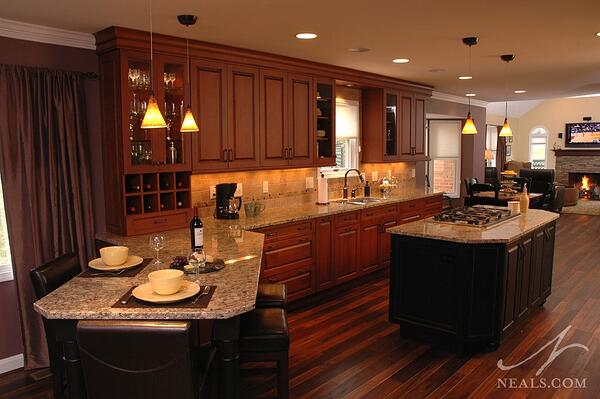 In this kitchen, the family opted to have an island in the center for use of the range, and added a peninsula as an additional seating area.
Just like an island, a peninsula's size and shape can be designed around the inclusion of appliances, storage and seating. The shape is also dictated by the kitchen's traffic flow, since the peninsula essentially cuts off at least one possible egress from the kitchen's main space.
Appliances
Adding any appliance or device that would require electricity or running water would necessitate opting for either a peninsula or a stationary island. Almost all islands you'll see today in medium to large sized kitchens are stationary and have at least one outlet. Moving the appliances you use most over to the island or peninsula will change your workflow, and in the best cases, will allow you to see more of the kitchen (and what's going on with everyone else in the house) than if you were forced to work at a perimeter counter. Sinks, ovens, wine storage, cooktops, microwaves, and even small appliances can be utilized on an island or peninsula designed to include the appropriate hook-ups.
Not all islands need to be large and include appliances or utilities. If you have a kitchen design that allows for the space, and don't need an island for anything more than a small amount of storage and additional counter space, consider one that is moveable. These cannot accommodate electricity, but can be stored elsewhere in the kitchen when not in use. Smaller in size, they can be moved out of the center of the floor to open up the space for company.
Storage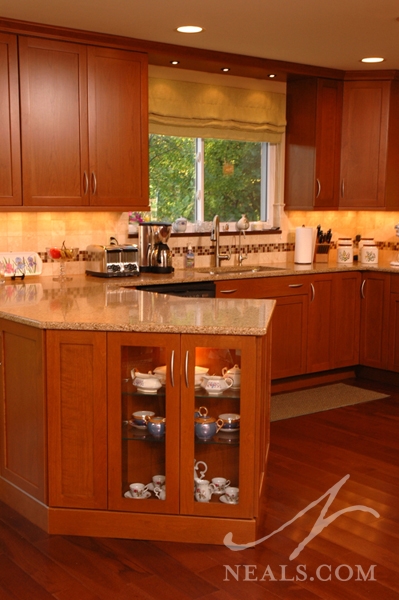 This peninsula with a glass door cabinet was the perfect place to store this family's fine china. It also allowed for additional counter space, without taking away floor space.
Storage space is important in every room of the house, but especially the kitchen. The design of the island or peninsula can largely depend on the storage space you require. A base of cabinets, the most common for modern stationary islands, will create a solid structure in the space, whereas one with more exposed shelving or furniture-like legs will be more airy. The perception of how much space the island or peninsula visually takes up is an important factor for the finished kitchen's style.
Lighting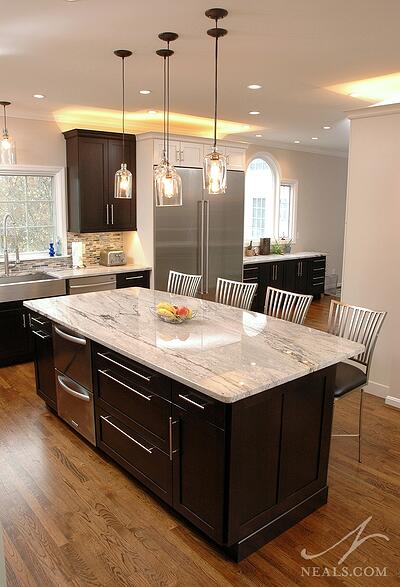 A set of five pendants over the island offer task lighting as well help establish the modern kitchen design.
Since you will likely spend lots of time at your new peninsula or island, you will want to make sure it is properly lit. Recessed lighting can be used to illuminate this type of work space, but pendant lighting offers another opportunity to add your style signature to the kitchen. Just make sure that whatever fixture you choose, it is positioned directly above the island or peninsula for the best task lighting. If your kitchen has an existing skylight, it might be worth matching up an island with the natural light, or making sure it shines down in the center of a U-shaped kitchen created with the addition of a peninsula.