Hardscapes serve as the foundation for garden plantings and range from stone edging and pathways to architectural structures designed for shade, shelter and outdoor living.
If you are looking for hardscape design ideas for your home, let us take you on a "virtual tour" of some lovely and unique gardens and the hardscapes that were used to create them. We worked on these stunning gardens and outdoor living spaces for homeowners in the Greater Cincinnati area to bring their vision to life. Hardscapes were designed to enhance their yards, blend with the topography and optimize available space.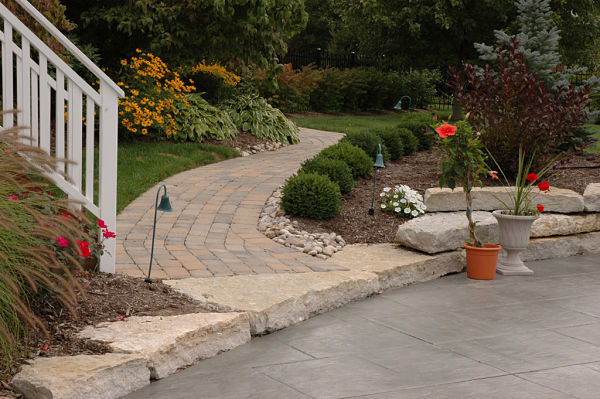 A garden path leads to a stamped concrete patio. Pavers are accented by garden rocks and a stone edging. Plantings include rudbeckia, hosta, boxwood, grasses and geraniums.
1. Patios
Patios are an outdoor extension of a home designed for dining and relaxation. Patios can be constructed from flagstone, pavers or concrete. Shelters can be built over patio spaces to provide protection from the sun and rain.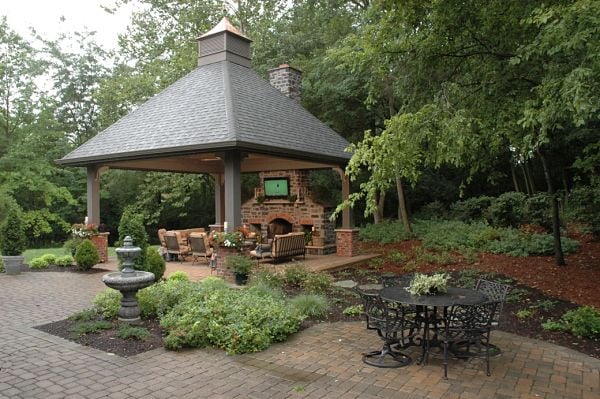 This patio includes a pavilion with an outdoor fireplace. The patio was constructed from pavers and has areas designated for low maintenance plantings of shrubs, small evergreens and grasses. Annuals in planters on the posts of the shelter add color to the spaces. Potted Alberta Spruce trees are slow growing and add height and interest to the garden.
2. Poolside Gardens
Garden plantings in a pool area add color and beauty to a yard. Garden beds can be integrated with pool surrounds to provide privacy and hide fencing.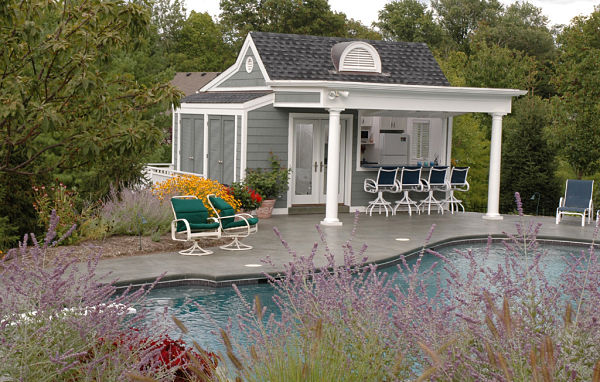 A pool and pool house are surrounded by beds of easy care perennials including rudbeckia, Russian sage, coneflowers and shrubs. Potted annuals provide an extra pop of color.
3. Retaining Walls
Retaining walls can be a focal point in a garden but they are also functional. They can tame a slope, create raised beds for gardens, define the border of a yard, serve as a surround for outdoor structures and even provide seating. Building a retaining wall requires engineering knowledge and it's a job best left to a professional. Walls can be constructed from brick, stone and wood.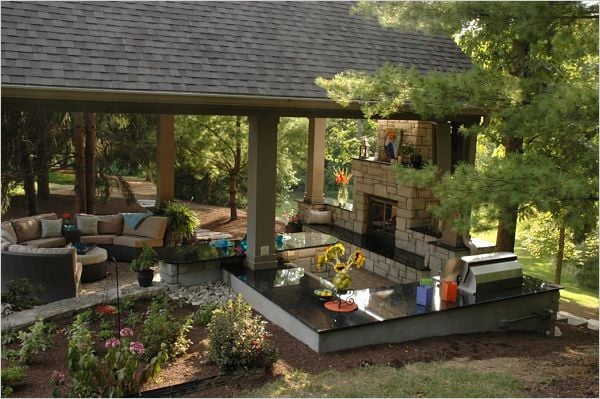 A retaining wall frames a garden and provides the structure for an outdoor cooking area.
4. Rock Gardens
Natural stone and boulders are ideal for creating low maintenance rock gardens, but can also serve as a foundation for adding water features such as ponds, fountains and waterfalls.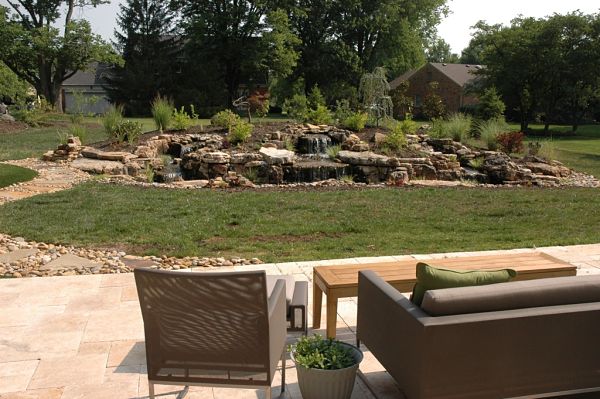 A rock garden was created as an island in the yard and includes cascading waterfalls and Japanese garden plantings of small shapely trees, shrubs and grasses.
5. Slopes
Sloped yards can be addressed by adding retaining walls, stairs and pathways to create a foundation for a terraced garden.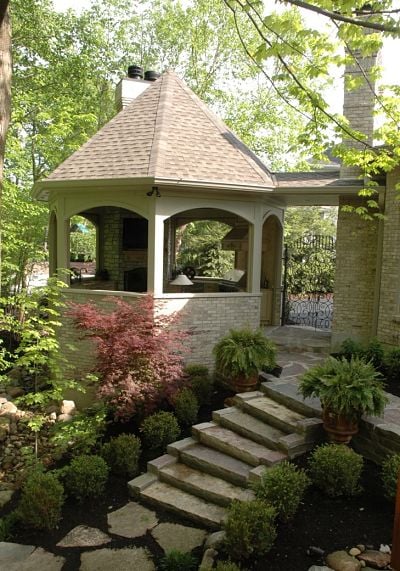 A retaining wall, stairs and a pathway provide access to this garden. Potted ferns, Japanese maples and boxwood are the structural plantings.
6. Pathways
Popular materials for garden pathways include pavers, flagstone, blue stone, cement and stepping stones. Pathways should blend in with a home's architecture and landscape.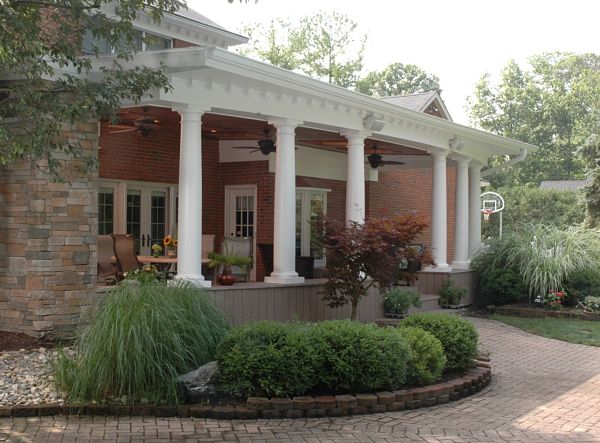 This pathway made of pavers complements the brick exterior of this home. Brick edging frames the garden beds. Plantings include grasses, Japanese maple, boxwood and roses.
7. Pergolas and Arbors
Pergolas provide shade for seating areas while arbors provide support for climbing plants and vines. They are similar in structure and always create a focal point in a yard.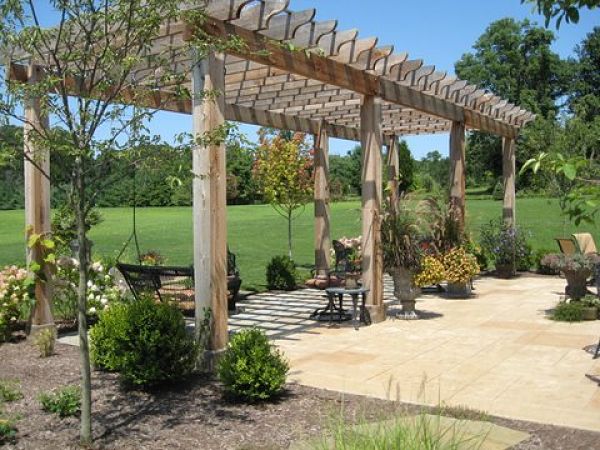 A pergola surrounded by a garden provides shade to a patio area and serves as a structure to support a backyard swing and hanging baskets of annuals.
8. Firepits
Firepits can look natural in a garden setting when built with a surround of stone or brick. Gas fueled firepits are growing in popularity because they are easy to use and maintain because they don't give off smoke like wood burning fires do.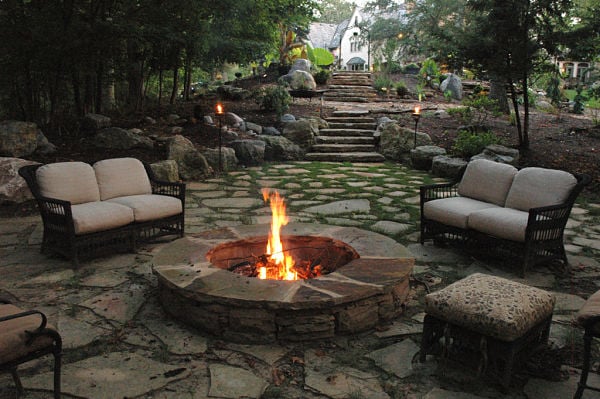 Steps lead to a woodland garden with a firepit. Tiki torches light the way. Irish moss grows between the stones to keep weeds at a minimum.
9. Garden Water Features

Water features continue to add an element of artistry and peaceful sounds to gardens. A fountain can be used in both small and large garden beds.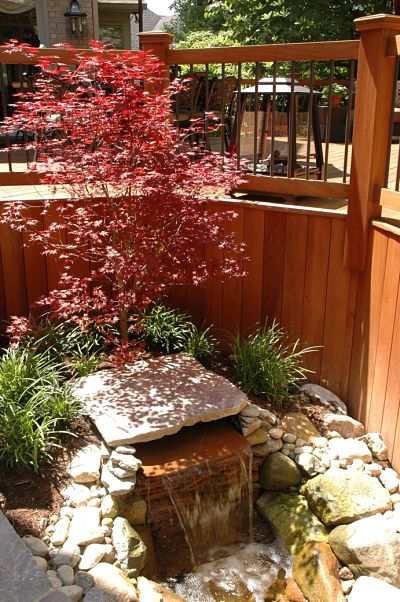 A water feature in a Japanese influenced garden that borders a composite deck. A Japanese maple, grasses and rocks create a structured garden design.

10. Courtyards
A courtyard is an open space partly or completely surrounded by the walls of a building. Courtyard gardens often have trees, vines, shrubs, perennials and potted flowering plants.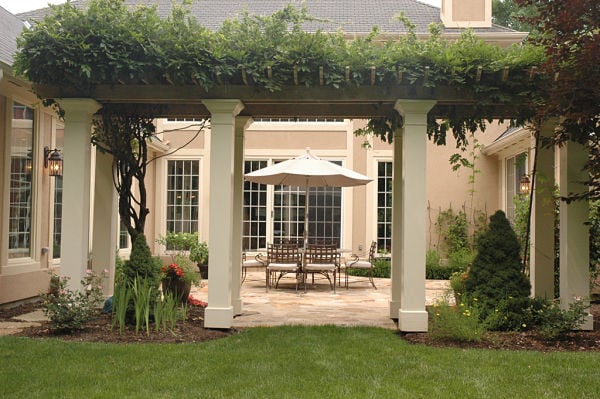 This stunning courtyard garden includes areas that were created for plantings, an arbor for a trumpet vine, trellising for clematis and potted plants.